Top 20 tech companies in Atlanta, Georgia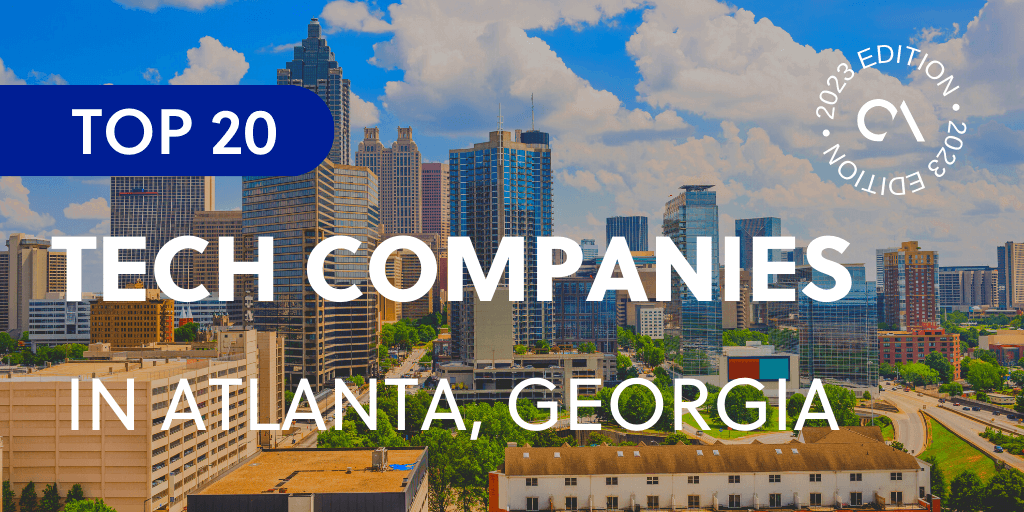 List of tech companies in Atlanta, Georgia
Atlanta, Georgia has managed to be recognized as one of the most recognized cities in US history. The city garnered recognition with its cultural heritage and a dynamic blend that captivates tourists and locals alike.
Atlanta wears the best badge when it comes to traditional craftsmanship and the finest arts in the country. It goes beyond all that great stuff. It is also blooming as one of America's favorite tech destinations.
In this article, we will explore all the ways Atlanta has become a tech powerhouse and ranks among the top tech companies in the city.
Atlanta as a thriving tech hub in the US
Over the past few years, Atlanta has gained popularity in the tech industry. Up to this present day, the city is still expanding at a record-breaking rate. Forbes Magazine has ranked the city third among the world's top tech cities.
Technology progress in the city has been acknowledged and indicates an oncoming shift toward becoming the ideal innovation haven. Atlanta is now ranked in the top 25 high-tech metropolitan hubs in the US, according to Cushman & Wakefield.
Atlanta is known as "The Silicon Valley of the South," and it's easy to see why. In recent years, it has become a thriving digital city and attracted attention from businesses and job seekers alike.
This is just the beginning of Atlanta's journey of becoming a nationally sought-after tech destination.
Top Global Outsourcing List
The Outsource Accelerator is a leading international marketplace and outsourcing consulting service. In our extensive directory, we present over 3,000 BPO companies from around the world, including detailed insights, price data, and assessments.
It doesn't matter if you're a solo business owner, someone who runs a small or medium-sized company, or an executive at a corporation. We can help you find your ideal partner for all your outsourcing needs.
 Look through our outsourcing directory. View our carefully chosen lists of the best IT service companies in India (Top 50), Europe (Top 20), and the world (Top 100).
Top 20 tech companies in Atlanta, Georgia
The city boasts an impressive array of Fortune 500 giants and cutting-edge startups that fuel economic growth and offer abundant job opportunities to a skilled and diverse workforce. 
We will highlight and analyze 20 of Atlanta's most prominent tech firms.
1.
SOLTECH
(950 East Paces Ferry Road #2400, Atlanta, GA)
Situated in Atlanta, Georgia, SOLTECH is a firm established for project outsourcing and hiring technology professionals. This software development company has been in existence for 25 years. They specialize in software design, web development, and mobile app development. 
2.
Global Payments
(3550 Lenox Road NE Atlanta, GA)
With its headquarters in Atlanta, Global Payments stands as a global leader in payments technology and software solutions.
They empower businesses of all sizes with innovative payment solutions that facilitate secure and seamless transactions on a global scale.
3.
iMedX
(3500 Lenox Road NE Suite 700)
The healthcare software and services provider iMedX is headquartered in the heart of Atlanta.
Their state-of-the-art technologies streamline revenue cycle management, coding procedures, and medical documentation processes inside healthcare enterprises.
4.
Calendly
(3423 Piedmont Road NE)
Calendly is an Atlanta-based company that provides scheduling solutions through their software.
Used by the majority, this user-friendly platform makes appointments and meetings easy to schedule. It will also help increase productivity and time management in individuals and businesses alike.
5.
Convoy
(600 Peachtree St NE #600)
Headquartered in Atlanta, Convoy is a technology-driven trucking company revolutionizing the freight industry. Their platform connects shippers with available carriers and optimizes logistics to ensure efficient transportation services.
6.
Craneware
(3340 Peachtree Rd # 850)
Craneware is another Atlanta-based company working wonders in healthcare financial solutions.
They've broken traditional norms and offer services that optimize revenue, pricing transparency, and overall financial performance for healthcare providers using their software.
7. Mailchimp (675 Ponce De Leon Avenue, Northeast Suite)
Mailchimp originated in Atlanta. It's a popular marketing automation platform that steers businesses toward creating email campaigns that captivate users. With its intuitive interface and robust tools, it changes the way we do email marketing entirely.
Headquartered in Atlanta, First Advantage is a global comprehensive background check and screening solutions provider.
They help businesses have reliable and secure hiring processes by offering various services.
9.
Urjanet
(1350 Spring St NW #300)
Also based in Atlanta, Urjanet specializes in utility data services. They enable businesses to access accurate utility data for improved energy management, cost optimization, and sustainable initiatives.
10.
SalesLoft
(1180 W Peachtree St NW Suite 2400)
SalesLoft stands as a leading sales engagement platform in Atlanta. By automating communication processes and facilitating effective prospect engagement, their software empowers sales teams to close deals and drive revenue growth for businesses efficiently.
Tyrannosaurus Tech is an Atlanta-based tech company specializing in web, design, and mobile app development.
They provide solutions to clients by developing elegant designs and products to cater to their needs.  
12.
SpringBot
(1201 Peachtree St NE #400)
SpringBot operates in Atlanta as an e-commerce marketing automation platform.
Their suite of tools and insights enables online retailers to optimize their marketing strategies, boost sales, and enhance customer experiences.
13.
Secureworks
(1 Concourse Pkwy #500)
If you need your data secure from cyber threats, then Secureworks is your answer.
This cybersecurity company located in Atlanta offers services that manage security for businesses. By helping detect cyber threats, they can protect sensitive data from attack.
14.
NCR
(864 Spring St NW)
Banking, retail, and hospitality are just some industries NCR specializes in with their omnichannel solutions.
Founded in Atlanta, they pride themselves on enhancing customer experiences with technology so strong it would make anyone blush.
15.
InComm
(250 Williams St NW)
Based in Atlanta, InComm is a prepaid and payments technology company that takes convenience to a whole new level. They're known for their wide range of offerings. From prepaid gift cards to payment processing solutions. 
16.
Cox Automotive
(3003 Summit Blvd NE #200)
Cox Automotive has established itself as a prominent player within the automotive industry from its base in Atlanta.
Offering an array of automotive solutions such as vehicle remarketing and dealership software, they also provide consumer car buying platforms.
17.
Thoughtworks
(1175 Peachtree St NE UNIT 1400)
Thoughtworks operates globally but also has a presence in Atlanta.
As a technology consultancy firm, they specialize in software development services, digital transformation strategies, and agile coaching to help businesses stay ahead in the ever-evolving tech landscape.
18.
Cricket Wireless
(1175 Peachtree St NE UNIT 1400)
Cricket Wireless is the AT&T subsidiary in Atlanta that provides affordable wireless services to budget-conscious consumers.
Their offerings encompass prepaid plans, smartphones, and data services.
19.
KMS Technology
  (1176 Peachtree Rd #200N)
Headquartered in Atlanta, KMS Technology provides business solutions such as AI product roadmapping, technologies, implementation consulting, generative AI integration, code creation, and optimization. 
Bounteous is a company located in Inman Park that caters to career and professional growth opportunities.
The tech company has a user-friendly website enabling anyone to navigate their offers and services freely.
The future of Atlanta's tech industry
As Atlanta's tech industry continues growing, these innovative companies are playing a large part in its future prosperity. Their advanced technologies have driven the city's economic growth and creativity, establishing it as a hub for startups and innovation. 
They've become the epitome of the diverse nature of Atlanta's thriving tech landscape, too. Paving the way for promising digital futures with fintech solutions, healthcare advancements, e-commerce strategies, and cybersecurity measures. 
These companies continue to showcase just how dynamic the capabilities within the city's tech scene can be.