Average salary in the US: How outsourcing benefits the US economy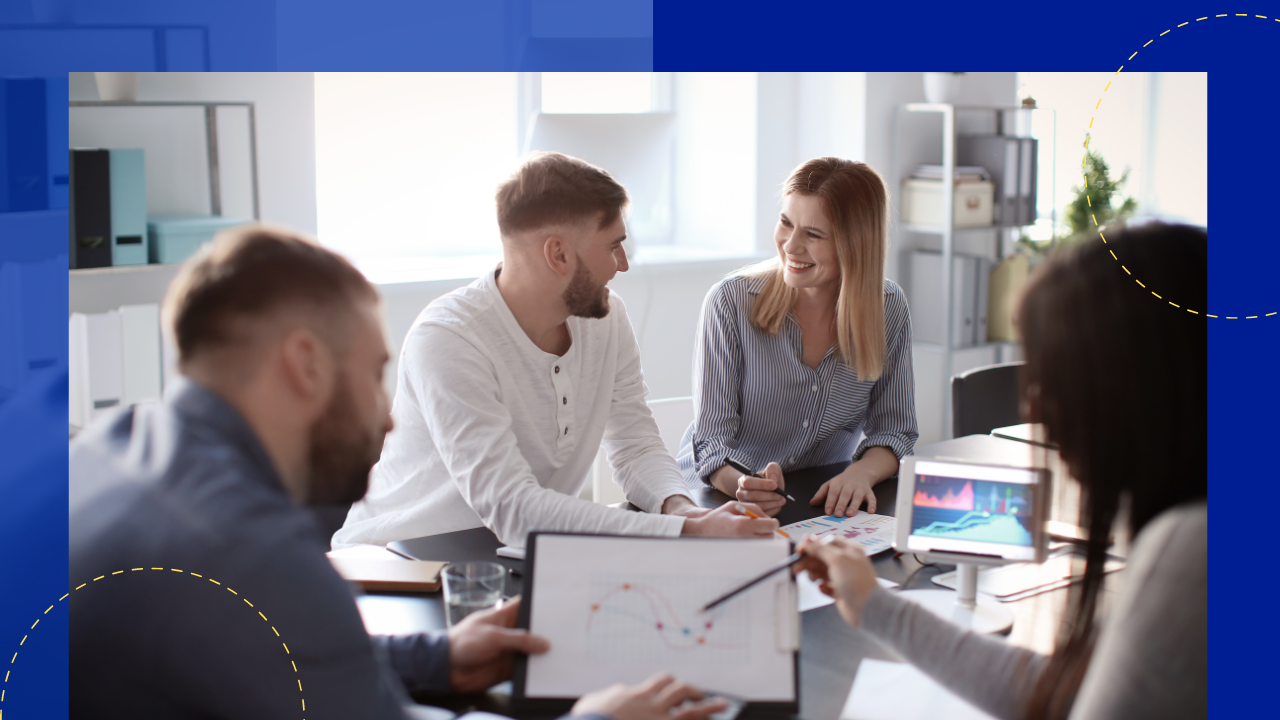 Most people think companies that outsource only think about cutting costs and generating more profit out of their efforts. However, it is more than simple "profiteering."
Offshoring is a great way to maintain operations and maximize expansion. Small and medium businesses do not have the capacity to hire local employees the same way large companies do. This is why they need a better way to fill the roles they need without shelling out too much resources.
To understand this concept, companies should know the basic aspects in running a business, including the operational costs in their country and the average salary. This article delves into what business owners need to know about the average salary in the US.
The national average salary in the US
Per statistics website Numbeo, the average salary in the US is US$3,737.28.
According to the latest data from the Bureau of Labor Statistics (BLS), the average mean wage for US workers in May 2021 is US$58,260. Meanwhile, the median weekly earnings for full-time workers amount to US$1,041.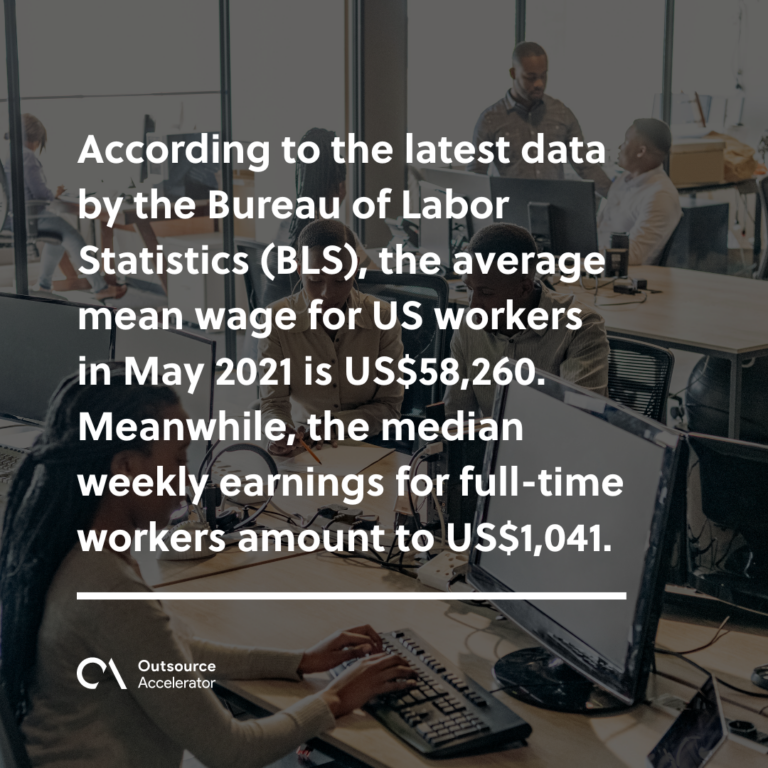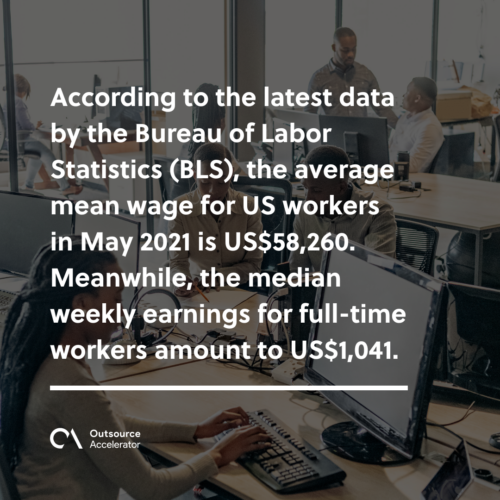 Pay variations for US workers
In the US, workers are paid either hourly or fixed salary. Their pay variation is mainly determined by job type, education level, and company practice.
The majority of US employees are hourly workers, according to data in 2019. They account for more than half (58.1%) of employees in the country.
Factors that affect the average salary in the US
Here are the main factors that affect the average salary in the US.  
Geographical location

. The different cost of living calculations for each state usually determines how much a person could earn in a month. Some

states

with the highest average salaries include Massachusetts (US$95,264) and New York (US$95,108).

Gender and race

. Demographics such as race and gender also play a role in how much a worker receives. For instance, while men earn a median salary of US$65,590, women could earn a median of US$53,427.

Education

. More education pays off in the US, according to BLS data. A college graduate could earn as much as US$3,120 monthly, while a person with a higher degree could earn US$3,881 per month.

Age

. While salary could vary by age, it can also be affected by the pay differences between men and women.
The average salary in the US compared to offshore countries
Numbeo ranks the US as the fourth highest average salary in the world, next to Switzerland, Singapore, and Australia.
With the high cost of living and skill shortage in the US, investing in local teams won't always be ideal, especially for small businesses. Alternatively, they can delegate their functions offshore to maximize their savings and increase revenue in return.
Below are a comparison of the average salary in the US and other offshoring countries. 
| | |
| --- | --- |
| | Average salaries |
| USA | US$3,737.28 |
| India | US$438 |
| The Philippines | US$308 |
| Eastern Europe | |
| | US$1,286.13 |
| | US$391.94 |
India
The average salary in India as of 2022 is INR 33,120.47 or US$438, a far cry from the average salary in the US. 
India is one of the preferred offshoring destinations for US companies in IT, development, and tech support services. Most companies that outsource their services to India enjoy substantial cost savings and maximized returns, especially during the pandemic.
For instance, companies can save more when hiring software developers in the country than their local counterparts. 
The Philippines
Unlike the average salary in the US, the Philippines is way lower, at least Php 15,200 or US$308. As the leading destination for customer support and voice services, the Philippines provides the best English-speaking and culturally-inclined team.
Eastern Europe
Lastly, Eastern Europe competes in outsourced technology and development services. Two of its destinations, Poland and Ukraine, are some of the most sought-out destinations in the region.
The average salary in Poland is PLN 6,156.25 or US$1,286.13. It does not offer tons of savings as the Philippines or India. However, clients can still look forward to cutting their costs by up to 30%, getting quality work, and ensuring the highest level of data protection.
In Ukraine, meanwhile, employees earn an average of 14,577 UAH or US$391.94. Despite the conflict with neighboring Russia, the country continues to recuperate and pride itself as a rising outsourcing provider.
How outsourcing benefits the US economy
Debates and hesitations about outsourcing still spread among US firms, raising questions on cheap labor and taking away jobs to local employees.
BPOs practice neither of the things mentioned. Besides, delegating services to offshore destinations frees companies to an extent, allowing them to create further value on their products and services, their organization, and even the US economy.
For starters, outsourcing creates the following benefits for the US.
Keeps companies competitive
Cost savings are not simple benefits that companies enjoy to earn more. The savings they get from outsourcing keep their organizations running, making them more competitive in their local markets.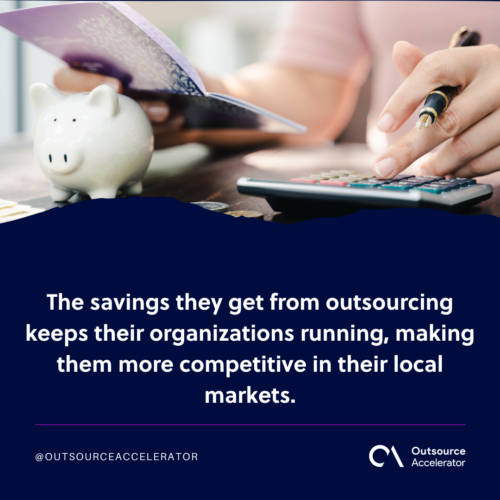 Generates more valuable jobs
At the same time, businesses only delegate low-value and repetitive work to free their efforts from these tasks. This helps them create more high-value roles for more local employees that need them.
Encourages business continuity
Lastly, a shutdown is one of the biggest threat to businesses during a crisis, causing a domino effect on employment and the economy in return.
Outsourcing keeps a firm's operations going despite these crises. As a result, they can generate more jobs, contribute to the economy, and help it recover in the long run.