Average salary in the Philippines: How a company saves costs through Filipino hires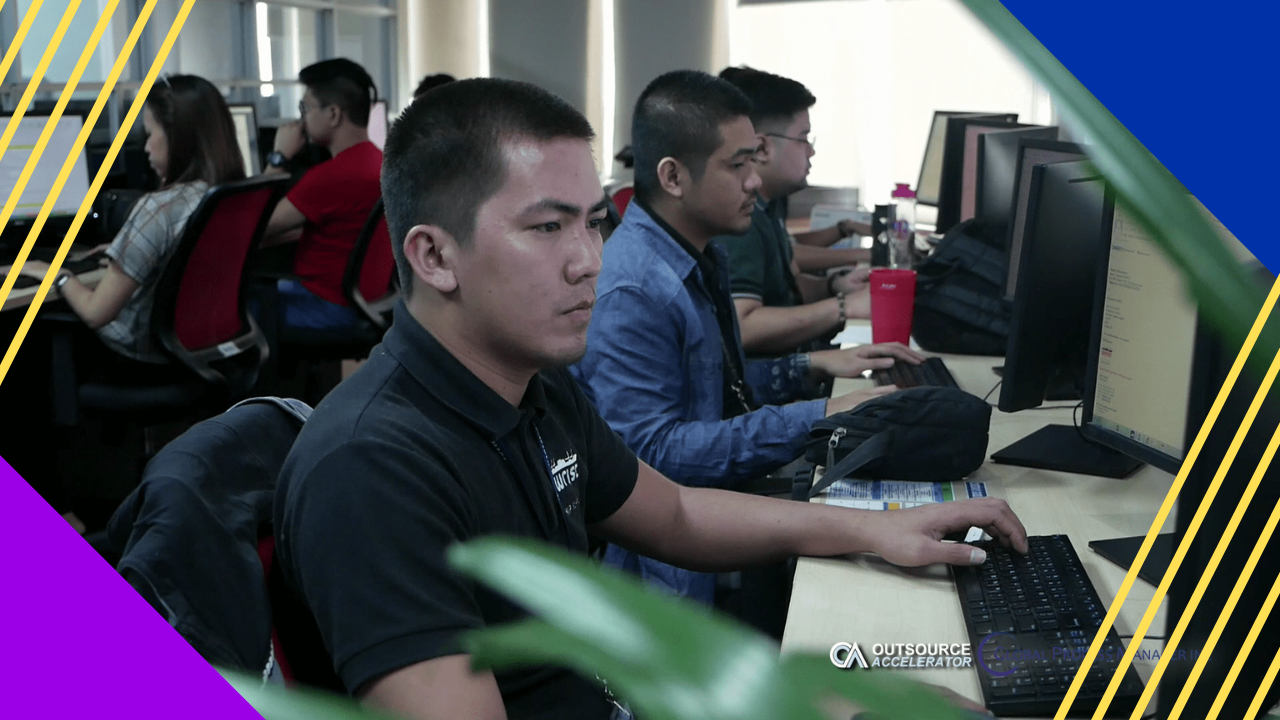 Being a popular outsourcing destination, the Philippines can compete with India and its neighboring countries in terms of costs and quality of services. The industry has even gained recognition from the World Trade Organization in 2019 as a contributor to the country's economy.
Yet, some skeptics still think that outsourcing to the country is done for "cheap labor," which is far from the case. This is since the Philippines is still a developing country with a low cost of living and expenses.
To start, let's take a look at the average salary in the Philippines and what affects people's wages in this article.
The average salary in the Philippines
As of August 2020, the average salary in the Philippines is PHP 15,200 or USD 308, according to an average wage analysis by Picodi.com. It ranked 91st in global average wages, making it cheaper compared to India. 
Wage policy in the country
Salaries in the Philippines work under a two-tiered wage system (2TWS). The reform maintains a minimum wage system based on Republic Act 6727 or the Wage Rationalization Act and a voluntary productivity-based pay scheme.
In Tier 1, the Wage Rationalization Act sets a mandatory minimum wage per region according to inflation, poverty threshold, labor force participation, and other factors. 
The productivity-based pay under Tier 2, meanwhile, pushes for fair workers' representation in setting productivity metrics and performance-based pay.
The 2TWS aims to help workers meet their basic needs while ensuring their employers' capacity to pay for salaries.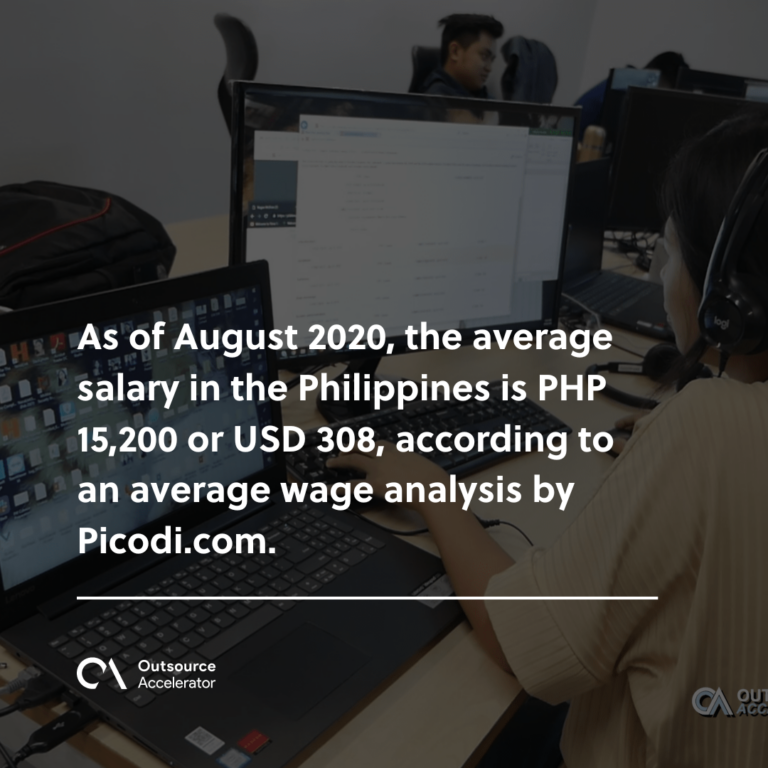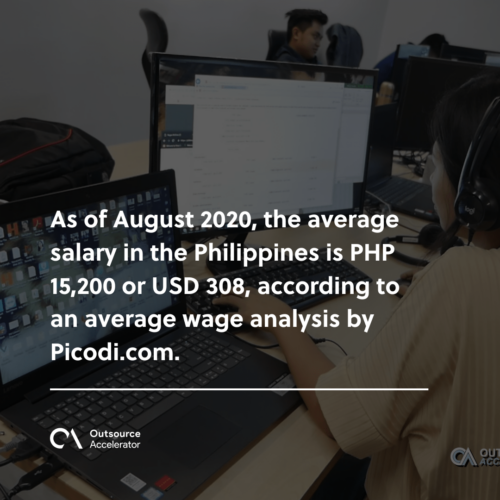 How the average salary in the Philippines changes
The employees' actual salary may vary based on several factors that could affect their rates, including the following.
Educational background
Like in other countries, Filipinos push their children to pursue higher education to get a stable job and increase their pay.
Most local and multinational companies also require their employees to have at least a bachelor's degree. A degree holder's average starting salary is PHP 16,379 or USD 318.58, according to Indeed.
However, the outsourcing industry in the country levels the field for undergrads and college graduates. BPOs and their clients usually offer a minimum of USD 500 or about PHP 25,500 of monthly salary for customer and technical support roles and higher for more complex services.
Regional rates
The Philippines imposes different wage rates per region. With this, the salaries of employees may be higher or lower than the countrywide average wage. The National Wage and Productivity Commission lists the daily minimum wages per region.
| | |
| --- | --- |
| Region | Daily Minimum Wage |
| National Capital Region (NCR) | USD 9.73 to USD 10.45 |
| Cordillera Autonomous Region (CAR) | USD 6.62 to USD 6.81 |
| Region I | USD 5.49 to USD 6.62 |
| Region II | USD 6.72 to USD 7.20 |
| Region III | USD 5.92 to USD 8.18 |
| Region IV-A | USD 5.90 to USD 7.79 |
| Region IV-B | USD 5.72 to USD 6.23 |
| Region V | USD 6.04 |
| Region VI | USD 6.04 to USD 7.69 |
| Region VII | USD 6.83 to USD 7.87 |
| Region VIII | USD 5.74 to USD 6.33 |
| Region IX | USD 5.90 to USD 6.15 |
| Region X | USD 6.44 to USD 7.11 |
| Region XI | USD 7.42 to USD 7.71 |
| Region XII | USD 6.13 to USD 6.54 |
| Region XIII | USD 6.23 |
| Bangsamoro Autonomous Region (BARMM) | USD 5.65 to USD 6.33 |
Cost of living
According to Numbeo, the overall cost of living in the Philippines is approximately PHP 26,159 or USD 509 without rent. It is around 47% lower than in the United States and is higher than the cost of living in Southeast Asian countries.
Metro Manila is said to be the third most expensive city to live in Asia. Yet, the cost of living in the capital is still way lower than in most developed cities across the world.
According to iPrice, the monthly cost of living in Metro Manila is estimated at PHP 50,798 (USD 1,002) for a single person. Rent for a one-bedroom apartment in the capital is 56% higher than in Kuala Lumpur and 9% higher than in Bangkok. 
Luckily, this cost could be lower in other regions, especially those with lower minimum rates.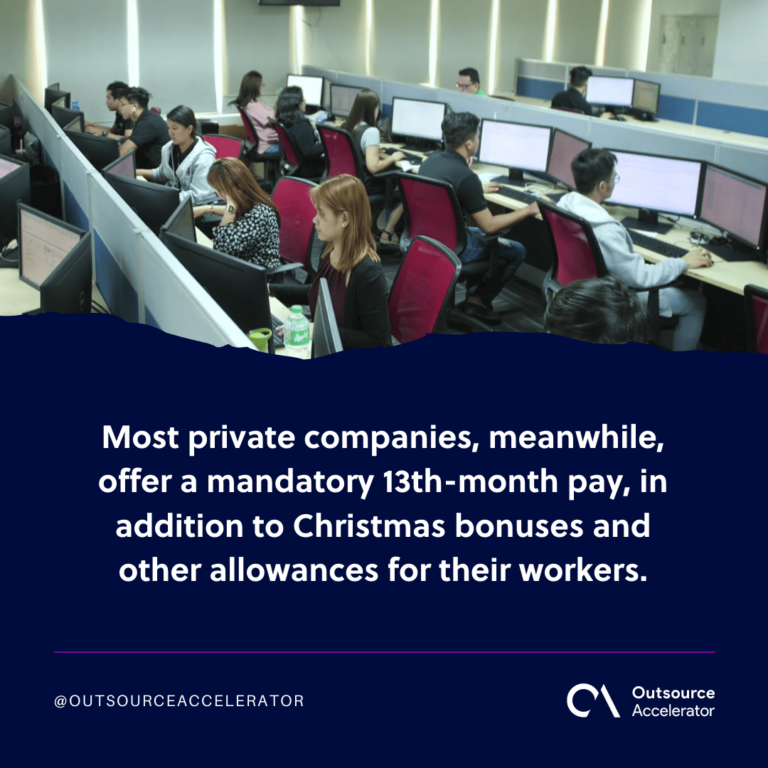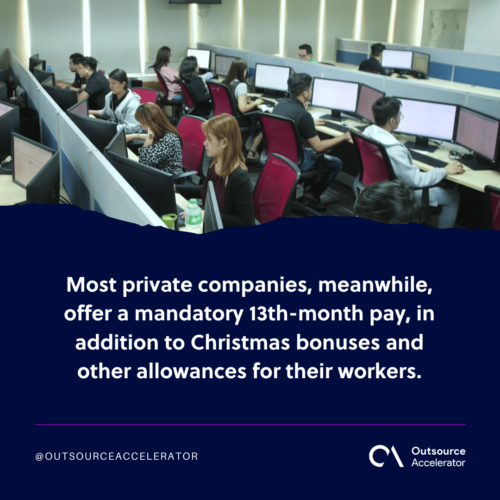 Bonuses, incentives, and allowances
Employers in the Philippines value the welfare of their employees a lot. They understand the traditions and living situations in the country, especially when it comes to the Christmas holidays.
Bonuses and incentives may vary per industry and institution. Government institutions provide generous performance-based incentives and allowances as recognition of employees' service to the country.
Most private companies, meanwhile, offer a mandatory 13th-month pay, in addition to Christmas bonuses and other allowances for their workers.
Industry
Different industries in the Philippines offer different pay scales for their employees, depending on their work.
During the pandemic, a lot of companies offered pay raises and cuts, according to JobStreet Salary Report 2022. The report listed the top industries with the highest salaries, as seen below.
| | | | |
| --- | --- | --- | --- |
| Industries | Entry-level | Supervisor | Manager |
| Telecommunications | USD 389.50 | USD 701.11 | USD 1,119.82 |
| Information Technology (IT) | USD 380.74 | USD 1,460.64 | USD 1,558.01 |
| Communication | USD 379.77 | USD 1,071.13 | USD 1,567.75 |
| Consulting | USD 370.03 | USD 1,217.20 | USD 1,363.26 |
| Insurance | USD 331.08 | USD 876.38 | USD 1,460.64 |
| Electronics | USD 331.08 | USD 783.87 | USD 1,314.57 |
| Hospitality | USD 301.86 | USD 525.83 | USD 876.38 |
| Manufacturing | USD 301.86 | USD 525.83 | USD 876.38 |
| Consumer Goods | USD 292.13 | USD 720.58 | USD 1,168.51 |
| Banking & Finance | USD 284.34 | USD 827.69 | USD 1,168.51 |
Collective bargaining agreements
According to the Q4 2021 Labor Organization Statistics issued by the Department of Labor and Employment, there are around 18,034 unions registered in the country. While 54% of them are under national unions, 43% are registered as independent.
Labor unions and companies agree on employees' wages and benefits through collective bargaining agreements (CBA). These CBAs help ensure that employees are paid well and taken care of by a business depending on their industry rates.
While CBAs could ramp up employees' wages, some could assure good benefits depending on what the union and the management agree upon.
The average salary in the Philippines compared to other countries
It's no surprise that there's a huge gap between the average wages of the Philippines and developed Western countries. However, in Asia, the country fares well in terms of providing low yet competitive salaries to its workers, with its average higher than those of Indonesia and Cambodia. 
Here's how the country fares compared to its neighboring countries and outsourcing clients.
| | |
| --- | --- |
| Neighboring Southeast Asian countries | Average salary |
| Cambodia | USD 212 |
| Indonesia | USD 306 |
| Malaysia | USD 836 |
| Vietnam | USD 403 |
| Thailand | USD 619 |
| | |
| --- | --- |
| Offshoring markets | Average salary |
| United States | USD 3,534 |
| United Kingdom | USD 2,416 |
| Australia | USD 3,333 |
| Germany | USD 2,689 |
| Switzerland | USD 5,989 |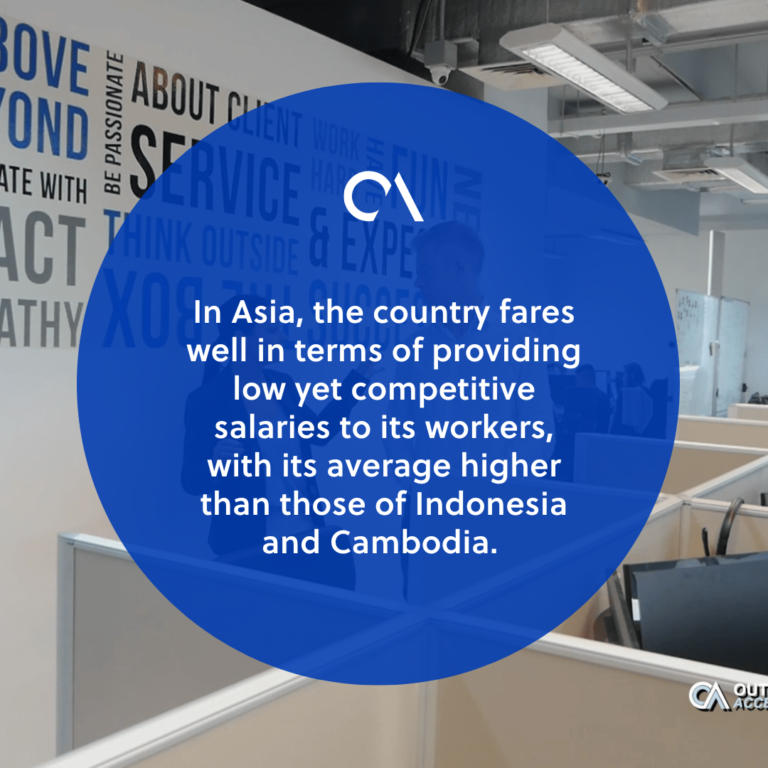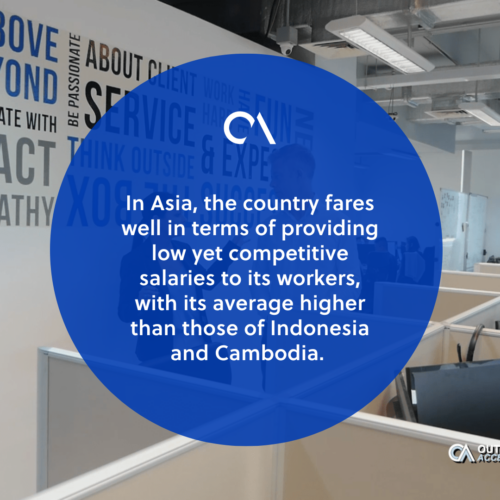 How a USD 500 monthly salary helps a Filipino family
When you outsource to the Philippines, you can guarantee to get the best service and teams at an optimal amount.
A USD 500 monthly salary for Filipinos is not cheap labor. Given the cost of living and average salary in the country, it can go a long way in providing for their basic needs and taking care of their families.
Especially in the BPO industry, employers take care of their workers' welfare and well-being. One way they show this is by giving their teams competitive pay and generous benefits. 
More so, the key to making your outsourcing strategy successful is to learn how to manage your remote employees and keep them satisfied.