Top 20 link building agencies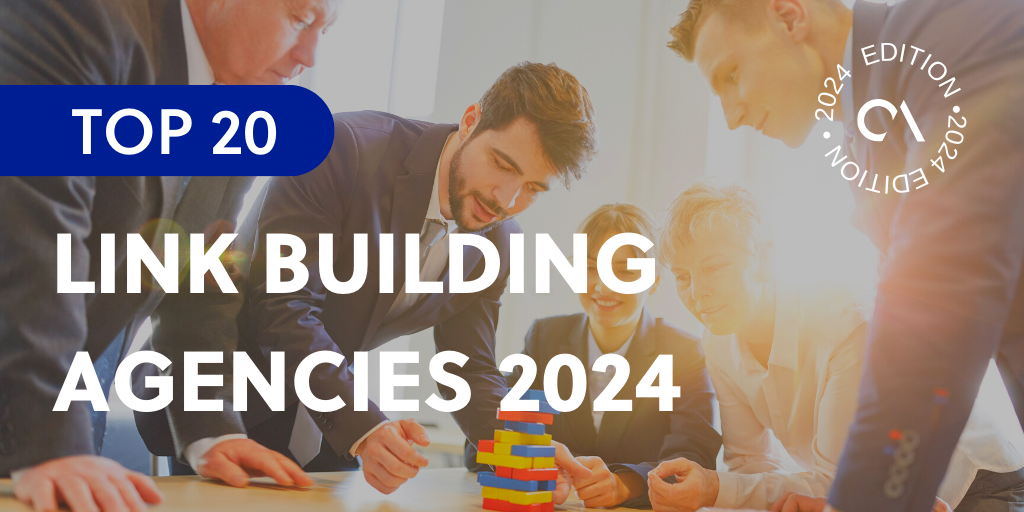 List of link building agencies
Companies are building websites to establish their online presence. And one of the strategies they employ involves creating high-quality content about their brand and the products or services they offer. 
While it's still true that content is king, having compelling content with captivating web design is not enough. High traffic is a sign that a website has good visibility and ranking. 
That means that the website has a higher likelihood of converting visitors into buyers and generating sales. 
So, how can a website boost its traffic? This is where link building agencies come into the picture. The main task of these companies is to establish connections with reputable companies through backlinks.
What are link building agencies?
In the digital marketing landscape, search engine ranking matters. Companies are using a wide variety of Search Engine Optimization (SEO) practices in order to attract organic visitors. You are probably aware of using relevant keywords on blogs, articles, or title tags. 
Link building is among those proven-effective practices that can help websites improve their ranking and visibility to the right audiences. This is something that link building agencies are experts in. 
These companies offer backlinking services, finding high-quality inbound links. Using different backlinking techniques, they help businesses convince search engines, like Google, that they are credible and worth getting a higher rank in results pages.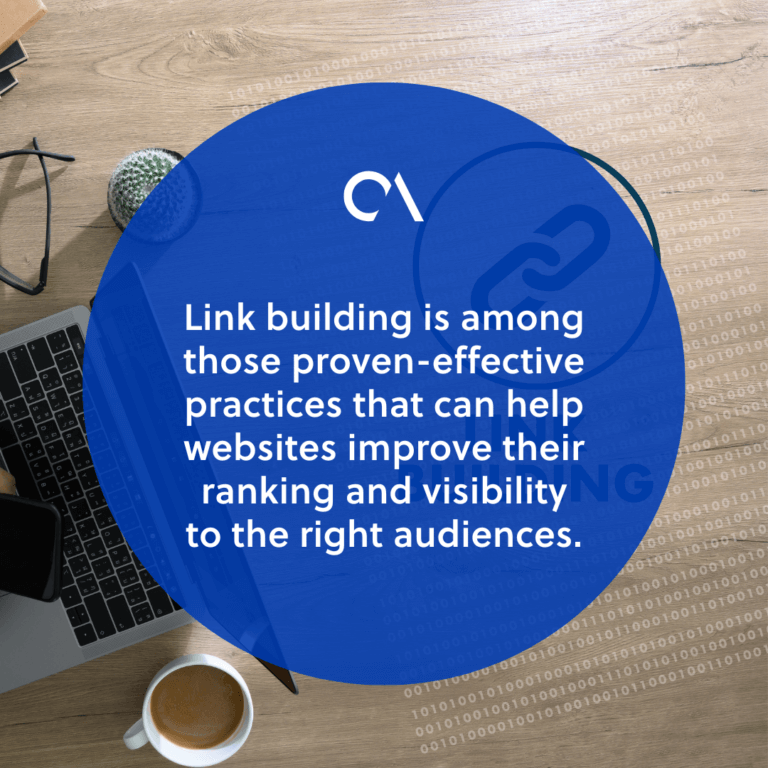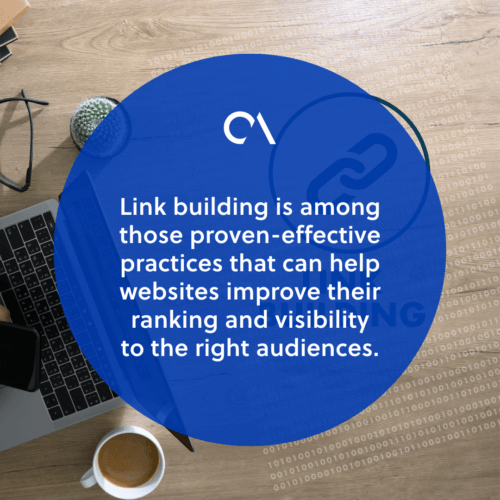 Advantages of partnering with link building agencies
Many businesses partner with third-party companies to outsource digital marketing services, specifically link building. That's because of the following benefits that link building companies offer: 
Link building expertise 
Building quality links require extensive research and effort in reaching out to website owners. It's easy to get confused when you don't know what you are doing. Link building companies can take the guesswork out of getting good inbound links for your website. 
They leverage their experience and expertise to give results fast. This saves you a lot of time and effort. No need for trial and error when you are partnering with a reputable link building agency.
Expand network
Link building experts says that backlinking is similar to the practice of exchanging business cards with potential partners. A business owner who wants to expand his network will establish connections with other reliable and reputable people in the industry. 
This is what link building agencies do on your behalf. They look for high-authority websites or brands relevant to your business and then build partnerships.

Analytics
It's always important to assess the results of any SEO campaign to check whether the target has been reached or not. Link building agency tracks and analyze click-through rates, traffic, and other metrics and provide you with detailed reports. 
This way, you can also monitor and learn about effective backlinking strategies. Any information they have gathered is utilized to adjust the strategy and make data-driven decisions.
Top global outsourcing lists
Outsource Accelerator is the world's leading outsourcing marketplace and advisory. We list over 3,000 BPO firms located across the globe in our global directory, and we provide detailed information, price guides, and reviews.
Whether you're a solopreneur, SME owner, or corporate executive, we can help you find the most suitable outsourcing provider for your business. Explore our outsourcing directory now. 

Top 20 link building agencies
Explore today's leading link building agencies you can work with:
uSERP is on a mission to help brands get high authority backlinks that drive customer growth and revenue. Although the company started in 2019, it has risen in rank and become one of the most reliable link building agencies in the world. 
Based in Lone Tree, CO, uSerp works with well-known brands, including Robinhood and Monday.com. It partners with businesses in the advertising, marketing, financial, and IT industries.
Outreach Monks is a professional agency that focuses on a sole service: link building. By concentrating on one thing that they are good at, they are able to deliver the results the clients want.
Outreach Monks started in 2017. Since then, it has partnered with more than 2000 businesses in different parts of the world. It specializes in different strategies such as custom link building, link insertions, and super authority SaaS backlinks.
When it comes to white-hat SEO practices, Submit Core is the expert you can trust. Its team of professionals manually heads white-hat link building campaigns using the most advanced tools to boost search ranking. 
Blogger outreach backlinks, contextual link building, and editorial link building are among the services they offer. For better results, it also provides clients with content marketing, web development, and content writing services.
Siege Media is a content marketing agency that offers SEO services, including link building, promotion, and customized marketing plans. It also offers copywriting, digital PR, and graphic design services.
This Austin-based company was founded in 2012 and caters to businesses in the eCommerce, hospitality, and leisure industry.
Since 2005, Whitespark has been serious about helping businesses in the marketing and media sectors build a strong online presence. The company does this by providing local SEO, review management, and citation-building services.
Whitespark is based in Edmonton, Alberta in Canada. It's currently working with some of the prestigious brands in the market.
If your goal is for your website to be featured on the first page of search engines, then partner with Page One Power. Its not-so-secret strategy in moving website ranking up involves getting backlinks from higher domain websites.
Every year, the company garners about 15,000 strategic backlinks for its clients. It currently has over 1000 active partners. 
Neil Patel is a reliable source of information regarding SEO practices or anything related to digital marketing. This founder is a distinguished expert himself and has made his name in the digital marketing space globally. 
Aside from tips and insights, Neil Patel offers consulting services, SEO tools, and courses. He is the best at linkable content marketing, which is effective in capturing the attention of Google and other search engines.
HigherVisibility specializes in SEO, PPC, and web design services. It drives desired results by crafting a custom digital marketing strategy for every client. 
This agency in Memphis can help you build website authority through white-hat backlinking strategies. These involve expert outreach, backlink reclamation, and reporting among many others.
From The Future is based in Philadelphia and was founded in 2014. Since then, it has worked alongside different businesses with unique SEO and content requirements. Some of their partner brands worldwide are UFC, Sandals, Saatva, and Prodigy. 
As a digital strategy agency, From The Future uses link building along with analytics, media creative, and full-funnel network to reach specific goals.
Co-founded by Joe Taylor in 2012, FATJOE specializes in on-demand digital marketing techniques. It offers a variety of services that are all designed to grow websites and brands.

One of the things that this company excels at is blogger outreach. They connect businesses to reputable bloggers in their industry to create reliable backlinks. Currently, the company works with thousands of clients worldwide. 
The experienced SEO expert Joe Taylor co-founded FATJOE in 2012. Since then, this company has helped over 5,000 clients worldwide get backlink placements via blogger outreach.
For link building services that drives extraordinary results, choose LinkDoctor. This company has always been prioritizing quality over quantity to ensure organic results.
LinkDoctor ethically performs link building. That means they get high-authority backlinks for their clients through blogger outreach, guest posting, and broken link building.
So, you want to build website authority without constantly writing fresh content. Rhino Rank is the best agency to choose.  When it comes to curated link building, they are the expert. They invented this concept, after all.  
They do the hard labor of contacting webmasters on your behalf to secure backlinks for your existing content. The company is serving hundreds of companies, even SEO agencies worldwide.
Stellar SEO is a Nashville-based agency that started in 2012. Its clients reach their business goals through custom outreach campaigns. It offers custom link building, blogger outreach, and white-label link building. 
Its process involves content writing, guest posting, and onsite optimization. The company has different marketing plans to choose from.
Funnel Boost Media is a veteran-owned company in San Antonio, TX. Its expertise is in web design, PPC, and SEO. The agency is adept in white-hat Google SEO practices, which is their secret to driving desirable results.
One of the things that set Funnel Boost Media apart is its creativity and expertise in combining traditional principles and modern digital practices. 
Netpeak is your digital growth partner who cares not only about website rankings or traffic but also overall business development. Since 2006, the company has been assisting brands in different aspects of digital marketing. 
Netpeak is present in five countries and has eight offices around the world. It offers SEO, PPC, mobile and app marketing, social media marketing, and email marketing.
If you are looking for a link building agency in San Francisco, consider Victorious. This award-winning company started operating in 2013, offering different SEO services. 
For off-page optimization, it provides link building. For on-page optimization, it offers SEO audit and keyword research. The company caters to financial, legal, hospitality, and leisure businesses.
Established in 1996, WebFX in Harrisburg is focused on providing digital marketing services that drive revenue. It offers a suite of SEO services to complement link building strategies. These include SEO auditing, reporting, keyword research, and content creation.
It has a variety of customizable plans to suit various SEO needs and budgets of different companies. Currently, the agency employs over 500 marketing experts.

As a reputable link building firm of more than 15 years, Straight North promises to make every click count. Based in Chicago, IL, the company provides SEO services, PPC, creative services, and web design. 
It has partnered with businesses of all types and sizes, assisting them in communicating with the right audience and generating more sales leads.
Searchbloom is an award-winning agency in Draper, UT, that has been in the business since 2014. It offers the perfect combination to boost website ranking and credibility: SEO strategies and PPC. 
Some of the services they provide include link building, onsite optimization, content development, local search, Google AdWords, and Youtube advertising.
If your business is all for reporting accurate stories, you will benefit from getting backlinks from expert sources. This is what Help a Reporter Out (HARO) does. It connects content creators, specifically bloggers and journalists have high-authority backlinks. 
With its services, web content improves its authority and credibility. HARO also helps clients build relationships with expert sources and promote accurate reporting.