Definition
What is telecommuting?
Telecommuting is a concept related to remote work where an employee performs their duty outside of the office, with telecommunication devices and software as their primary tool. 
The main tools in telecommuting are an internet-connected laptop, a phone, email, and video and messaging applications that allow a telecommuter to stay connected with the company.
Telecommuting is also called teleworking and e-commuting.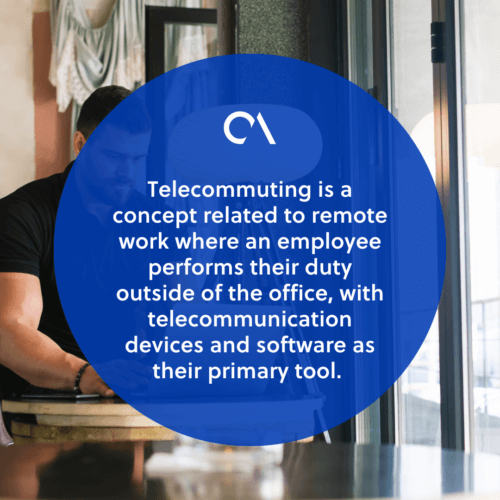 How telecommuting works
Telecommuting replaces the need to travel physically to the office with the use of technology to be virtually "present" in the office. An employee can connect with the workplace and colleagues through the use of communication tools like phone, email, and video conferencing platforms.
That said, internet connectivity is crucial for telecommuters to perform their tasks. They may rely on the internet connection at home or public WiFi access to ensure seamless communication with co-workers.
Further, the employee may visit the office occasionally to attend meetings with the employer and clients. 
Types of telecommuting
Based on where and how you accomplish your responsibilities, these telecommuting activities are classified into three main categories:
Remote work
A remote employee works from a location other than the actual company office, such as a coworking space, park, or coffee shop.
Some employees may be required to go to their company's headquarters on occasion for meetings.
Virtual job
This profession allows for complete independence in terms of location. Employees in virtual occupations are not required to work in an office. Companies in this situation frequently do not have physical offices and may depend largely on freelancers.
While you may still be required to work from a certain location for the company's tax and regulatory requirements, virtual employment provides a great deal of flexibility.
Work-from-home job
Work-from-home roles might not need the use of the main office. It may also be necessary for you to be available during regular business hours.
However, rather than time-tracking, a lot of organizations now assess how their employees fulfill deadlines and deliver outputs.
Benefits of telecommuting
Here are some of the advantages of telecommuting for your business:
Allows greater flexibility
Telecommuting allows employees to have more control over their work hours and location. It also allows the employee greater flexibility in balancing work and personal duties. When there is less travel time, there is more time to attend to personal matters.
Saves money
Telecommuting can save money for the employee and the business. Companies can save money on all aspects of office operations, and employees can save on commuting.
Businesses usually pay for WiFi, phone service, or other telecommuting-related utilities for employees.
Reduces pollution
This benefits businesses and their employees, as well as the entire society. Telecommuting has been demonstrated to lower pollution, which is highly beneficial to the environment.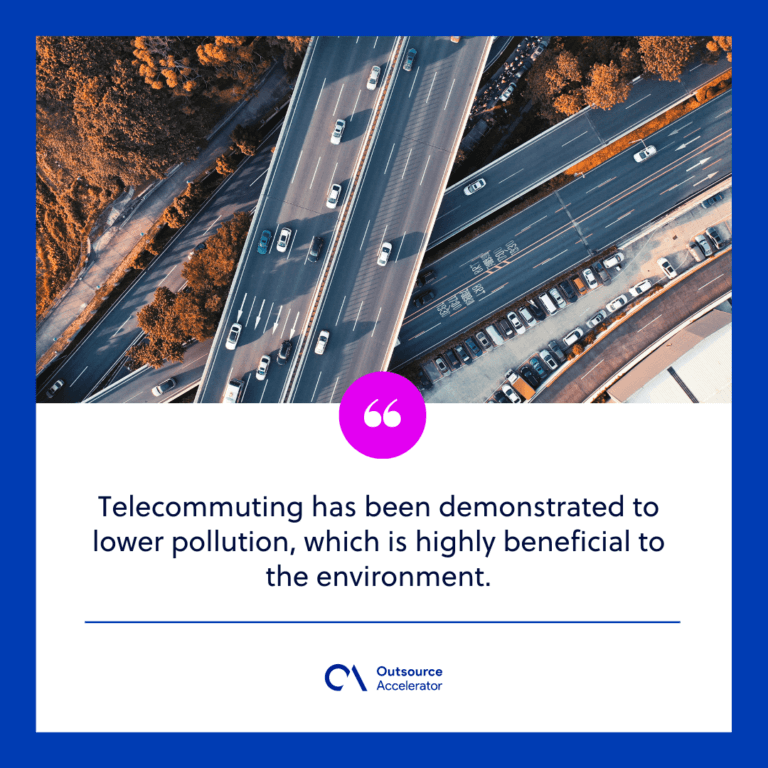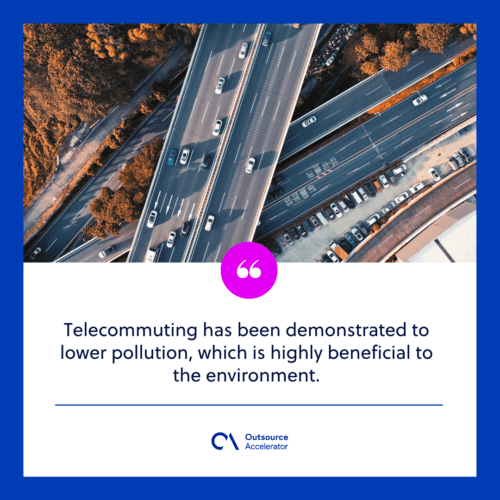 Lessens conflict in companies
Excessive time spent in an office or workspace can result in conflict with management and colleagues. Telecommuting significantly eliminates such issues.
Enhances concentration
Telecommuting helps our potential to focus since we operate in situations that are much more accommodating to our preferences.
It does not just indicate working from home, but it also means that we may do tasks remotely from any place where we have a high-speed internet connection.
Telecommuting vs remote work
The two concepts may be intertwined but there are certain differences between telecommuting and remote work:
Remote work
Remote work indicates that the employee resides outside of the location where the company is situated. Unlike telecommuting, remote workers can be anywhere in the world and are not expected to show up physically for reports or meetings.
Remote workers rely solely on digital communication and technology to communicate with onsite teams and deliver their projects.
Telecommuting
Telecommuting implies that the employee is near the company. Similar to remote workers, they may work anywhere, whether at home or in a cafe. However, they report to the office from time to time, depending on the company's requirements.
In some companies, telecommuters are required to be present in the workplace at least once a week. This keeps employees and managers in touch.