Definition
What is a quality analyst?
A quality analyst, also called quality assurance (QA) analyst or QA analyst, ensures that all objectives are achieved by developing and executing test plans for the company.
A QA analyst develops and monitors test scripts to evaluate the functionality, dependability, efficiency, and quality of a service or product. They detect and correct flaws in the production process by gathering and evaluating actual data.
To guarantee that quality assurance requirements are fulfilled, quality analysts recommend, execute, and monitor appropriate control measures. They also ensure that during the testing process, customer expectations are maintained.
They create quality assurance policies and procedures, examine customer complaints and product concerns, and guarantee that quality and industry regulatory requirements are fulfilled continuously.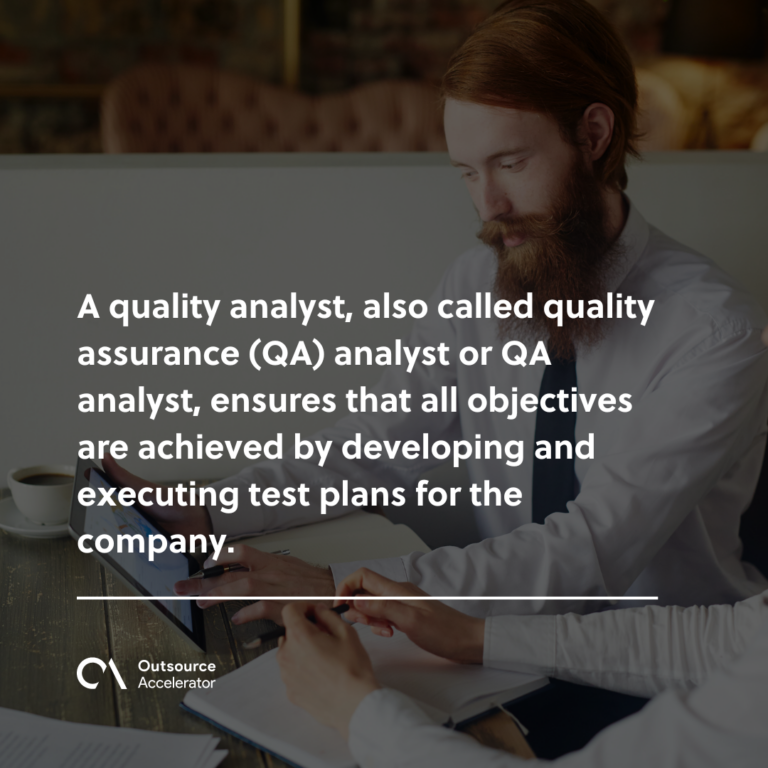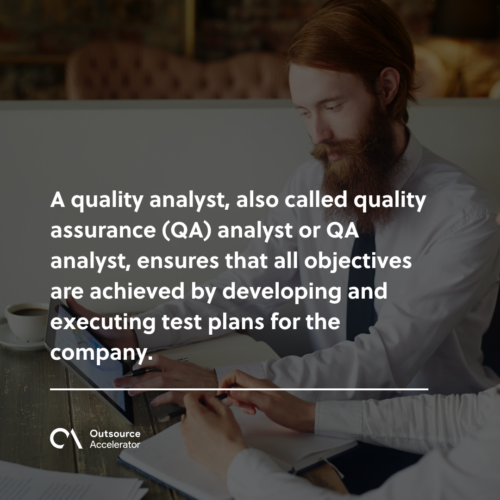 Importance of a quality analyst for an organization
The quality of a product is what matters in any industry including tech and software development. Quality assurance helps identify problems before they arise, and a QA analyst guarantees that procedures are carried out as intended.
A quality analyst is in charge of the entire process from planning to execution and ensures that the product is delivered on time. This helps a business satisfy its customers by delivering high-quality services that meet all of their needs.
Characteristics of a quality analyst
Here are some characteristics to look for in a Quality Analyst  for your support team:
Fast learner
A quality analyst must have a broad understanding of the business. They must understand the business protocols and the QA process and procedures.
You need someone who can quickly learn and adapt easily to the company. Only by understanding all of the procedures in place will they be able to execute the tasks they need to conduct.
Detail-oriented
In customer service, the quality analyst also listens to calls and evaluates hundreds of calls and emails. 
That said, it is important for a quality analyst to be detail-oriented. They must separate the good from the bad among the massive quantity of data they process on a regular basis.
Analytical
A quality analyst must be analytical, putting all of the obtained data to good use. They must be able to identify trends and tendencies in data. 
They are the go-to person to ensure all systems are functioning, find areas of improvement, and identify rising customer trends.
Excellent coaching and communication
A quality analyst not only executes quality control but also serves as a link in the chain between management and front-line personnel. They ensure that the entire organization is on the same page.
They collaborate closely with front-line employees to improve customer service mistakes and recognize good performance. They must have the appropriate approach to pointing out improvements while inspiring employees.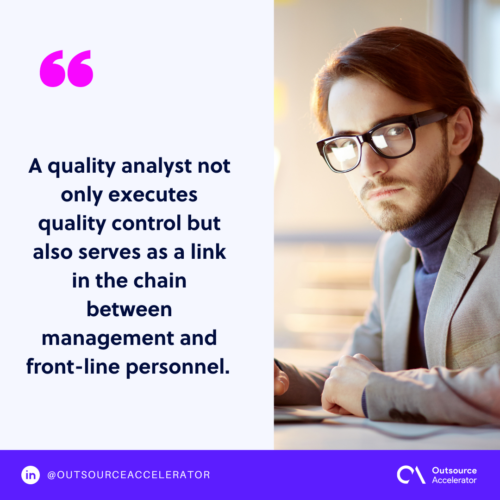 Quality analyst's roles in call centers
Here are the common roles and responsibilities of a quality analyst in a call center:
Supervise calls
Your call center handles a large number of client inquiries, and quality analysts help keep the quality in check by monitoring calls. They ensure that your call center agents are dealing with consumers by your company's defined rules.
They listen to conversations in three ways: live, recorded, and side by side while providing comments. Moreover, they engage in identifying key behaviors and issues that promote or reduce sales and enhance customer experience.
If a quality analyst discovers breached internal procedures, skills gaps, or poor workforce scheduling, it is their responsibility to make an informed decision on how to correct them.
Assess agent performance
In terms of successfully representing your services, resolving difficulties, and answering consumers' queries, your call center agents are on the front lines of your business.
A quality analyst reviews agent conduct, guide, and train them to reduce negative customer experiences. This practice can also enhance customer service and reduce waste of resources and agent turnover.
Monitor trends
A quality analyst researches what other call center organizations do to improve their customer relations. The analyst can then use the information gathered to create a tailored solution for your company.
Keeping up with the industry trends will help your company improve customer interactions and surpass the competition.
It is also necessary to monitor trends within your call centers, such as monthly agent performance metrics and neglected areas on an organizational level.