Finding the right outsourced QA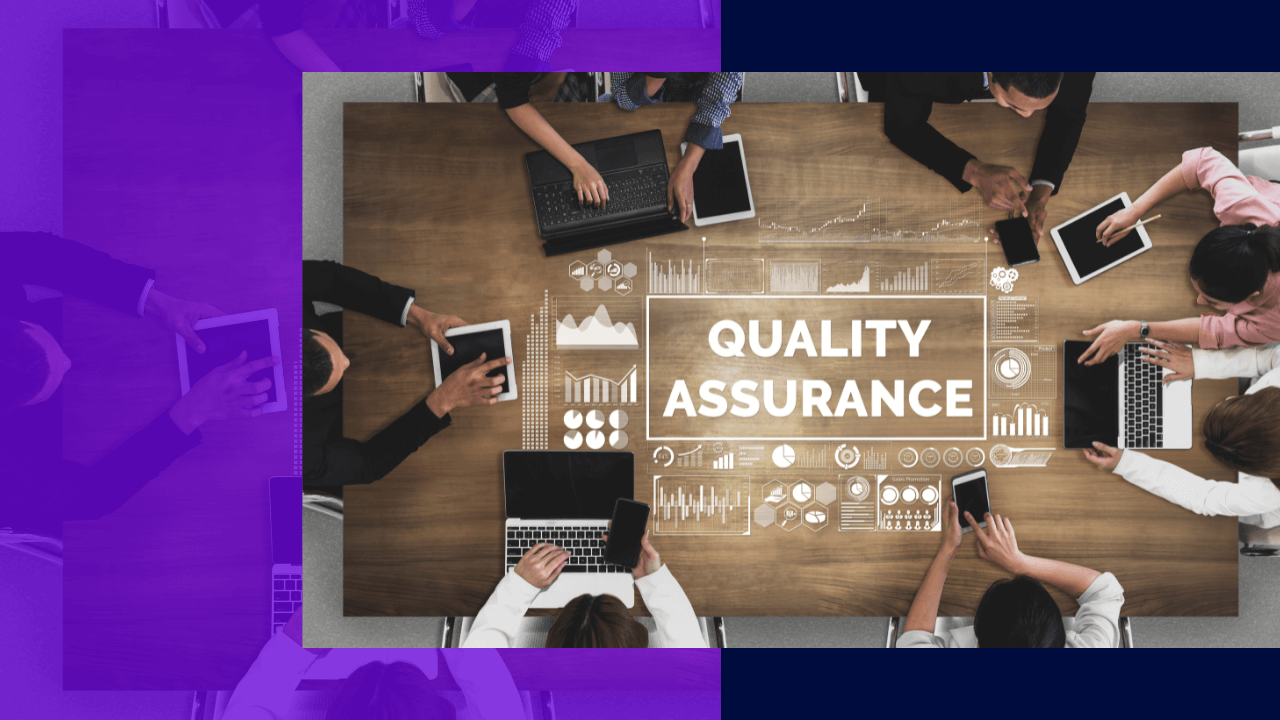 Everyone has distinct expectations when it comes to quality assurance. And quality assurance helps a company meet the needs and expectations of its customers and stakeholders.  
A high-quality service or product is the result of a team effort. In the long run, quality assurance saves money and prevents conflicts. 
By preventing problems before they arise, you can ensure that quality standards are met and sustained. In today's business world, quality assurance is a necessity.
What is outsourced QA?
Outsourced QA or outsourcing your quality assurance means that you employ the services of a third-party company to determine if a product or service meets quality standards. The external team will conduct an audit of your systems, evaluate the product's current condition, and address any flaws that may exist.
The quality assurance process begins with clearly defined expectations and benchmarks. Errors and confusion are less likely to happen when people know exactly what they are supposed to perform.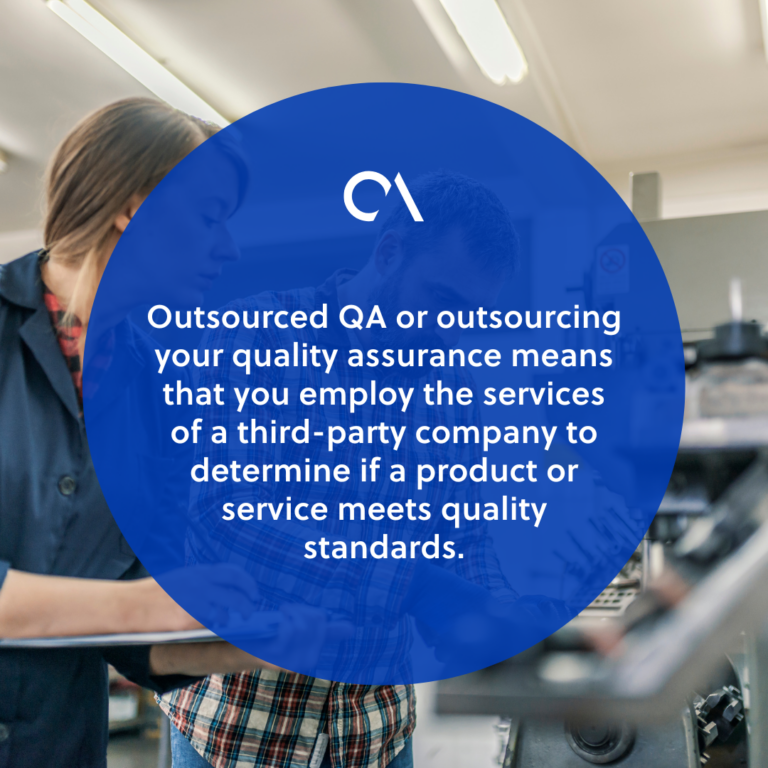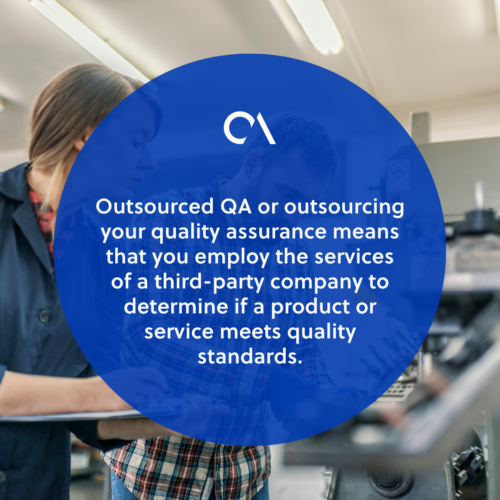 Outsourced QA vs. in-house QA
Quality assurance is a vital component of the entire process of developing a product and improving customer satisfaction.
In-house QA has its own advantages and disadvantages, but the dynamics are now greatly changing to outsourcing. Many companies now find outsourced QA as a feasible business solution for numerous operational concerns. 
Outsourced QA
Advantages:
Develop your business faster because you can accomplish more tasks simultaneously.

If you don't have enough in-house facilities, your outsourcing partner can provide all the equipment you need.  

Outsourcing QA means no need to hire and train a full-time employee.

Concentrate on your core strengths when you leave the QA activities to an outside partner.
Disadvantages:
An unreliable QA partner is a waste of time and money.

It's impossible to maintain physical control over a testing project when it's outsourced.
In-house QA
Advantages:
Confidentiality hazards might be reduced if your personnel is involved in the entire QA process.

In-house QA improves your company's QA team by training them.
Disadvantages:
Training and developing an in-house QA staff requires time and expenses.

You can't benefit from economies of scale like a professional QA business can.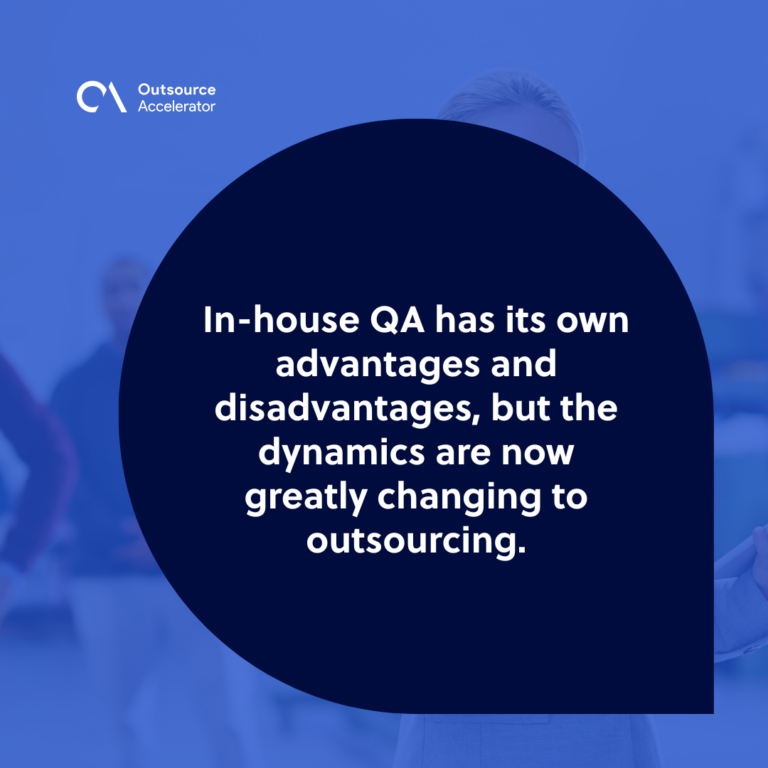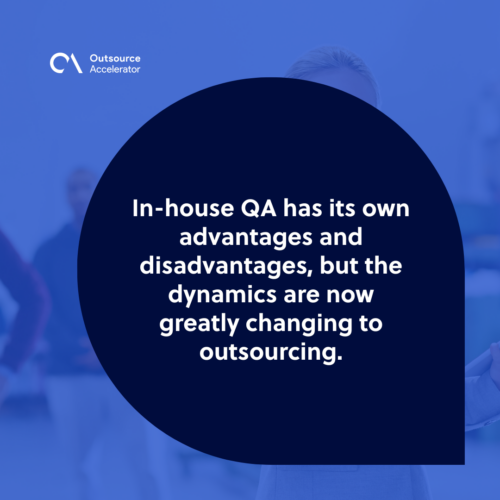 How outsourced QA can help your business
Outsourcing QA can save you a lot of money while ensuring that your company's product aims for the highest quality possible. Here are more benefits of outsourcing your QA processes:
Outsourced QA is more efficient
Outsourcing is one of the most cost-effective options for many companies. Outsourced QA can give you superior testing procedures and higher quality assurance.  
In fact, companies are more efficient when outsourcing their QA rather than using automation. Human testers might have spotted several issues that automation tools miss.
It saves you time and resources
Outsourced QA gives you more time to focus on more important tasks in your organization. As a result of outsourcing, you don't have to worry about exhaustive quality assurance evaluation. You are also able to accomplish more tasks simultaneously.
Outsourcing helps meet tight deadlines
Expertise and fast workflows are the advantages of outsourcing QA testing services. If you have a tight deadline, you may rely on them to deliver quality testing in a short period. It is possible to receive results quickly without sacrificing quality by using an outsourced testing provider.
No need to hire a full-time worker
You can save money by contracting with a quality assurance testing company rather than hiring a QA manager. Although your employees may be experts in their own fields, as the demands of the business grow, you will require the services of other experts as well.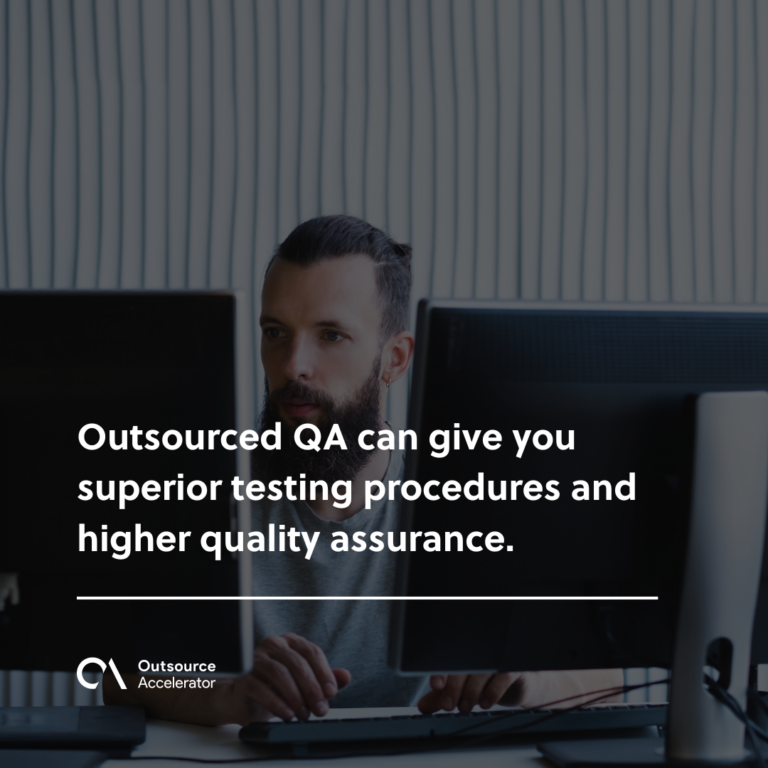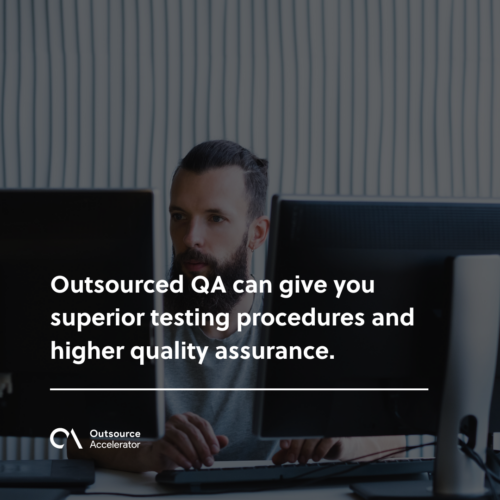 Best practices for outsourced QA
Make sure your service provider uses the latest testing technology and processes when outsourcing. Hiring a trusted outsourcing company— such as Cloudstaff — to perform QA services is an excellent option, but there are a few things to keep in mind.
Make a financial plan
When selecting an outsourced QA team, keeping an eye on your budget is essential. One of the best options is to go to a developed country with the most up-to-date technology.
Creating a budget gives you control over your income, expenses, and investments. It also allows you to better manage your funds and reach your financial objectives even when outsourcing.
Perform a background check of your outsourced team
Quality assurance is vital for every company. When you are outsourcing your QA, you want to work with a reliable and credible firm.
Make sure the individual or firm you're working with has a good reputation and is trustworthy. If necessary, inquire about references and check out their previous projects. See how well they performed and what kind of results they achieved.
Assign or hire an expert for communication
Communication with the outsourcing firm is simple and uncomplicated if your company has a background. You'll be able to communicate effectively and demonstrate your expertise to the new partners. 
However, if you are unfamiliar with the process, it is best to hire a specialist who can communicate with your outsourced QA. You may consider hiring one from Saigon Technology — an outsourcing firm that provides software QA services.
Outsourced QA teams will be impressed by your level of professionalism. Having a specialist helps you communicate more effectively with your business partners. It will also allow you to better comprehend their questions and developments.
Know your outsourced QA firm's resources and restrictions
Outsourcing quality assurance will always have its restrictions and limitations. Make sure you know what kind of testing you require before partnering with an outside team.
Choosing the finest outsourcing provider will be easier if you are aware of all the resources available to them and the limitations of those resources.