Definition
Progressive dialer definition
A progressive dialer is a type of automated system that displays contact details to the available agent before dialing the phone number. It is an automated solution that eliminates the need for an agent to manually key in numbers before making calls.
Aside from customer service, a progressive dialer is also used in sales and marketing activities.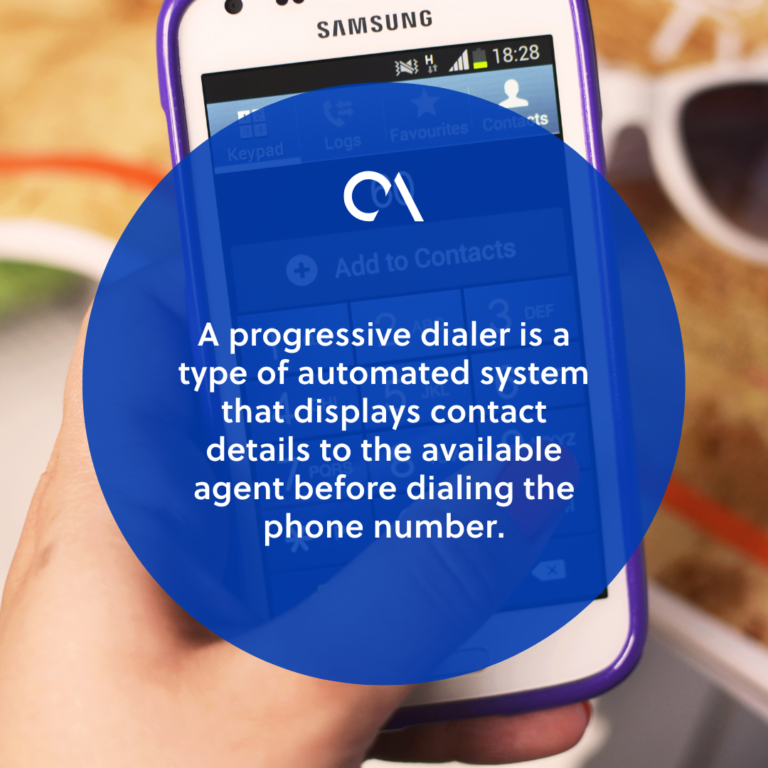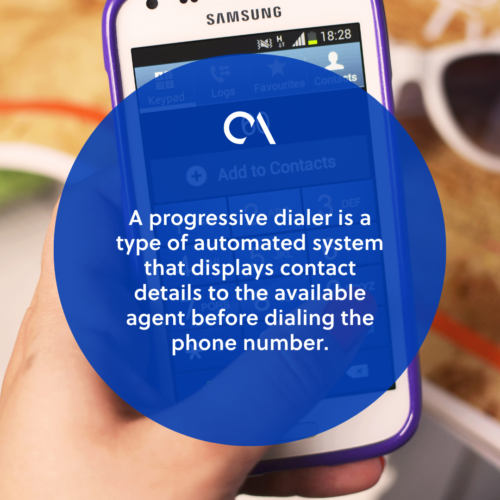 How does a progressive dialer work?
Based on the direction with which the call center operates, an agent is given enough time to evaluate the contact details provided on the computer screen before the dialer initiates the call automatically.
This maintains a consistent call volume while also enabling call center agents to prepare for a call. The progressive dialer works its way through the company's call lists. 
It waits until an agent is available to accept a call before dialing the next number on the agent's account. 
A progressive dialer is based on the number of call center agents connected. Its calling rate is affected by elements such as abandonment rates and connection rates. 
Advantages of progressive dialer
Here are some advantages of progressive dialer:
Enhanced agent productivity
Progressive dialers help connect more consumers than an agent would when dialing manually while avoiding ineffective calls. This improves agent productivity by allowing for higher success rates.
Increased customer engagement
By using progressive dialers, businesses may give a personal connection to their consumers. The software used to conduct these calls is intelligently designed to connect the agents soon after the client gets the call. 
This results in a seamless call experience, which assists firms in improving their client engagement.
Call abandonment and progressive dialers
Although progressive dialing is a type of automated dialer, it only connects agents when a live person answers the phone. This boosts agent productivity while decreasing call abandonment. 
This is common with predictive dialers when clients hang up when they hear an automated voice or become angry with such calls.
Improved lead conversion
Using a progressive dialer makes the sales process easier and adds adaptability to the entire outbound calling process. 
The progressive dialer displays information about the consumer, which allows the salesperson to tailor the dialogue and achieve a higher conversion rate. 
Real-time reporting
Monitoring systems that are easy to use provide a thorough view of the number of calls made. Call recordings are provided by progressive dialers so that managers may monitor team performance and ensure that call quality meets customer expectations. 
Real-time reports can assist organizations in identifying problems and taking immediate action to remedy them. Because all calls are monitored, firms can easily measure growth and achieve great operational efficiency.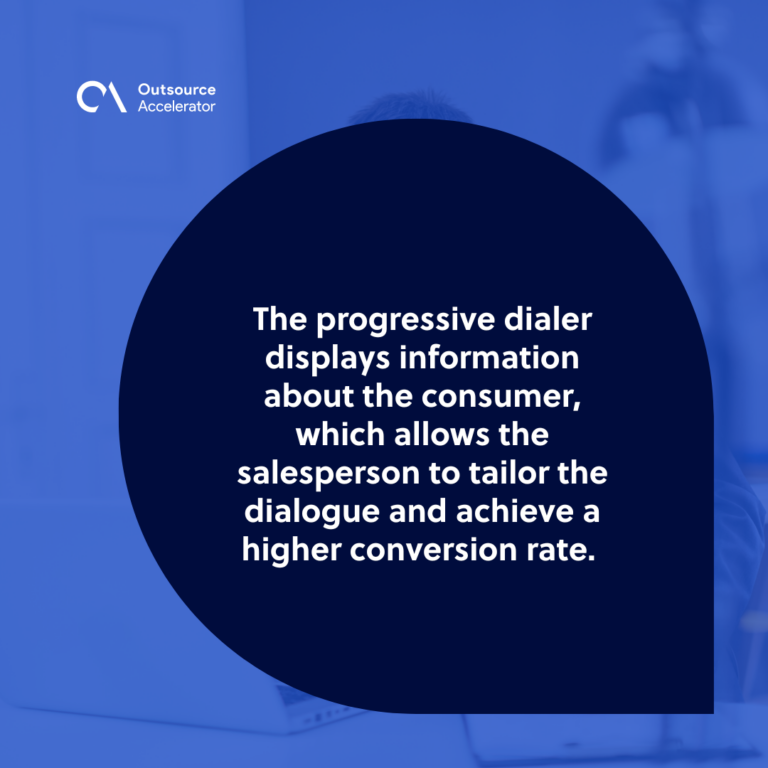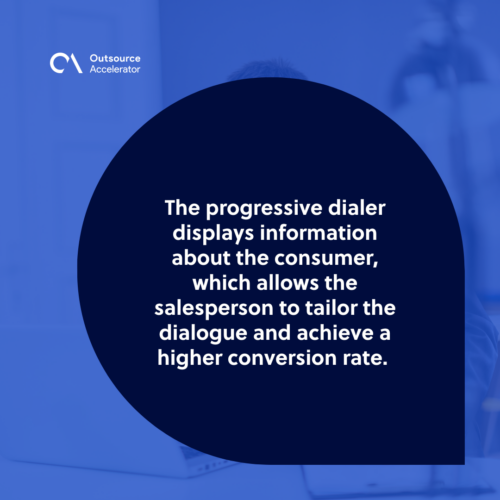 How do progressive dialers help sales teams?
Since the majority of sales transactions are now done over the phone, sales representatives must make the most of their time by keeping the phone lines open and reducing downtime.
Agents that manually dial out each call, wait for the call to connect, and then scroll down through the call lists waste time and are unproductive.
This is where progressive dialing software comes in. Downtime is decreased with an automated system, which results in less wasted calls and time, more sales, and improved lead management.
A progressive dialer for sales reps will call out one by one from a list of leads, maintaining a constant flow of calls and reducing downtime in between.
Progressive dialers vs. predictive dialers
Automatic dialing phone networks have become a must-have for every call center that wants to strengthen agent productivity and efficiency. As a result, different service providers offer a variety of auto-dialing systems that take your company's performance and organizational demands into consideration.
With several automated dialing phone system alternatives, it's possible to get confused about where predictive dialers and progressive dialers are used.
The predictive and progressive dialers examine your contact database before enabling the automatic call distribution (ACD) function to connect with the agent. They both help avoid dead ends such as answering machines, busy lines, and disconnected numbers.
As a distinction, a predictive dialer aims to contact as many customers as possible in the shortest period. The "predictive" function lies in its capability to measure the next availability of an agent and calls customers ahead of it.
On the other hand, progressive dialers pursue a balance between an agent's availability and automatic dialing. Dialing will end if there are not enough agents to answer the call.