Professional Employer Organization (PEO)
Definition
What is a Professional Employer Organization (PEO)?
A professional employer organization (PEO) is a third-party provider that leases its employees to their client company. By entering into a joint-employer relationship, they get to share the duties and responsibilities in handling their workforce.
As a part of their agreement, the client may outsource some or all of its HR responsibilities to the PEO. This includes recruitment, onboarding, and training. Other responsibilities, meanwhile, will be shouldered fully by the PEO including the taxes, benefits, and other administrative compliances needed.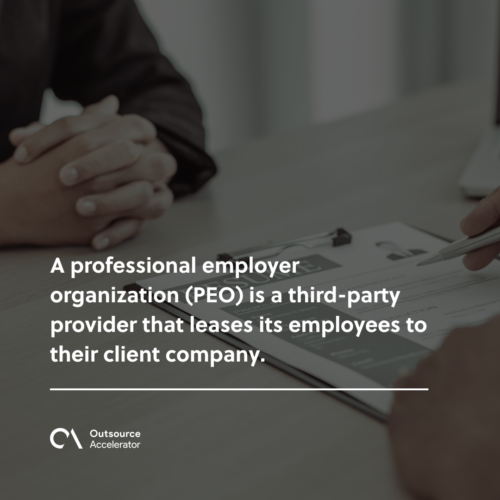 EOR vs Professional employer organization (PEO)
Most companies use PEOs and EORs interchangeably when it comes to delegating HR and recruitment responsibilities. Though, companies have to take note of the difference between the two entities when it comes to handling responsibilities. 
For instance, EORs handle almost all of the HR responsibilities. This includes handling of contracts, insurances, benefits, and onboarding processes. However, you will only have minimal control over their processes. With PEOs, meanwhile, you can share control and responsibilities in handling your workforce. However, additional services such as insurance will be shouldered by the company.