Medical phone answering service
Definition
What is a medical phone answering service?
Medical phone answering service is a call center service provided for healthcare professionals and institutions, where skilled operators represent the company in lieu of receptionists. 
It streamlines the medical answering processes by providing quick and round-the-clock services to respond to patient inquiries.
Further, a medical phone answering service ensures that you are adhering to HIPAA requirements for client information protection.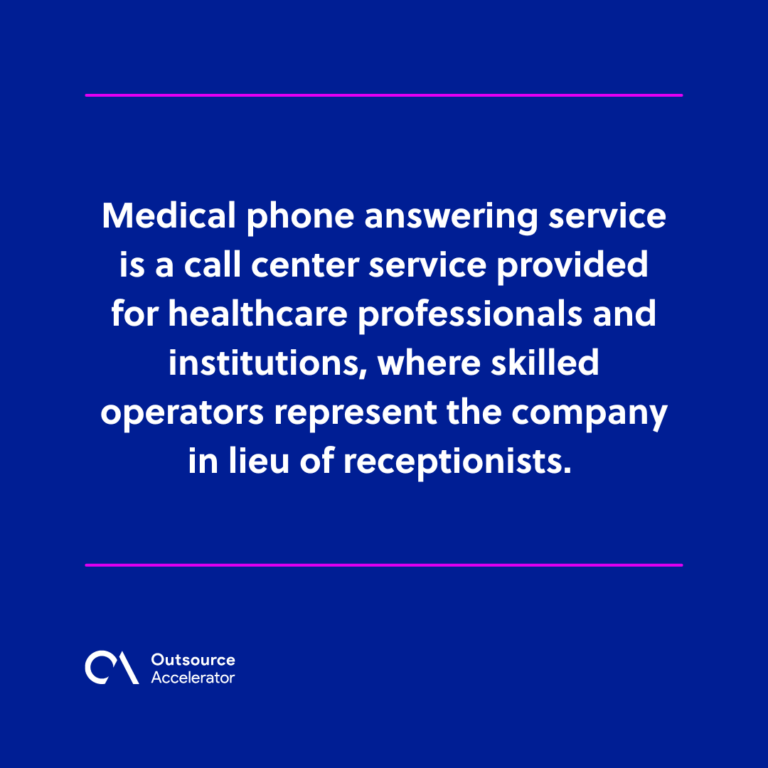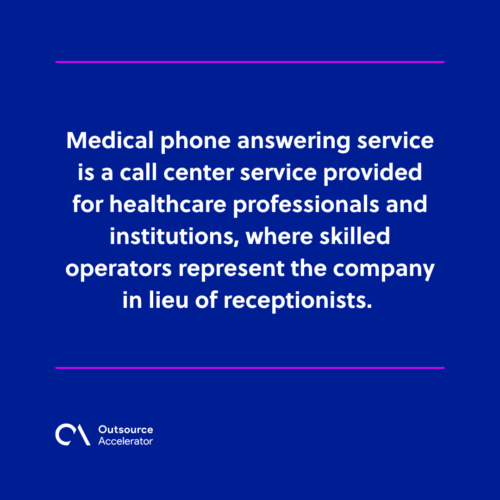 Features of a medical phone answering service
Medical answering services can be as vital as a live receptionist. Service providers differ in their offerings, but many of them include the following key features:
Quick, real-time response
Medical answering services outside of the institution boast greater reliability as they operate 24/7, ensuring that every call is answered. They are able to address patient concerns based on scripted responses and FAQs provided by the clinic.
Message distribution
When taking calls, the agent or operator can take note of and relay messages effectively to the appropriate medical personnel. They can do so via phone call, text message, or email.
After-hours assistance
As mentioned, medical answering services are available around the clock, so healthcare professionals can trust that their clients can receive after-hours assistance. 
Even when the clinic or medical office is closed, the live receptionist can ensure that inquiries and concerns can reach the concerned personnel as soon as they're available.
Taking overflow calls
If your office encounters an increase in call volume, the medical phone answering service will have a live receptionist available to answer the overflow calls. This is better instead of patients receiving a busy signal when they try to reach you.
Appointment-setting
Just like in-clinic receptionists, phone answering service operators are trained to schedule appointments according to the medical professional's calendar. 
Appointment reminders
They may also assist in contacting patients to remind them of their appointments, which helps reduce instances of cancellations and no-shows.
Processing of payments
Some medical answering service providers are also qualified to process payments and claims over the phone via debit or credit cards.
Recording of phone calls
Calls to medical answering service providers can be recorded and archived for future review. Recordings are saved over a secure portal so medical personnel can access them anytime.
Why hire a medical answering service for your practice?
Here are some reasons why you should hire live operators for your medical practice:
Process calls quickly
As you have live receptionists dedicated to medical phone answering, employing the service is a great strategy to facilitate patient calls more efficiently. 
HIPAA-compliant operators
Medical answering service providers have operators that adhere to HIPAA regulations. This helps you safeguard the security and confidentiality of your patients' information while avoiding the danger of abuse or errors that might harm your firm's reputation.
Personalized service
Live operators provide personalized service, which automated attendant systems cannot. Their professional training in standard protocols, phone etiquette, and other aspects of the medical practice makes them a great choice for providing exceptional customer service every time a call is answered.
Increased efficiency rate
When you engage a medical answering service, you can relieve your in-house staff of the burden of taking calls while they attend to the day-to-day operations of the clinic or hospital. 
Moreover, you can be sure that your patients will receive assistance regardless of the time of day and that emergency calls will be promptly attended to.