The world of work is quickly evolving. It wasn't too long ago in human history that work consisted of basic subsistence living within an agrarian society. Usually, the work was all-consuming and brutally unforgiving.
Then came the industrial revolution, bringing dirty factories, harsh conditions, and high-density urbanization. The wages were more consistent, but the work was far from fulfilling.
Humans have never ever been free of the need to work. Possibly, one day, as society progresses and productivity, prosperity, and automation improve, a job, employment, or career will become optional. There is already a growing conversation about a 'universal basic income,' where the government pays out a basic salary to everyone – just for being alive.
It's crazy to think that one day, people might look back at the concept of a job with distant nostalgia. Similar to reminiscing about the first motor car or life before mobile phones.
However, it seems that most of us are all stuck with the need to work – at least for now. And since we have to work, why not make the best of it. In fact, having a job, or better yet, a career, provides people with not only money but a sense of purpose, identity, and fulfillment.
It's not meant to be fun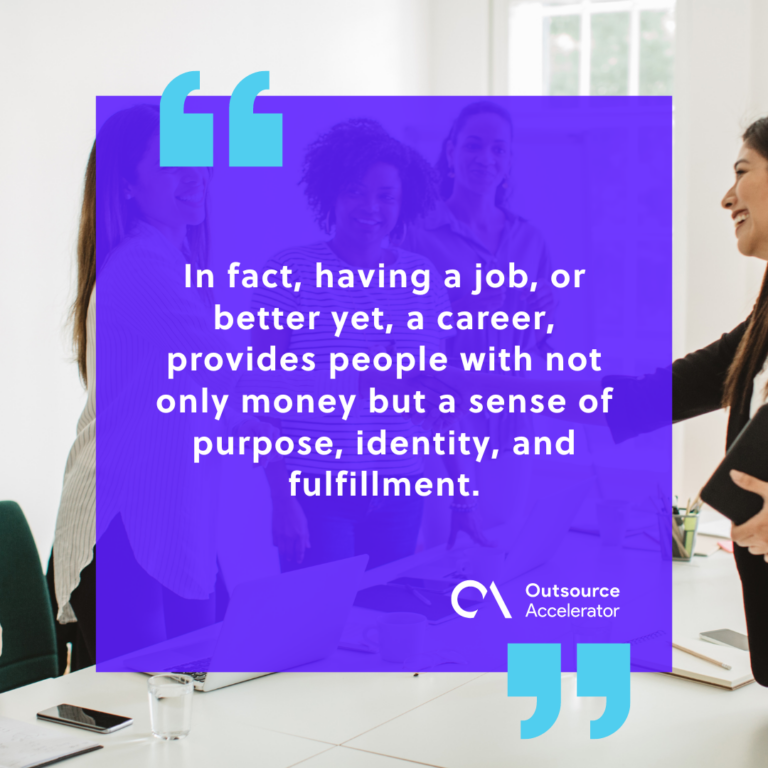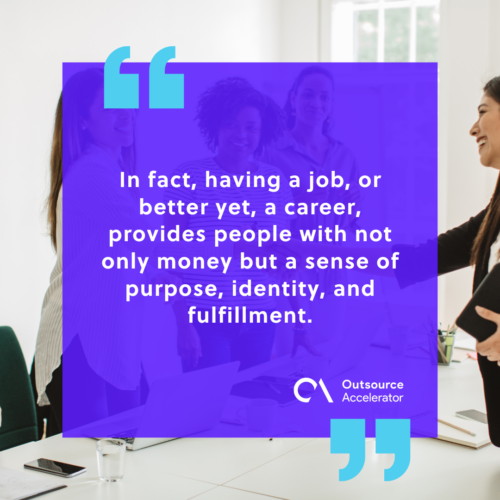 A job is not all fun. In fact, a lot of the time, it's hard. Really hard! But as with most things in life, the hard things are often the most rewarding. Running a marathon is hard. Completing a Ph.D. is hard. Raising children is hard. But that's what makes it so compelling. If it weren't hard, then it wouldn't be valued.
And in the case of work, some people seem to forget that the salary they receive is compensation for doing something that they wouldn't otherwise chose to do.
As the 'industrial revolution' evolves into the '4th revolution', physical work is being replaced by intellectual work. Factories are being replaced by laptops, and tools replaced by keyboards. As the nature of work transforms, the meaning and context of work is also quickly changing.
Now, it seems that the workers are calling more of the shots. Work is becoming far more collaborative instead of old-school authoritarian. Also, work is being defined more by its contribution instead of where or when the job is done.
The 4th revolution has empowered the employee – and has allowed work to be done from a laptop, sitting anywhere in the world.
In recent months, the narrative around work seems to be about almost anything but work. The new 'play-to-earn' trend allows people to 'play' (instead of work) to earn their income. Meanwhile, it seems that work-from-home is now standard, while more and more employers trial a permanent 4-day week, and another entrepreneur trumpets a $70,000 minimum salary.
Plus… did I mention that employers are now hiring their staff globally? Why limit your employee search to just your local geography when there are billions of competent professionals across the globe?
Employment is getting so complicated!
The question for your business:
Is your business keeping up with the fast changing terrain of work and employment?
Read more thought leadership articles here: