First, there was talk of the economy slowing, credit tightening, and VC funding drying up. We see this now trickling through to the tech sector as it lays off more and more staff each month.
It was only three months ago that the topic of conversation was about how hot the market was, how audacious salaries were becoming, and how severe the staff shortages were.
How quickly things can change…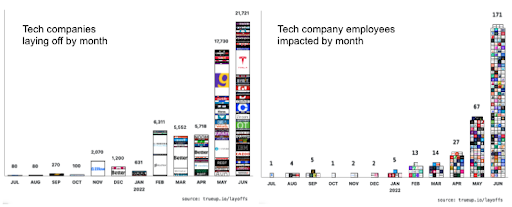 Does the tech sector represent Main Street, or is it its own little bubble? Or… If the tech sector feels the heat, then possibly Main Street is suffering even worse.
Doing more with less?
The problem with aggressive layoffs is that the remaining staff are required to do even more with even fewer resources. If the core business wasn't profitable before, how can a smaller, less-resourced team turn the company around?
Instead of dropping headcount, many companies are turning to offshore staffing for respite. Offshore staff can save 50%-70% on all-in employment costs. So instead of dropping your headcount by 50%, you can maintain the same headcount, maintain productivity, maintain growth, maintain skills, and still save 50% on employment costs.
Moving employment from high-cost places like California to a lower-cost destination like the Philippines enables savvy businesses to remain competitive and in the race.
Typical professional salaries in the Philippines range from $6,000 to $18,000 per year – that's a far cry from the Silicon Valley salaries.
In the good times, affluent, cash-rich companies can be quick to disregard such incredible opportunities. In the tough times, companies are thinking twice and giving it a shot.
And they are reaping the rewards.
Those that wait too long to slash costs can get caught short.
The question for your business
Is your business prepared for a recession? Are there ways that you could do more with less?
Read more thought leadership articles here: