Offshoring staff can be a controversial topic. People claim that offshoring is stealing jobs and ruining economies. Yet, I suggest that offshoring simply opens up a localized – and finite – market into a global and relatively infinite market. Small geographically constrained markets have a lot more volatility and exposure to extreme conditions. Small towns can regularly experience extreme cases of labor shortages, or alternatively, labor surpluses resulting in high unemployment.
When you open up the market to a global workforce, you have a far broader community. You have a potential workforce of roughly 8 billion people. That is a lot of people. Compared to roughly 8 million potential employees in New York or roughly 4 million employees in Sydney, Australia.
A Canadian fast food franchise has been in the spotlight recently with an ingenious solution to staff shortages:
Canada's restaurant franchise Freshii is jumping on the outsourcing train by hiring front-facing employees in Central America through their virtual cashier called "Percy." "Percy" is a SaaS technology platform that is aimed at addressing the country's biggest dilemma — staffing shortages. The firm has drawn criticisms from the public for automating customer care roles. The Ontario Minister of Labour, Training and Skills Development added that outsourcing cashier jobs are "outrageous," and "moves entirely in the wrong direction." Freshii maintains the virtual cashier helps redirect staff to "higher-value work." Source: Outsource Accelerator
This has understandably caused outrage from certain people… but Freshii is ultimately just doing what it needs to do to expand its business and keep its customers happy. It cannot access the staff it needs, via the traditional route. If they don't do something, their business will suffer. So they have opted for accessing a global market instead of a local, geographically confined market.
Downside of a tight labor market
The downside of a small, constrained market is that if demand persistently outstrips supply, then salaries will surge to unaffordable levels, businesses will slow down, inflation will rise, and the economy will falter – which is not good for anyone.
An example of this is the new and trendy sector of Web3. Web3, for those unfamiliar, refers to all the new fandango tech-wizardry of crypto, metaverse, DeFi, and NFTs. That industry is really hot right now, and as a result, the programmers and developers that make it all happen are in high demand. As a result, the developers are starting to ask for some pretty crazy things.
Here is an example the excessive demand right now that got the Twitterverse all flustered. This is a Web3 developer's response to a job offer…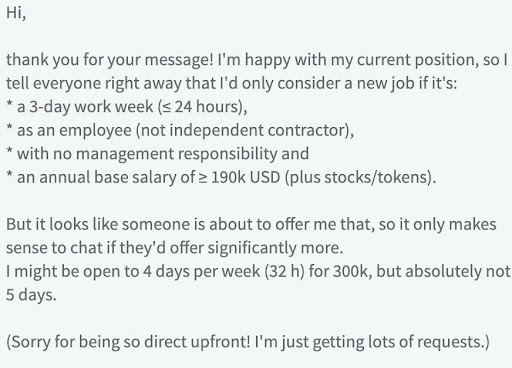 Opening up the job market to a global workforce means that the larger pool of both supply and demand means that market shocks can be absorbed a lot better. This means a more stable economy for both sides of the employment marketplace.
The question for your business:
Is your business constrained by soaring salaries and severe labor shortages? Could you expand the size of the labor market from which you source your staff?
Read more thought leadership articles here: