There's a lot of talk about globalization, but is it actually happening?
In many respects, it seems that the world is becoming more fractured. Russia invades Ukraine, supply chains are broken, the UK leaves Europe, the US tries to revitalize domestic manufacturing, Taiwan's control of the semiconductor market scares everyone, and China plots aggressive world domination like a 1970s Bond movie. Even the US seems to be breaking into two countries – 'US Right', and 'US Left'.
And, of course, everyone is against offshoring and outsourcing.
Maybe we're going backward, and no one will be happy until we all keep to our own countries, stop external trade, and don't talk to anyone else?
Maybe we are de-globalizing?
Despite the current political heartache – and bloodshed – we are seeing, I believe that the world is globalizing far quicker than anyone realizes.
As for political security and stability, there is a strong argument that having strong trade relationships between countries actually minimizes the opportunity for aggression and war. The US could simply not fight with or sanction China – where would they get their iPhones, motorcars, medicines, and medical equipment from? And equally, China's economy would collapse if it was unable to manufacture for the Western world.
When you zoom in and closely analyze any progress, it is far from certain and far from linear – as highlighted by this now cliche success meme: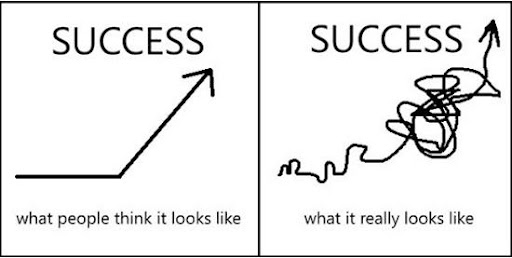 In reality, the word is more connected than ever before. We are all culturally and economically interdependent. Like a giant neural network from Inception, the world's population is responsive to and reliant on one another. We are aligned via cultural interfaces such as Netflix, YouTube, NBA, TikTok, and LinkedIn. We are all economically bonded in that our iPhone is Chinese, our laptop is Korean, our car is German, our clothes are from Pakistan, and our food comes from every country, except our own.
And this trend is only speeding up. The chart below illustrates the manifestation of globalization. The costs and friction associated with Global interaction are plummeting, and at the same time, global exchanges are skyrocketing.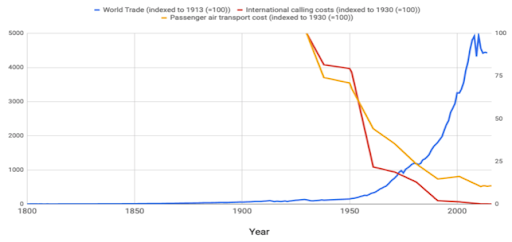 For those that fear the reversal of globalization, fear not. Political skirmishes are only short-term transgressions from the overwhelming trend towards greater international cooperation, alignment, and collaboration.
For those that fear globalization, fear not. It is good for us all, and will catalyze incredible wealth and opportunity for the planet.
Read more thought leadership articles here: