People love to hate outsourcing. It's commonly accused of low salaries, unethical behavior, inhumane conditions, coercion, and even 'modern-day slavery.'
People regularly reach out to Outsource Accelerator, incensed by the concept of offshore staffing.
"How dare you exploit these people!" they would say.
It drives me nuts.
This misconception not only vilifies my company and the outsourcing industry writ large, but also undermines hundreds of millions of people from emerging economies who work to build professional careers for themselves.
The truth: Outsourcing provides a fantastic economic opportunity for people across the world to get a good job, build a meaningful career, and earn great money.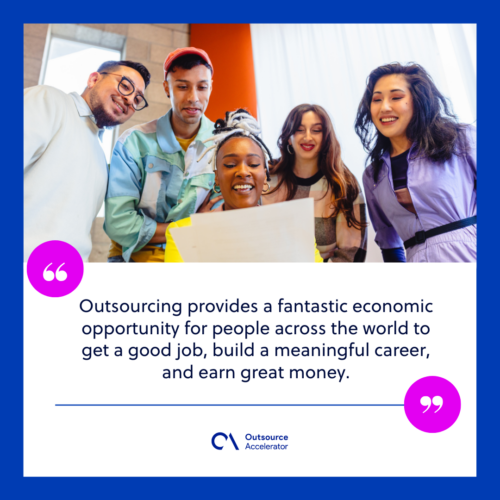 Why is the perception so different from the reality?
It has become a core mission of mine to convince people that outsourcing, offshoring, and global employment is a win-win for everyone involved… From my experience, this is precisely the case.
Our team interviewed eight outsourced professionals based in Manila, Philippines. These people work for US, UK, and Australian clients.
Are these people happy, engaged, stimulated, capable and professional? Watch the video – judge for yourself.
The question for your business
What's your perception of offshore staff? Could misconceptions be holding your business back from the benefits of global employment?
Read more thought leadership articles here: