A quick guide to workflow management
A quick guide to workflow management
A company's operations rely on the flow of tasks and projects directed to them. Without work, there's no business to run in the first place.
And to run a successful business, there are a lot of adjustments to be made, including improving its workflow management. 
But what's a workflow? It is the series of tasks uniformly performed by employees to achieve an outcome. Usually done repeatedly to improve every step, workflows are structured and carried out by multiple team members. 
Workflows may have repeated tasks, but they consider to be the building blocks of business processes. Without workflows, the same mistakes can be repeated, hindering a company's growth and immensely affecting its standing in the market. 
Here's a quick guide to implementing good workflow management in your company. 
What is workflow management? 
Workflow management is a system run by software to help businesses streamline their business processes and employee workloads. 
It's an application embedded in a company's network. Workflow management involves organizing, tracking, and documenting the tasks a team needs to accomplish for better viewing and efficiency. 
A workflow system can recognize both machines and human-based tasks. This software tool allows employees to achieve various business processes linearly while complying with company rules and regulations. 
Good workflow management addresses task creation, delegation, and deadlines. Additionally, they are equipped with supplementary materials and tools to ensure the project is heading in the right direction.
Companies widely use software developed for workflow management. They are readily available in the market and continue to reflect positive feedback from firms. 
With this observation, the global workflow automation market estimates to reach a market value of $78 billion by 2030.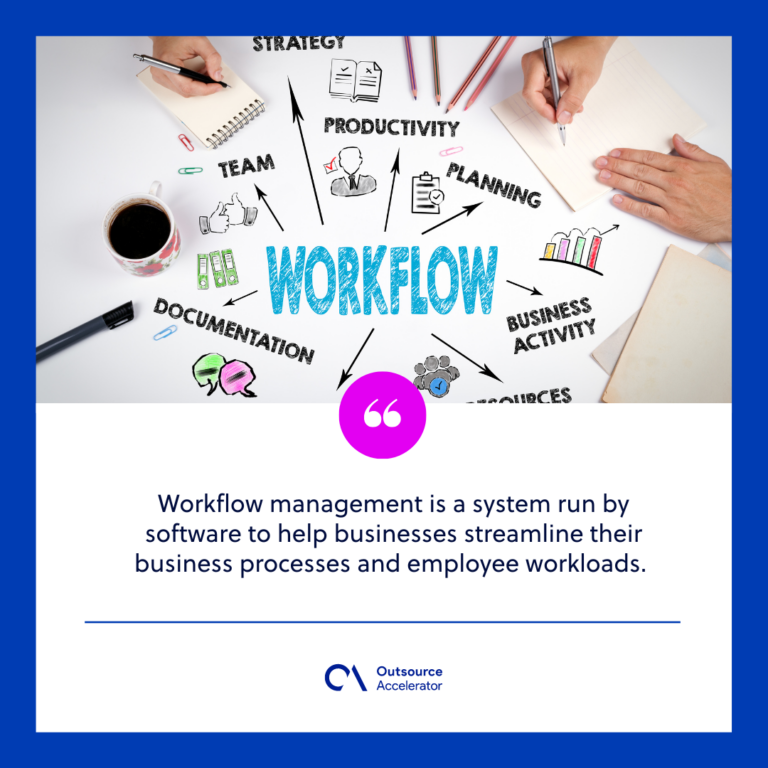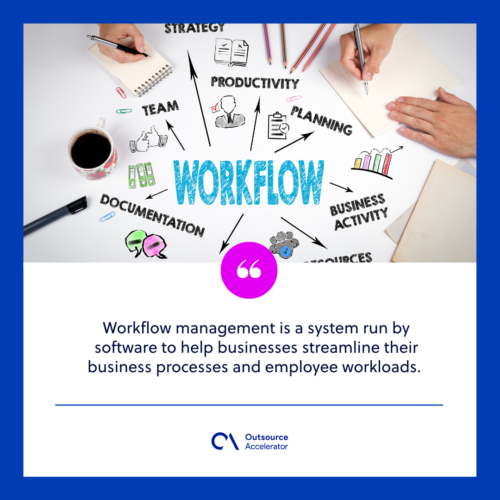 Types of workflow
To understand what management approach is suitable for your business, identify first which one's you're practicing:
Sequential workflow
As the name suggests, a particular sequence needs to be followed to attain the project's entire completion.
This workflow generally depends on the accomplishment of the previous task before moving on to the next. 
Parallel workflow 
Parallel workflows are task arrangements that can be done by employees simultaneously. Unlike sequential workflows, each team member works on individual tasks that don't require completing another's assignment.
Workflow management vs. project management
The two concepts have always been interchanged as they have similar functions, but there's a slight difference between workflow management and project management. 
Workflow management focuses on consolidating a structured set of tasks done repeatedly by the workforce to improve its next implementation. It's a long-term process, usually done to refine the overall efficiency of the team and resolve issues encountered in the previous cycle. 
Meanwhile, project management delves more into the completion of a single project using multiple workflows. Companies use this approach when the assignment is a one-time, big-time and needs extensive employee collaboration and supervision.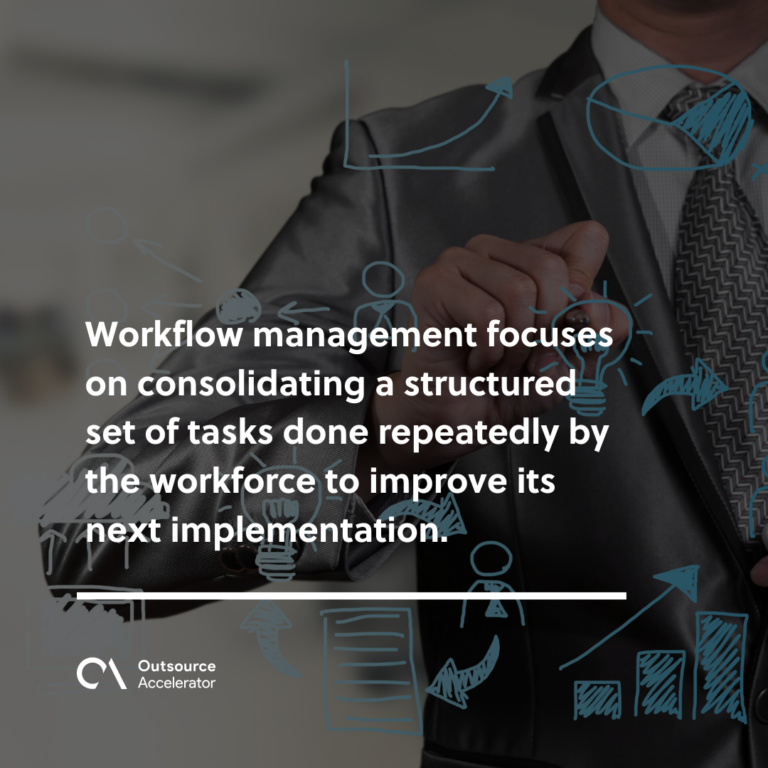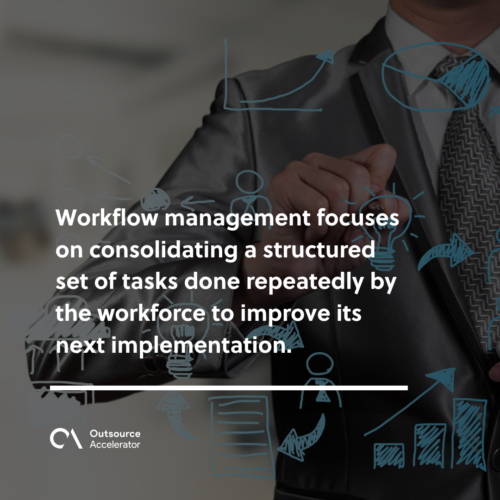 The importance of workflow management
Excellent workflow management is beneficial for both the company and its employees. When you practice this, your business can attain the following:
Empowered employees
Workflow management shapes empowered employees because it straightforwardly sets their responsibilities.
By simply viewing, the workflow software already lays out their tasks, establishing what's expected of them to finish. 
Employees are also encouraged to ask questions and engage in collaboration. Workflow management provides a clearer channel of communication and data access across the company, so they know who to ask questions to and get information from.
Increased efficiency 
Since workflows are repeated tasks, its management guarantees a better cycle by addressing the roadblocks encountered, resolving them, and avoiding them next time. 
This contributes to increased efficiency for the whole workforce as it drives them better to complete outputs without delays. 
Aligned compliance
Workflow management software avoids missed deadlines and human error with its built-in notifications and reminders. Your employees can comply with the set deadlines accordingly just by viewing their respective dashboards. 
It's also easy to practice accountability when it comes to workflow management. Errors committed by employees are easy to address since it offers a real-time monitoring feature.
Reduced cost
Investing in a workflow management tool may be costly at first, but it actually reduces your company expenses in the long run.
Workflow management promotes automation that can minimize the cost of human labor and its linked errors because the software runs them.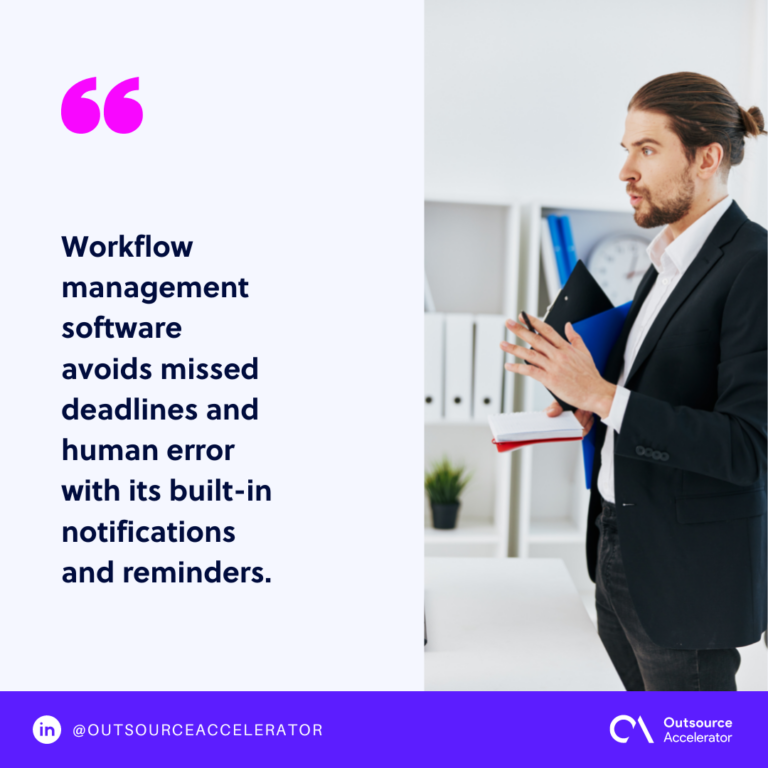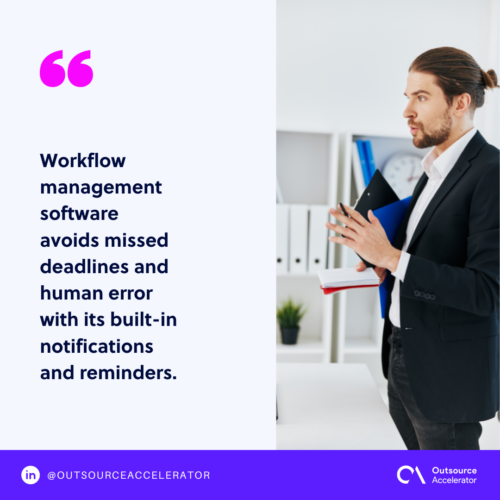 Workflow management software you can try
Here are workflow management software providers that you can check out:
ProofHub offers an all-in-one workflow management tool for businesses. You can use ProofHub to:
Arrange tasks according to their importance

Create custom labels for organizing, and

Import your documents to DropBox, Google Drive, or OneDrive in just a few clicks. 
This software also offers customization, which allows companies to create tailor-made workflow systems that fit their business process perfectly. 
ProofHub offers a 14-day free trial, but their monthly plans cost $45/month and $89/month for essential plans and ultimate control, respectively. 
Bit.ai focuses more on data organizing that allows employees to sort, store, and track documents in a single software without storage limitations. All company files can be shared, kept private, or collaborated with the entire team or anyone outside your organization. 
Similarly to ProofHub, Bit.ai integrates with productivity platforms such as Google Drive, OneDrive, and DropBox. 
This workflow management tool has 3 subscription offers: Free, Pro ($8/month per member), and Business ($15/month per member). 
ProcessMaker is designed to automate form-based workflow and enhance information transfer between systems. It's a user-friendly workflow management software that can be navigated through drag-and-drop options. 
This software offers different services for different industries, such as organizations, banks, and higher educational institutions.
For organizations, subscription ranges from $1,495/month for the Standard plan to $2,479/month for the Enterprise plan. 
Streamline your tasks with workflow management 
Your company's efficiency depends on how you handle your workflow. When there are too many tasks to accomplish, it can be overwhelming to handle. Issues may arise, and you won't be able to address them all. 
Good thing you can apply workflow management to your company. With the rising market of workflow management software, the tools are readily available and will greatly help in boosting your company's performance and promote teamwork.