Workload management: The key to effective and productive work performance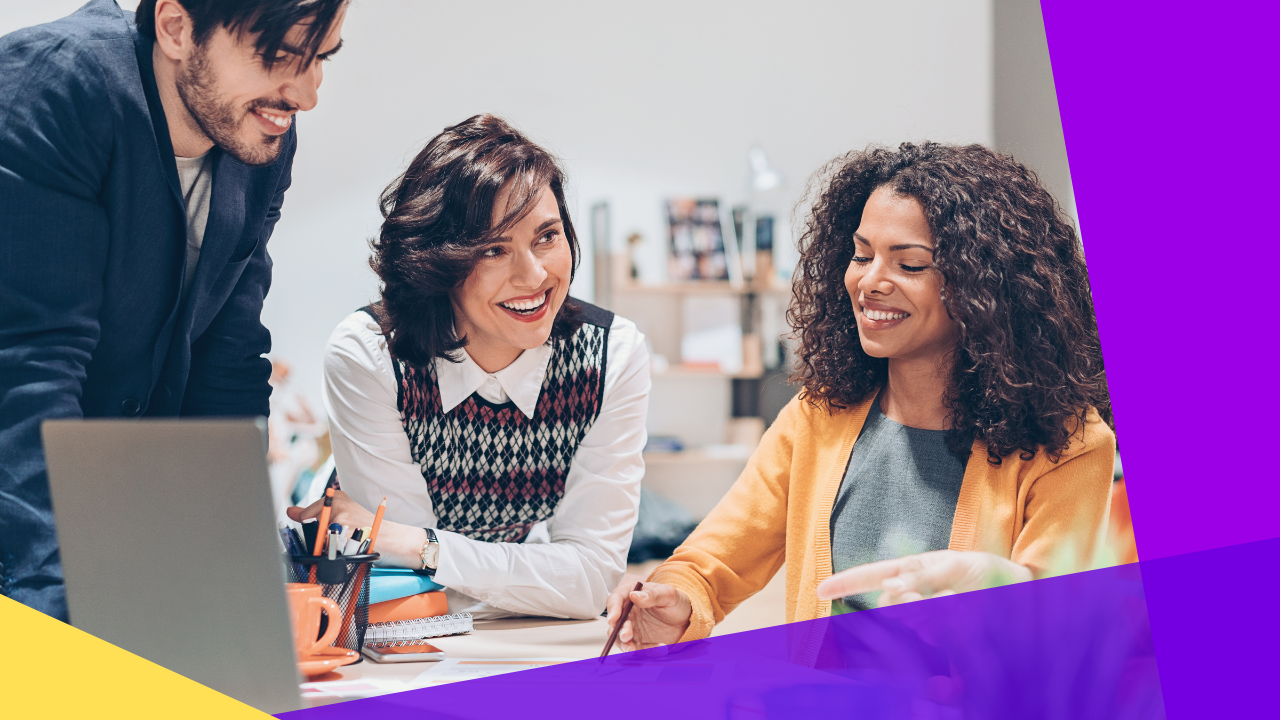 An extensive and organized project schedule is challenging to construct from scratch. This is why having an intensive process to manage workloads is important to make sure that allocated tasks and duties are successfully completed within the allotted time.
There are moments when, regardless if you are working alone or with a group, you get overwhelmed by the long list of tasks to be accomplished within a limited time period. This may lead to the feeling of exhaustion and overwhelm on our part.
If you are one of those people who want to get out of your usual work routine and start a more productive way of completing tasks, then learning about effective ways to manage workloads is what you need.
What does it mean to manage workloads?
For most business owners and team leaders, managing workloads means sustaining both a contented and effective workforce and the psychological wellness of their employees.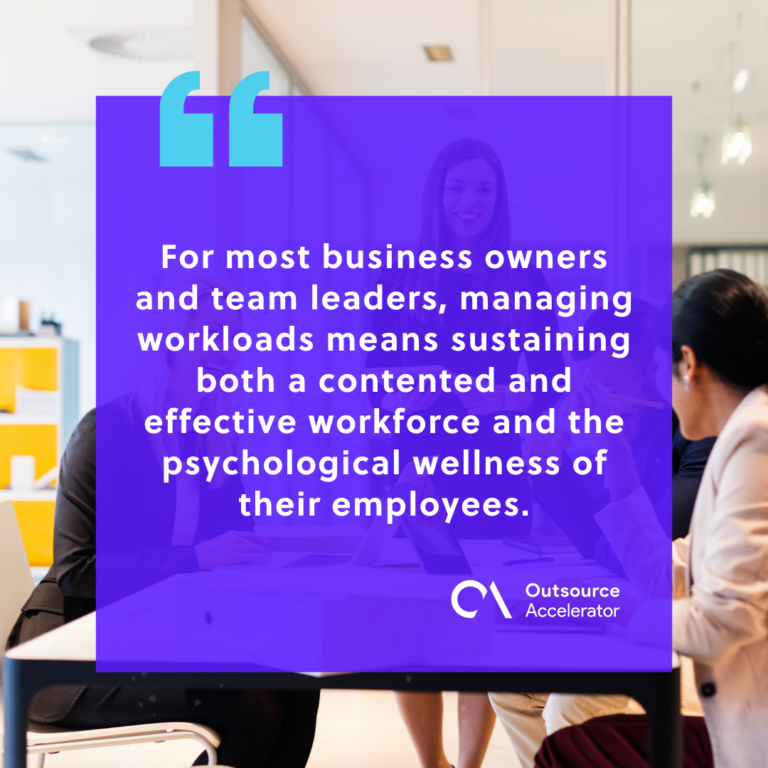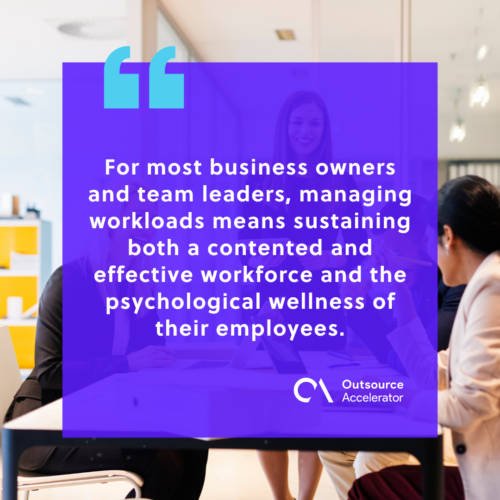 In short, workload management is the process of assigning tasks to a team in a way that best distributes the workload among the available resources and staff.
It considers each team member's capabilities, flexibility, performance, and any other factors that may influence how much and what kind of work they should be assigned. 
What is the importance of workload management?
Workload management is important when you have an intensive list of goals to accomplish and you want to maintain the balance between meeting job needs, intellectual demands, and job happiness.
When job demands are too high, job satisfaction suffers. However, it improves when intellectual demands or the degree of control over work is raised.
Team members perform better in critical situations if they possess strong decision-making skills. When making important decisions, people can learn and practice positive coping techniques in the workplace.
A more productive team and a clear understanding of the status of a project are just some of the benefits of managing workloads within your team efficiently. This helps you anticipate bottlenecks right away and create a strategy before they even happen.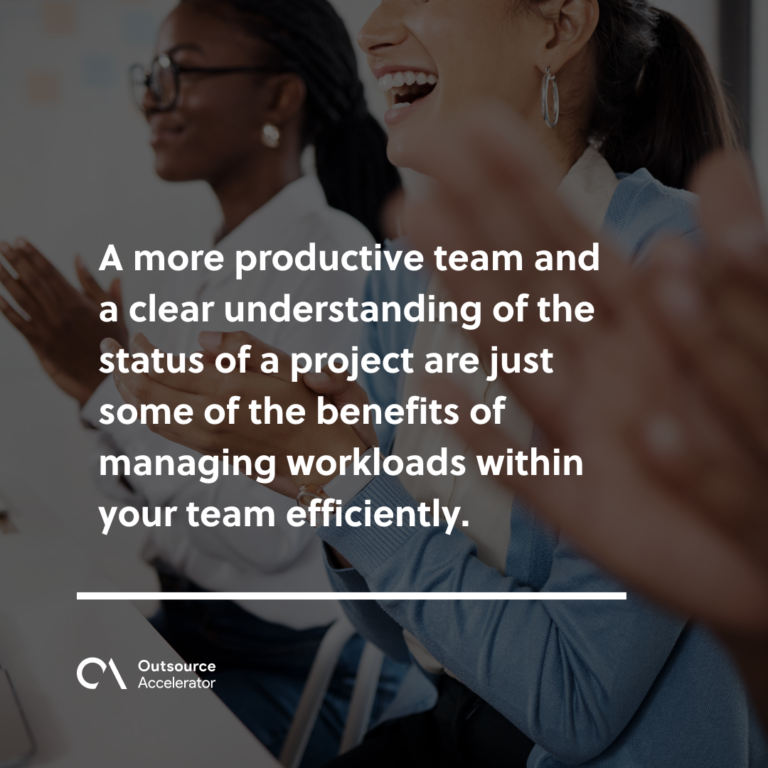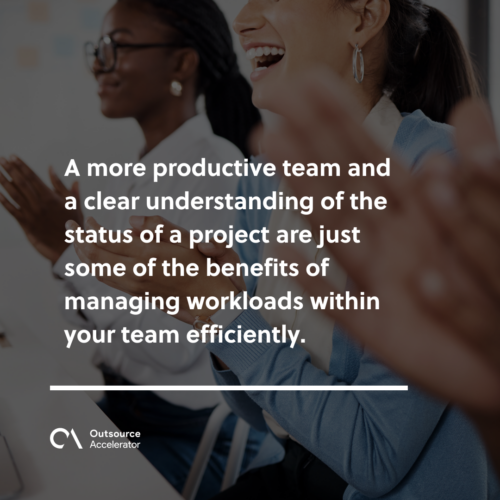 At the same time, you can also decide whether more resources are needed to accomplish tasks and who your most efficient resources are by utilizing organized processes to manage workloads.
Other positive effects of an efficient process to manage workloads include
A more effective team

Decreased churn

Improved collaboration

Higher-quality work
How to build an efficient workload management process
People can sometimes become as complicated as the projects they are working on. For them, it can suddenly seem like you are attempting to reach never-ending changing targets when you manage workloads for the entire team across multiple projects.
Here are some tips to help you manage workloads better:
Set reasonable expectations
Every business aims to be effective and efficient to satisfy customer needs, but having unrealistic expectations for employees can lead to exhaustion and failure.
When you set reasonable and realistic expectations within your team, they will see and know that you are putting their well-being first above any other project concerns that come along the way.
Make sure to address issues as soon as they arise when evaluating progress and receiving feedback. Business requirements frequently change in the middle of projects, and this is where strategies in making sure you manage workloads efficiently come in handy.
Analyze the required workload of the team
Analyze the overall workload for your team or business. When there are lots of jobs and several projects going on at once, it can be difficult to determine how much work each team member has to do. 
To do this, make a thorough list of all the tasks and procedures that fall under your team's responsibility. This includes shared company projects and internal departmental projects.
Establish the duration and parameters for each project. Find out about the difficulty of each task. Determine which areas of the project your team is in charge of, then break down the projects into bits of tasks.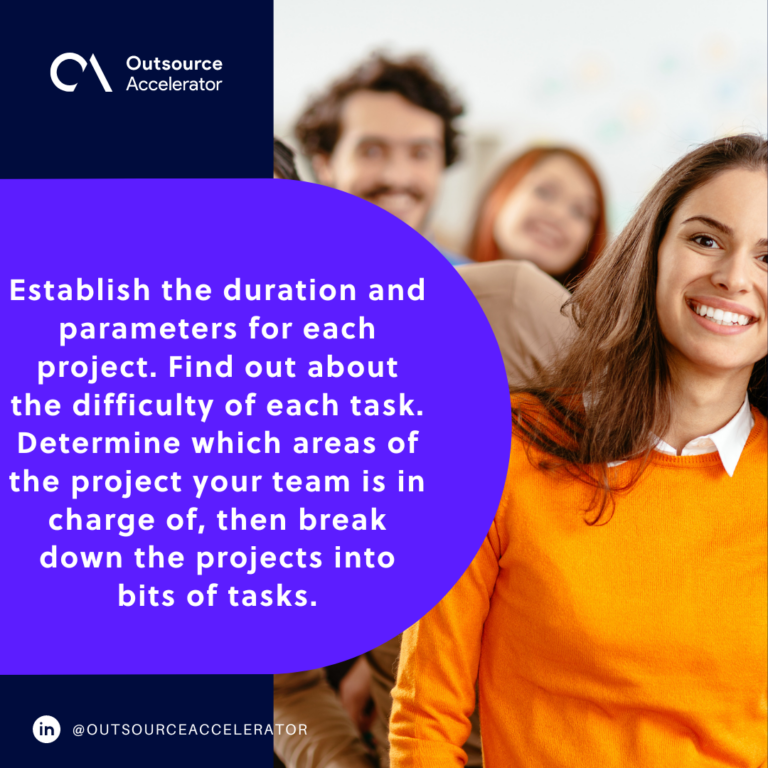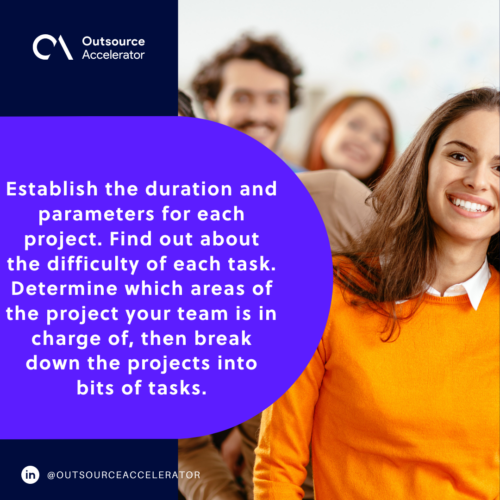 Identify which ones should come first, and find out how much time and effort each team member can put into the project so you can set reasonable expectations and give responsibilities to the appropriate individuals.
Avoid multitasking
Encourage your team members to refrain from multitasking. Although it has long been promoted in many industries, numerous studies have found that multitasking lowers productivity and negatively impacts the quality of the job.
An effective way to avoid doing several things at the same time while working on a project is to divide some projects into tasks and break down those tasks into subtasks. This way, your team will know which ones should be accomplished first.
Use effective project management software
Using project management software that helps your team book virtual meetings, view shared calendars, and send project updates can be one of the most helpful strategies for managing workloads.
Make it easier to predict team members' availability, assign tasks correctly, and ensure that everyone's burden is adequately handled by using effective management software that has everything you need to store, organize, and manage tasks within different projects.
Be flexible for changes and uncertainties
Although it is ideal to incorporate other subtasks into your project plans, problems will always occur during work.
Allow enough time in project schedules for delays and unseen challenges. Communicate with your team to maintain momentum and prevent projects from stalling while someone goes on vacation.
Be sure to allot adequate time to deal with minor setbacks while making sure that you still continue to work on accomplishing the goal of the project.
Catch up with team members
It is important for team leaders to communicate with employees so that everyone is aware of the duties and due dates. This includes letting team members know they can approach managers with queries or concerns regarding the projects they are working on.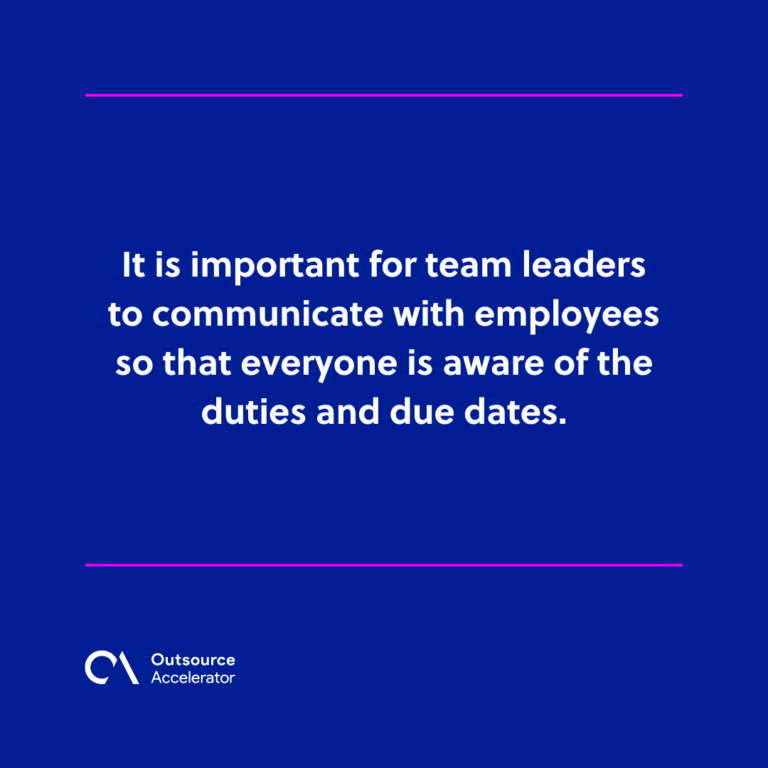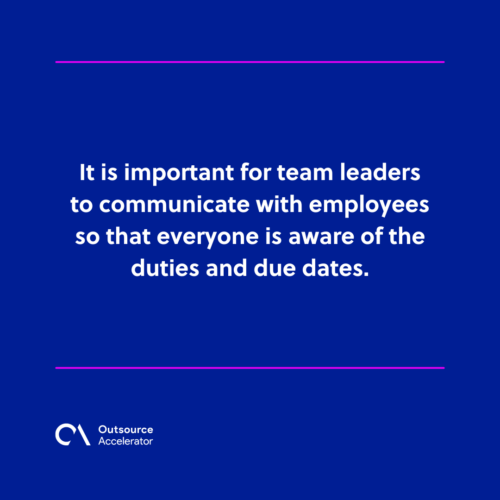 Catch-ups with your team members can take place at meetings. Though, you should also conduct one-on-one check-ins to show your concern about their well-being at work.
Manage workloads in the best way possible
Workload management can sometimes get complicated, but you may make it easier to manage workloads and produce better results by coming up with effective strategies and utilizing helpful resources.
People believe that they must be high-performing and productive at work by multitasking, grabbing too many projects, and putting in long hours at work, which may only lead to burnout.
Team leaders should come up with well-thought-of plans to manage workloads for their employees and accomplish them. Eventually, a healthy workforce will come out of a team that knows what the main focus should be in every project and task.