Guide to cultivating a healthy work atmosphere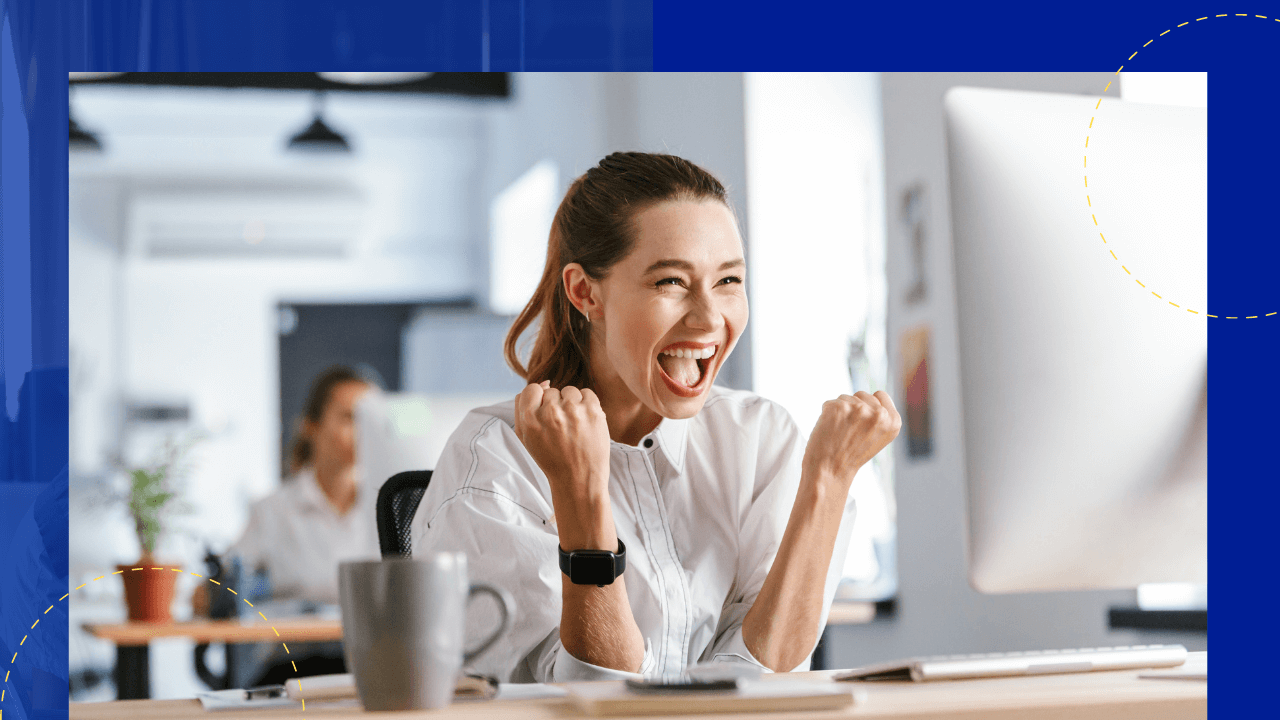 People spend about 30% of their lives working. Breaking it down into a more digestible number, that's about 40 hours a week in the workplace. 
This is a large chunk of time being spent in a place where you interact with different people from different backgrounds. Given how much time we spend working, having a healthy work atmosphere is important.
It is crucial for companies to foster a positive working atmosphere for the reason that it directly affects everyone who works and wants to work there.
What makes a positive work atmosphere?
This question lingers on everyone's mind: what makes a professional setting positive and healthy? The answer lies not just in the physical aspects of the office but in the mindset of the people who run the place.
Sure, having modern facilities and amenities can contribute to the overall positivity, but the attitude of the people who occupy and lead it is a "make or break" kind of deal.
If you have top-of-the-line gym facilities but your employees are under-compensated and overworked, the drawbacks can greatly outweigh the benefits. 
Working in a small, modest office while being appreciated for your efforts sounds so much better than working in a modern setting void of any positivity.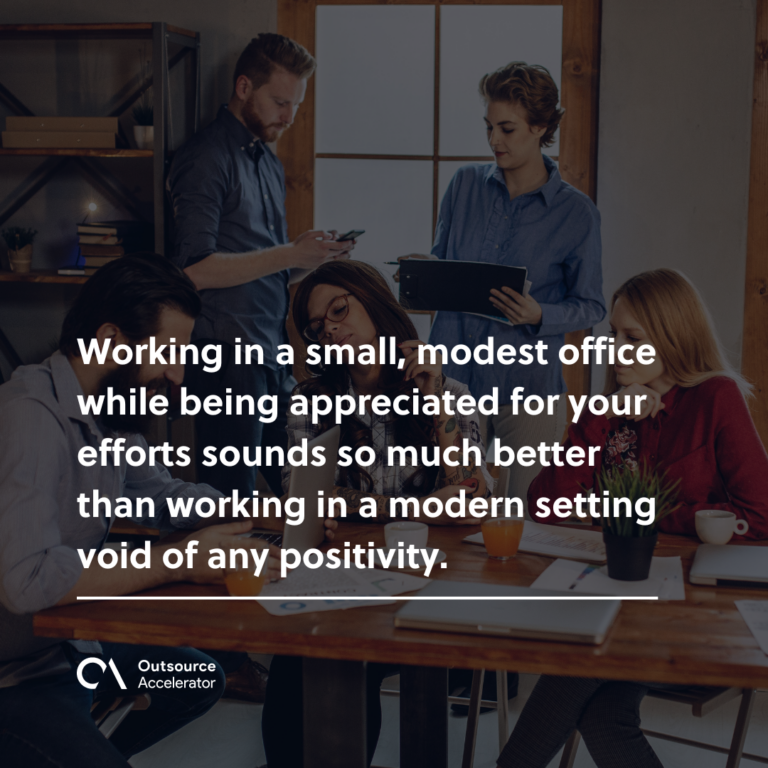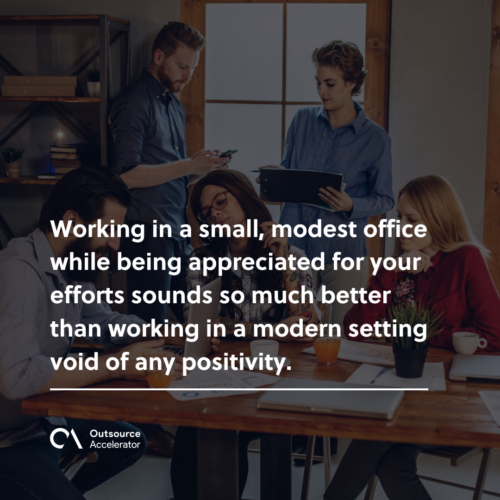 How the work atmosphere affects the workplace and its employees
Say you're working in a place with a tight-knit community where every goal achieved is celebrated and every problem faced is resolved objectively. Would you leave that for a workplace that promotes the opposite?
Imagine the work atmosphere is a bubble that holds everything together.
If you're working in a company that makes your job feel thankless, you're more likely to slack off and not do your job correctly. But if you're in a workplace that makes you feel seen and valued, you're more likely to be productive and take pride in your work.
And that is how a working atmosphere affects the workplace and its employees.
The characteristics of a positive work environment
Employee or not, anyone can recognize a positive work environment by observing these characteristics:
Open, two-way communication
Effective communication is the foundation of every functional organization. The ability to convey messages properly is a skill that everyone should have.
Practicing two-way communication opens up parties involved to new ideas while instilling a sense of camaraderie. This way, questions will be answered, miscommunication incidents will go down, coworkers would be more likely to act alongside each other.
Empathy and compassion among the team members
The absence of empathy and compassion can lead to a toxic professional mindset. They should not be seen as signs of weakness but rather necessary traits that enhance the company culture.
Having a working environment modeled after compassion and empathy will positively affect employees and their morale in the long run.
Opportunity for growth
From promotions to the acceptance of resignation letters, a company with a healthy work atmosphere will always allow its employees to grow—whether with them or not.
If the workplace is truly a healthy one, every department will encourage professional and personal growth.
For instance, the human resource department can conduct seminars and continuous learning opportunities for employees. This would allow them to pursue other practices and new hobbies outside their comfort zone.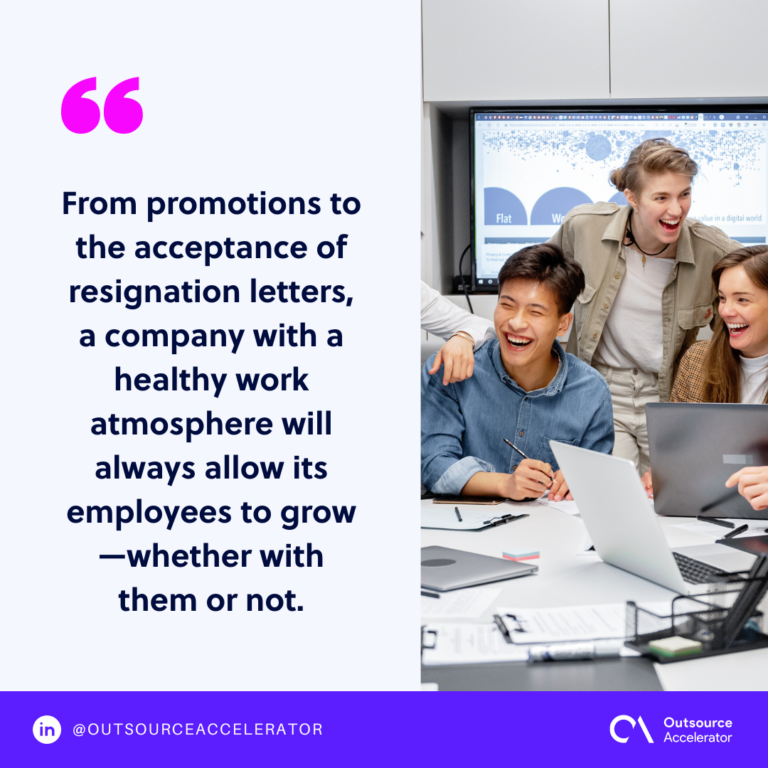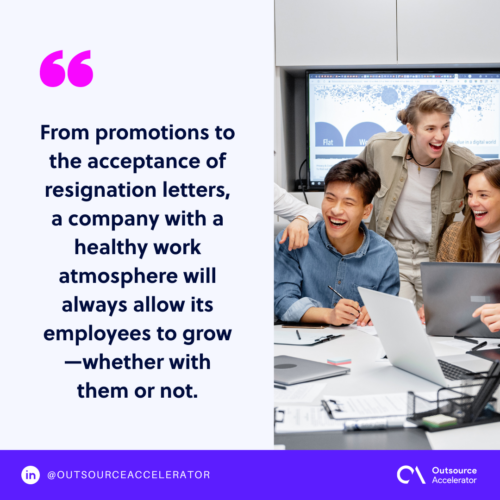 Good work-life balance
A good work-life balance is more than just not getting business emails on the weekend. It also means that you have the freedom to leave problems where they belong.
One can't truly relax on their days off when they're still thinking of work. While handling pressure in a professional setting can be subjective, it can also reflect how a company treats its employees.
How to cultivate a healthy work atmosphere
A company with a healthy work atmosphere, be it in the office or in a remote setup, breeds more productivity and better efficiency. Here are ways you can achieve a work atmosphere where both your employees and your business will thrive.
Being open to ideas and suggestions
They say that great minds think alike, yes, but fools also seldom differ. That said, it's important to get as many ideas as you can, even if they oppose your own. Open up the floor to everyone's input such as comments, feedback, suggestions, ideas, and questions
It's always good to hear from everyone to pinpoint areas that need to be improved or even just acknowledge those that are already doing great.
Lending an ear to teammates
It's easy to talk and hold a conversation but sometimes, people don't really pay attention to what is being said.
Lending an ear to your teammates doesn't always mean that you need to talk. Sometimes, all that matters is there are people who are willing to listen.
This is where empathy and compassion come into play—these are two of the most important components of a functional work environment.
Positive reinforcement
Feedback is important and how others choose to relay it is equally so. 
Positive reinforcement pertains to the act of rewarding employees' desirable behavior so that they will be motivated to do it again.
With this leadership tactic, you are ensuring that your department and teammates will always strive to do their best because they know that they will be recognized and rewarded.
Rethink the company culture
Due to ever-evolving trends, management changes, the fast rate of innovation, and other external factors, there may come a time when you need to rethink and reshape your company culture — and that's alright.
In order for the company to stay relevant, change should happen inside out. But it doesn't happen overnight; take the time to learn about the needs of everyone in the company, including workers and customers, and how they align with the business goals. 
Putting the employees' needs first
As always, all of these wouldn't be possible to pull off without the employees working with the management. To ensure their compliance with any changes, make sure that you're putting their needs first.
Why a functional work environment is important
A work environment is healthy and functional when workers are treated fairly and have a good working relationship with the upper management. Here is how a business can flourish when leaders put an effort into fostering a healthy work atmosphere.
It promotes collaboration
Some projects require a team to be assembled, while some need an individualistic approach. Regardless, workplace collaboration can still be present by asking and responding to questions and requests for help.
It increases productivity
Productivity and efficiency are a direct result of making employees feel validated and seen and providing them with the necessary tools to do their jobs right.
Always remember that a happy employee makes a happy work atmosphere.
It improves morale
The work environment has a huge effect on employees' morale, and their attitude towards work affects their performance. When a workplace is welcoming and employee-centric, it naturally boosts the staff's confidence and enthusiasm about their job, which allows them to excel more.
It fosters personal and professional growth
Personal and professional growth is a worker's basic need. It's what drives them to act on their goals and accomplish them. 
When an office environment fosters its employees' personal and professional growth, it also opens the floor up to amazing and innovative ideas that can be implemented in the workplace.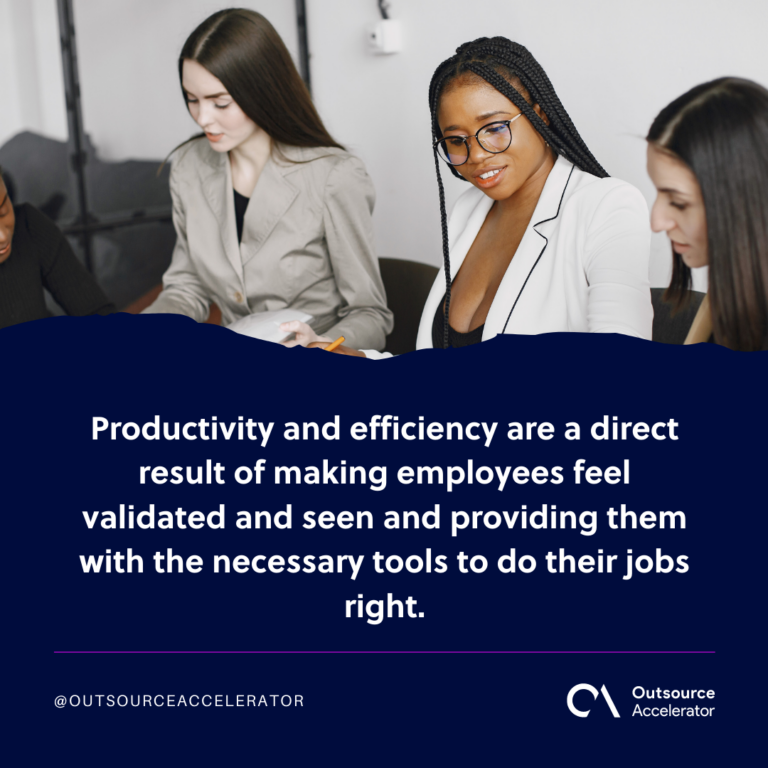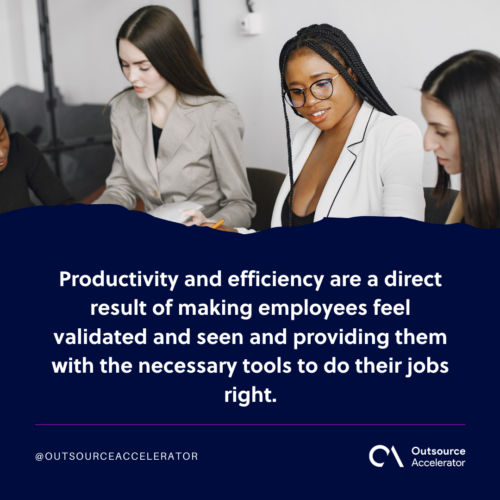 Maintaining the same work atmosphere in a remote setting
Work atmosphere extends far beyond the physical office — it can be cultivated just the same in a remote team setup.
Remote work went big when the first wave of the pandemic hit the globe. Undoubtedly, the transition from an office cubicle to a desk at home was hard. Morale was at an all-time low, productivity was dwindling, and the lines between personal and professional continued to blur beyond recognition.
Company leadership and industry leaders started to adapt new work models to maintain a positive work atmosphere, and this was possible with their employees' help.
Maintaining a healthy work atmosphere in a remote work setup requires a lot of digital tools such as communication and collaboration software and virtual activities. Luckily, this has been proven effective in easing the strain from unprecedented workplace adjustments.