10 reasons why you should hire a VA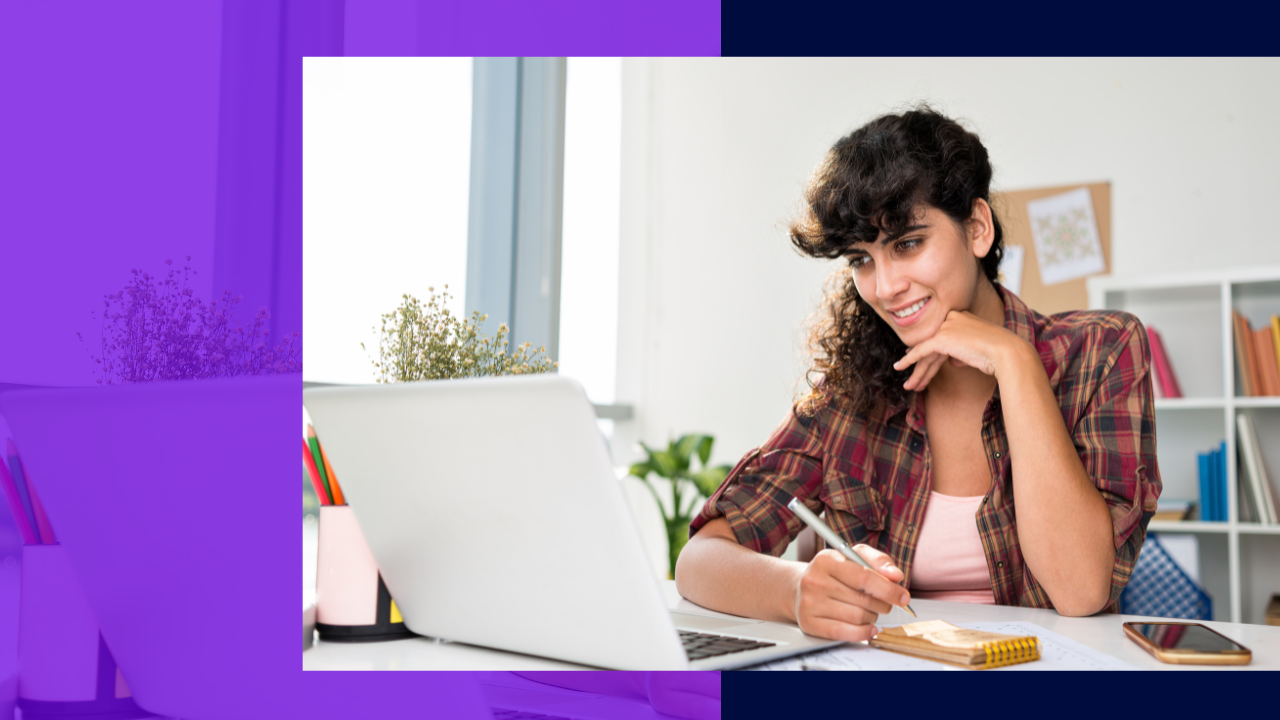 It is no doubt that organizations have a more flexible way of hiring their employees, thanks to an increasingly digitized world.
While hiring full-time is increasingly difficult for small businesses, most businesses now rely more on hiring a virtual assistant (VA) for some of their functions.
If you want to find out why you should hire a VA, this article presents 10 of the reasons to do so.
Hiring a VA in 2023
Compared to the past years, VAs are more in demand in 2023.
More companies hire VAs as a growing number of global workforce nods remote work and flexible schedules. A 2021 JLL study in India shows that 91% of employees prefer a remote setup.
Access to VAs in market countries also becomes less of an issue with improved internet connectivity in countries like India and the Philippines.
Virtual assistant services are even more in demand for certain demographics. Statistics from Zippia show that the majority of VAs in the US are millennials, while more women are in this function.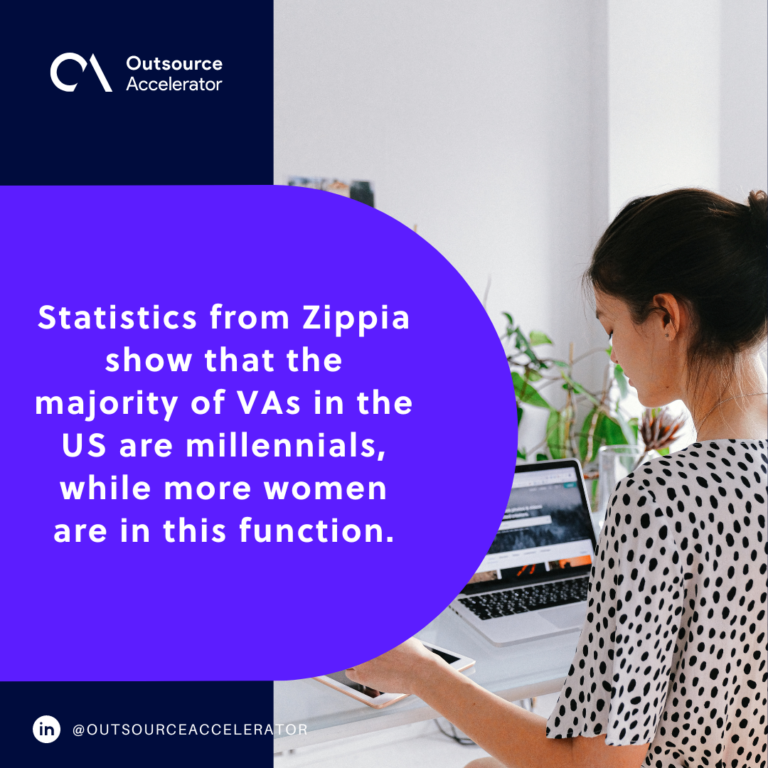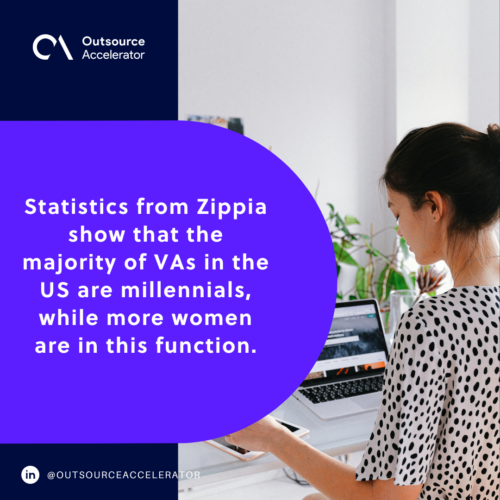 10 reasons why you should hire a VA
Why hire a VA in 2023? Aside from its increased demand, here are ten reasons to do so:
1. Specialized services
Local hiring can be challenging, especially in specialized roles and functions. Aside from established enterprises, you compete with other small businesses in your country for a limited talent pool.
The majority of VAs in the market can handle more than generalist roles. You can hire assistants specialized in different fields, such as social media, accounting, and IT.
2. Round-the-clock availability
When hiring in-house teams, your operations are limited to the usual office hours. This hinders you from providing continuous services to your clients when they need them — especially beyond the workday.
Hiring a VA allows you to provide round-the-clock services to your customers. While your core team works within the day, your VAs can handle customer service and support functions even after office hours.
3. Staffing flexibility
Full-time local staffing is not always practical, especially for short projects. You might be forced to retain your employees even when the project ends, or the work volume lessens.
Employee stagnation could be a reason for your staff to feel unmotivated and end up with high turnover in return.
Employing a VA best helps in staffing flexibility. You can scale your VAs flexibly depending on the duration of your project and pay for their services on-demand.
4. Aide in digital transformation
Hiring a VA alone is a great introduction to your digital transformation. You can practice managing remote staff through your VA first, delegating complex tasks, and using collaboration tools to track their work.
At the same time, a VA can help you digitize your processes better. You can adapt your processes and operations accordingly through your remote staff in a different country.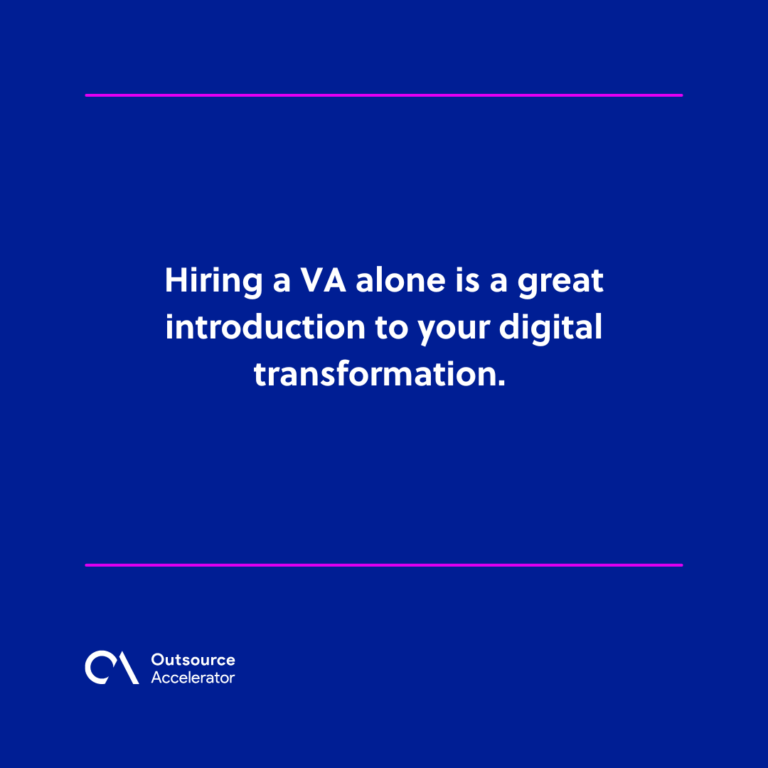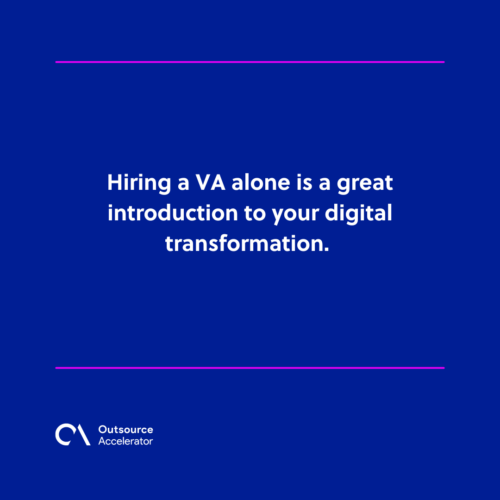 5. Efficient workload management
Your VA is the key to efficient workload management. They can schedule meetings, organize events, and set everything on your part as long as it can be done online. With this, you can free up your time and focus on more crucial tasks for your goals.
Aside from taking on time-consuming tasks, they can also manage your team's workloads and schedules.
Let your VA from Wing Assistant take care of complex workloads for you, whether for general tasks, specific functions, or even personal errands.
6. Enhanced customer service
If you want to enhance your customer service cost-efficiently, hiring a VA is a good way to go.
A virtual customer service assistant can help reduce customer wait times and improve customer satisfaction. They are reliable in streamlining processes, talking to clients, and personalizing customer experience.
Customer service VAs can also manage and train your existing team on the best practices for handling clients.
7. Increased online presence
Another reason you should hire a VA involves your online presence.
Virtual marketing assistants are experts in building and maintaining your brand presence online. You can ask them to handle social media accounts, create and optimize website content, and manage your online reputation through content moderation.
8. Tapping into new markets
Tapping into new markets is one of the best reasons why you should hire a VA. You can delegate research and development to a VA in your target location to introduce your brand and get to know your audience.
9. Better cash flow management
Poor cash flow management is critical to business failure. Instead of profiting, your organization could leak cash from operational expenses and other aspects.
Instead of consolidating your accounts alone, why not have a VA do it?
Virtual bookkeepers are experts in managing cash flow for your business. They can monitor your books better and keep your accounts updated as needed. 
Meanwhile, accounting VAs provide expert advice on better financial management and compliance.
10. Strengthened business relationships
Generally, operational efficiency is why businesses hire a VA nowadays. This, in turn, helps you strengthen your business relationship.
Once you acquire a VA, you can see the difference from your eased workload to your team's improved welfare. Burnouts can occur less often, and productivity can increase, making your local staff more motivated at work.
Meanwhile, you can cultivate better relationships with your customers and other businesses through their help.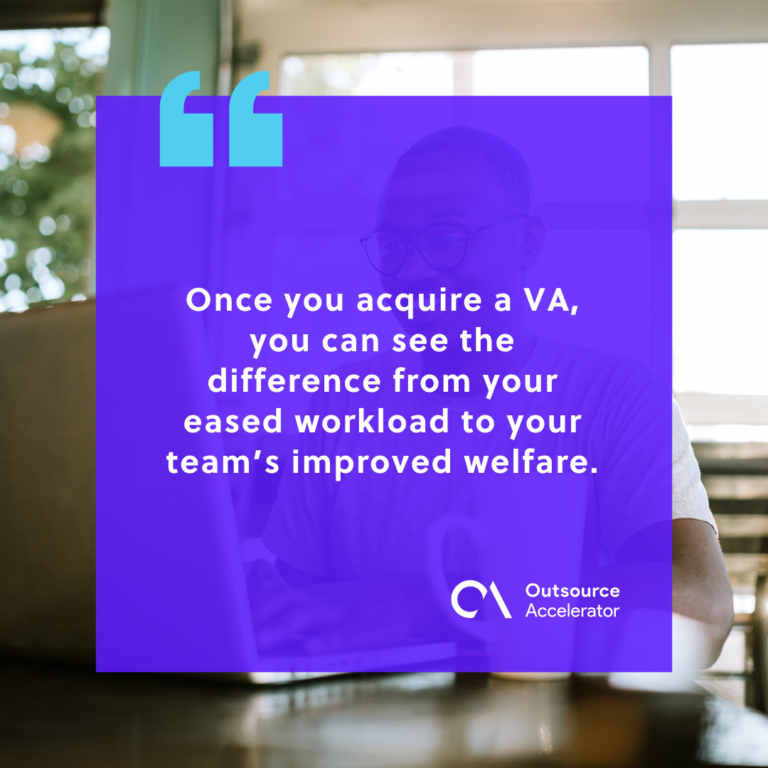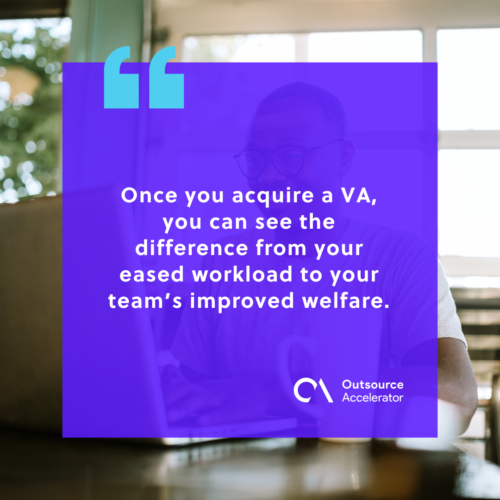 Popular roles to delegate to a VA
Another reason why businesses hire a VA nowadays deals with the variety of services they can provide. As mentioned, VAs take both generalist and specialist roles, which is perfect for your growing company.
Here are the popular roles usually delegated to a VA:
Project management

. Most VAs are great project managers. They have expertise in managing people and operations, especially those with corporate backgrounds.

IT-related functions

. VAs can also handle software development, network management, and other IT-related functions for your systems.

Data research

. With the help of a VA, you can take on data research regarding industry trends and changes in your market.

E-commerce management

. Hiring a VA for e-commerce businesses is a common practice today. They can take over storefront management and take orders on your part.

Industry-based function

. Lastly, specialist VAs can handle functions based on the specific needs of your industry. Real estate VAs are the best example of this.