How vulnerability management system protects businesses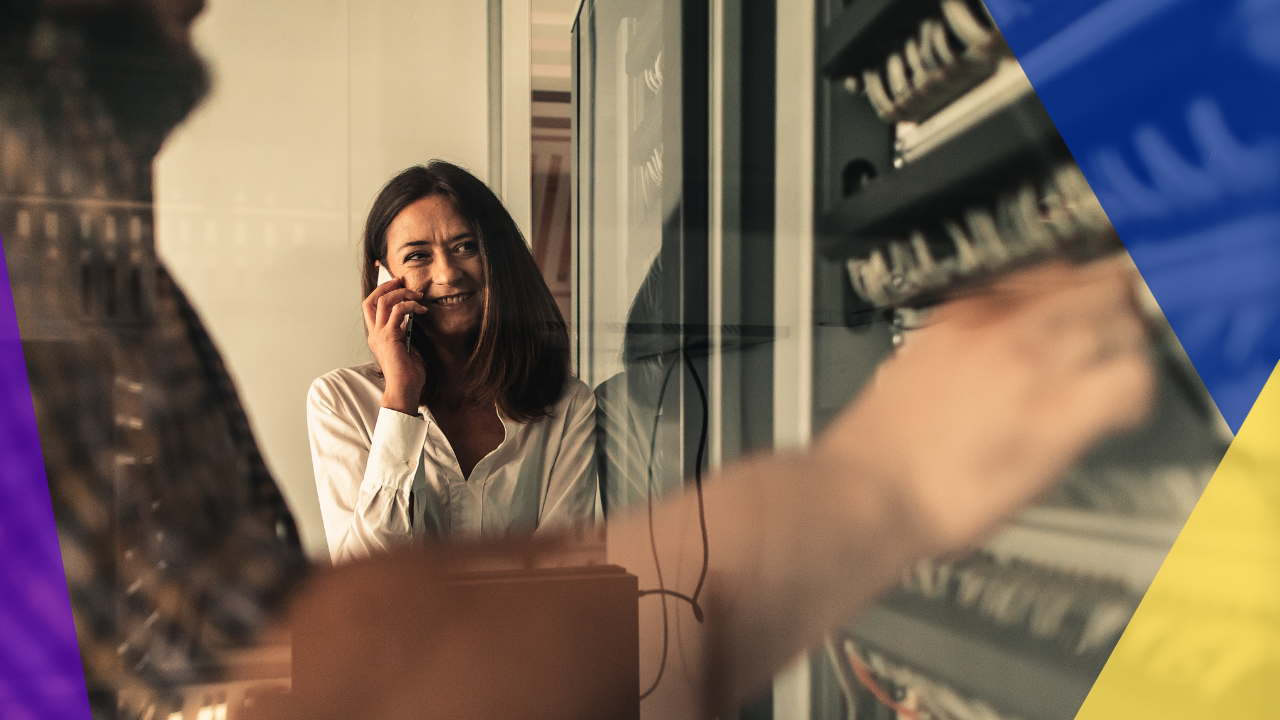 How vulnerability management system protects businesses
Businesses can grasp their success well by looking at the number of customers they have. This means that the organization offers something that the customers need and want. 
However, with more opportunities opening up, the riskier it can get in the long run. Every new employee, customer, or affiliate partner a business acquires is more exposed to threats. 
So it is a must to protect companies from vulnerabilities and cyber attackers through a vulnerability management system.
Vulnerabilities include misconfigured firewalls, business logic flaws, outdated software, and poorly protected wireless access. 
No business can afford legal risks because of a poor protection program. Thus, checking every business's information technology (IT) hygiene is vital. 
What is a vulnerability management system?
Before diving into the vulnerability management system, it is vital to understand vulnerability. 
In the IT environment, vulnerability is a flaw. It exists in different areas within the organization's IT systems. Cyber attackers can exploit these weaknesses and gain unauthorized access to the operating system, application, or server. 
This is why vulnerability management is crucial to keeping businesses' assets safe. It is a continuous practice of identifying and remediating vulnerabilities. 
This proactive response reduces the risk of exploiting the vulnerabilities and weaknesses in the system, which can negatively impact the organization. 
However, it is difficult to predict what vulnerability cyber attackers will exploit. This calls for IT experts and administrators to work hard to ensure their system is close to vulnerability-free. 
Vulnerability management statistics
Software providers have been dealing with the highest number of reported vulnerabilities. Statista reported the discovery of over 22,000 new common IT vulnerabilities worldwide since 2009. 
The National Vulnerability Database (NVD) also documented in Q1 of 2022 that over 8,000 vulnerabilities are in its database. This figure is a 25% increase from the same period in 2021. 
Edgescan, a cyber security solutions provider, reported that the oldest vulnerability is over 20 years old. This vulnerability, classified as CVE-1999-0517, is a high-severity weakness. 
It affected Simple Network Management Protocol version 2 (SNMPv2), an Internet standard protocol to manage devices and computers on an IP network.
But who is behind these cyber attacks? Based on Verizon's Data Breach Investigation Report, outsiders are the major players in cyber attacks. Organized crime groups, company partners, and internal groups also trigger these breaches. 
Why businesses need a vulnerability management system
The answer is simple: security and control. Businesses need regular vulnerability management to prevent exposure to security breaches and leaks. Think of it as the personal hygiene of the IT systems. 
To people, the lack of hygiene greatly impacts a person's work and personal life. For example, the healthcare industry requires its workers to have proper hygiene to ensure patients' safety. The same goes for IT infrastructures, software, and operating systems.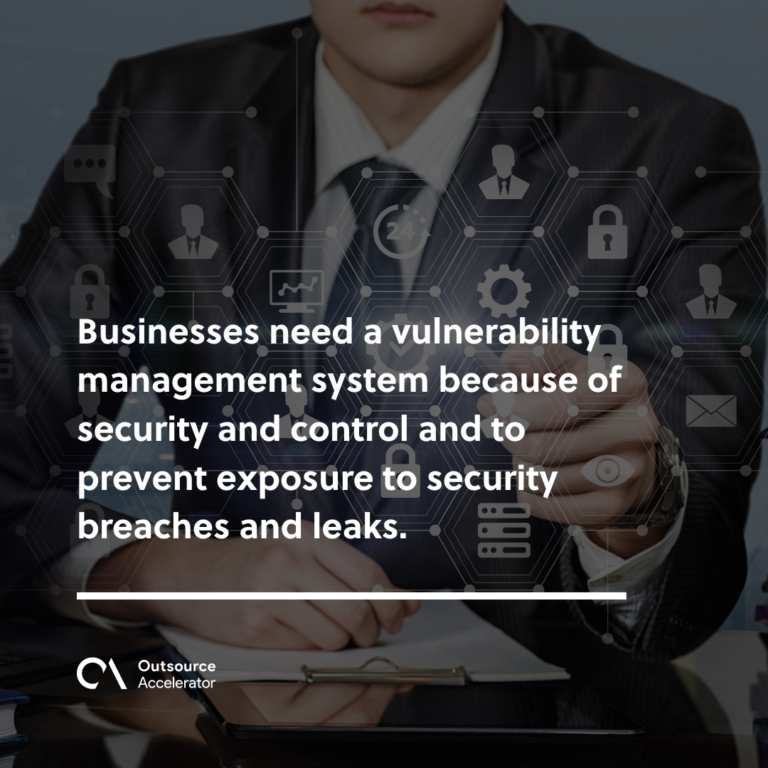 Having a comprehensive vulnerability management system in place protects the integrity of businesses. It helps organizations identify which areas in the IT infrastructure need brushing and washing. 
Moreover, businesses should do their due diligence to attend to the company's security vulnerabilities before cyber attackers exploit them. Doing this can help their operations become more efficient, streamlined, and profitable. 
5 stages of vulnerability management process
Rather than a linear approach, follow these five vulnerability management stages as part of a continuous cycle: 
Discover 
The first stage of the lifecycle is discovery. The key activities in this stage are identifying assets and creating inventory. 
Companies should scan critical vulnerabilities in their asset inventory, including operating systems, devices, cloud programs, hardware, software, and open services. 
Cloud management consoles and network scanners help identify all assets–even unknown and shadow IT ones. Since the lifecycle is an iterative model, businesses should update or refine their existing asset inventory in the future.
Evaluate
After identifying the vulnerabilities, companies need to evaluate the findings to understand how to deal with the risks based on the organization's risk management strategy. 
Vulnerability management scanners return different scores, which help companies determine which vulnerability to prioritize. The Common Vulnerability Scoring System (CVSS) is a framework used to assess the severity of a vulnerability. 
However, like any other vulnerability management solution, scanners are not perfect. They can generate false positives and provide inaccurate results. Thus, it is essential to consider other factors to evaluate vulnerabilities. 
Take Action
Once the IT team validates the critical risk, it is time to treat the vulnerability as soon as possible. 
There are three ways to do this: remediation, mitigation, and acceptance. The ideal action is remediation or patching the vulnerability so cyber attackers cannot exploit it further. 
On the other hand, companies mitigate the risk to lessen the vulnerability impact. They also gear towards this action if there is no proper fix or patch to the identified vulnerability. Mitigation buys some time for companies to remediate it eventually. 
The other option is acceptance or doing nothing to fix the vulnerability. Companies do this if the exposure is low-risk or the cost of addressing the vulnerability is higher than if it were to be exploited.  
Verify
This stage should reveal the success of the "Take Action" phase. The activities during the verification process are rescanning and testing the work. 
It is vital to rescan the business's IT environment by going back to the first stage and using the same method. This way, the company would know if the solutions work. 
In case new issues arise on that same asset, go back and reassess the environment and the effort. 
Report
The last action to lock down defense is reporting. Companies should have documentation of the security issues, including corrective actions, incident records, security plans, and patches. 
The senior management should get updates and key metrics to help them assess the company's security status and know their next steps.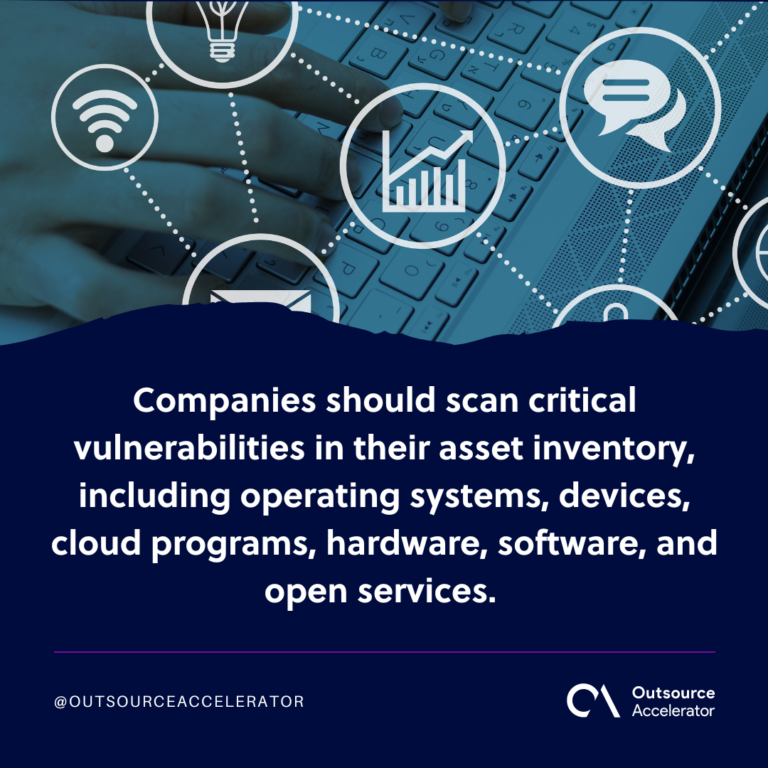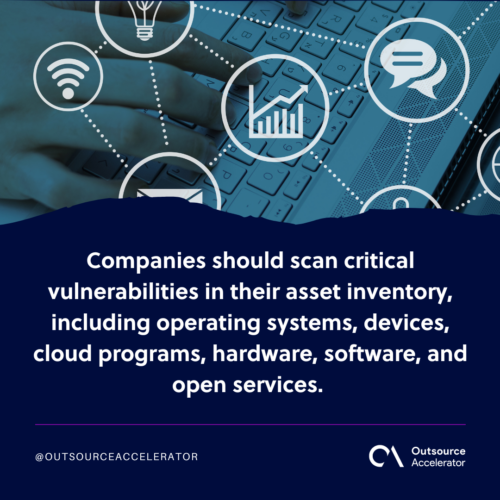 5 best practices of vulnerability management 
Here are five practices to consider to keep up with the new systems added to networks and discover new potential threats to the business network:
Establish a vulnerability management strategy
Having a strategy in place can help businesses respond to security risks effectively. Take note the successful strategy involves more than just process implementation. 
Adding the right people and technology can do wonders for the business's security response. 
Know what is out there
Businesses should have complete visibility of their IT infrastructure, including cloud, remote, and virtual environments. 
The solution should dynamically identify and assess the interconnected assets for a full view of the vulnerability. 
Prioritize effectively
Since vulnerabilities arise daily, it is difficult to address every single one. Businesses should implement risk-based prioritization to identify critical issues in the system. 
The process should be concise, clear, and aligned with the company's goals and priorities. Implementing this process keeps the business safe and allows proper use of resources. 
Automation is key
Leveraging automation can ensure coverage on all corners of the system. Manually remediating vulnerabilities does not guarantee full coverage of network security. 
Businesses can overcome this problem with an automated vulnerability management process. It turbocharges the lifecycle process, saves IT resources, and increases vulnerability remediation's overall efficacy.
Repeat vulnerability management practice
A successful vulnerability management program is a continuous process. Companies should practice it throughout the year to avoid "vulnerability debt." This debt leaves businesses at risk of potential cyber-attacks.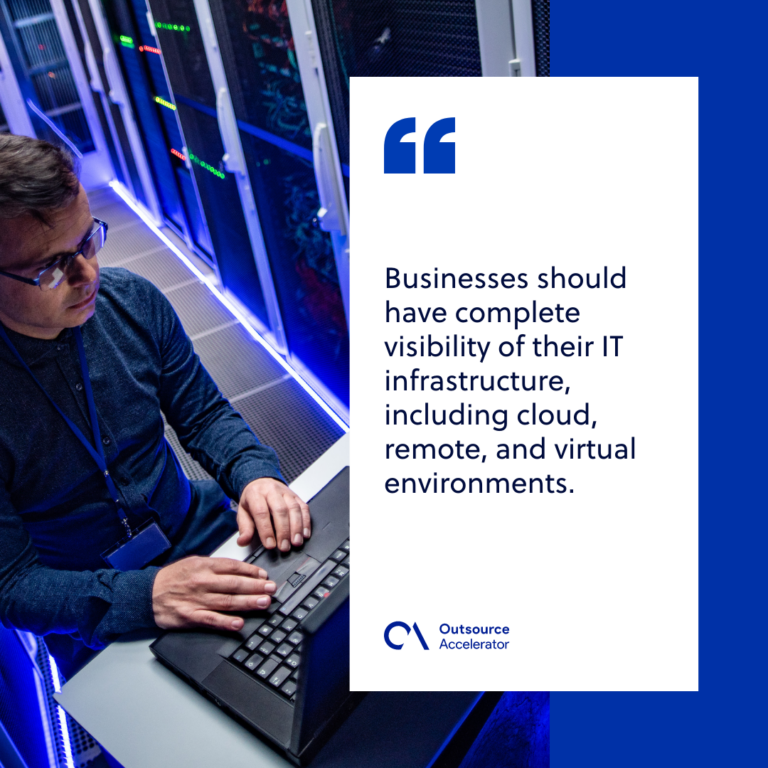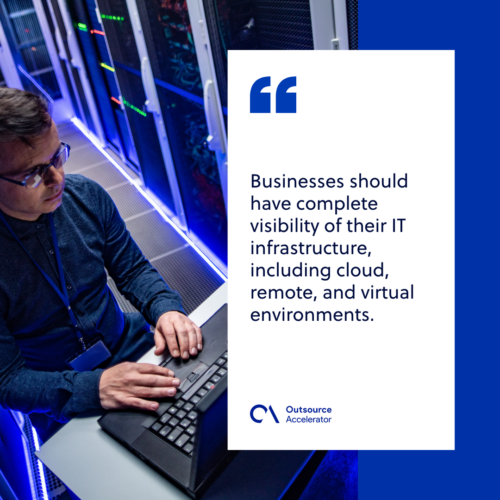 Keeping the cyber attackers at bay through a vulnerability management system
An effective vulnerability management enables businesses to address potential threats and risks while ensuring data security and infrastructure integrity. 
Security analysts discover new vulnerabilities and threats daily, making it a never-ending lifecycle. Some companies think that vulnerability management is a one-time action. Little do they know, it is an intricate process. 
But remember that vulnerability management is only the starting point of IT security; it should be part of an integrated solution.