Beef up your virtual workforce with these surefire tips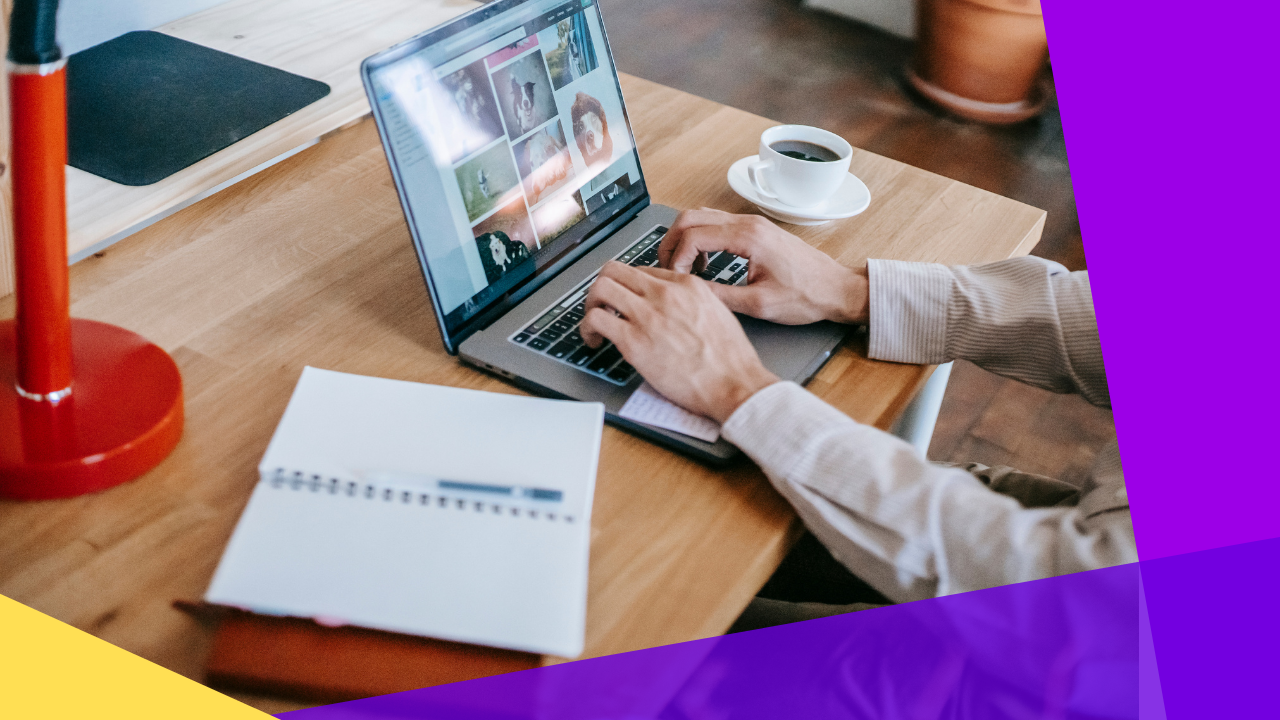 There is a huge difference in managing employees in the office and overseeing a virtual workforce.
While remote work has its advantages, some may say that working in an office is more effective and productive than working remotely. More so, working together physically with your team makes communication and collaboration easier. 
As for business leaders, how do you manage your virtual workforce? How have the changes in the working practice impacted your day-to-day business operations?
Virtual workforce: Working remotely during COVID-19
Working remotely has been the norm since the onslaught of the COVID-19 pandemic. It is safe to say that no company was ever made ready for the drastic shift in the entire business landscape. 
As countries across the globe put extra efforts into containing the spread of the virus, businesses were also forced to resort to remote work. At first, it was a struggle for the employees and leaders to keep daily operations up and running while working remotely. 
Another major challenge faced by employers and managers is to effectively manage projects, tasks and especially the virtual workforce. Luckily, we are now living in an era where technological advancements make nearly everything possible. 
What many are not aware of is that, before the pandemic, remote work setup has been a common practice over the recent few years. As per Global Workplace Analytics Report, US workers that have been telecommuting increased over 159% between 2005 and 2017.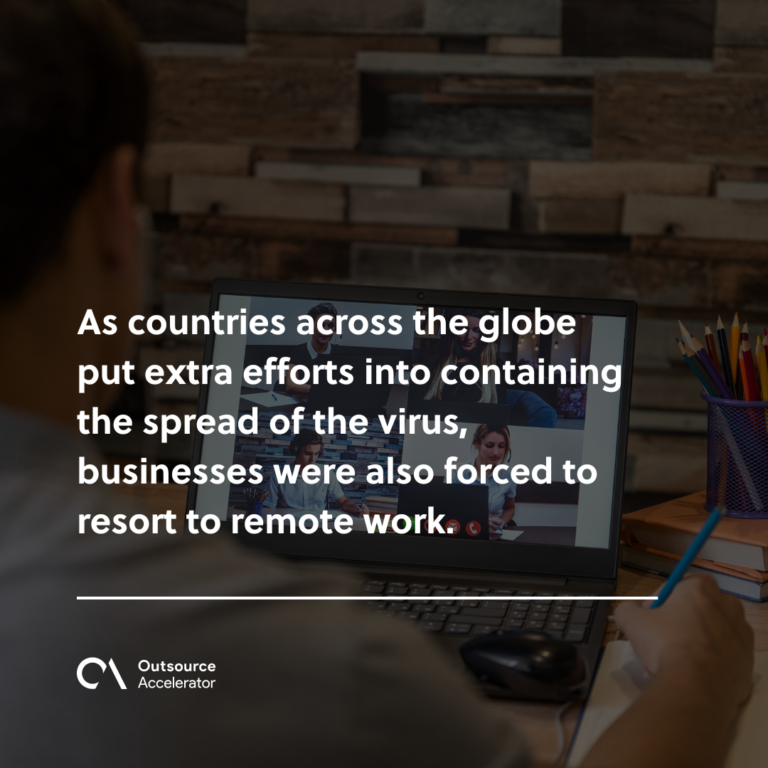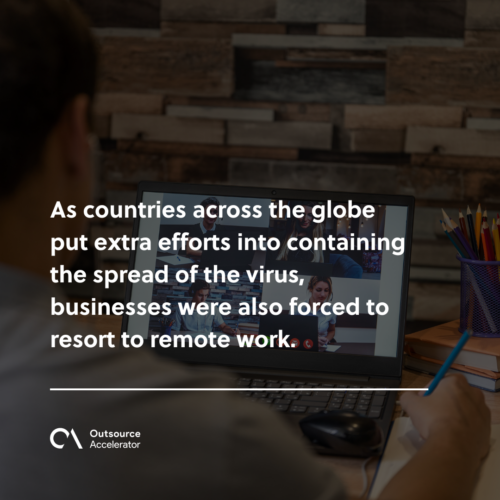 Now moving forward to the present day, a lot of organizations are now acquainted with the virtual workforce. Remote workers have discovered that they can be fully effective while working from home. At the same time, with the help of online tools, employers are able to keep your employees engaged and productive. 
Working remotely during the pandemic has made organizations recognize that they can trust their employees to be efficient. More so, get things done properly without supervision. 
6 factors to consider in managing your virtual workforce
Working remotely has significant effects on your team dynamics. Frequentness and levels of communication are two elements that affect your virtual workforce performance.
According to the study conducted by Advanced Workers Institute (AWI), a successful remote team is built upon their social and cognitive states. In the study, they have also discussed six factors that affect productivity of remote workers. 
Here we have outlined the six factors disclosed in the study. Consider the following to help you create a strong virtual team structure among virtual fork force:  
Social cohesion
Camaraderie and good relationships between your workers are essential in the effectiveness of your entire team. Social cohesion allows your team to get to know each other better, learn more about each one's skills and expertise.
However, with virtual work, you only have minimal opportunities to interact with your team members. 
As a leader, take advantage of online communication tools like Zoom, G-meet, or Skype. This will help you keep your virtual team connected, nurture working relationships and establish trust. 
Establishing trust among your remote workforce
Trust is interconnected to social cohesion. When you have established trust among your team, the same way as your staff trust one another, it will be much easier to build relationships. 
Another advantage for your virtual workforce is that information sharing, collaboration, and communication will come in smoothly. 
Supervisory support
Supervisory support, especially during this time of lockdown will greatly impact your remote workers behavior and performance. During this pandemic, a lot of people struggle to cope with having to stay strictly indoors. 
As a leader it is also your responsibility to get to know each of your remote staff, how they are doing, and what support they need from work. 
Sharing of information
In terms of information sharing, trust and supervisory support is important to encourage your remote team to freely share information. This is with regards to each of your team member's individual skills and expertise, and how your entire virtual workforce can benefit from it. 
Clear vision and goals
As a leader, you should have a shared vision with your team. Let them know how their efforts and hardwork contribute to the organization's goals and objectives. Set clear goals and maintain constant communication within your remote team.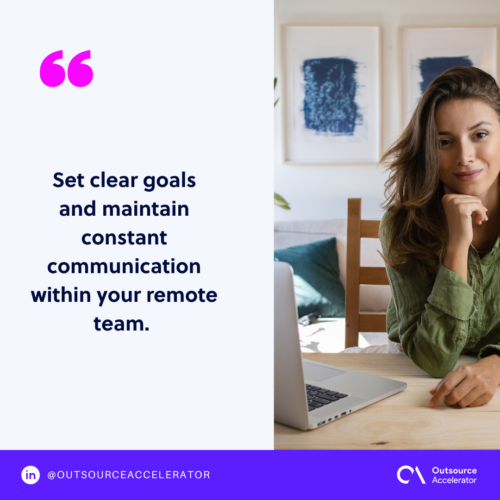 External communication
Successful teams also seek out information and other expertise from external resources. This helps in adding a new and fresh perspective within the team. 
With virtual working setup, you create a working environment wherein your staff can freely share their knowledge, tips, and other networks.  
The future of virtual workforce post-pandemic
As experts say, remote work is here to stay. Even post-pandemic a lot of companies will continue to implement different remote work models into their daily operations. 
More and more companies are moving forward to a working environment that is more focused on remote work experience.
Outsourced, for example, is one of the BPO firms that also embrace remote services. But whether their clients require remote home-based or office-based employees, they have the expertise to construct a quality offshore team.
As a business leader, take note that the success of your virtual team will depend on their overall productivity.