A guide to virtual CFO services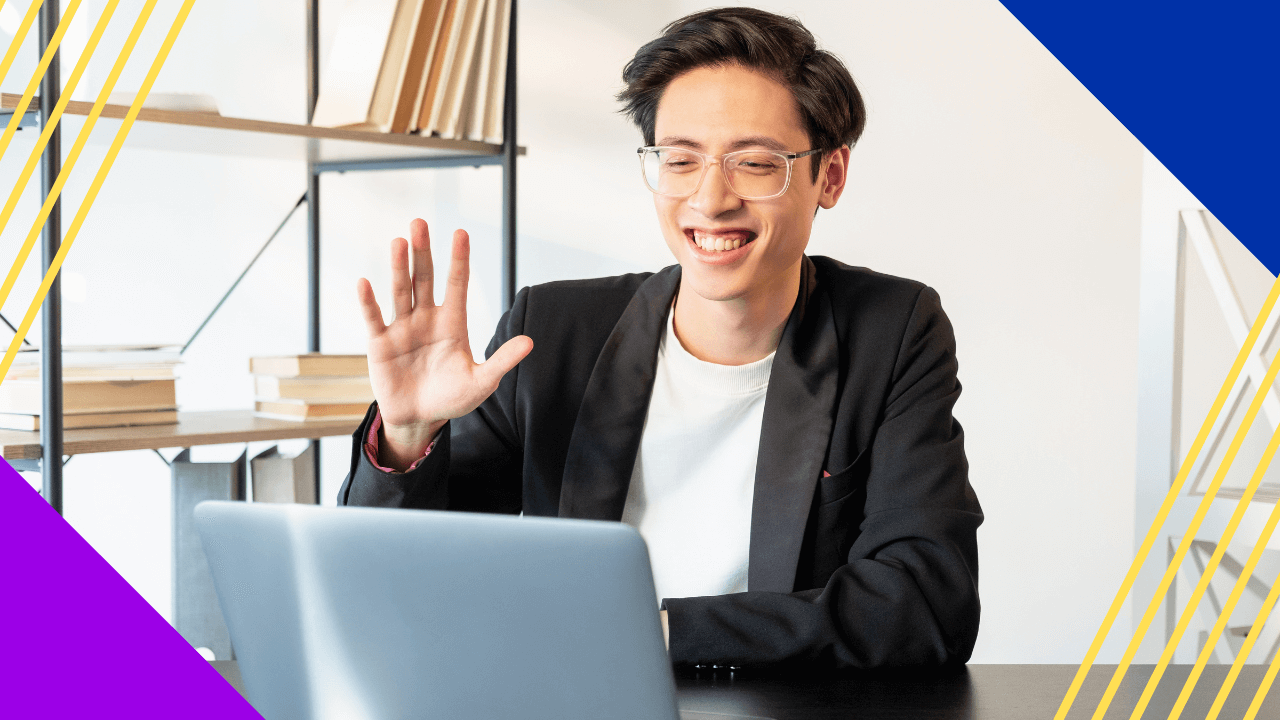 As businesses continue to evolve and grow, the need for financial expertise becomes increasingly important. However, many small and medium-sized organizations (SMEs) may not have the resources to hire an in-house or full-time Chief Financial Officer (CFO). 
In this modern era, companies are increasingly turning to virtual solutions for various aspects of their operations. This is why a virtual CFO can be a valuable resource. 
Read on to learn more about virtual CFO services, their advantages, and how to find the right virtual CFO for your business.
What is a virtual CFO?
A virtual CFO is a financial professional who provides CFO-level services to companies on a part-time or project basis. 
Virtual CFOs work remotely, providing financial expertise and guidance to businesses without needing a full-time, in-house CFO. 
They typically have a wealth of experience in finance, accounting, and business strategy and can provide valuable insights to help enterprises make informed financial decisions.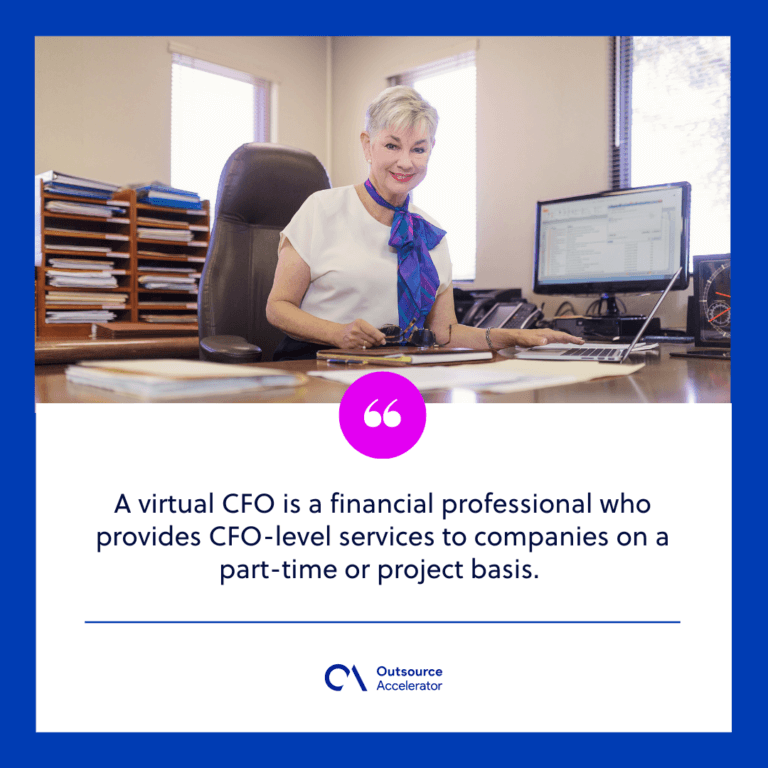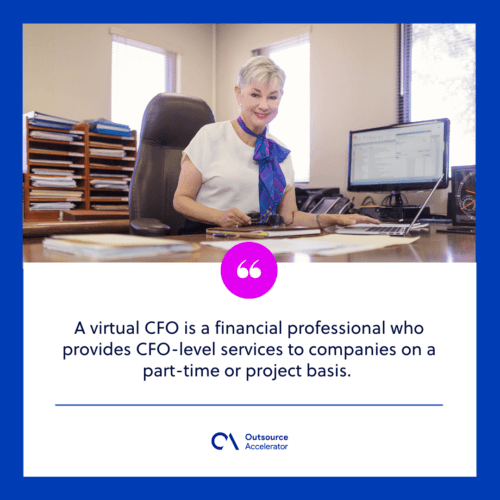 How a virtual CFO works
The bottom line is that a virtual CFO works the same way as an in-house CFO. The main difference is that a virtual CFO enacts their role remotely on demand.
Similar to their traditional counterpart, a virtual CFO offers a range of services, including:
Financial reporting

Budgeting and forecasting 

Cash flow management 
Virtual CFOs work closely with business owners and management teams to understand their financial goals and develop strategies to achieve them.
One of the key advantages of working with a virtual CFO is flexibility. These specialists can provide services on an as-needed basis, allowing enterprises to scale their financial services up or down as necessary. 
The virtual aspect of this role can be particularly valuable for organizations with remote or distributed teams.
Advantages of having a virtual CFO
There are several more benefits to working with a virtual CFO:
Affordability
A virtual CFO provides executive-level services at a fraction of the cost of hiring a full-time CFO. They offer a flexible pricing structure, allowing firms to pay for the services they need when they need them. 
This cost-effective arrangement ensures access to expert financial guidance without the burden of a high salary and benefits package.
Scalability
Your financial needs will grow and evolve along with your business. Virtual CFOs can easily adjust and adapt their services to align with the changing requirements of enterprises. 
They can scale their services to meet the growing demands of the organization, whether they are:
Specialized expertise
An experienced virtual CFO has extensive knowledge of working with various industries and businesses of different sizes. An in-depth grasp of financial matters allows them to provide tailored strategies and insights. 
Just like a traditional CFO, a virtual CFO can identify potential risks, uncover opportunities for growth, and provide valuable guidance to help companies achieve their financial goals.
Objective perspective
Being external advisors, virtual CFOs can provide an unbiased and objective perspective on the financial health of the business. 
This objectivity enables them to identify areas for improvement, challenge existing financial practices, and recommend changes that align with the organization's objectives. A virtual CFO's fresh viewpoint can be invaluable in driving financial success.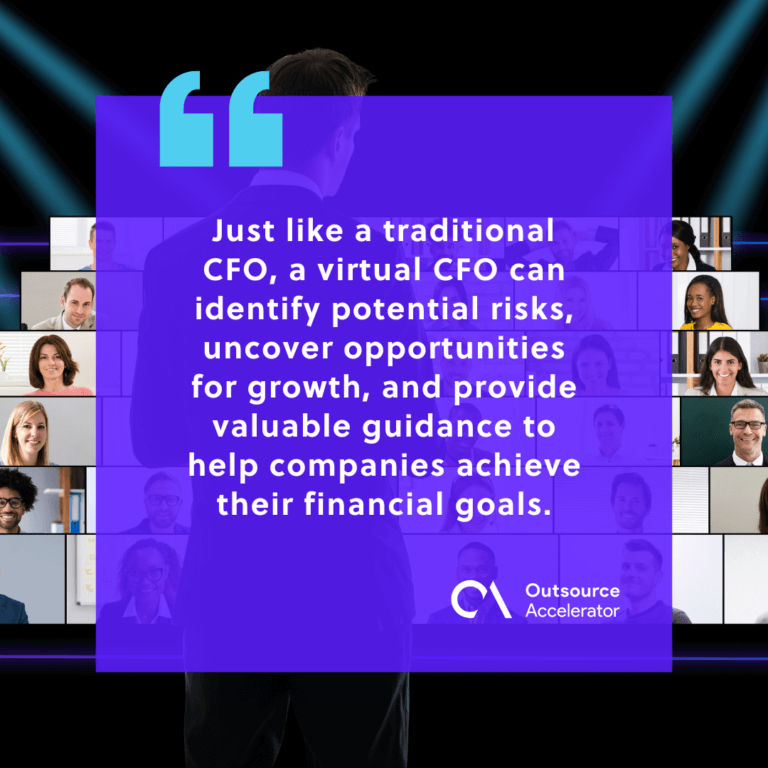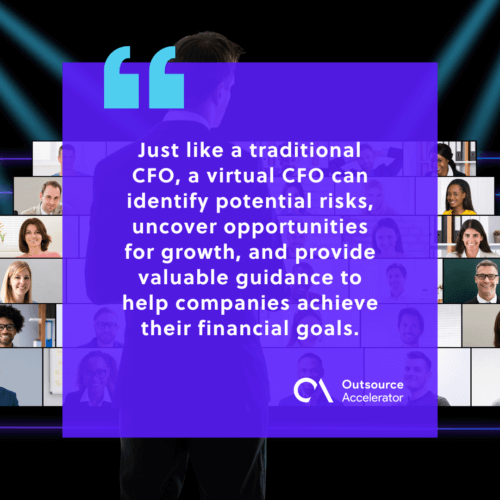 Finding the right virtual CFO
Having learned about the advantages of recruiting a virtual CFO, let's discuss what you should consider when looking for the right one:
Experience

– Look for a virtual CFO who has experience working with businesses in your industry and size range.

Expertise

– Find a virtual CFO with expertise in the areas where you need help in the financial process.

Communication and collaboration

– Since it's a remote role, have a virtual CFO who communicates clearly and regularly and is responsive to your needs. CFOs should also be capable of collaborating and integrating with other company members so everyone is working towards the same objectives.

Tech-savviness

– You need a virtual CFO who is comfortable working with the technology platforms you use and can work with those resources remotely.

Pricing

– When choosing between candidates for a virtual CFO role, consider the people you can hire that align with your enterprise's budget.

Reputation

–

Ask for references

from other organizations who have worked with the virtual CFO you have eyes on, and check their credentials and qualifications.
Overall, a virtual CFO can be a valuable asset for businesses looking to improve their financial management and make informed financial decisions. Choosing a virtual CFO comes without worrying about committing to a full-on traditional CFO. 
As more jobs are done remotely, hiring a remote CFO is one way to take advantage of the rise of outsourcing roles. Now that you know you can outsource even executive positions, there's no telling what the future of company structures will look like.