An overview of international expansion strategy and how it works
Globalization provides opportunities for businesses and organizations to expand and grow on a global scale. This is why companies need an international expansion strategy. 
Organizations grow into new markets by utilizing their potential and creating more sustainable income prospects. This is why they must carefully plan and focus on their international expansion strategies to succeed. 
This article will feature the international expansion strategy, its six methods, and some of its benefits for businesses. 
What is an international expansion strategy? 
International expansion strategy is the process of planning and executing the entry of a company into a foreign market. 
It includes market entry strategies, decisions on primary markets and target audiences, channel strategy, resource allocation, safeguarding and delivering the value of their services, brand positioning, and developing their operating model. 
When implemented effectively, the international expansion strategy will offer the most appropriate and effective use of corporate resources and support businesses.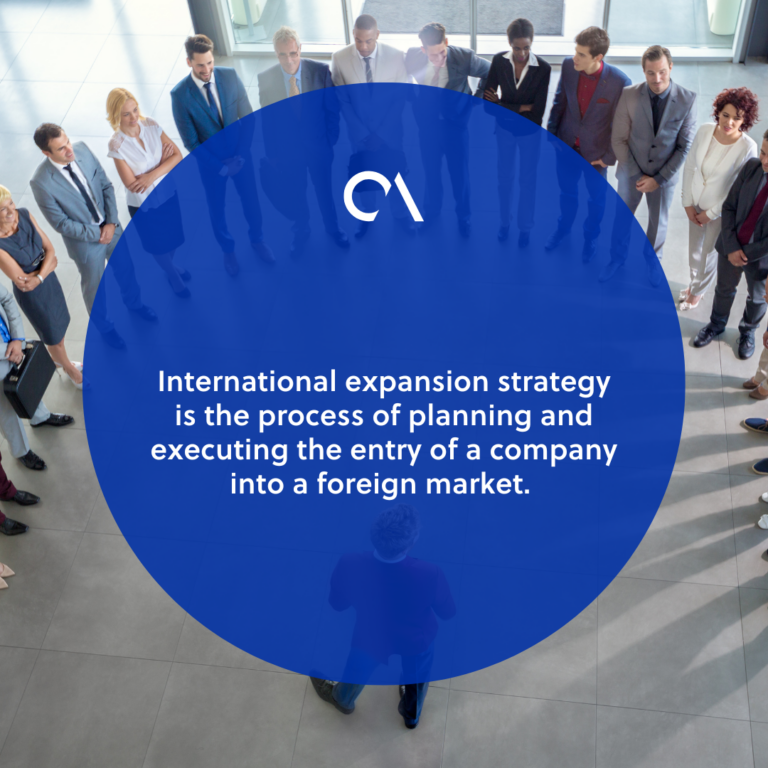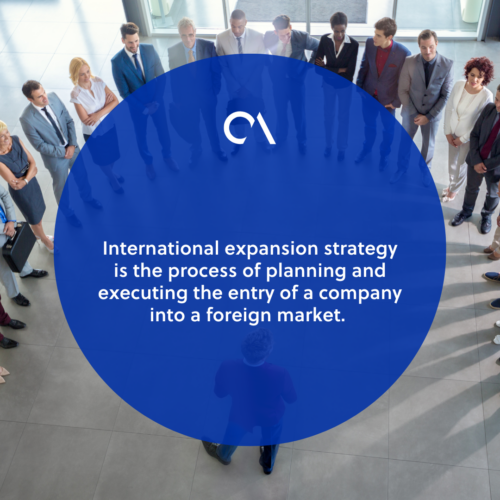 Six methods of international expansion strategy
There are six methods for international expansion strategy to help your business grow, all of which require specific background knowledge, experience, and determination. 
Managing an expansion process in-house
The first approach to international expansion strategy entails developing your mobility structure depending on what you want, need, and can do. 
This approach is open-ended and time-consuming in terms of preparation and research, requiring your commitment.
To do this, you must set a path. This will be your foundation—a collection of your current state and goals. Another is to determine what steps to take and which regulations must be considered. 
Finally, evaluate your company. Check if your action plan is feasible. Decide who will be in charge. After these steps, you must remain dedicated and careful in implementing these strategies.
Exporting 
The next method is a simple entry mode, making it one of the most common ways to enter an international market. One advantage is that it can avoid the expenses of building a subsidiary abroad.
Exporting as part of an international expansion strategy may be challenging, as there is a need for the product or service to be appropriately marketed. 
It is still a significant investment, but it also has risks and disadvantages. 
Aside from the high transportation costs and dangers from environmental factors, you might have to compete with tariffs, which can impact your company's profits.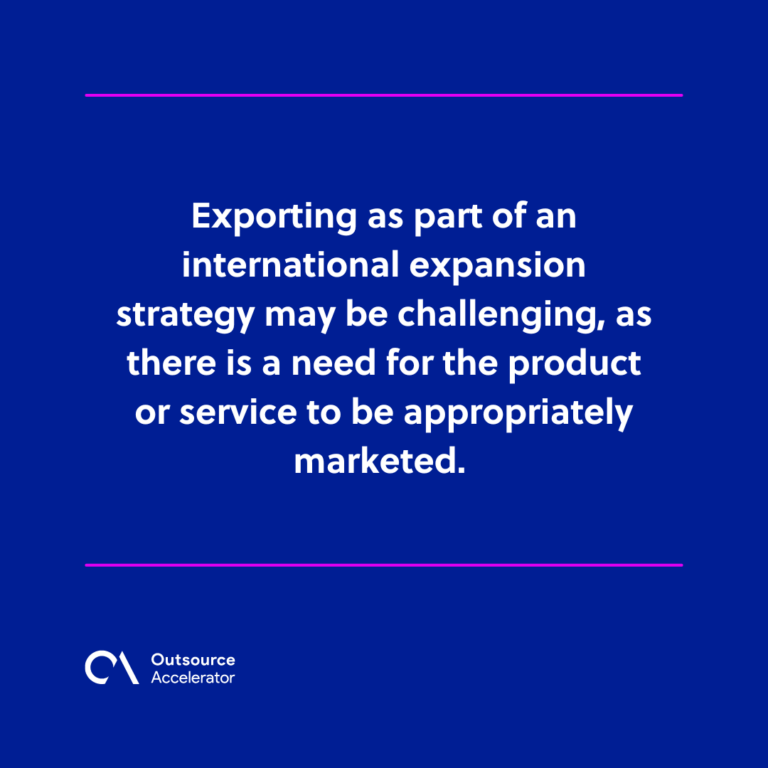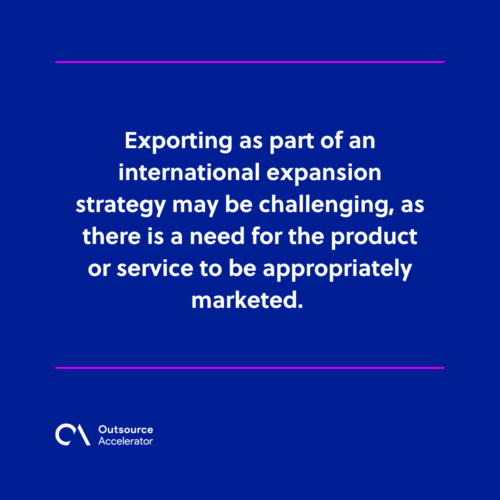 Licensing Arrangements
Another method of international expansion strategy is licensing agreements, which are low-risk compared to the first two. 
Licensing agreements are contractual agreements stating that other companies can utilize your intellectual property (IP) rights, which can be exclusive, non-exclusive, or exclusive for specific locations or use cases. 
These types of international expansion strategies include private labeling and franchising. In franchising, entrepreneurs utilize their brand and business model while still making money on their own. 
Moreover, private labeling is the act of outsourcing your services or products to other companies so they can resell them under their name or yours. 
However, since this method is cross-border, it might come with intellectual property (IP) risks due to tough legal, tax, and IP laws.
Despite those, licensing agreements are a quick and inexpensive way to market your products and services internationally.
Partnerships
Partnerships include local businesses forming strategic alliances with other countries. This makes it possible for them to accomplish a shared objective that is advantageous to both. 
Small businesses and startups that need funding to build their reputations can benefit from this type of strategy. 
Additionally, this can bridge the gaps between domestic and international markets. Businesses must find a compromise point where they can cooperate.
The downside of it is the risk that the company will lose control and another may take over. Thus, a potential partner needs to be analyzed by both sides before entering into an agreement. 
Mergers and acquisitions
Mergers and acquisitions are a type of international expansion strategy in which two companies merge or consolidate with one another. 
This can be a good entry strategy, especially when you are in a hurry to establish your presence in the market. 
However, mergers and acquisitions can also be risky. It can be expensive to start with interest rates, and currencies greatly influence this. 
For instance, the operation will be less expensive if the purchasing company has more substantial money. 
Businesses must carefully review the legal framework of the nation they are entering due to the limitations or laws imposed on foreign ownership. 
In fact, reports state that around 40% to 60% of acquisition processes turn out to be failures in raising the market value.
Working with a global PEO
Internal management is feasible, as shown by the previous approaches. However, there are some technicalities that might need to address with the proper training and experience. 
Professional Employer Organization (PEO) researches financial, legal, and cultural variances and collaborates with an organization to assess its suitability for growth. 
Working with a global PEO helps with international expansion issues and maintains alignment with their business objectives and courses of action. 
Selecting the best and most appropriate PEO is crucial because it puts businesses on the path to success. The top PEOs will update their digital and international expansion strategies using modern analytical tools.
Benefits of an international expansion strategy for businesses
Before entering a global market, businesses must consider the factors involved, as well as their benefits. Some specific advantages include
Access to new markets 
Once you've successfully cornered the local market, attracting new customers and expanding your market becomes challenging. 
This is why using international expansion strategies is advantageous because it opens up a brand new customer base. You can trademark your products and keep selling them to various types of customers. 
Access to the global talent pool
You will have access to new talent and be able to hire people with the skill set your company needs once you enter a foreign market.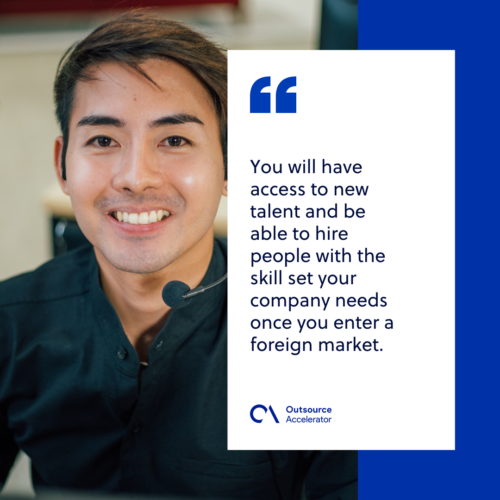 Chances for corporate expansion
Businesses can also expand internationally by producing goods for a reasonable price. Manufacturing is frequently outsourced to countries with cheap labor and infrastructure. 
Some precautions for International expansion
However, there are also risks associated with the international expansion strategy that must be taken into account. 
Linguistic and cultural barriers.

You must first become familiar with the traditions and culture of the country into which you intend to expand since bargaining and reaching a compromise is much more challenging. 

Compliance risk.

There are different laws, taxes, and obligations that must comply in foreign countries. You must abide by these instructions and contact the appropriate parties who can guarantee your continued adherence to the company's policies and procedures. 

High setup and termination costs.

This is another factor driving the risk of international expansion strategies. As mentioned, you should follow and adapt to new laws and rules. 

Difficulty in managing foreign staff.

Higher-level

HR support

is required to handle foreign employee taxes, regulations, and compensation correctly.

‌
Ultimately, it is always important to weigh the benefits and drawbacks of global growth when making plans.