Why you should hire Filipino virtual assistants through Doxa7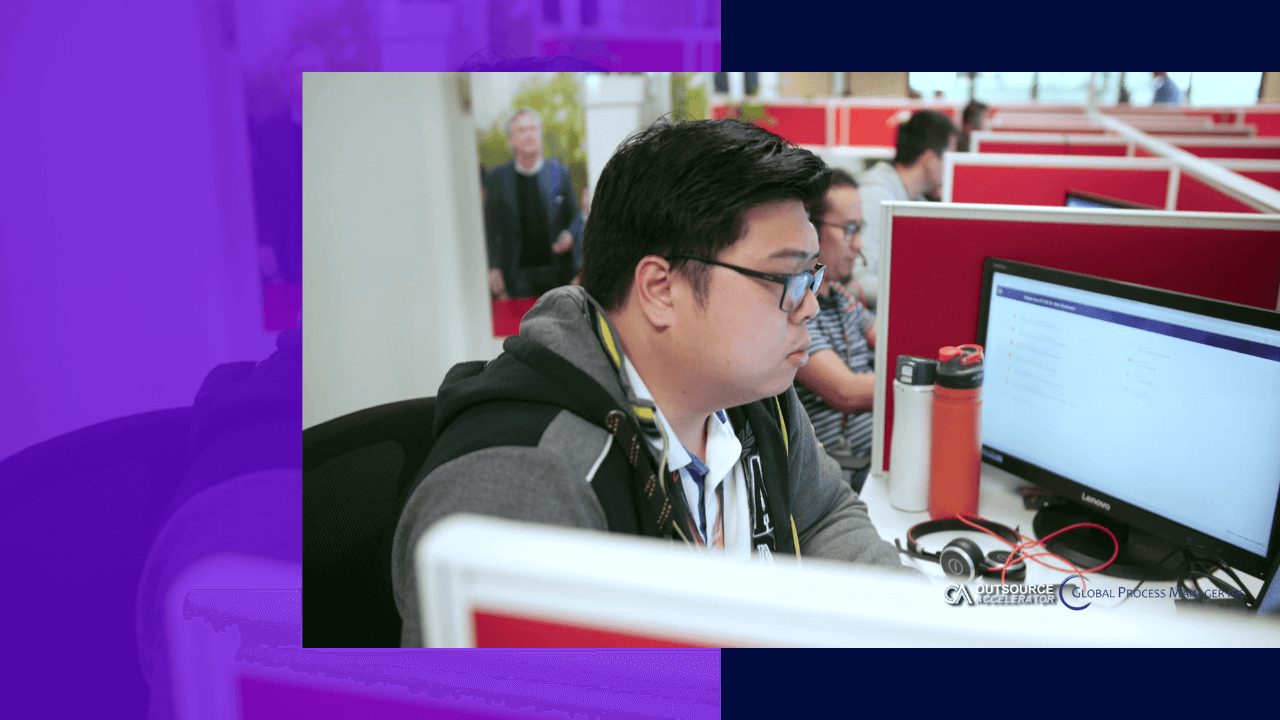 The lockdowns and restrictions on mobility that ensued from the coronavirus pandemic led to the adoption of virtual work setups as the new normal.
But, even before the onset of the pandemic, a booming industry operating in virtual spaces already existed – a sector that only continued to grow during the coronavirus's global rampage.
This is the virtual assistant industry.
Virtual assistant definition
Virtual assistants [1], or VAs, are independent contractors providing clients with a wide range of services. These assistants operate outside their client's office or – sometimes, outside their client's country.
Although virtual assistants may work as independent contractors, some companies like Doxa7 employ them as full-time workers.
Employers often hire virtual assistants to perform clerical tasks, such as data entry and email organization.
However, the work of virtual assistants doesn't just revolve around clerical duties.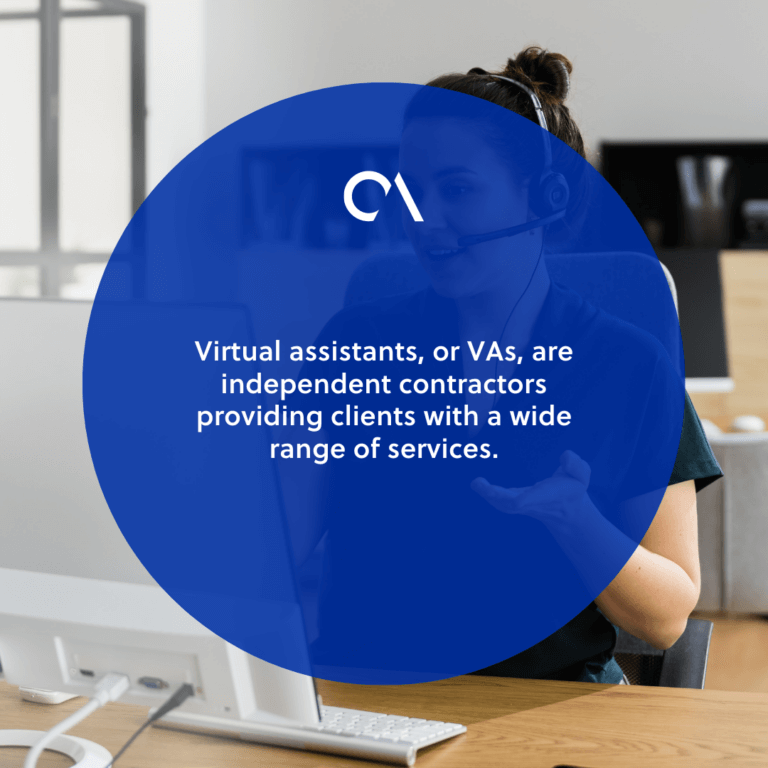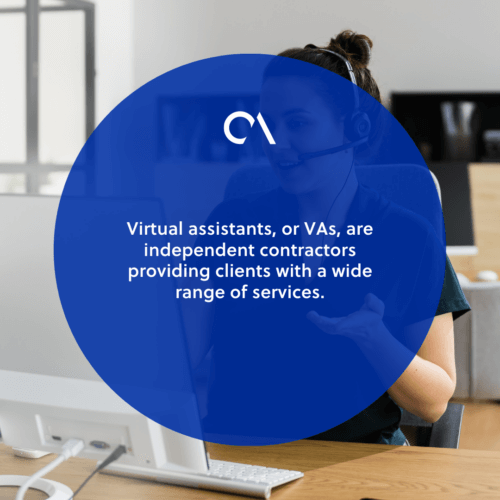 Tasks commonly delegated to virtual assistants
Below are some of the jobs that virtual assistants may perform.
Graphic design
Clients sometimes task virtual assistants to collaborate with their in-house marketing team and create complementing designs for their marketing campaigns.
Social media management
Employers may hire virtual assistants to manage their business's social media profile.
This task may include creating and publishing social media content and responding to comments and messages to the profile.
Bookkeeping
Employers also utilize virtual assistants to help keep track of their finances.
Aside from tracking expenses, virtual assistants assist their clients in making purchases and managing budgets.
Customer service
While this job is typically associated with call center agents, virtual assistants also handle customer service for their clients.
Virtual assistants assigned to provide customer service perform the same duties as their call center counterparts.
Personal assistant
Virtual assistants may also be employed as their clients' personal assistants.
As such, their duties will include booking flights and vacations, organizing calendar appointments, purchasing gifts online, and the like.
Content management
Business owners that don't require an entire team of content specialists but still need help managing their website's content often turn to a virtual assistant to do the work.
These VAs' tasks may range from writing blog posts to optimizing the website for search engine ranking.
Virtual assistants vs call center agents
Due to the nature of the two professions, many people conflate virtual assistants and call center agents.
After all, both roles are frequently outsourced by companies or individuals needing additional human resources to perform given tasks.
One significant difference between virtual assistants and call center agents lies in their areas of specialization.
Whereas call center agents are trained and experienced in handling customer support and other related tasks, virtual assistants have more diversified services.
In short, while call center agents provide customer service and assistance with technical issues, virtual assistants offer more versatile and creative solutions in various areas.
What makes Filipinos excellent virtual assistants?
It's a well-known fact in the outsourcing industry that Filipinos make excellent call center agents. It doesn't come as a surprise, then, that they also make incredible virtual assistants.
But what exactly makes Filipino virtual assistants stand out among others?
Read on below to find out.
Filipinos are highly English-proficient
Most Filipinos consider English as their second language.
Moreover, almost all educational institutions in the country use English as their medium of instruction from grade school to college. Many schools also impose English-speaking zones on their campuses.
The result? The Philippines ranks 18th among 112 countries and regions in the annual EF English Proficiency Index.
Filipinos are warm and friendly
Filipinos are inherently friendly – the reason many find success in jobs that require good social skills, such as a nurse, customer service representative, or flight attendant.
Their friendly nature makes it easy for Filipino virtual assistants to build rapport with their clients — and their client's clients, for that matter.
Filipinos are culturally adaptable
Living in a country known for being a cultural melting pot has exposed and made Filipinos highly adaptable to other countries' cultures.
Their high level of adaptability makes it easy for Filipino virtual assistants to adjust to their client's particularities and preferences.
Filipino talents are more cost-efficient
The cost of living in the Philippines is significantly lower than that of most outsourcers, many of which are from developed Western countries.
The disparity between the living costs in the client's and their Filipino virtual assistant's countries translates into an almost 70% labor cost reduction for the client.
With Filipino VAs, clients are essentially getting more with less.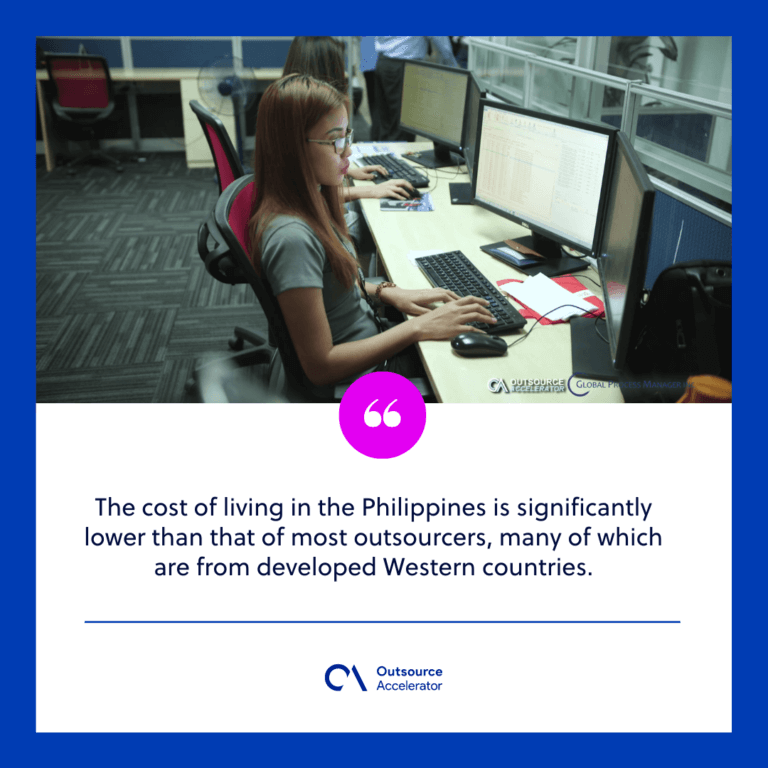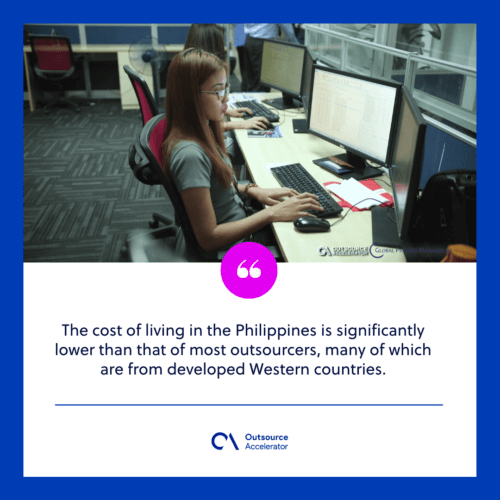 Why you should trust Doxa7 with your virtual assistant needs
Connecting businesses with the right talents they can depend on – this is the Doxa7 promise for its clients.
With Doxa7 as your partner outsourcing company, the virtual assistant you'll be assigned with will feel as if you've handpicked them yourself.
This firm shines above its competitors because it doesn't just give its clients one-size-fits-all solutions – Doxa7's meticulous selection process ensures that its client will be partnered with a virtual assistant that meets their exact needs.
Contact Doxa7 for virtual assistant services you'll not come to regret.
Reference:
1. Gandhi, P., Madan, S. and Arora, P. (2021) "Virtual Workplace: A new normal for the organisations -," Elementary Education Online, 20(5), pp. 3309–3314.