A guide to virtual assistant training for business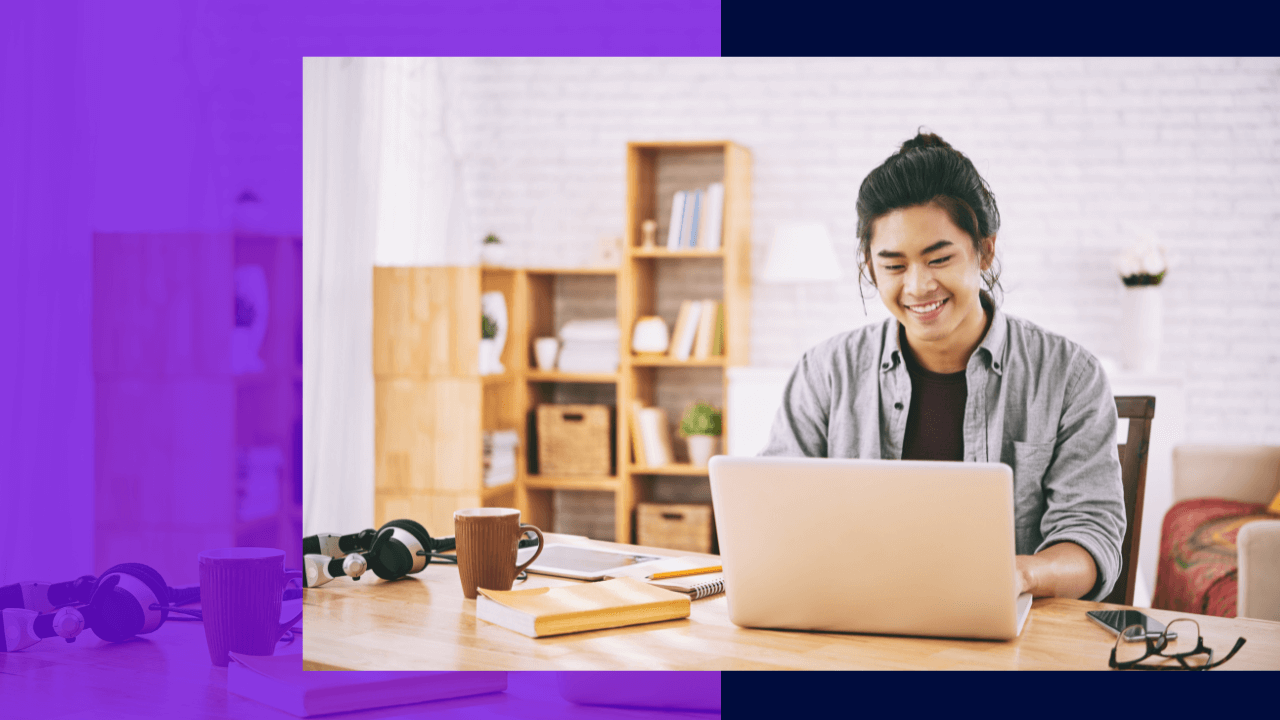 Companies constantly seek innovative ways to enhance productivity, reduce costs, and gain a competitive edge.  One solution that has gained significant popularity is hiring virtual assistants. 
In the 459th episode of the Outsource Accelerator Podcast, Barbara Turley, CEO of the Virtual Hub, explains the need for virtual assistant training.
What is a virtual assistant?
A virtual assistant (VA) is a professional who remotely provides administrative, creative, technical, or specialized support services to businesses. 
VAs are valuable extensions of a company's workforce, performing tasks ranging from data entry and scheduling appointments to handling customer inquiries and managing social media accounts.
Benefits of virtual assistant training in businesses
Barbara encountered individuals who needed training and guidance despite having potential. 
She says, "You would find people with great resumes and sort of tick all the boxes, but on the job, they just didn't seem to perform or there were issues."
That's why training a virtual assistant can offer numerous benefits to businesses. 
Increased productivity
Training your virtual assistant can significantly boost productivity within your organization. 
When equipped with the necessary skills and knowledge, virtual assistants can handle tasks efficiently, freeing up your in-house team to focus on more strategic responsibilities.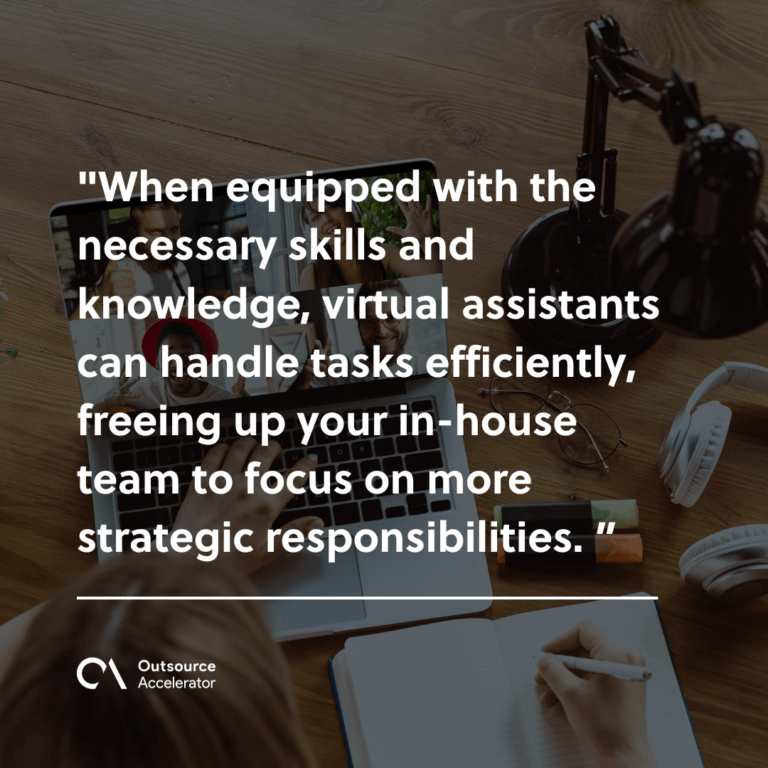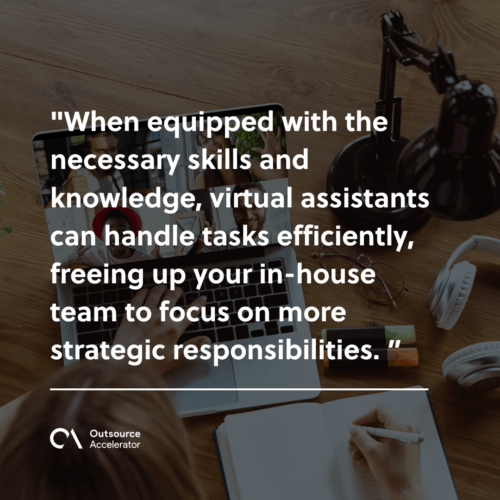 Cost savings
One of the most attractive aspects of hiring virtual assistants is the potential for cost savings. Compared to hiring full-time employees, virtual assistants offer a more cost-effective solution. 
Investing in their training ensures you get the most value from your virtual assistant, making every dollar spent on their services count.
Flexibility
Virtual assistants are known for their flexibility. They can adapt to the changing needs of your business effortlessly. 
With the right training, VAs can seamlessly transition between tasks and roles, ensuring your business remains agile and responsive in a dynamic market.
Barbara's company, The Virtual Hub, took a proactive approach by enrolling VAs in their training programs to ensure their flexibility. During this stage, VAs were office-based, allowing close monitoring for an extended period.
"If we put them in our training programs and spent some time together working in the office, we could see each other face to face for a month or two. It's simple to hide for a week, but hiding for two months is much harder."
Specialized skills
Through proper training, virtual assistants can acquire specialized skills that align with your business's unique requirements. 
Whether its for digital marketing, graphic design, or content writing, a trained VA can provide expertise in specific areas, contributing to your company's growth and success.
Key skills taught in virtual assistant training
Virtual assistant training programs typically cover a range of key skills to help individuals become effective and efficient virtual assistants.
These skills can be broadly categorized into the following areas:
Communication skills
Effective communication is crucial in any business setting. Virtual assistant training equips VAs to communicate clearly and professionally in written and verbal forms. 
This skill ensures they can represent your company effectively when interacting with clients, partners, and customers.
Barbara explains in their training programs, "It involves a lot of learning through practice, quizzes, and workshops, with a strong focus on theory."
Time management
Time is a valuable resource, and trained virtual assistants manage it efficiently. They learn to prioritize tasks, meet deadlines, and maximize their working hours. 
This skill ensures that your projects stay on track and are completed promptly.
Organization
Organizational skills are essential for maintaining order and efficiency in a business environment. 
Virtual assistants learn to keep digital and physical resources organized, making retrieving information easier. 
This skill minimizes errors and streamlines processes.
Barbara explains in building practical skills, "We emphasize hands-on experience. Our learning and organizational development department has a team of five individuals who have created many practical tasks, including some real-world scenarios."
Tech savviness
In today's digital age, tech savviness is a must. Virtual assistant training includes instruction on various software applications, tools, and platforms commonly used in businesses. This ensures that VAs can work seamlessly with your technology stack.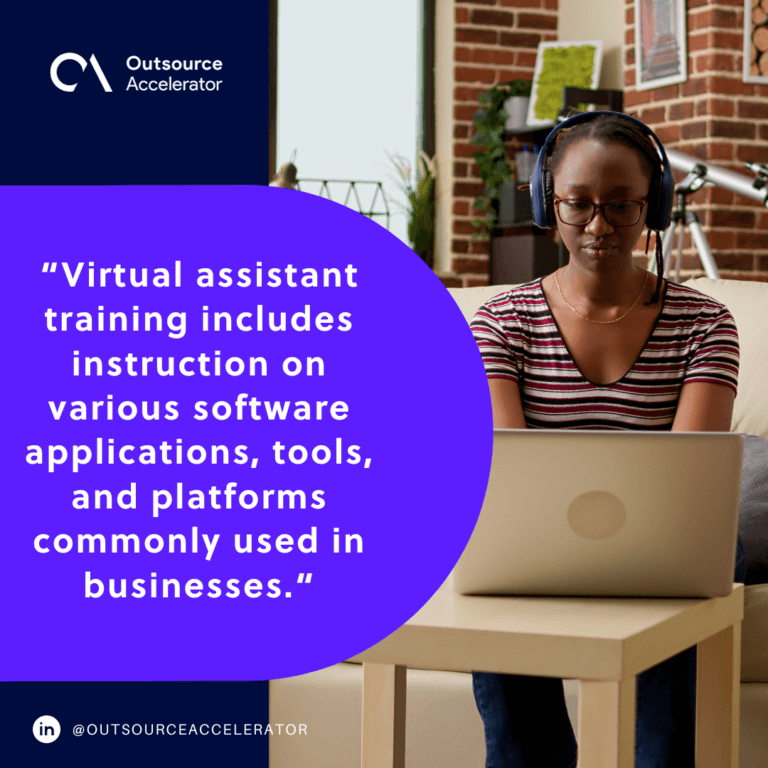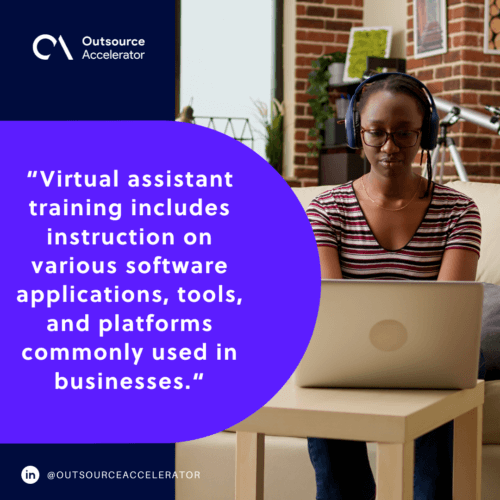 Research skills
Research is often part of a virtual assistant's role, whether gathering market data, competitor analysis, or industry trends. 
Through training, virtual assistants develop strong research skills, enabling them to provide valuable insights to support their business decisions.
Barbara shares, "Our marketing team often requires a lot of SEO and link building… we rotate them around certain teams as well. So they may help out in the recruiting teams, they may help out in the ops teams."
Train a virtual assistant for effective marketing strategies
Virtual assistant training is a strategic investment that can benefit your business immensely. It enhances productivity, reduces costs, and equips your VA with essential skills to support various aspects of your company. 
Now, you know how to harness the full potential of virtual assistants in your business operations. 
So, explore this valuable resource to optimize your productivity and achieve your business goals.