Hiring a virtual assistant from the US
One of the most important hires a company will make is a virtual assistant. You'll continue to spend time and resources on things that do not lead to the improvement of your company unless you have someone on your team to whom you can assign specific tasks.
As the virtual assistant industry has grown, outsourcing companies have emerged to provide virtual assistants or VAs for various services.
Outsourcing remote staff can significantly boost your productivity and business development, whether you employ a single virtual assistant or create an entire team of virtual workers.
What is a virtual assistant?
A virtual assistant is a freelancer or independent contractor who works outside of the client's office to perform specific business functions – mostly administrative support. A VA works remotely but has online access to essential planning documents like shared calendars.
Virtual assistants have a diverse set of abilities, including:
Customer service

Administrative capabilities

Social media marketing

Data entry and control

Bookkeeping and accounting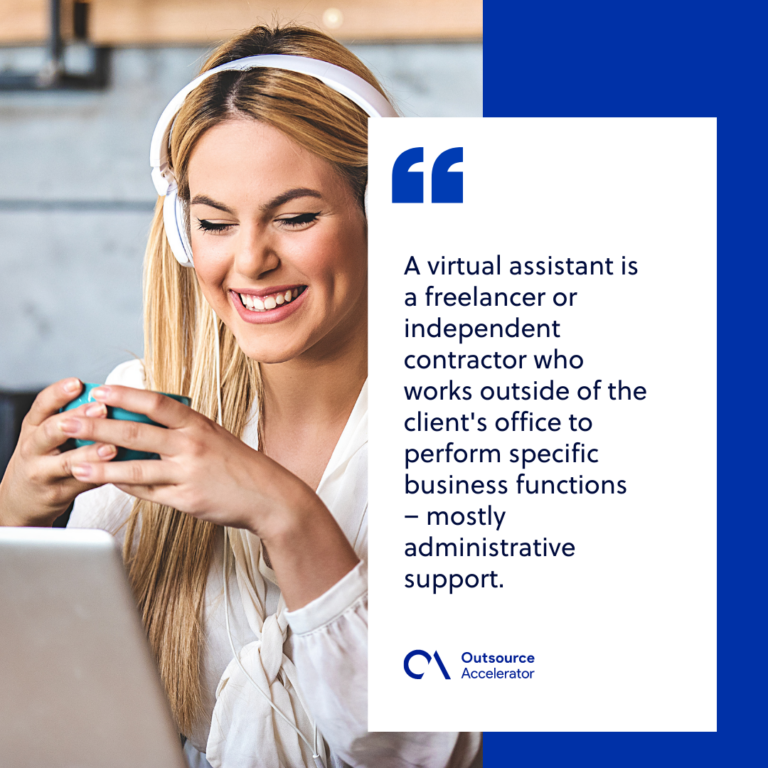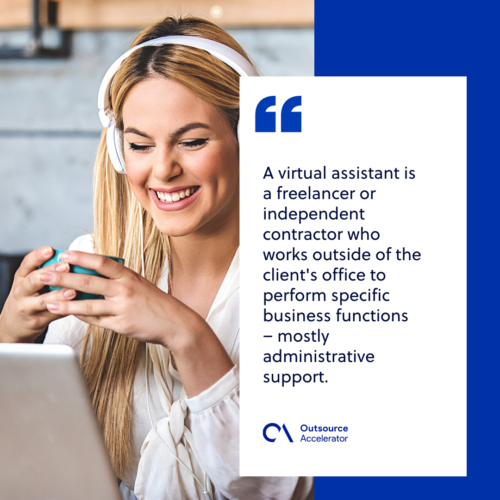 Hiring virtual assistants in the US
Although offshore virtual assistants are less expensive, some clients remain doubtful. Communication problems and a lack of familiarity with Western culture are some of the issues that may arise.
That said, hiring a virtual assistant from the United States allows a company to conduct a comprehensive background investigation, ensuring that the clients' data and trust are protected.
However, this does not imply that you should only hire American-born virtual assistants. Wing Assistant's headquarters are in the United States, but its VAs are from various countries worldwide.
These assistants have a bachelor's degree and speak English well; they are overseen by competent Operations Managers and supplied with whatever support they may require.
Benefits of hiring US virtual assistants
With careful management and clear communication, a virtual personal assistant can give a lot of benefits to your business. Here are the top advantages of hiring a virtual assistant.
Culture fit
Working with a virtual assistant from the US has advantages other than seamless communication in the English language. US-based VAs have a firmer grasp of societal values that some usually take for granted.
They may also have a better understanding of the general business environment in the United States, from proper customer interaction to certain customs unique to the local market.
No language barrier
Working with a virtual assistant from the US eliminates miscommunication and redundancy, which can slow down the processes. It also helps you complete more tasks and increase the efficiency of your operations.
Consequently, efficient communication saves you time and money because of the lower risk of errors.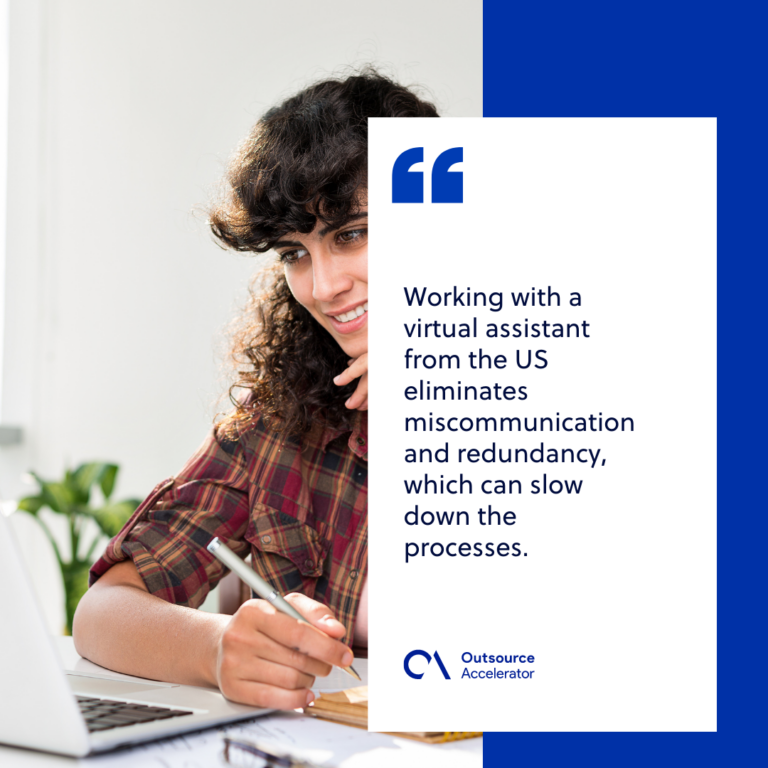 Cost-efficient
There is also a significant cost saving in contracting a virtual assistant compared with hiring a full-time employee. You will not be required to provide them with an office, desk, telephone, or computer, as they are self-contained. There are many cost-cutting opportunities.
Employee benefits, expenses, taxes, equipment depreciation, leasing, and services are also some of the areas where employers can save money and resources.
Similar time zones
One of the most important factors to consider is the time difference, especially when working with a virtual assistant. If you require your assistant to work the same hours as you, this makes a significant difference. It is beneficial if you need to communicate often or if you have urgent requests.
How much do virtual assistants from the US cost?
The rate of a virtual assistant from the US is dependent on the individual's abilities and experience. VAs with more advanced tasks would almost certainly cost you extra. It will also be determined by the particular project you need them to handle.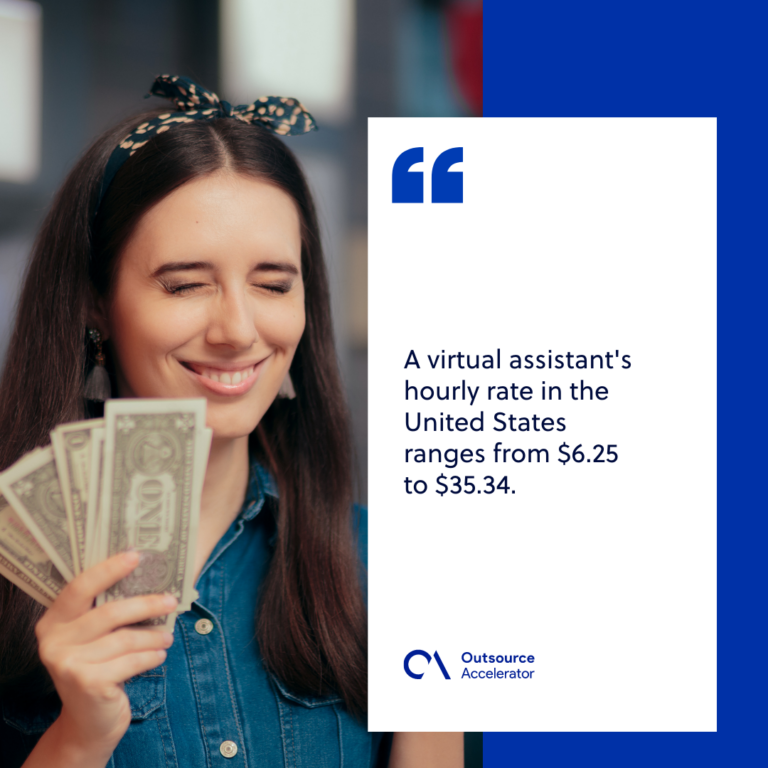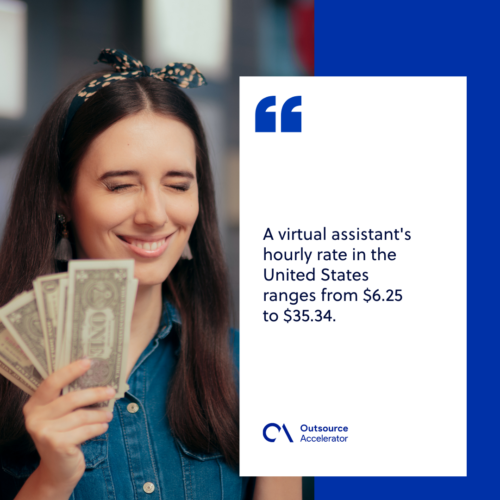 A virtual assistant's hourly rate in the United States ranges from $6.25 to $35.34. Of course, this is contingent on the individual's expertise and experience. 
Meanwhile, rates for virtual assistants in North America range from $15 to $50 per hour on the low end, and $50 or more per hour on the high end. You can expect to pay a lot less if you recruit someone from another country.