Virtual assistant contract: What you need to know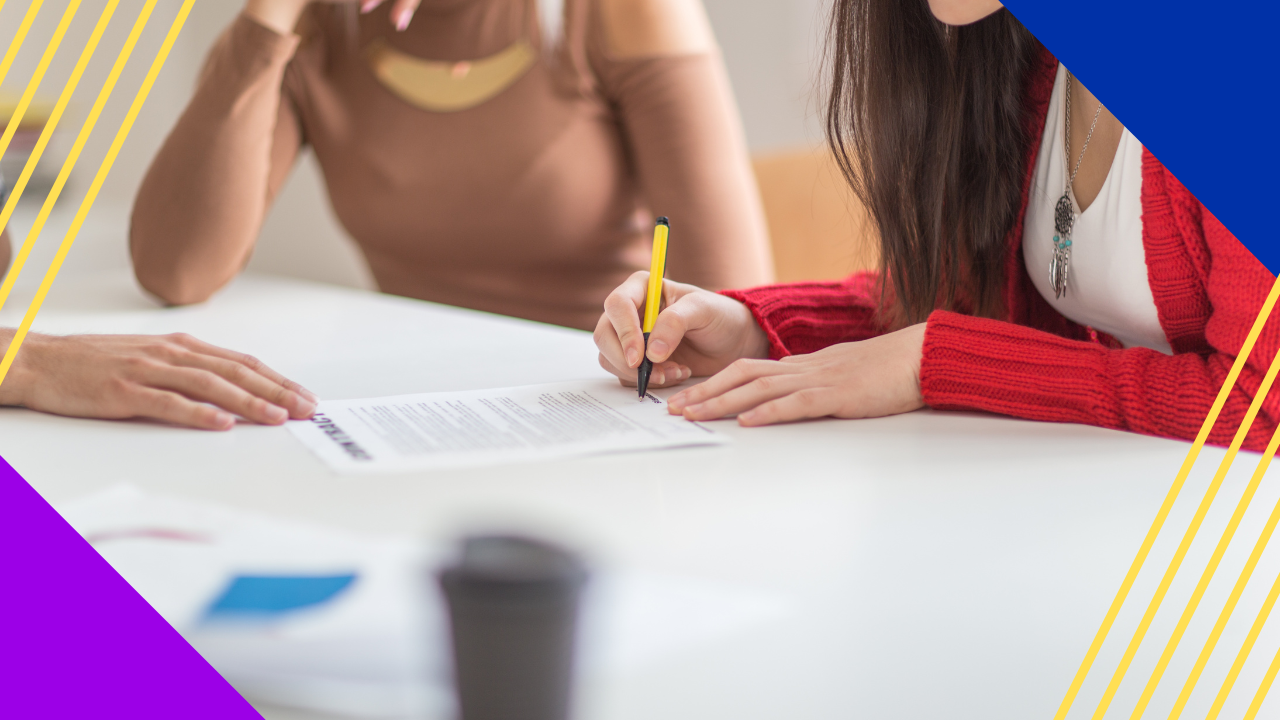 Virtual assistant services and agencies that offer these are in abundance in the present market.
These services are availed by small businesses, solopreneurs, and large enterprises alike.
It isn't uncommon for these virtual assistants (VAs) and their clients to operate in an informal setup and work without a solid framework of agreement.
However, hiring the services of a VA without a virtual assistant contract is not a good business practice for everyone involved.
What is a virtual assistant contract?
A virtual assistant contract is a conduct agreement between VAs and the clients that hire their services.
It delineates the expectations and responsibilities of both parties and establishes the rules they will follow for the duration of their professional relationship.
Typically, a virtual assistant contract states the terms, conditions, obligations, privileges, and/or limitations of both VAs and their clients.
This contract is a legally binding instrument[1] that serves as a guide for what either party can and can't do.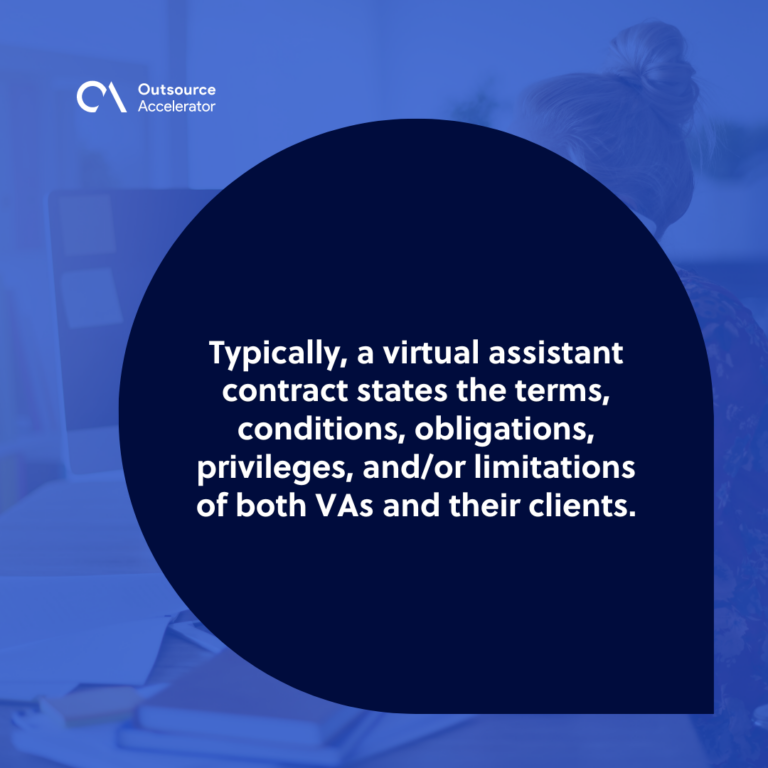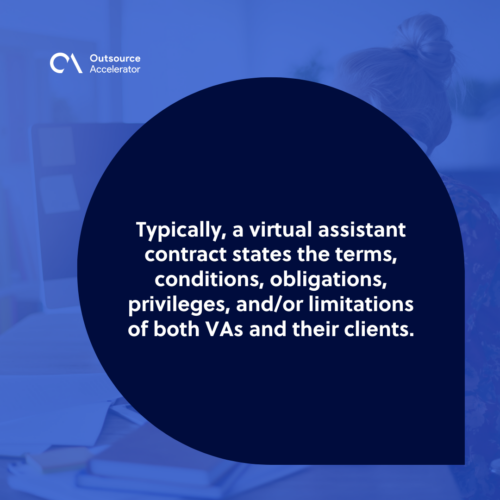 What should you include in a virtual assistant contract?
Like any legal document, everything included – and not included – in a virtual assistant contract should be carefully considered.
Any terms and conditions not clearly defined can become subject to exploitation by either party.
Thus, it's important to ensure that the virtual assistant contract covers all aspects of the VA-client relationship.
Below are some vital facets that should be included when drafting a virtual assistant contract:
Scope of work
It's important to clearly define what's expected of the virtual assistant when it comes to deliverables and assigned responsibilities.
Vague expectations that are open to interpretation can lead to confusion on both sides.
For example, instead of using open-ended statements (e.g., "meet the client's requirements"), use more concise ones (e.g., "finish at least 2-3 deliverables per week").
It's also advisable to create a specific list of all the tasks the virtual assistant will be responsible for.
Contract length and termination clause
A virtual assistant contract should clearly detail how long the VA-client relationship will last (e.g., specific start and end dates instead of x number of months).
A termination clause[2] should also be included. This clause should define conditions that can render premature termination of the contract.
It should also state whether the agreement can be terminated by the client, the VA, or both.
Lastly, the contract should define what happens in the event of premature contract termination by either party.
Bilateral obligations
Ensure that other obligations – apart from those delineated in the scope of work – are clearly defined in the contract.
For example, the number of hours the virtual assistant is expected to work per day and the specific hours (e.g., 7 AM to 5 PM).
Payments
Perhaps the most important of all, payments and modes of payment must be clearly defined to avoid any possible confusion.
This should include the virtual assistant's regular rate (e.g., per hour, day, or project) and any additional rates for rendering overtime.
Reimbursement of expenses incurred in performing the VA's tasks must also be included in the pay.
Incentives and other bonuses can be covered here as well.
Benefits of having a virtual assistant contract
Having a virtual assistant contract in place gives VAs and their employers' many advantages.
These advantages include:
Ensures clients will respect and pay for the VA's work
Legal repercussions are a powerful motivator for individuals to uphold their ends of agreements.
It reinforces the notion that both the VA and their clients must follow through with the agreement they've agreed upon.
In short, a virtual assistant contract obligates the VA to render the services expected of him and the client to pay for these services.
The contract protects virtual assistants from being exploited by their clients, but it also protects clients from having to pay unreliable VAs.

Creates professional boundaries and VA-client relationship structure
A well-drafted contract helps both parties define clear boundaries in their professional relationship.
It also provides a clear understanding of what the client expects from the VA and vice versa.
Essentially, it lets the VA perform his tasks with minimal supervision and interference from his client.
Virtual assistant contract: Why you need it
A virtual assistant contract protects both VAs and their clients from being exploited by either and from unfair practices.
While there are VAs that believe only VA agencies or businesses employing several virtual assistants need a virtual assistant contract, this isn't necessarily true.
First-time VAs need the protection that having a virtual assistant contract affords.
On the flip side, business owners taking on the services of virtual assistants for the first time are also protected from unreliable VAs.
Thus, the legally binding nature of virtual assistant contracts provides a two-way layer of protection for both VAs and their clients.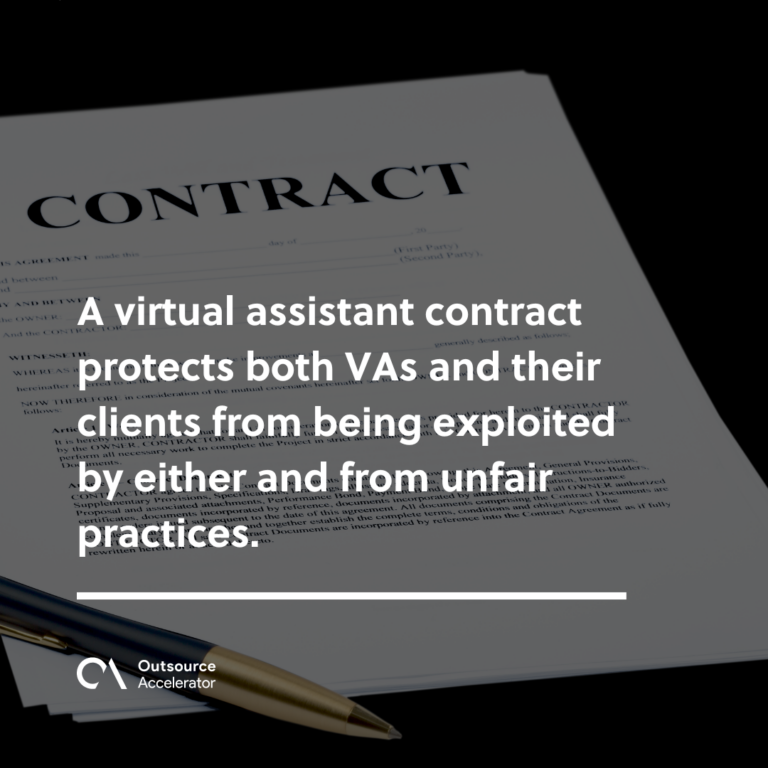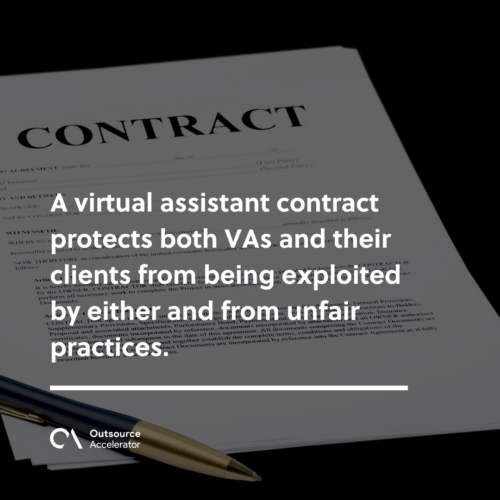 References
[1] legally binding instrument. Bodansky, D. (2015). "Legally binding vs. non-legally binding instruments." Social Science Research Network. Available at: https://papers.ssrn.com/sol3/papers.cfm?abstract_id=2649630
[2] termination clause. Comino, S. et al. (2010). "Termination clauses in partnerships." European Economic Review, 54(5), pp. 718-732. https://doi.org/10.1016/j.euroecorev.2009.12.007