Pros and cons of UI and UX design outsourcing
Imagine coming up with an excellent idea for a website or an application — something unique and could draw more clients to your business. You would need a UI and UX design team to help figure out the complexities of developing this interface.
However, hiring and providing facilities for a UI and UX design team can become costly. If you do not have the extra budget to hire and accommodate more employees, outsourcing a  \design team to start this new adventure is a viable solution.
Let's discuss UI and UX designs and the advantages and disadvantages of UI and UX design outsourcing.
What is UI design? What is UX design?
User interface design, or UI design, visually guides users through the digital interface and creates an intuitive experience in a website or application. It is a design element that considers all the visual, interactive factors in a digital interface — such as buttons, icons, typography, color schemes, and its responsiveness to users.
Meanwhile, UX refers to "user experience," which covers all aspects of the end-users interaction with the company, its services, and its products.
UI and UX design go firmly hand in hand. While UI designers create a consistent, coherent, and aesthetically pleasing interface, the UX team helps deliver an easy, usable, and all-around pleasant experience for the user.
An effective approach to both fields could provide a strong design for a company's digital footprint.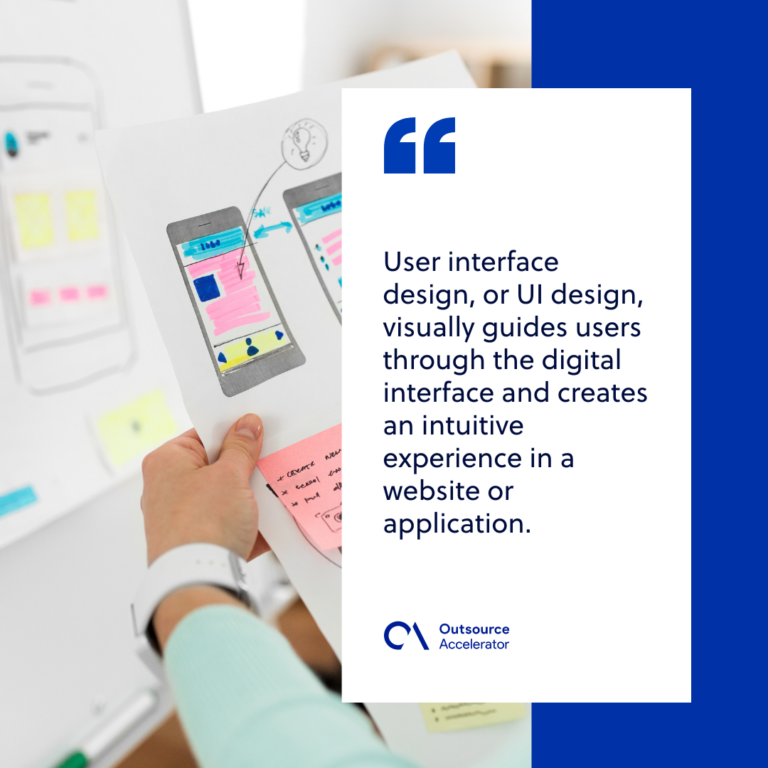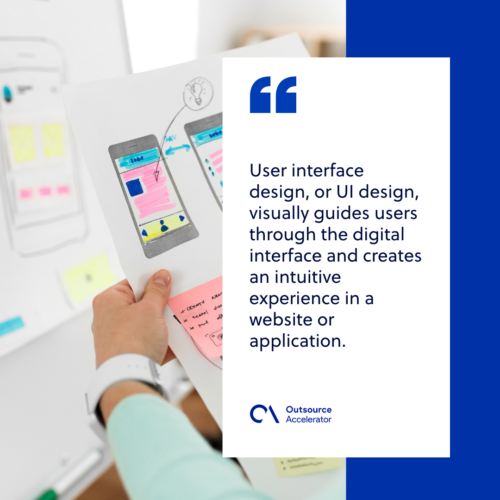 How to outsource UI and UX design?
UI and UX design teams are vital in building an immaculate design for a brand's digital presence. Outsourcing these tasks is a practical investment for an organization.
Generally, outsourcing means delegating a task to somebody from outside the company. Finding the right outsourcing design partner commonly consists of the following steps:
Determining the time frame and work needed in a user interface.

Calculating your design budget.

Researching about the quality of service and hourly rates of outsourcing agencies.

Recruiting a team that fits your design goals and negotiating the price and amount of work.
Pros of UI and UX design outsourcing
Outsourcing your UI and UX design process has obvious benefits compared to hiring an in-house team. Here are some of them:
Reduced development time
Design trends tend to change rapidly. It is sometimes impossible for your business to catch up, even with highly skilled designers on-hand. 
An outsourced UI and UX design partner helps you finish any project in a reduced amount of time. Because they are experts in the field, they know how to complete designs faster without compromising on important details in the project.
Diversify your design
Hiring an offshore team gives you access to fresh ideas, rich experience, and state-of-the-art facilities. They help diversify your company's designs, allowing you to cater to a wide range of audiences.
Additionally, foreign web designers can help your company develop a new and unique design for your digital interface.
Save on operational and labor costs
Hiring and accommodating in-house workers could be expensive. As with other services, outsourcing your UI and UX design process helps your company save on operational and labor costs.
Most third-party providers already have the resources and facilities that you need. Therefore, not only do you not need to worry about recruitment but you also won't need to arrange a workspace with all the instruments required by your design team.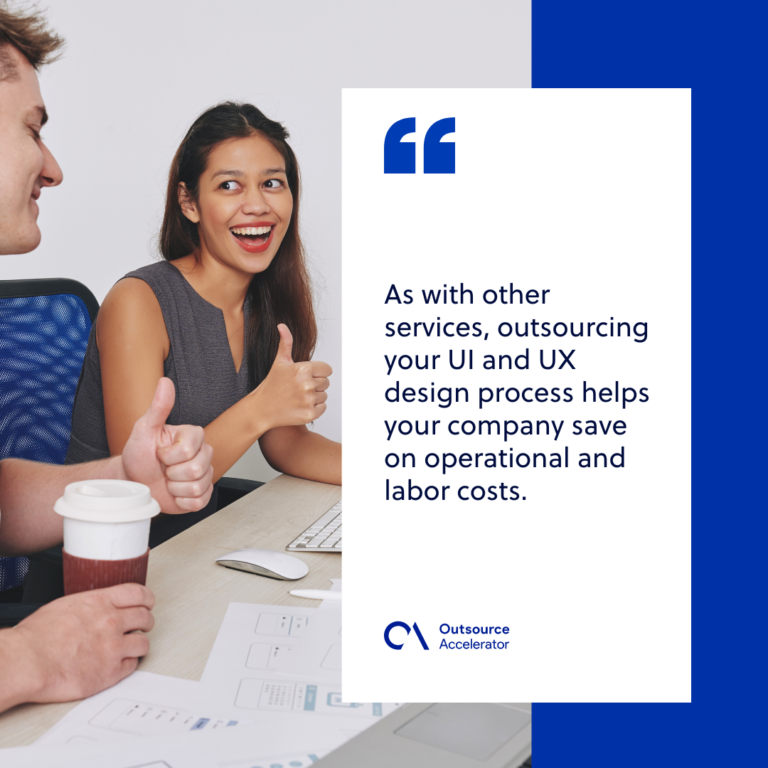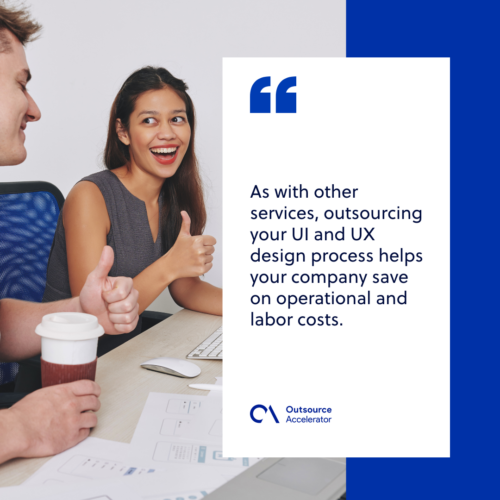 Cons of UI and UX design outsourcing
Despite its advantages, outsourcing could still have some pitfalls. The following are the possible risks of outsourcing your UI and UX design tasks.
Cultural misunderstandings
Design is often influenced by the local culture. Outsourcing your UI and UX process to a team with an opposite culture from yours may help with generating new and fresh ideas, but it could also lead to misunderstandings. 
To avoid this dilemma, make sure you work with an outsourcing agency that promises a best-of-fit expert for your company and culture. .
Language barrier
Proper communication between both parties can avoid any confusion in any partnership. However, when working across cultures, it always takes some time to get used to somebody's way of talking.
That is why it is important to make sure that you are speaking a common language with your outsourced team. Use familiar words when talking with them and avoid complex phrases, specialized vocabulary, and jargon to avoid miscommunication.
Different standards
Quality control is one of the most significant parts of UI and UX design outsourcing. Still, other company's quality standards may be different from yours.
To avoid the risk of receiving inefficient interfaces, ensure your outsourcing partner follows the latest quality standards. Ask them for examples of their previous projects to gauge their quality of work.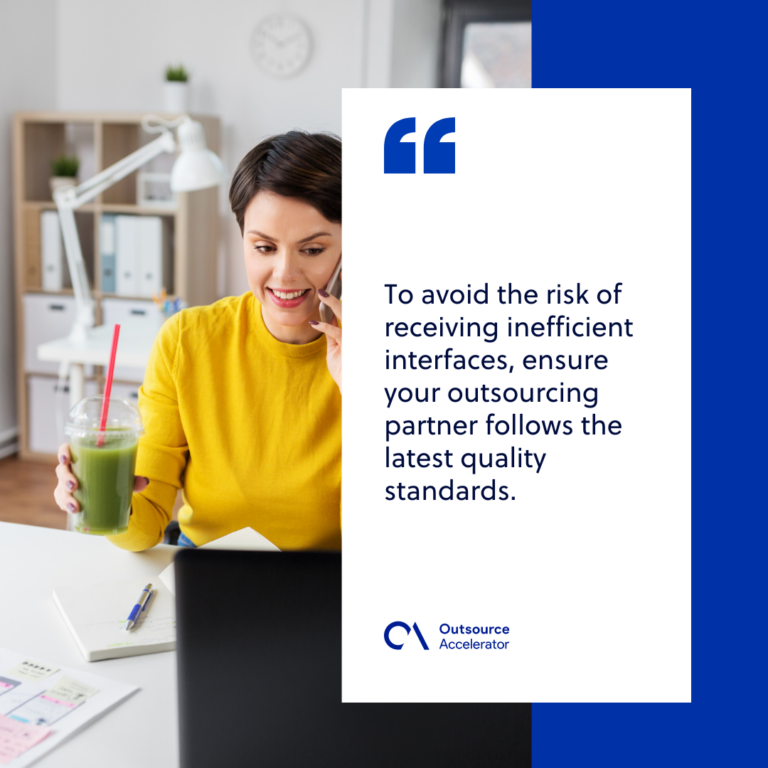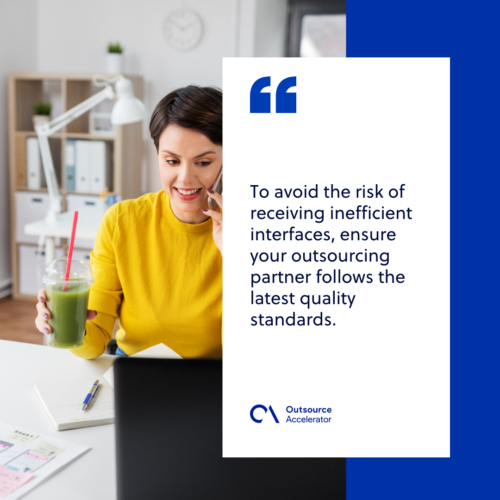 Let MVP Asia Pacific handle your UI and UX design
MVP Asia Pacific's UI and UX team could easily fit into your company and save your business significant amounts on unnecessary expenses. The MVP Difference promises a best-of-fit expert that integrates seamlessly into your company
Their expert team of UI designers could provide sleek and user-friendly solutions to your users. They could also deliver creative UX options to optimize your systems and engage your customers better.
MVP has a large range of highly-trained experts with state-of-the-art facilities, helping businesses reduce overhead costs by up to 75% and increase scalability, even in the digital world.
Contact MVP Asia Pacific now to start outsourcing your UI and UX design process.