Travel personal assistants: Making your journeys seamless and stress-free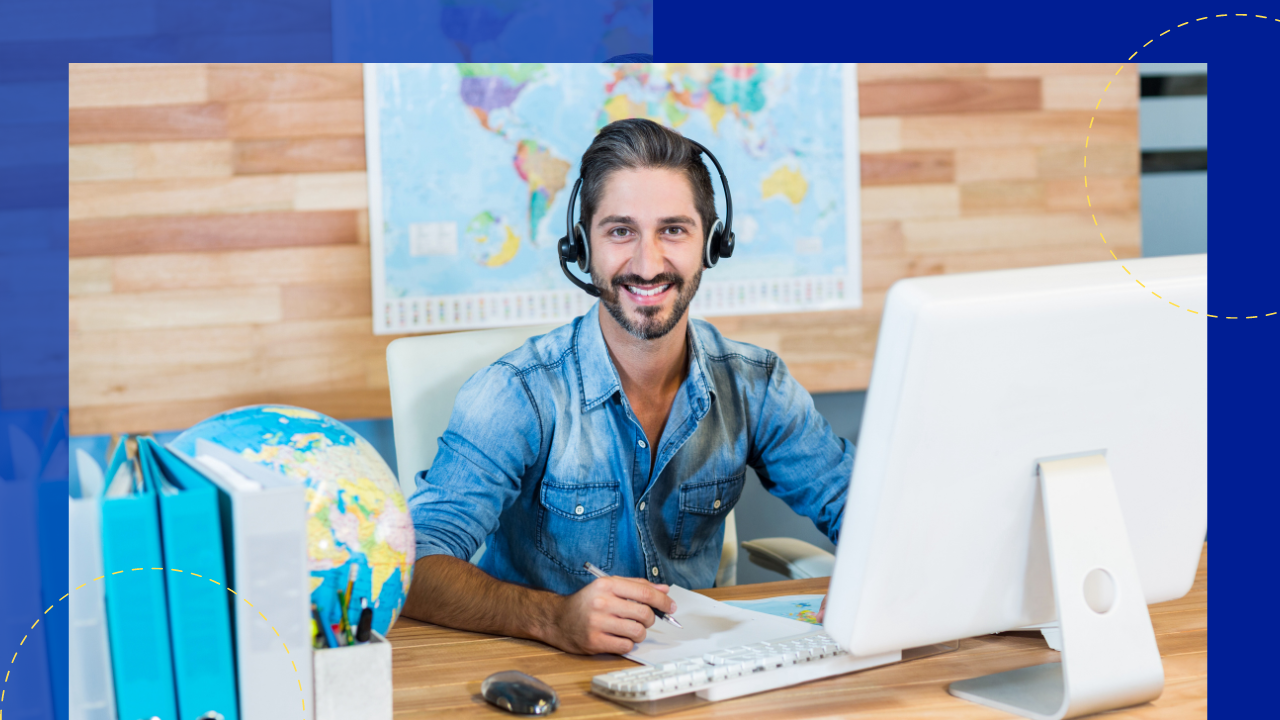 This article is a submission by Virtual PA Services. Virtual PA Services provides a comprehensive array of support services to businesses and executives.
In the modern world, where technology has permeated every aspect of our lives, travel too has undergone a transformation. Among the innovative trends emerging in the travel industry, the concept of travel personal assistants (TPAs) stands out.
These skilled professionals are poised to revolutionize how we explore the world, offering personalized and seamless travel experiences.
In this article, we delve into the world of TPAs, exploring their benefits, functions, and how they're reshaping the travel landscape.
What are travel personal assistants?
As travel becomes more complex and people seek unique experiences, the demand for personalized assistance has grown exponentially. This is where travel personal assistants (TPAs) or travel PAs step in.
Unlike chatbots or automated systems, TPAs are real individuals with expert knowledge who provide tailored support throughout the entire travel journey.
They combine the convenience of technology with the warmth and intuition of human interaction, offering a comprehensive solution to travelers' needs.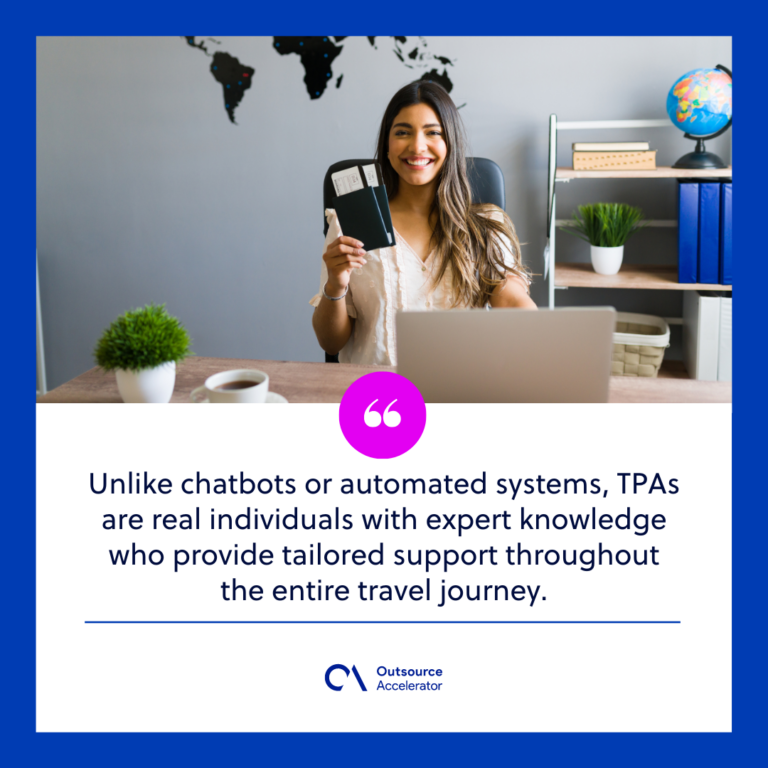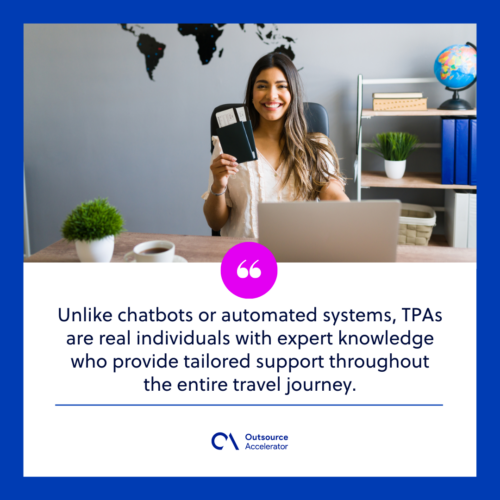 Responsibilities of travel personal assistants
TPAs are in charge of the following:
Pre-travel planning: Travel personal assistants assist in crafting detailed travel plans, considering factors such as interests, budget, and travel style. They handle flight and accommodation bookings, as well as securing tickets for attractions and events.
24/7 support: Whether it's adjusting an itinerary or addressing unexpected hiccups, TPAs are available around the clock to provide guidance and support.
Cultural guidance: Travel PAs offer insights into local customs, traditions, and etiquette, ensuring travelers navigate new cultures with respect and ease.
Problem resolution: Should any issues arise during the trip, such as missed connections or lost luggage, TPAs step in to swiftly resolve the problem and minimize disruptions.
Benefits of having a travel personal assistant
Travel personal assistants offer the following advantages:
Personalized itineraries: TPAs craft travel itineraries based on individual preferences, ensuring that every aspect of the journey aligns with the traveler's interests and desires.
Real-time assistance: From flight delays to sudden accommodation changes, travel personal assistants are readily available to provide instant solutions, minimizing stress and disruptions.
Local insights: These assistants possess valuable local knowledge, recommending hidden gems, authentic dining spots, and cultural experiences that might not be found in guidebooks.
Language and cultural barrier breakdown: Navigating a foreign land can be challenging, especially when language barriers come into play. Travel PAs bridge this gap, facilitating smooth communication and cultural immersion.
VIP treatment: Travel personal assistants can secure exclusive access, upgrades, and special amenities that elevate the travel experience, making travelers feel like true VIPs.
Case study on travel personal assistants
This case study examines the journey of James Anderson, a UK-based executive, as he utilizes a Travel PA to navigate the complexities of business travel.
Background
James Anderson, a seasoned executive in the pharmaceutical industry, frequently travels for meetings, conferences, and client engagements.
With an increasingly demanding schedule and the need to balance personal and professional commitments, James sought a solution to make his travel experiences seamless and stress-free.
Challenges
James faced several challenges in managing his business travel.
Coordinating flight itineraries, hotel reservations, ground transportation, and ensuring he adhered to his tight schedule were time-consuming tasks that left him drained and detracted from his primary focus – his business objectives.
Engaging a travel personal assistant
Recognizing the need for expert assistance, James enlisted the services of a travel personal assistant from Virtual PA Services.
His Travel PA, Patsy, possessed a deep understanding of the travel industry, excellent organizational skills, and a knack for problem-solving.
Implementation
Upon engaging in the services, James noticed an immediate improvement in his travel planning.
Patsy began by comprehensively understanding James's travel preferences, such as preferred airlines, hotel chains, and seating arrangements.
Armed with this information, she curated tailored travel itineraries that minimized layover times and optimized his overall travel experience.
Patsy also demonstrated remarkable adaptability when faced with unexpected changes, such as flight delays and last-minute itinerary adjustments.
She promptly rerouted James's travel plans, ensuring minimal disruptions to his schedule.
Results
With Paty's assistance, James's business travel efficiency improved significantly. He found himself arriving at meetings well-prepared and rested, allowing him to focus on building client relationships and advancing his business goals.
The stress associated with managing travel logistics was greatly reduced, enabling him to allocate more time to strategic planning and decision-making.
Furthermore, the cost savings achieved through Patsy's diligent research and negotiation of travel deals were substantial. James's travel budget was optimized without compromising the quality of his accommodations and travel arrangements.
Conclusion
The case of James Anderson illustrates the value of utilizing professional travel personal assistants to enhance the business travel experience for UK executives.
By leveraging the expertise of a Travel PA  like Patsy from VirtualPa.Services, executives can delegate time-consuming travel logistics to a capable professional, resulting in:
Increased productivity
Reduced stress
Improved cost efficiency
As the business landscape continues to evolve, the role of travel personal assistants is becoming increasingly indispensable for executives seeking to maintain a competitive edge.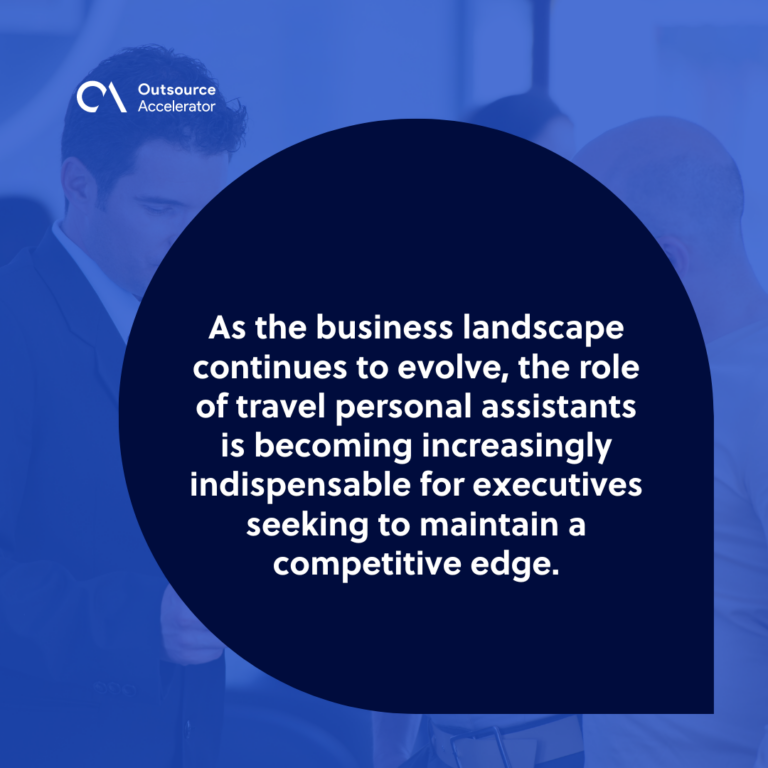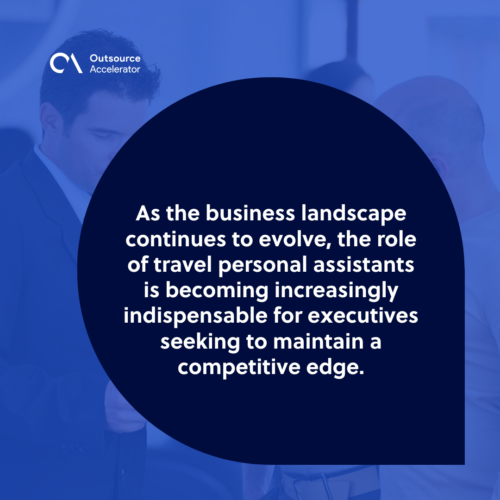 Travel personal assistants: FAQs
Here are the frequently asked questions about TPAs:
How do I communicate with my travel personal assistant?
Communication can occur via various channels, including phone calls, text messages, emails, and even dedicated travel assistance apps.
Are travel personal assistants only for luxury travelers?
While they do offer premium services, TPAs are adaptable and can cater to a range of budgets and travel preferences.
Can TPAs help with solo travel arrangements?
Absolutely! Travel personal assistants are skilled in creating solo travel experiences that prioritize safety, comfort, and fulfilling experiences.
How do TPAs handle unexpected changes in the itinerary?
Travel personal assistants excel at adaptability. They swiftly adjust the plans to accommodate changes, ensuring a seamless travel experience despite unforeseen circumstances.
Travel personal assistants facilitate smooth travels
In a world where travel is no longer just a journey but a curated experience, travel personal assistants offer a refreshing blend of human touch and technological efficiency.
Their ability to tailor journeys, offer real-time support, and provide local insights makes them an indispensable asset for travelers seeking both convenience and authenticity.
As the travel industry evolves, these professionals are leading the way in enhancing our exploration of the world.
So, why not let a travel personal assistant transform your next adventure into an unforgettable odyssey?