Training program for customer service: A quick guide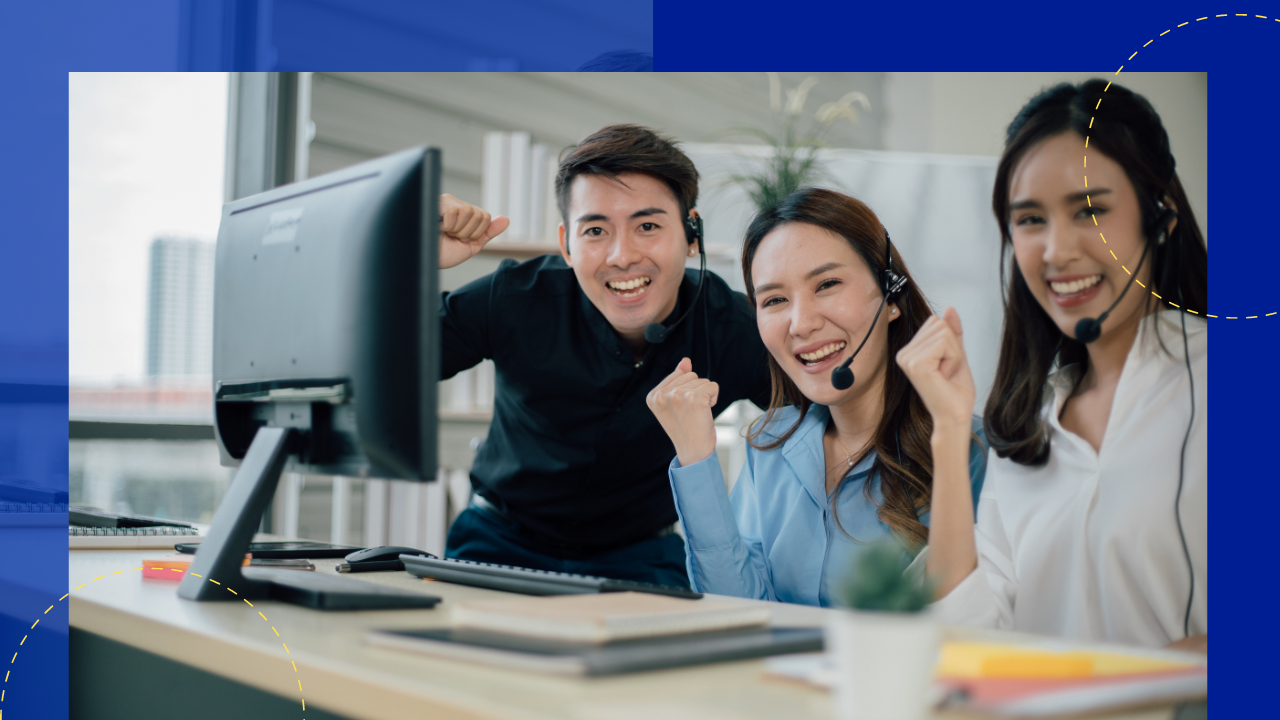 Today's business world is competitive, yet customer service is the one thing that most businesses rarely want to account for. 
There's nothing more frustrating than a negative experience[1] with a customer service representative. Poor customer service can make or break the reputation of a business. 
Unfortunately, losing a customer's trust is often easier than maintaining it. Given the tight margins in the industry, retaining customers shouldn't be a gamble. It should be a business strategy.[2] 
If you struggle to provide a good customer experience, consider implementing a robust training program for customer service that will complement your business objectives.
What is a training program for customer service all about?
A training program for customer service is a course of action taken to improve a business's quality, efficiency, and effectiveness. It is designed to ensure employees have the knowledge and skills to help customers with their needs. 
Good customer service is a key factor to success. According to Fortune Business Insights' latest report, the global customer experience management market will be worth $11.34 billion in 2022. It is projected to reach $32.53 billion in 2029 at a CAGR of 16.2%.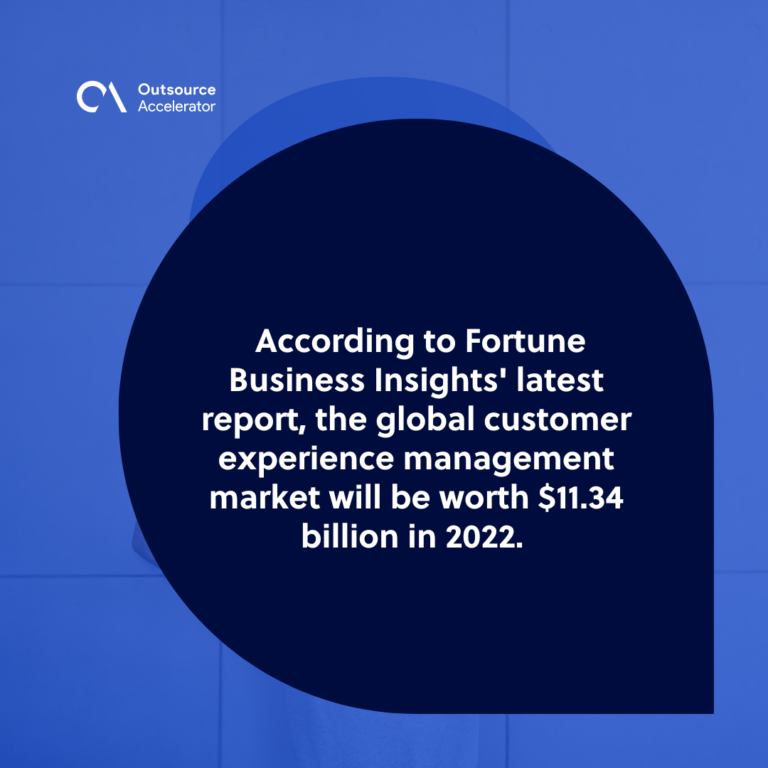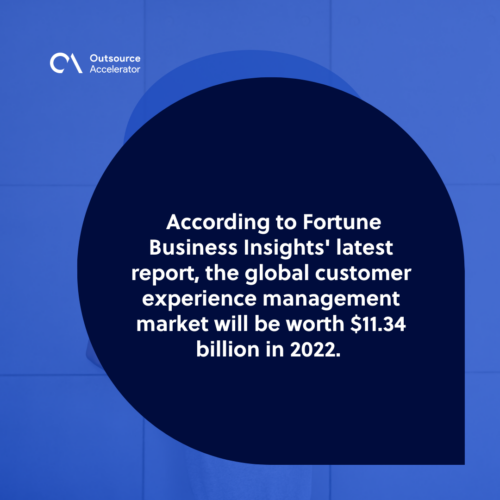 A good customer service training program provides employees with relevant information that can help them handle common situations they may face.
Customer service training should be ongoing, comprehensive, and flexible enough to accommodate new technologies and processes. Training should focus on soft skills (such as communication, problem-solving, and conflict resolution) and hard skills (such as product knowledge).
Some companies prefer one-on-one training sessions where they can tailor their class specifically for each employee's needs. This approach allows them to focus on the specific areas where each employee needs help without spending time reviewing things that don't apply directly to them.
Training programs for customer service can be developed in-house or outsourced. The choice depends on your size, budget, and the scope of your training needs.
Here are some things to consider:
What is your training program for customer service all about?

Who needs training?

What skills do you want the trainees to learn?

What type of training should you offer?

When should they be trained?
A customer service training program's main goal is to provide the necessary tools, skills, and knowledge to perform the job effectively. Staff will be taught everything from basic communication skills to sales techniques.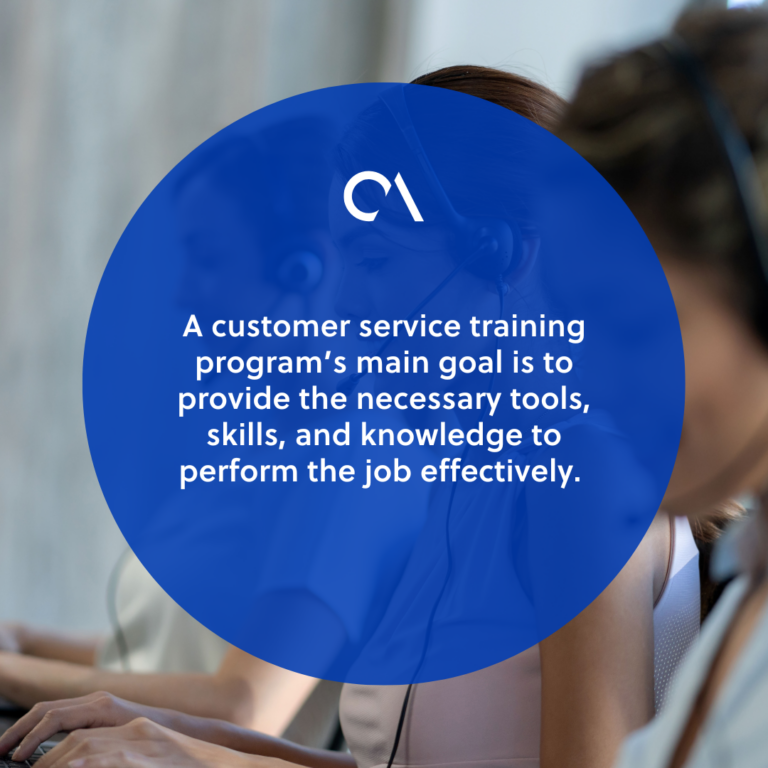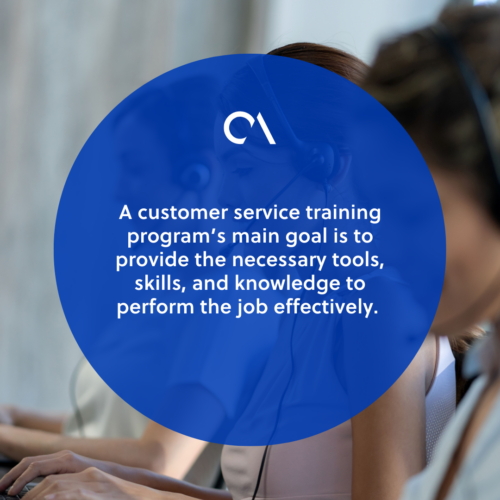 Best training program for customer service in 2023
In order to provide the best customer service, it is vital that employees are properly trained. With a good training program in place, you can expect improved productivity and efficiency in the workplace in the long run. 
Here are the best customer service training programs businesses can use this 2023:
Customer service skills
Customer service skills training programs are essential in any organization. Your employees must know how to handle customers professionally to make a good impression on them. 
This type of training teaches people how to interact with customers over the phone or in person. It teaches people how to treat customers respectfully and politely regardless of their situation or mood. 
The course also teaches people how to deal with difficult situations and angry customers without losing their cool or being rude themselves.
Some companies offer online and in-person classes where they'll learn everything from proper phone etiquette to treating customers fairly and respectfully at all times. 
Customer service management
A good customer service management program covers:
Employee performance evaluation and training

Setting up policies for

better customer satisfaction

Improving the company's image among customers
Management should also provide resources such as checklists and manuals so that employees can refer back to them if they need help while working with clients.
Effective complaint-handling skills
The bigger the business operation is, the more complaints it may acquire. Businesses must implement a strategy to minimize it. 
As complaints come in all shapes and sizes, customers expect quick, helpful responses to their concerns and complaints. With a complaint-handling training program, customers may receive a fair and satisfying resolution to their issues.
This is a systematic approach to investigating and resolving customer issues. As such, a complaint-handling program will result in satisfied customers and more profits for the business.
Telephone customer service
This type of training can be an important part of the company's overall customer service strategy. This should be conducted regularly for all employees.
A telephone customer service program includes information about company products and services so that employees can answer queries about them accurately. 
Thus, this can help build trust with customers, who know they can trust the person they are talking with. Moreover, telephone customer service training should also address what types of words can be used when speaking with customers to avoid escalating the situation further.
If you want your staff to provide high-quality customer service, they must know how to manage common issues that may arise during calls. 
Customer relationship management (CRM)
Customer relationship management (CRM) training programs are used by many organizations to keep track of their consumers and ensure they receive excellent service. 
This includes everything that happens before the sale, during the sale, and after the sale. It also includes how staff approaches customers at different stages in their buying process. 
Employees must know how to work with customers at every stage of their buying process, from first contact to repeat purchases.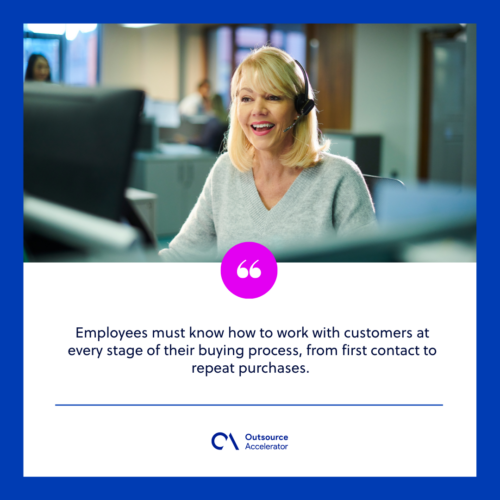 Why a training program for customer service matters
The more professional and knowledgeable customer service agents are, the more confident consumers will feel about doing business with them. 
Here's why a training program for customer service is crucial to businesses:
Creates great customer experience
In today's competitive marketplace, customers have many options when it comes to where they spend their money — from online shopping to buying from competitors' websites. 
Customer service training is crucial for companies because it helps them build strong customer relationships. 
According to Zendesk's latest report, 81% of consumers that received a positive customer service experience are more likely to make another purchase. 
If your company doesn't offer top-notch customer service, it can be easy for customers to look for what they need elsewhere.
Investing in customer service training means helping your employees deliver the best possible experience to every customer who shows interest in what you offer. 
As a result, your employees will feel more confident and empowered to provide great service, making customers feel more comfortable and satisfied. 
Boost customer retention
When customers experience great service from the staff, they're more likely to stay loyal to the brand and come back in the future. At the same time, if they have a negative experience, they'll be less likely to revisit or recommend it.
Customer service training programs can help team members learn how to engage with customers, resolve issues, and provide a positive overall experience. 
Enables omnichannel support
Almost every aspect of our daily routine is digitally driven. This resulted in higher customer expectations of brands. 
Consequently, it's not enough to simply offer one-way communication with customers. Often, they expect to be able to reach the company through multiple channels. 
Training programs will enable employees to learn how to handle consumer interactions in a way that makes customers feel valued and respected. 
This training includes all communication channels, such as: 
Phone

Email

Chat

Social media. 
This will ensure that staff is more equipped with the knowledge and skills they need to deliver a great experience across all those channels.
Rise in profit
A company that prioritizes delivering excellent services to achieve satisfied customers is more likely to earn more profit than one that doesn't care about its customers. 
Investing in training programs can help you improve your bottom line through increased sales, repeat customers, and referrals. 
Grow better with an effective training program for customer service
It is a no-brainer that training programs are essential to provide the necessary skills and knowledge for employees to be better equipped for their responsibilities. 
Thus, if you want better business operations, implementing training programs for your employees is a must. 
When you have knowledgeable employees about your products and services, they can provide better answers to your customers' questions.
A training program for customer service can be an effective way for companies to build better relationships, enhance employee morale and improve overall business performance. 
Article References:
1. Negative experience. Lysenko-Ryba, K. and Zimon, D. (2021). Customer Behavioral Reactions to Negative Experiences during the Product Return. Sustainability, 13(2), p.448. 
2. Business strategy. Reimann, M., Schilke, O. and Thomas, J.S. (2009). Customer relationship management and firm performance: the mediating role of business strategy. Journal of the Academy of Marketing Science, [online] 38(3), pp.326–346.