25 impressive SEO software tools for 2023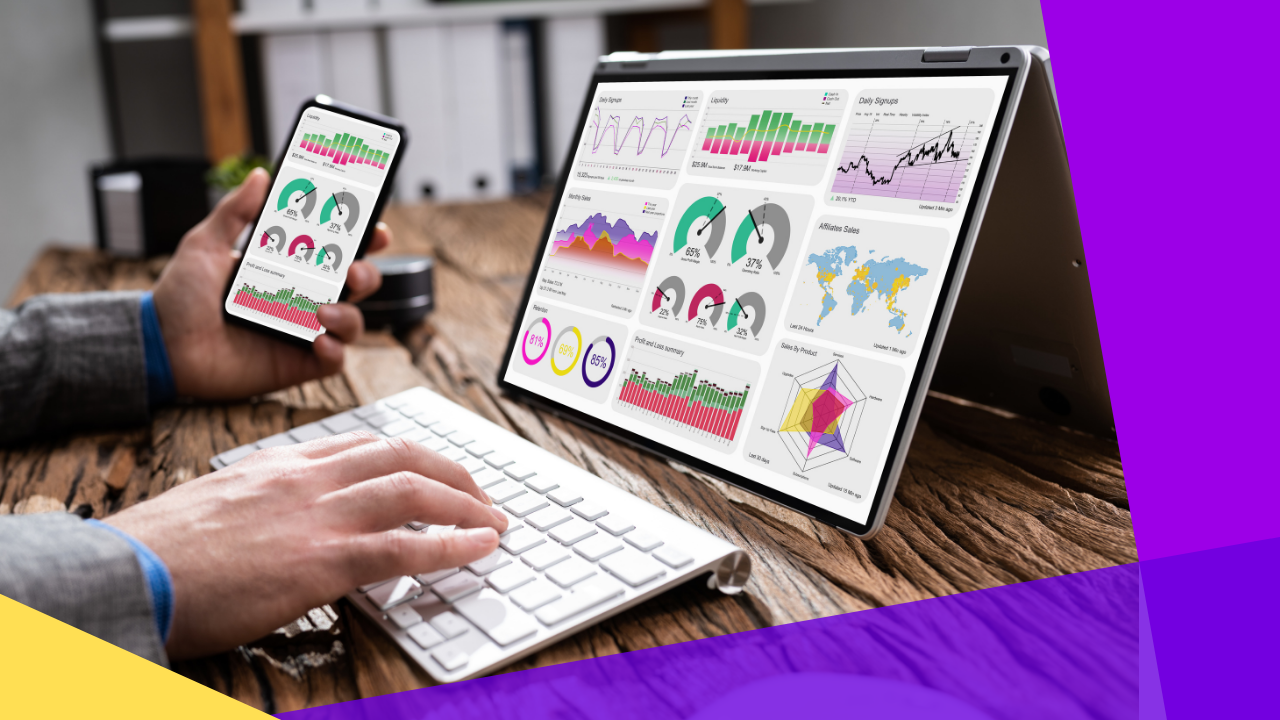 A successful business understands what its clients need. And knowing what your prospects are typing is the key to be visible in search engines. In this article, we've listed down the best SEO software tools to help your organic traffic and online visibility this 2023. Increased SERP positions improve your company's capacity to create traffic and lead. It also improves your audience's perception of the authority of your company. SEO software tools are helpful to enhance your relationships with your potential customers. Utilizing it will provide a better customer experience, boost your authority, and increase leads coming to your site.
What are SEO software tools?
SEO software tools help you track your organic performance, develop tactics, and evaluate data. SEO tools can also assist you with keyword research, backlink building, and competitor tracking.  SEO software tools provide information and analyze your website's overall health and success. They can assist you in identifying areas of opportunity, or issues that possibly prevent you from ranking and earning visibility in the SERPs. SEO software tools have a lot of features that can help your business expand. Some basic features that almost all SEO software tools share are:
Short tail and long-tail keywords

Keyword structure

Keyword mapping

Tools for ranking

Audits

Tests for broken links

Alternate image test

Testing of sitemaps

Test your URL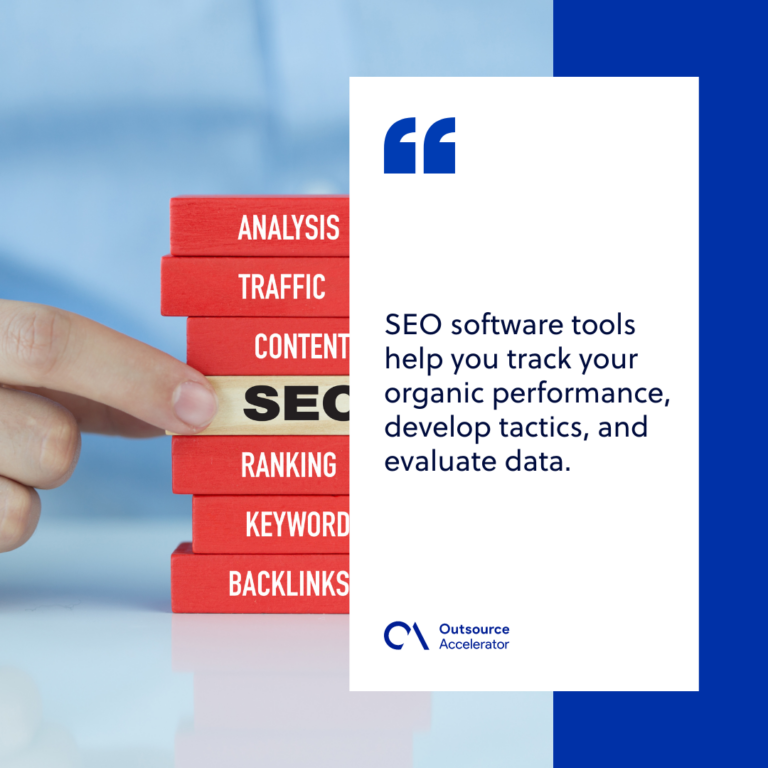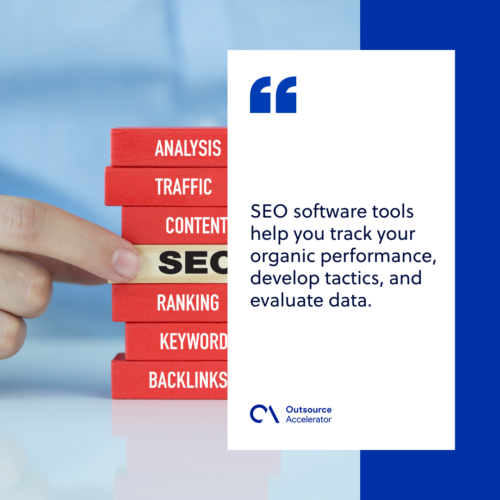 Why businesses need SEO software tools
Organic search is what SEO is all about. Marketers and SEO experts are utilizing several SEO software tools to increase the traffic of a website. 
Keyword suggestions
SEO software tools are also useful to examine which keywords your competitors are using to rank. This data will help you to create your own list of keywords and use it to expand your business to new markets. In fact, SEO software tools can generate thousands of keyword suggestions at once.
Make user-friendly websites
Websites that are well-structured, simple, and uncomplicated encourage ordinary visitors to stay longer. It lowers the bounce rates by increasing website traffic. When done correctly, on-page SEO makes your visitors happy and satisfied, which also means that they are interested in the high-quality content of your website.
Increased conversions
SEO-optimized websites load faster, are easier to navigate. It may also work well and faster on other devices like smartphones or tablets. Easy-to-navigate websites are more likely to be appealing and hold the interest of your visitor.  A visitor who usually stays longer to your website tends to convert to a paying customer.
List of SEO software tools
Best 25 SEO software tools available
The Site Audit feature of Ahrefs is the top Seo auditing tool available. The tool will show you which portions of your website need to be improved in order for it to rank higher in search engines.
Moz Pro is a commercial web version of Moz that lets you research keywords, track your keyword ranks, perform technical SEO site audits, modify content, and it can even monitor your competitors' backlinks.
You may use GrowthBar to look at your competitors' backlink data, sponsored and organic keyword ranks, and social media platform Ads. It also allows you to see your own search rankings.
Google Search Console allows you to track and monitor your website's ranking in Google's search engine. Simply add a link to your website or go through Google Analytics to check your website before submitting your sitemap for crawling.
Semrush is a comprehensive SEO software tool for increasing web visibility. SEMRush also uncovering marketing insights and gives you ideas about your competitors' status.  This SEO software tool assists businesses and website owners to grow with digital marketing techniques, such as SEO campaigns and link building.
Yoast SEO ensures that your site complies with the most stringent technical SEO requirements. It also includes tools to help you improve your material for SEO and readability. Over time, the Yoast name has become associated with WordPress SEO.
KWFinder assists you in locating long-tail keywords with minimal competitiveness. This SEO software tool is used by SEO specialists and marketers to identify the ideal keywords and generate backlink and SERP analysis reports of a webpage.
Serpstat is an excellent development hacking tool for SEO and PPC campaigns on Google Ads. There's also a plugin for Chrome, Firefox, and Opera that lets you get crucial information while you're exploring the web.
Ubersuggest is a free keyword-finding tool created by Neil Patel that helps you identify keywords as well as the search intent behind them by displaying the top-ranked SERPs. 
Answer The Public makes it simple to find topics. It is also a good source of questions to make relevant content for your visitors. This SEO software tool is helpful to write articles based on specific keywords in order to improve my web rankings. 
The Screaming Frog SEO Spider is a website crawler that allows you to crawl URLs and retrieve crucial information in order to examine and audit technical and onsite SEO aspects. Screaming Frog also detects broken links, as well as produces XML sitemaps, views all of your crawlable pages, and extracts H1s, meta descriptions, and backlinks for any site or page.
SpyFu is one of the most comprehensive SEO analytic tools available. This SEO software tool can quickly determine the search volume of the keyword and the difficulty of ranking for that phrase. You may also look into your competitors' keywords to see which ones they utilize.
Woorank provides both free and commercial services for tracking and reporting marketing statistics. You can enter your competitors' websites or pages to see the keywords they're after so you can target the same ones.
Mangools is a set of tools that may assist any marketer in managing and improving their on-page and off-page SEO. Here are the five tools included in Mangools' toolkit:
KWFinder – A keyword research tool

SERPChecker – A SERP analysis tool

SERPWatcher – A rank tracking tool

LinkMiner – A backlink analysis tool

SiteProfiler – SEO metrics and insights tool
Google Trends does not only provide information on a term, but it also provides significant insight into the topic's tendencies. It can be useful at any phase of a company's development. This SEO software too is perfect for searching keywords in any country and getting information about them, such as top searches, rising queries, interest over time, and interests.
Clearscope is a fresh product that works in a similar way as Yoast. It analyzes existing material and makes recommendations for how to improve it, such as content brevity insights and readability scores.
AuthorityLabs provides a number of tools to help you measure, monitor, and optimize the effectiveness of your keywords. It's essentially a keyword tracking tool. Most SEO solutions don't go as deep as AuthorityLabs when it comes to keyword monitoring and tracking.
SEOQuake is widely regarded as one of the greatest free SEO tools available. This Chrome extension runs on-page site audits and functions as an SEO checking tool. Keyword analysis, such as keyword density, an easy-to-read SEO dashboard, and can easily download and share data are among the other features of this SEO software tool.
Surfer is an SEO software tool that can help you rapidly and effectively boost your onsite content. Surfer analyzes 500+ ranking criteria and extracts sets of data from the top 50 ranking pages to provide you a complete plan on how to improve your content for a certain keyword.
For organic research, KeywordTool.io is an exceptionally simple and efficient tool. This SEO software tool uses very accurate data, shows long-tail keywords, making it a significant resource for anyone looking for keyword ideas and information inquiries to base material on.
Alexa is another set of Amazon marketing tools aimed at assisting you with your content, SEO, and PPC tactics. However, several users have complained about inconsistencies in Alexa's statistics.
Siteliner is a duplicate content checker application that can help you detect identical site content. This SEO software application can analyze your complete website for free and quickly, looking for duplicate content, broken links, internal page rank, redirections, and other issues. Siteline can also create an XML sitemap.
Fat Rank makes it simple to assess the performance of your website. This SEO software tool will tell you how well your keywords are performing. Fat Rank can provide you with data that will help you better optimize your webpage for that keyword and make necessary improvements.
Brightedge is an enterprise SEO system powered by AI and machine learning which is helpful to increase your online presence. This all-in-one SEO software tool tracks critical business metrics like traffic, conversions, and profitability.
AgencyAnalytics makes it possible to track and monitor SEO, PPC, social media, email, review, and call tracking all in one place. The key selling feature is AgencyAnalytics' ability to quickly produce branded PDF and web-based reports.