Top 25 remote work influencers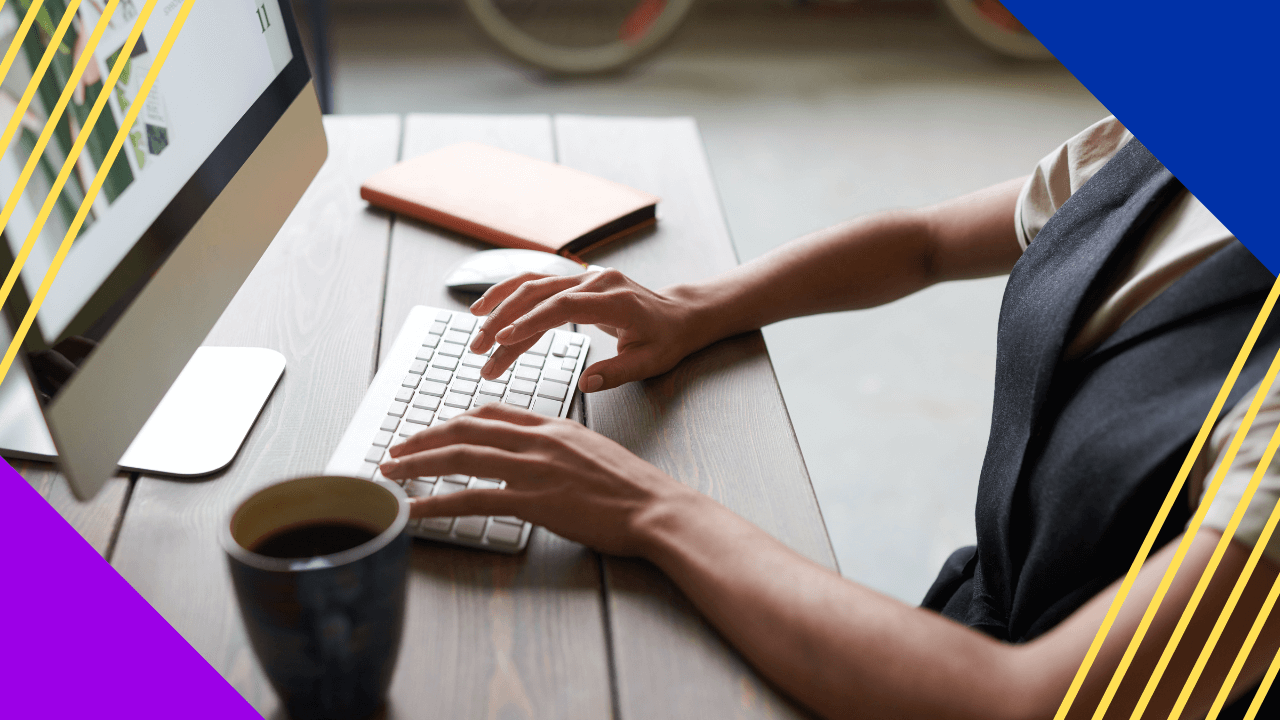 The world had to practically be forced into adopting remote work by the COVID-19 pandemic. However, that doesn't change the fact that many have regained some measure of their lives outside of work because of it.
As we continue to adjust our strategies regarding remote work, it will continue to be a viable option for employers, and their employees will thank them for it. 
The top 25 remote work influencers in their industries
Leading the charge are, of course, the heads of these companies that continue to offer the option of remote work despite many returning to the office.
Across many industries, these top remote work influencers are moving forward in evolving how the workplace functions.  
Top remote work influencers
1. Job van der Voort, Remote 
Formerly the VP of GitLab, Job van der Voort founded the HR tech startup Remote after noticing hiring problems in different locations on the local level, regarding laws, benefits, payroll, etc.
It was at GitLab, one of the frontrunners of the remote working approach, where van der Voort grew the team from 5 to hundreds by hiring through remote work all over the world. 
"Ultimately I believe that everyone should be able to enjoy a good work-life balance and work for a good salary, no matter where they live," concludes van der Voort.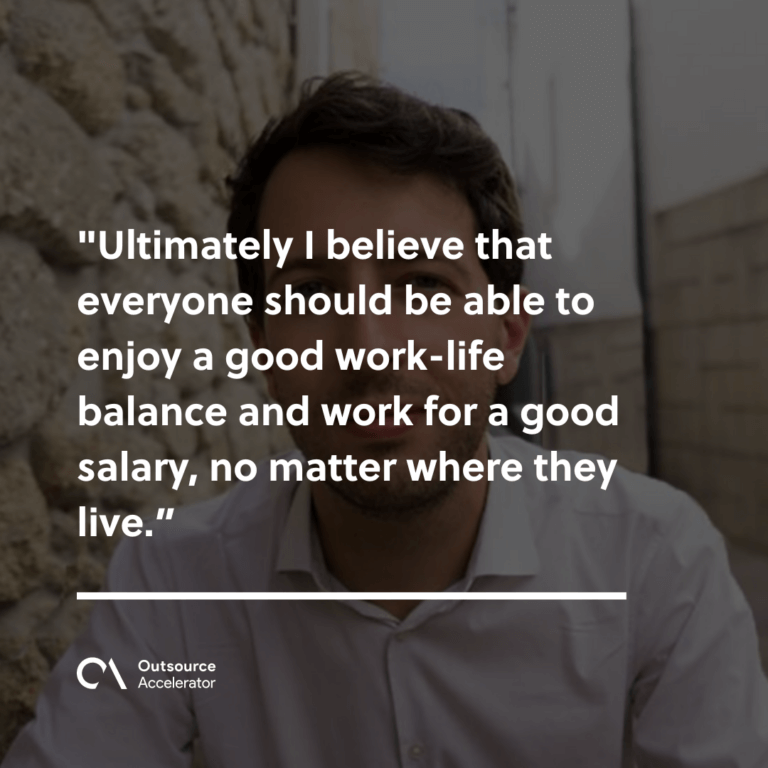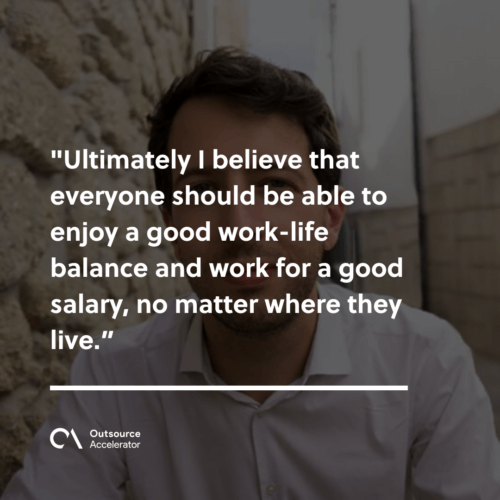 He believes that while the pandemic transformed the way that companies hire, onboard, and retain, the trend is set to continue. But that will only be possible with HR tech and integration tools.
Remote seeks to provide a solution, including launching their latest offering, Global Employee API. With this platform, they seek to make global employment simple, streamlined, and accessible. 
2. Shantanu Narayen, Adobe
Adobe employees have continued to be productive despite working at home, so the firm is not in a hurry to rush them back into the office.
Adobe CEO Shantanu Narayen was wary of the return, not wanting to bring people back early to avoid health risks. 
Adobe's internship that year was entirely virtual, with the challenge being how to instill values of company culture. The company has pledged to continue working on this as social distancing and people working at home endures. 
However, Narayen stresses that physical offices will still be a necessity, but different in set-up. 
He believes there are inherent benefits to being in an office that widespread remote work, which became a necessity during the coronavirus pandemic, cannot necessarily provide. 
3. Andy Jassy, Amazon
Boldly, Andy Jassy released a company-wide memo informing Amazon that white-collar office workers would have the freedom of where they work – whether it be remotely, in an office setting, or in a hybrid model. 
In answer to employees' queries, he said that there is no one-size-fits-all approach, and that the company will be in a stage of experimenting, learning, and adjusting.
What mattered more was that people chose what fit their lifestyle.
"As we start to think about the future, we've all been asking questions like, 'When are we really going back to the office, what will that really be like, how will I allocate my time between the office and home, how will others do it, do we need to be working in person together every day to collaborate and invent best, and how do we build connections and culture best?'"
Jassy has only one caveat: that it should keep the customers' interests in mind. 
With the company set to hire 40,000 corporate-level professionals, the move will be appreciated by applicants for the flexibility, turning it into a viable recruitment tool.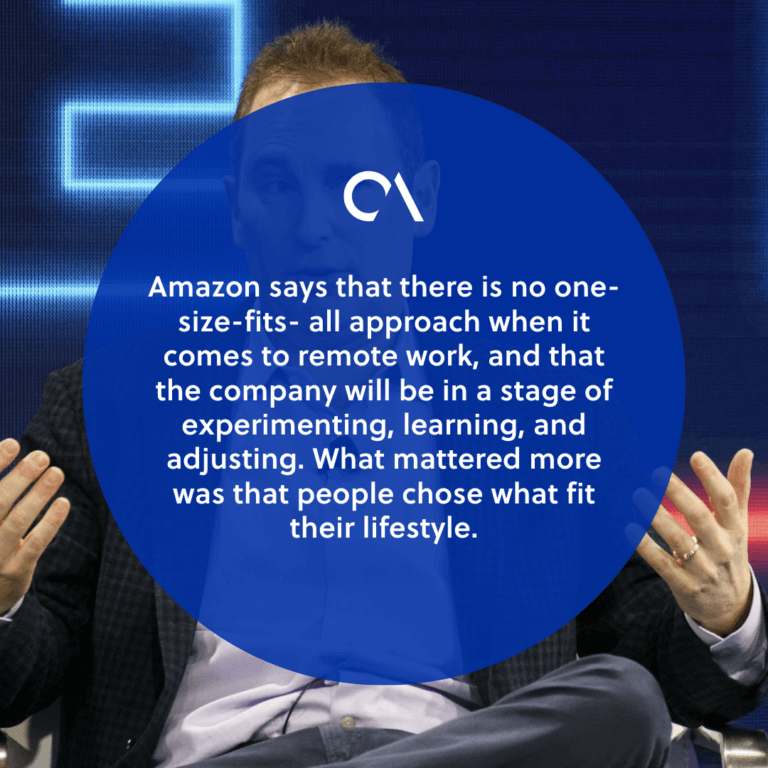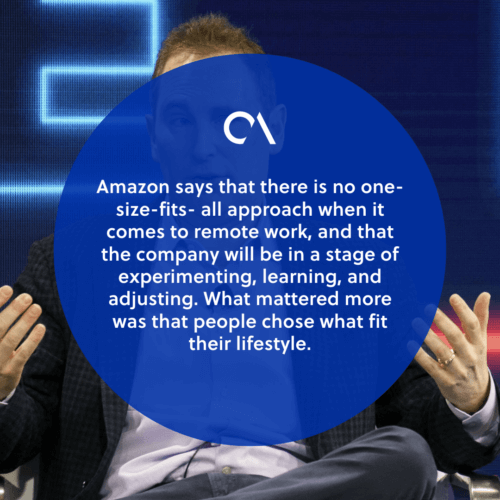 4. Vas Narasimhan, Novartis
Novartis' CEO Vas Narasimhan recently told Bloomberg that a combination of remote work and in-office work will "always be a combination going forward."
Novartis expects the remote work model to continue in the long term. They are even restructuring office space to account for this. 
When the pandemic hit, the company established the "Choice of Responsibility" model, allowing remote work. They have been stated to continue exploring different working models, letting employees choose where and when to work. Most employees have expressed positive feelings about this. 
Narasimhan noted that the flexibility also allowed them to access talent pools that had previously been closed to them.
5. Tim Cook, Apple
Apple CEO Tim Cook has admitted that the company is conducting "the mother of all experiments" with its hybrid remote working policy, and says the company may well shift its current model.
While his preferred model is the "serendipity" of in-person meetings, he said that virtual interactions were "different, but not inferior". 
The key, he says, is finding a model that uses the strengths of both in-person and virtual engagement, and that the eventual result will look different from what's currently used. 
On their foray into augmented reality technology, Cook says that there is a chance it may enhance our connection. 
Despite this, Apple has been noted for being stringent in having its employees return to offices. 
6. Drew Houston, Dropbox
Dropbox is looking into how software tools could relieve the burnout of knowledge workers from hybrid work. While Houston supports the model, he also sees the cons, such as his workers feeling isolated in their remote space.
"There's so many great things about the remote environment," Houston said. "You have a lot of flexibility, you don't have to commute. But there's no substitute for the in-person experience and technology can only go so far to simulate that. Going remote-only was not an option for us."
The company instituted a "virtual-first" model, with occasional visits to a "Dropbox Studio" for team work. 
By protecting his workers and being open to ideas from other companies, Houston hopes to ensure retention and broader recruiting.  
7. Adam D'Angelo, Quora
Quora CEO Adam D'Angelo posted on the Quora Blog the decision for the company to shift to remote work, noting that 60% of workers had chosen to work at home even after the threat of COVID-19 had passed. 
"There are a few factors that add up to the surprisingly high productivity and preference for remote work," he said.  
He noted that the pandemic had made a lot of workers learn they preferred a remote method. For his part, he sees the benefit of now being able to hire people from all over the world.
D'Angelo is aware the current model isn't perfect, and the physical office will still be there. But he acknowledges the time gained back from not commuting, and a more isolated place to focus. 
8. Hayden Brown, Upwork
For Upwork, the trend has been another step towards a remote-focused, flexible workplace they've already been building.
After all, their business has been built on bringing remote talent to clients worldwide, even Fortune 500 firms.
"Upwork knows firsthand the incredible outcomes that distributed teams can deliver. Building on our 20 years of experience as a remote work company, we are now permanently embracing a 'remote-first' model," Brown stated. 
The company's mission has always been to connect workers to opportunities, and it has worked well so far. Upwork has been working to help teams communicate about schedules and set boundaries.
They ultimately hope to become remote-first permanently. They have also found ways to build a collaborative environment that transcends physical space, making use of Google Docs, Slack, and weekly video greetings.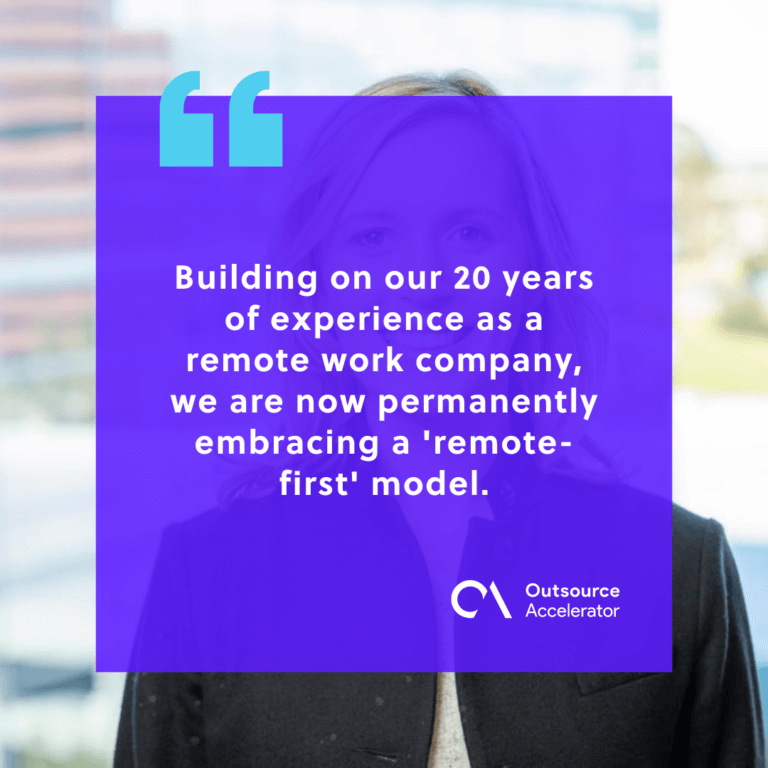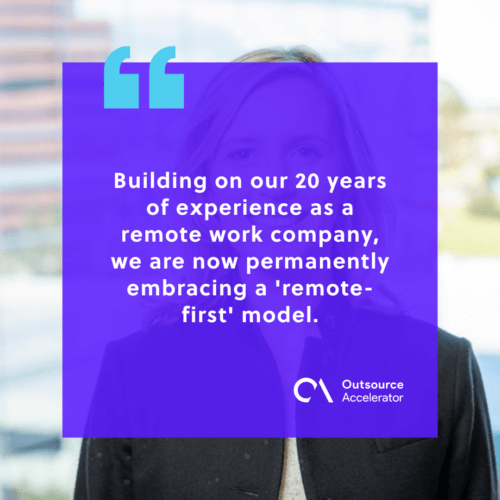 9. Harley Finkelstein, Shopify 
Remote work is not new to those at Shopify. The company had actually instituted the model way back in 2014 while their company headquarters were under construction. 
"We've actually gone as far as to change the dateline in Shopify press releases from "Ottawa, Canada" to "Internet, Everywhere" because we are a company that is everywhere.
A major tenet is that we don't want to dictate where you live. In the past, and even still now, employees needed to commit to living within commuting distance of their office. Work should be built around mission, not headquarters," Finkelstein said.
He further quipped that "office centricity" is over. The physical space would instead be used for strengthening company culture and relationships, essentially transforming them into communal spaces.
10. Tom Kulzer, AWeber Communications
AWeber, a market leader of small business email marketing software, announced their shift to a fully remote-first workforce. CEO Tom Kulzer firmly believes this move will benefit the company, team, and customers for years to come. 
"Beyond the social distancing challenges and health concerns facing us today, this shift was decided with our team members' and customers' best interests at heart,"
He hopes to welcome team members from across the globe, creating a more diverse team with its own unique experiences, knowledge, and backgrounds. 
11. Mike Gianoni, Blackbaud
"Our dedicated employees have continued to deliver against our goals while working remotely since March 2020," said Mike Gianoni, president and CEO, Blackbaud.
"The shift to a digital-first world continues to accelerate, and we're embracing that."
Blackbaud is the world's leading cloud software company powering social good, and has already seen success with a remote operations approach. 
Among the positives are increased demand for its job openings, with strong representation of applicants that were historically underrepresented in tech. 
Gianoni says that career progression would be focused more on performance and expertise, as opposed to hours spent in the office. The remote work model would also reduce the company's carbon footprint. 
The company will use their office spaces for customer meetings and employee gatherings. They are open to further developing strategies that promote a connected workforce while supporting health, wellbeing, and flexibility.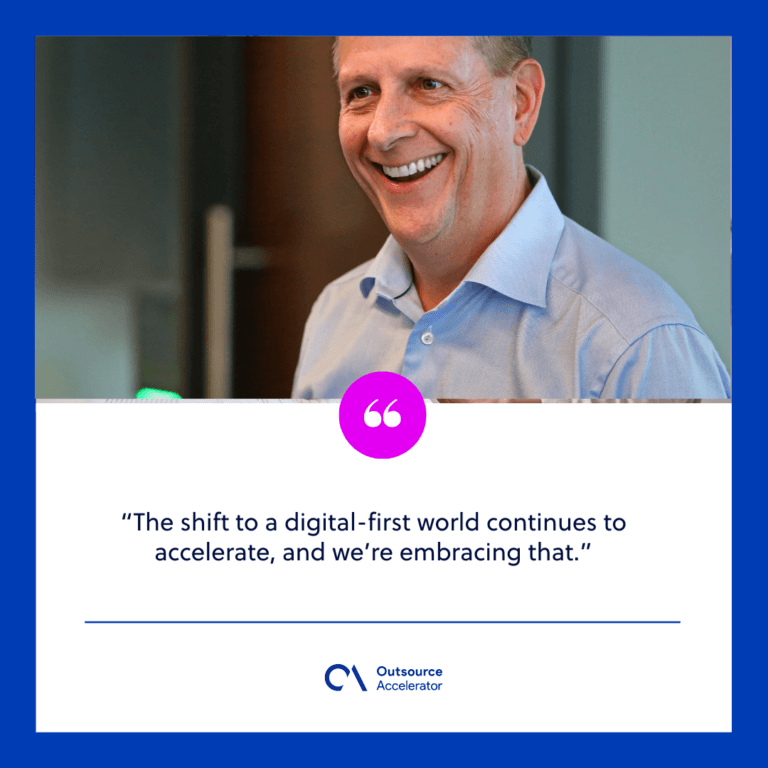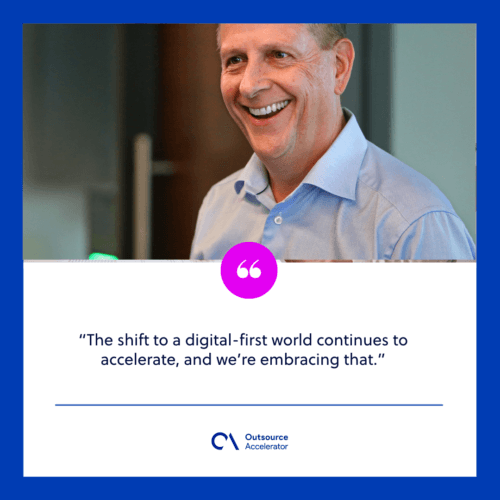 12. Stewart Butterfield, Slack
Slack CEO Stewart Butterfield is a little more flexible on return-to-office than you might expect. 
His company, whose messaging technology has become a big part of the remote work lifestyle. Slack has spent a lot of time studying the future of work and Butterfield is a big believer that hybrid is here to stay.
Further, the Slack CEO was critical of many leaders that demanded immediate return to offices, saying they were "showing their age, and decades of experience built up around office culture within conservative, more regulated industries." 
He believes there is more nuance in the discussion, that there is still a different network of relationships formed by in-person collaboration.
It is after all remote-first, not remote-only. But he remains open to learning what works and what doesn't.  
13. Daniel Ek, Spotify
Spotify CEO Daniel Ek introduced a "Work from Anywhere" model, which will allow employees to choose whether they want to be in the office full time, be at home full time or a combination of the two.
Along with this, the company also changed its salary banding policy, doing it by country instead of by city or region. 
Their efforts led to a lower attrition rate, with a decrease of 15% in Q2 of 2022. They also gained in their employee diversity, with higher demographics of African- Americans, Hispanics, and women.
Finally, their time to hire also decreased. 
14. Sid Sijbrandij, GitLab
Sid Sijbrandij, CEO and co-founder of GitLab hopes to discrimination he foresees remote work could possibly bring. He says that a "two-class system" could form, where managers would see those in the office as more productive than those at home.
He noted that the old, pre-COVID-19 model was one that tended to reward attendance rather than output, and many companies may find that difficult to let go. He hopes this will change. 
"Over time, employees at companies who choose the hybrid model will feel a shift from "remote-first" to "remote-allowed," he said, which creates a world where "remote employees are not penalized for working outside the office, but are also not proactively integrated into the fabric of the company."
Since it launched in 2011, GitLab has been a remote-only model, now with 1280 employees in 66 countries.
15. Kiersten Robinson, Ford
Ford was the first automotive giant to adopt a permanent shift to hybrid work.
Point to them, they conducted several employee surveys to understand what the feeling was on returning to the office, the challenges of working at home, and overall emotional wellbeing. 
"The nature of the work we do really is going to be a guiding element. If there's one thing we've learned over the last 12 months, it is that a lot of our assumptions around work and what employees need has shifted," Kiersten Robinson of Ford said. 
Many of their office workers responded being happier and more productive working at home. The move aims to give employees a better work-life balance, flexibility as caretakers, and help them save time from commuting.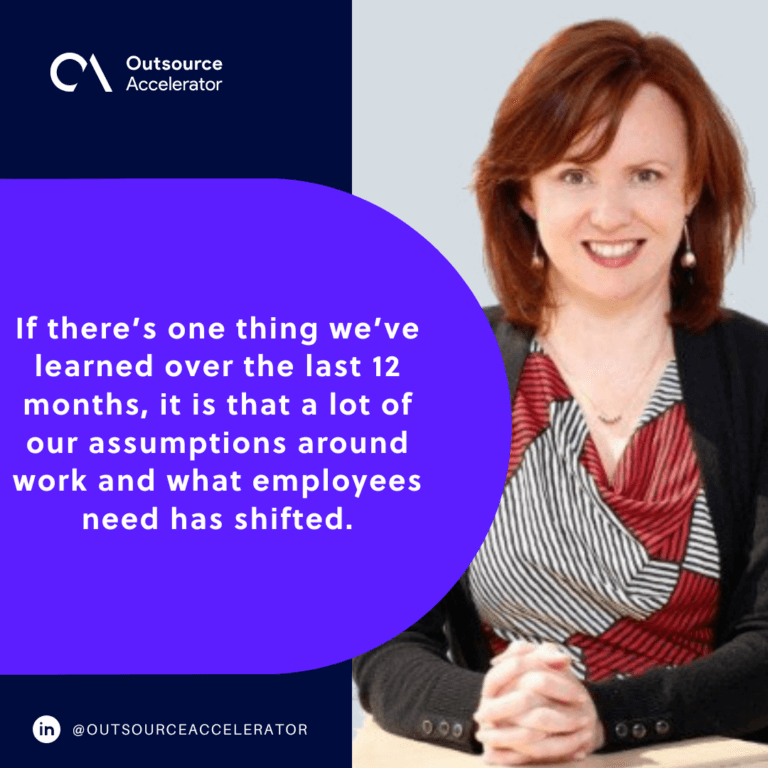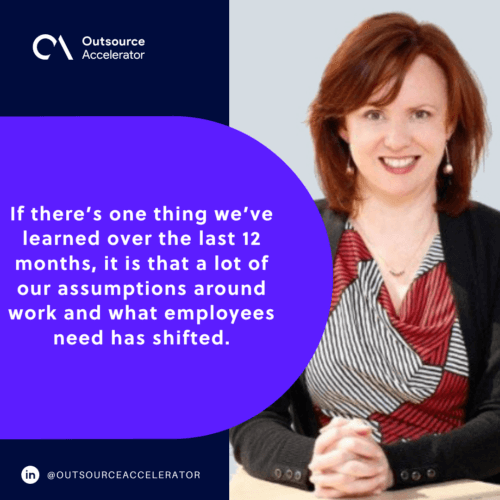 16. Linda Höglund
, Klarna
Klarna employees can now choose whether they work remotely, from the office, or internationally for 20 days per year at a Klarna office abroad. 
"At Klarna, we appreciate that everyone has their own preferences of where and how to work. We are excited to combine the power of face-to-face interactions with effective remote work to create a hybrid model that empowers employees and encourages company-wide collaboration," CEO Linda Höglund announced. 
The company based this policy on the last two years of experience with the pandemic, as well as on a motive to balance its employees' desires with overall productivity.
The policy is expected to be a boon for recruitment, with many working in the finance and tech industries longing for flexibility.   
17. Marc Benioff, Salesforce
"Office mandates are never going to work," Salesforce CEO Marc Benioff declared. 
His perspective echoes Salesforce's standing policy that lets employees decide where they want to work.
He and co-CEO Bret Taylor consider their company's flexibility a recruiting tool. Taylor quipped, "Top talent can work from anywhere, so long as teams are in the same time zone."
Benioff is standing resolute on remote work, and data backs him up. Workers with flexible schedules are found to be more productive, loyal, and bonded with their coworkers. 
The remote work model across industries also greatly benefits one of Salesforce's divisions, Slack. The communication platform has been a common tool for those working at home.
The company will additionally release new features for Slack that fosters remote work.   
18. Roland Busch, Siemens
"The basis for this forward-looking working model is further development [of] our corporate culture. These changes will also be associated with a different leadership style, one that focuses on outcomes rather than on time spent at the office.
We trust our employees and empower them to shape their work themselves so that they can achieve the best possible results. With the new way of working, we're motivating our employees while improving the company's performance capabilities and sharpening Siemens' profile as a flexible and attractive employer." 
Busch's mandate had two messages behind it. The first is that focus should be on outcome rather than office time, and the second is that they trust their employees.
Together, they make up an ingenious management strategy founded on emotional intelligence. 
The next step is that companies provide an environment where people have what they need to do successful work. But the importance of empowering employees is a good step.
And if you can't trust your employees in the first place, why hire them? 
19. Ryan Roslansky, LinkedIn
The LinkedIn CEO released a memo outlining a new policy to trust people to work however and whenever worked best for them. 
"We're embracing flexibility with both hybrid and remote roles, expecting more of us to be remote than pre-Covid and removing the expectation of being in the office 50% of the time," he said.
He continued, "We're continuing to invest in amazing workplaces for every day work and those times when our teams come together."
He acknowledges that working from home is a skill and that people may need to be trained and coached. Managing remote workers is also different from managing those in the office. 
But trusting employees to make their own decisions about what style fits them can go a long way in building an engaged workforce. 
20. Eric Artz, REI
In a move that coincided with the sale of its nearly completed corporate campus, retail and outdoor services corporation REI announced its move to remote work. Their intention was to move to a less centralized approach. 
"Remote working will move from a temporary solve to a more engrained, supported, and normalized model for many of our headquarters employees," Artz included in his memo.  
He said that the pandemic challenged them all to re-examine and rethink every aspect of their business and many assumptions of the past, including where and how they work. 
He anticipates that the more distributed way brought by the remote work model will unlock incredible potential.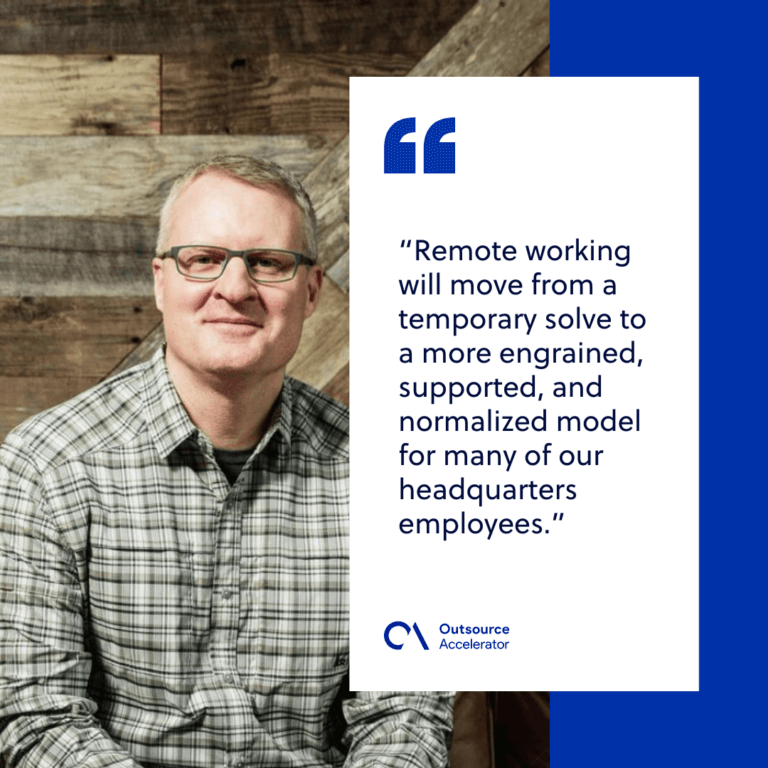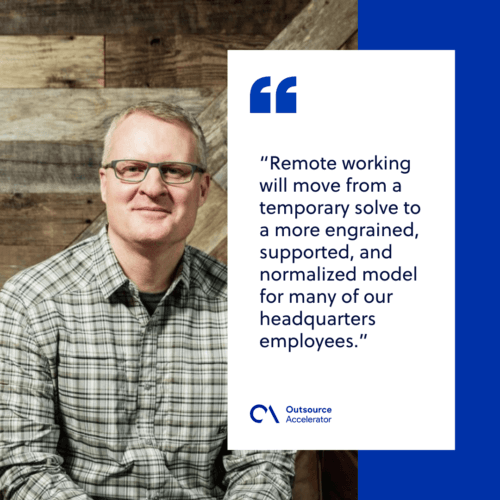 21. Hidenobu Takahata, Hitachi
At Hitachi, CEO Hidenobu Takahata introduced a new flexible system that would allow for a four-day work week with the aim of boosting employee engagement and productivity. The move also aims to attract new hires.
"The percentage of those working from home, following the national COVID-19 emergency declaration in Japan, was over 80% in the seven affected prefectures and 70% for the country overall, enabling us to play our part in measures for preventing infections," Takahata noted.
He added, "In May, we conducted a survey on remote work for Hitachi employees, through which we found out its advantages and future challenges."   
He is just one of those whose businesses make the move to transform to become more service-oriented to its workers, emphasizing the quality of work rather than quantity of working hours.  
22. Kirt Walker, Nationwide
Nationwide plans to permanently transition to a hybrid operating model.
The company had swiftly moved to a remote work model in order to preserve associate health and wellbeing, and with the intent of flattening the COVID-19 curve.   
"We've been investing in our technological capabilities for years, and those investments really paid off when we needed to transition quickly to a 98 percent work-from-home model," CEO Kirt Walker said.
The company maintained strong operational and customer service levels throughout the time they were under that model. 
23. Scott Farquhar, Atlassian
Atlassian is going all in on remote work. With their "Team Anywhere" policy, its global staff can work in any country where Atlassian has a corporate entity – where they have legal right to work, and where the time zones align with team members. 
Out of Team Anywhere was born their experiment to send one of their workers into space to really test the limits of remote working.  
"Today we are incredibly excited to announce that we are, quite literally, launching into our next phase of experimentation by sending Charlie Ecaps, a Cloud Support Manager, into space. 
Charlie will spend the week in orbit testing the limits of distributed teamwork and proving that Atlassian tools can support even the most remote teams," Farquhar said of their experiment.  
Quite a bold step, but Farquhar believes it fits with the company belief that talent exists anywhere, even outside Silicon Valley. He foresees office visits only happening four times a year, and will resemble work conferences. 
As the CEO, he believes that change needs to come from the top down in order for social norms to follow next. 
24. Michael L. Tipsord, State Farm
State Farm is announcing a more flexible way of working by introducing hybrid roles where employees will spend some time working in the office and some time working from home. 
This new approach enables State Farm to operate as efficiently as possible for the benefit of its customers, while providing a more flexible work environment for current and future employees. 
Leaders are set to work with employees to determine how much time is spent on location. This will be a process where everyone will continually learn and adapt to remote work.
The company prides itself on being built on relationships, and internal structures are not exempt.  
State Farm claimed that the pandemic accelerated moves that were already underway at the company, such as new customer service solutions to digital technology. 
25. John H. Chuang, Aquent
John H. Chuang, CEO of Aquent, says that COVID-19 forced a generation of change on them in a matter of six to eight months.
He also believes that the shift in work, including remote work, is here to stay. 
He said people are saving time by not commuting and they have a better work-life balance. Companies realize they're "wasting a ton of money if they have office space that sits unused."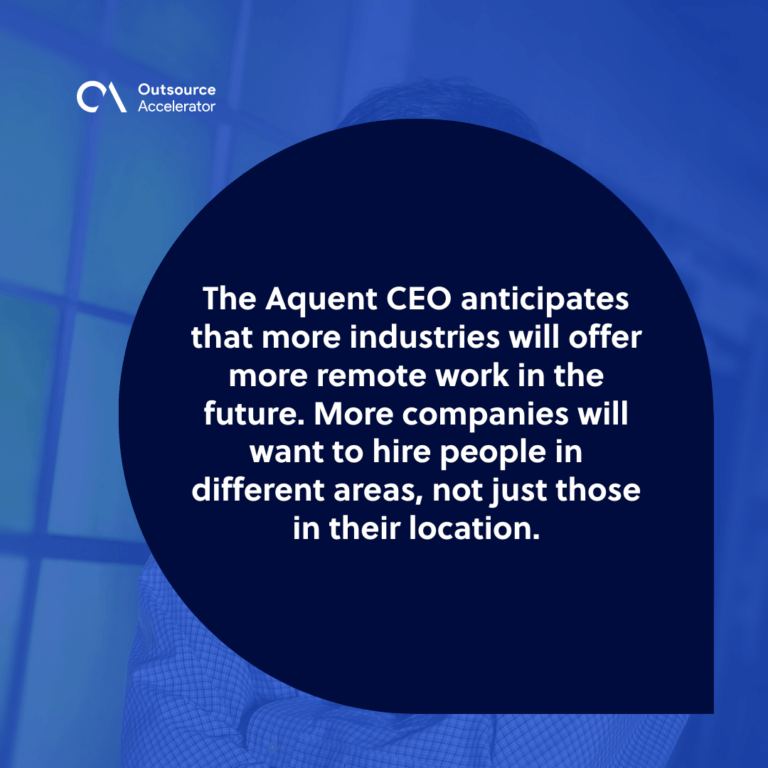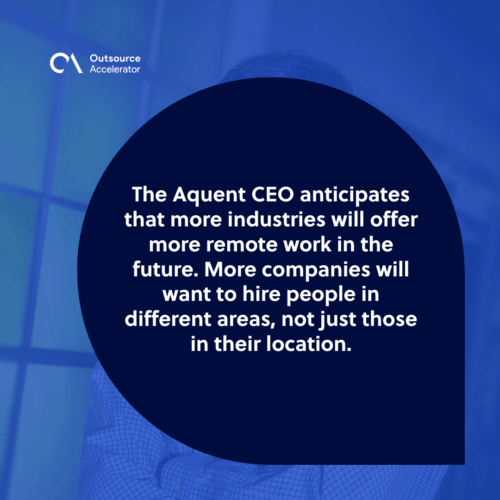 He anticipates that more industries, and not just those that are tech-based, will offer more remote work in the future. More companies will want to hire people in different areas, not just those in their location. 
Finally he echoes the idea that people have to be open to trying new things, as that will be the best skill set one can have.