15 best fully remote companies in 2024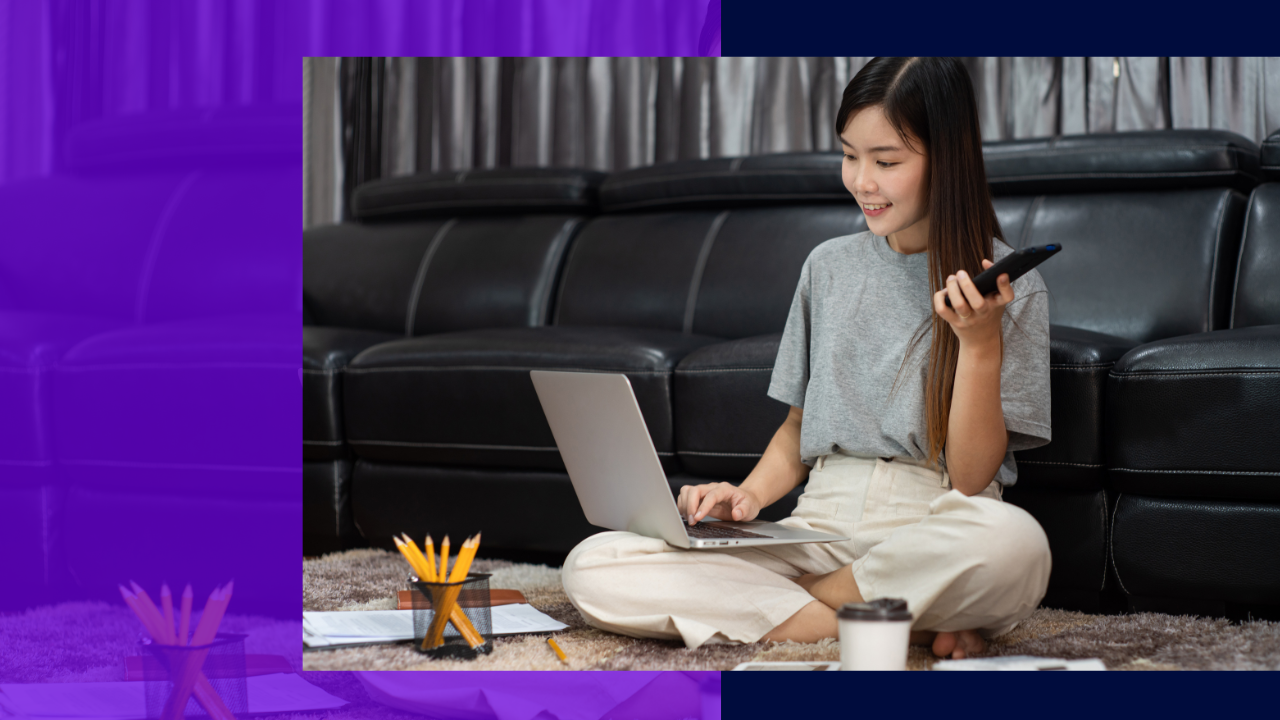 List of top remote companies 
The current remote working trend 
Prior to the COVID-19 pandemic, remote work[1] has become an integral part of other companies business strategies. Remote and hybrid work has been transformative, becoming a norm in the working environment, with many transitioning to a hybrid or fully remote setup.
The vast majority of businesses of all sizes have adopted remote work not only for preventive measures[2] but also to introduce flexibility in their workplace.
Many employers realize its benefits and fully embrace it to match their evolving business needs. It is projected that 70% of the workforce will be working remotely by 2025. 
With such flexibility, it is becoming evident that employees now prefer working in companies that offer remote setups. In fact, Pew Research Center reported that 59% of workers wanted to work from home all or most of the time. 
As this becomes a standard practice among businesses, the rise of remote companies in most industries rapidly expands, helping remote job seekers find the best opportunities.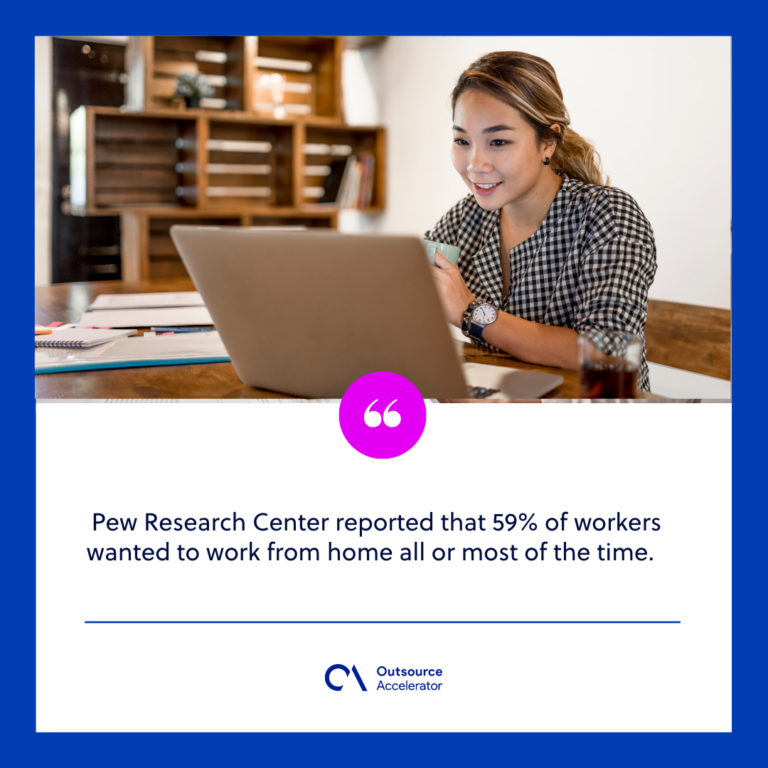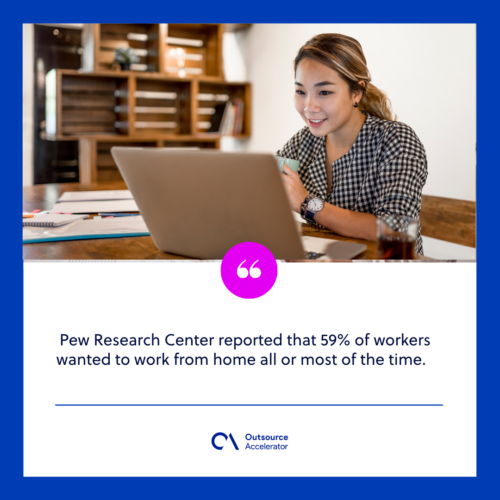 The advantage of remote work setups
Flexible work and fully remote work arrangements have been a boon to the modern economy. They allow workers to enjoy the benefits of working from home, while also allowing companies to save on office space and other costs.
The advantage of a remote job is that employees can choose where they want to work. 
Some people prefer a quiet space at home, while others might prefer a coffee shop or library. Working on your own schedule allows employees to work when they are most productive and avoid distractions.
The good thing is that many roles can easily transition to remote jobs, like a customer service representative or IT positions.
The top remote companies understand the value of a work-life balance, ensuring their employees perform at their best.
15 best fully remote companies in 2023
With the growing demand for workforce flexibility, top remote companies across industry verticals strive to foster the future of remote work, giving their best for employees.
Here are 15 of the top fully remote companies to work for in 2023: 
Hubstaff is a time-tracking, project management, and workforce software that is used by 34,000 businesses and 8,000 remote teams. 
Founded in 2012, Hubstaff recruits fully remote workers in 28 countries. It is also used as a tool for helping with automatic payroll processing and attendance scheduling.  
Hubstaff noteworthy benefits include: 
Annual corporate retreat

25 days of annual PTO

Annual equipment/ technology stipend
This top remote company mostly looks for experts related to development, engineering, marketing, and content management.
Zapier is a fully remote company that employs more than 500 remote workers across 28 countries with 17 time zones.
Founded in 2011, Zapier works with more than 3,000 integrations with apps such as Google, Dropbox, Salesforce, and more. 
It is software that integrates more than 1,500 apps to automate workflow called Zaps. It is a great tool for automation to save time significantly and scale up various projects. 
Its noteworthy benefits include:
Two annual company retreats 

Home office stipend

14 weeks of paid leave for new parents
Zapier mainly employs insights and design, engineering, marketing, accounting and finance, sales, and support. 
10up is an internet and web-design remote company that develops websites, apps, and tools for content creators. 
It employs more than 150 remote workers across 100 cities worldwide. Its team of experts covers design, software engineering, digital strategy and management, user experience, and cloud infrastructure. 
The company's noteworthy benefits include a professional development budget and retirement plan match. 
10up has dozens of open positions for designers, engineers, and project managers. 
Automattic is a remote software company with 1,971 remote workers across 96 countries. Its remote native team speaks more than 120 languages. 
It is the parent company of WordPress.com, Jetpack, Simplenot, WooCommerce, Longreads, Gravatar, and Tumblr. 
Employees enjoy paid sabbaticals every five years, an open vacation policy, personal development budget, and an annual week-long retreat. 
Toptal is one of the largest fully remote freelance marketplaces. It employs a thousand remote workers spread over 90 countries across the globe. 
With over 10 years of operations, Toptal helps organizations scale teams through skilled freelancers with technology, design, and business expertise. 
Toptal's excellent benefits include:

Extremely flexible PTO policy

Community events 

Annual subscription to Calm app
Some of the various open positions in Toptal are engineering, content writing, creative and design, marketing, finance, and talent operations. 
Flexjobs is a fully remote company that helps people with flexible job opportunities — freelance work, part-time jobs, or telecommuting jobs. 
Established in 2007, the Flexjob team operates from Maine to Hawaii across six different time zones. Flexjob supports its employees by offering personal development, technology, home office stipends, meditation, and fitness expense reimbursements. 
Buffer is a fully distributed remote team with more than 80 employees across 15 countries around the world. 
This top remote company started in 2010 and now has a portfolio of over 73,000 customers, such as Shopify, Intercom, Github, and Basecamp.
Buffer is a tool that helps enterprises build their brands and grow their businesses through their social media presence. 
The company's significant benefits include:
Three-day weekends every week (no work on Fridays)

Free Kindle and free books any time

Five-week break, fully paid, after every five years with Buffer

Annual international retreats 
Doist is the team behind Todoist, and it is a software app that builds tools to help more than 22 million people manage their tasks and projects. 
The company has been around since 2007 and employs over 100 remote workers across more than 30 countries. It has a virtual team of designers, communicators, and engineers. 
Doist's exceptional benefits:

Professional development stipend 

25 days paid leave 

Annual corporate retreat

Health and wellness budget

Cost of coworking space covered
InVision is a digital product design software remote company that helps designers develop digital products. The company employs more than 900 remote workers around the world. 
Established in 2011, InVision offers collaboration for businesses to design and user-test products using an intuitive interface. 
It offers employees a monthly allowance for remote work, personal medical insurance, conference and travel stipends, equipment allowance, and free gym memberships. 
InVison mostly employs design, engineering, marketing, customer support, and business operations workers. 
Articulate is a software development company founded in 2002 that creates tools for workplace training. Such tools include Article 360, a business creator platform, and Rise, an all-in-one training system for small and medium businesses. 
It has more than 400 employees in more than 90 cities, mostly in the United States. Articulate's employee benefits include:
Student loan repayment

Unlimited life coaching sessions

$3k child care assistance per year

Medical coverage for gender-affirming surgery

Paid leave for recovery
Swiftly is a technological platform that delivers solutions to retailers around the world. It follows its mission to connect retailers to their customers by providing tools and technology to their overall retail experience. 
This top remote company has 105 remote employees from 25 different U.S. states, as well as in Japan, Costa Rica, and Ukraine.
Swiftly support employees by offering benefits such as stock options, flexible work hours, unlimited paid time off, home office, and internet reimbursement. 
Shopify is one of the largest all-in-one commerce companies that benefit thousands of online businesses of any size to sell, market, grow and manage their products. 
This cloud-based commerce platform has more than 7,000 employees, and they fully embrace remote work. 
Shopify encourages workers to work abroad for up to 90 days each year. The platform often accepts applications related to data and engineering, business operations, UX and design, marketing and growth, and more. 
Ghost is a non-profit organization that creates independent publishing with open-source technology to empower journalism by creating, publishing, and managing content. 
Its team of developers and other employees works online. This top remote company employs more than 60 remote workers across five countries. Designers and developers are mostly the available positions in the company. 
Ghost's noteworthy employee benefits are:

Unlimited paid vacation days

Tech support 

Team retreats 

Equipment 
Toggl is a software tool that helps companies track time, screen candidates, and plan work. It is a fully remote company with about 200 employees across 40 countries. 
The platform integrates more than 100 tools and helps users operate more efficiently. As a Toggler, you'll have a €2,000 budget for remote work equipment, a monthly wellness budget for gym and spa, and expenses paid for team meetups. 
Gitlab is a DevOps platform built for businesses. 
It is one of the largest remote companies that serve as a code collaborative platform. Businesses can learn and share information about DevSecOps, version control, CI/CD, and all-remote workflows. It is used by programmers in Fortune 500 companies. 
The company has more than 1,300 team members located across 67 countries. 
Gitlab's offered employee benefits include:

Equity compensation

16 weeks of paid parental leave

Reimbursement plan for home office supplies and services
The future of remote work
With the advent of technology, most businesses are now looking at the bright side of remote setups. Remote work will continuously be influential by 2023 and beyond. 
It is worth noting that it is not just about a worldwide business trend; remote work has become a staple business solution as it offers numerous benefits for companies.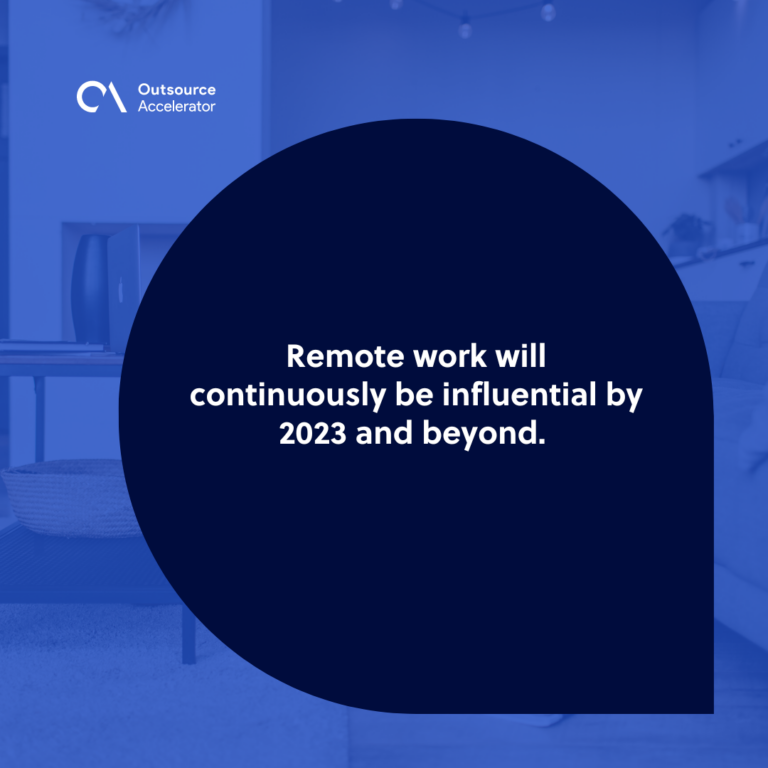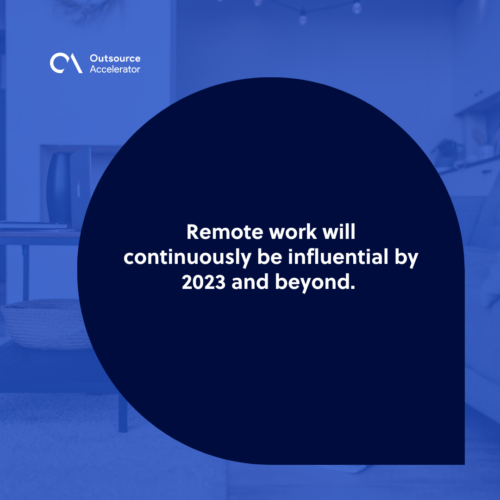 Tapping into a rapidly growing market, businesses embrace remote work to operate more efficiently and effectively to maintain a competitive advantage. 
If you want to experience the best remote work, the 15 companies mentioned above are great places to start. 
Article References:
[1] Remote work. Galanti, T., Guidetti, G., Mazzei, E., Zappalà, S. and Toscano, F. (2021). Work from Home during the COVID-19 Outbreak. Journal of Occupational & Environmental Medicine, [online] 63(7), pp.426–432. 
[2] Preventive measures. Meahjohn, I. and Persad, P. (2020). The Impact of COVID-19 on Entrepreneurship Globally. [online] papers.ssrn.com.‌