Top 10 medical scribe companies in 2024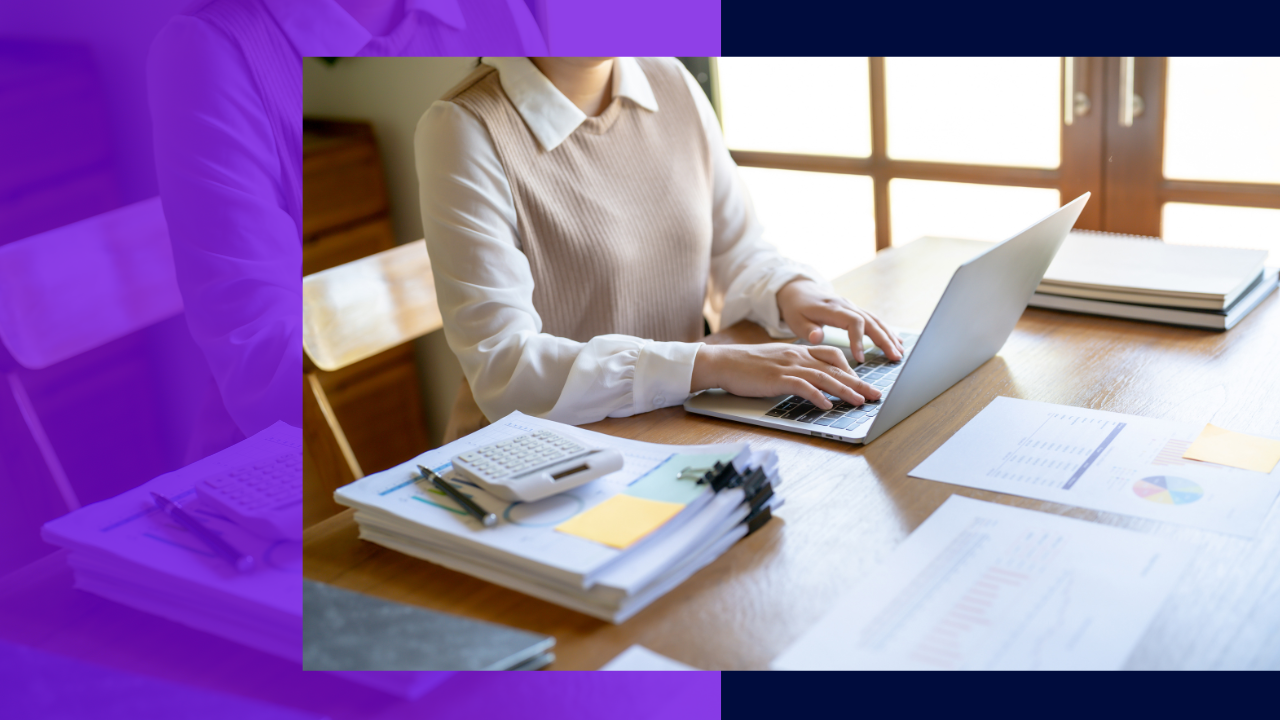 List of best medical scribe company
If you're a healthcare professional or a business owner looking to harness the benefits of medical scribe services, this article is for you. 
This article presents the top ten medical scribe companies for 2024 and how to choose the best one. 
What is a medical scribe company?
A medical scribe company provides a valuable service to healthcare professionals by offering trained individuals known as medical scribes. 
Medical scribe companies work alongside healthcare providers, primarily physicians, to:
Document patient encounters

Transcribe medical information

Ensure accurate and timely electronic health records (EHR) management
A medical scribe provider plays an important role in reducing the administrative burden on healthcare practitioners, allowing them to focus more on patient care.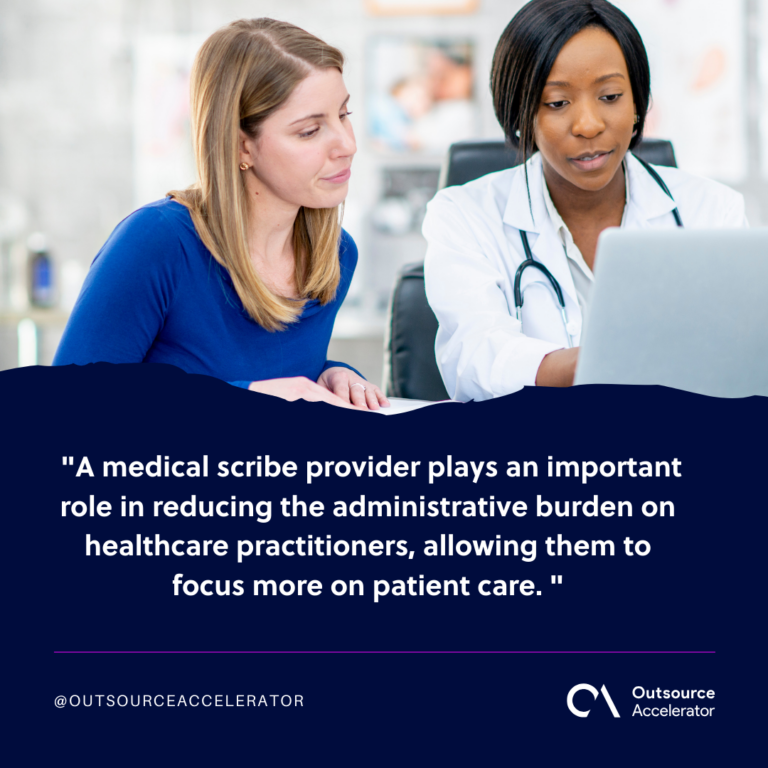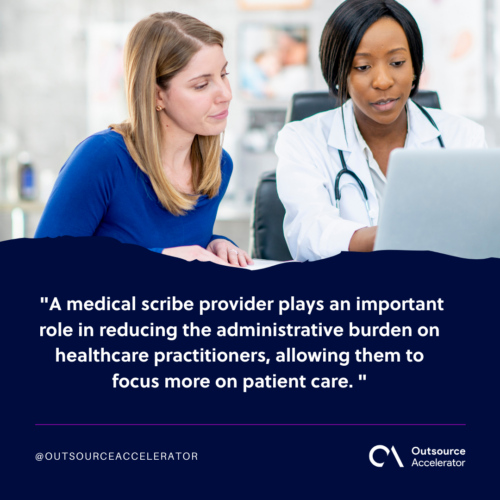 How to choose the best medical scribe company
Selecting the right medical scribe company ensures you receive high-quality service. 
Here are some tips to consider:
Experience and reputation
When evaluating medical scribe companies, looking at their track record is essential. Consider factors such as their long time in the industry, client reviews, and overall reputation. 
A company with a proven history of delivering excellent scribe services is a solid choice.
Scribe training and qualifications
The effectiveness of medical scribes depends on their training and qualifications. 
Ensure that your chosen company provides rigorous training to their scribes, covering medical terminology, EHR systems, and your practice's specific requirements. 
Qualified and knowledgeable scribes will make a significant difference in your daily operations.
HIPAA compliance
Healthcare information is sensitive, and maintaining patient confidentiality is paramount. 
Verify that the medical scribe company adheres to the Health Insurance Portability and Accountability Act (HIPAA) regulations to protect patient data. 
It ensures that your practice remains compliant with legal requirements.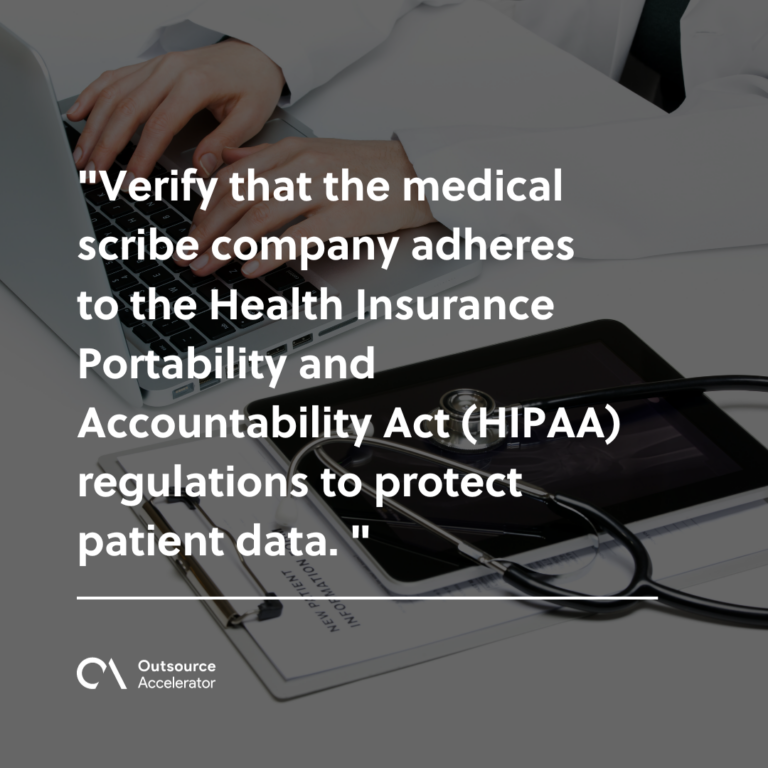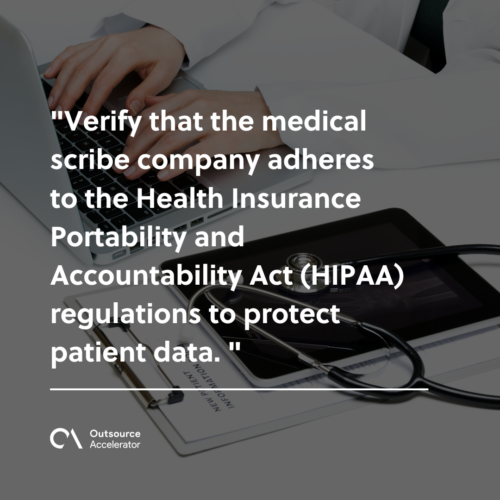 Technology integration
Seamless integration with your EHR system is vital. The medical scribe company you choose should be able to work with your existing technology, ensuring a smooth and efficient transition. 
Compatibility with your practice's software and systems is essential for a successful partnership.

10 best medical scribe companies in 2024
Here we have ten of the leading medical scribe companies to work with in 2024:
Wing Assistant offers a medical scribe service as part of its broad range of virtual assistant solutions. It aims to streamline patient care by delegating transcription and other administrative tasks to remote medical scribes.
The scribes provided by Wing Assistant are trained to handle sensitive patient information in a confidential and compliant manner. 
Wing Assitant's medical scribe service is fully managed and includes a dedicated assistant, quality control supervision, on-demand training, and facilities support. 
It also offers a specialized app for effective communication and task management between the client and the scribe.
Helix Scribe Solutions is an organization that provides well-trained and highly qualified medical scribes to various medical settings. Its goal is to provide best-in-class scribe service to its clients, and to achieve this, it constantly trains and supports its scribes. 
Helix Scribe Solutions lives by its motto, "built by physicians for physicians." It assures providers they achieve consistent documentation and go home on time once they work with a scribe.
Scribe-X offers medical scribe services to health centers and clinics. Its services are designed to reduce provider burnout, increase revenue, and reduce documentation burdens. 
This medical scribe provider also has a team of motivated and intelligent scribes who work with healthcare providers to improve patient care and documentation. 
Scribe-X has been featured on podcasts, and there are testimonials from healthcare providers who have had positive experiences working with its teams. 
ProScribe was founded in 2010 to support healthcare providers. It allows medical establishments to focus on patient care and improve productivity by accelerating electronic health record (EHR) documentation. 
The company comprises a team of physicians, business leaders, and healthcare-focused students dedicated to improving the overall quality of healthcare.
ScribeAmerica was founded in May 2003 to commercialize the medical scribe concept for national physician use. While scribe utilization in the industry had been reported since the 1970s, ScribeAmerica transformed it into a national industry.
The company offers various solutions, such as in-person scribes, tile scribes, and Speke AI (an ambient AI solution backed by trained scribes). 
Scribekick partners with doctors, hospitals, emergency departments, and clinics to develop professional medical scribe programs. 
Its goal is to provide superior quality patient care by allowing physicians to focus solely on their patients. Trained virtual medical scribes document appointments in real time using an electronic health record (EHR). 
Scribekick eliminates the need for doctors to spend time on EHRs and allows them to see more patients daily.
Remote Scribe offers a virtual scribe service designed by doctors to assist other doctors in their practice. 
Medical scribes are trained to document medical records in real-time, allowing physicians to focus solely on patient care, eliminate charting, and improve work-life balance.
With a virtual scribe, physicians can save an average of two hours each workday, allowing them to focus on patient care and recover their work-life balance.
Augmedix is a company with a mission to help clinicians and patients connect on a human level during the point of care without the intrusion of technology. 
The company aims to revolutionize healthcare delivery by allowing clinicians to focus on their patients rather than being burdened by technology.
Augmedix offers several products and services, including:
Augmedix Go

Augmedix Live

Augmedix Notes

Augmedix Prep
These solutions streamline healthcare documentation, improve patient care, and enhance healthcare experience.
Scribe.ology was founded by physicians in 2012 with a vision to create a scribe program beyond chart completion. 
It provides medical scribes who document in real-time, helping physicians with the documentation process and allowing them to focus on patient care. 
These scribes undergo specialized training to go beyond chart documentation and positively impact patient coordination, revenue cycle, and compliance protocols.
American Scribes is a scribe staffing service that aims to improve clinical workflows and reduce physician fatigue. The company is based in New Jersey and operates primarily in the Northeastern US market.
Scribes hired by American Scribes act as personal assistants to physicians. They document patient encounters in real-time and free physicians from time-consuming charting and administrative tasks.
The program claims a 20-30% increase in physician productivity and a decrease in physician burnout.
The future of medical scribe companies
As we look ahead, the role of medical scribe companies in the healthcare industry is poised to evolve even further. 
Advancements in technology, changes in healthcare regulations, and the increasing need for accurate patient records drive this transformation.
As telemedicine expands, medical scribes will play an essential role in virtual patient encounters. The demand for medical scribe services will likely grow as healthcare providers seek to improve patient care and streamline operations. 
Therefore, the future of medical scribe companies seems promising, with the potential for further innovation and improved healthcare delivery.