Top business podcasts for 2023: A guide for entrepreneurs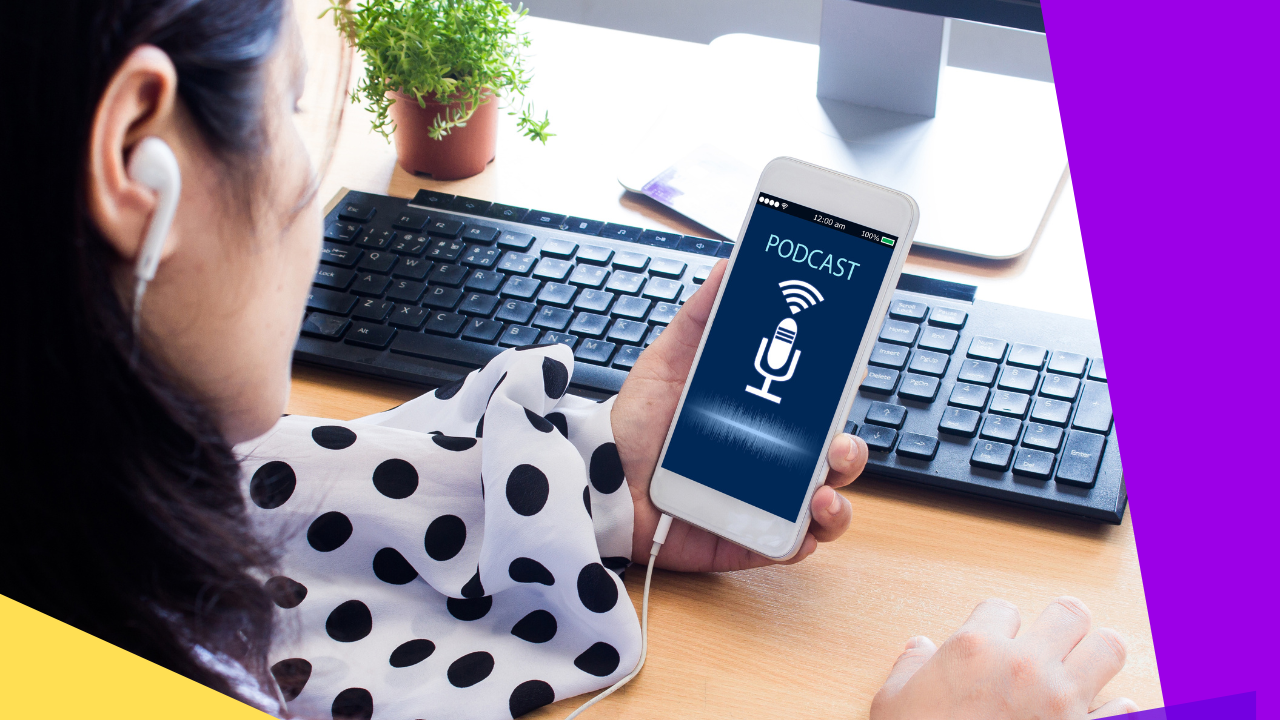 The podcast industry has been on an upward trend since the early days of the coronavirus pandemic.
Although the industry, like many others, initially took a hit and experienced a 10% decline during the pandemic's onset, it quickly regained its footing and went on an upward climb that's yet to plateau – much less drop – to this day.
The podcast industry boom gave birth to numerous niche and industry-specific podcasts, such as health and wellness, cryptocurrency, and business podcasts.
As with other popular and prosperous endeavors, more of these podcasts sprung up even as the world slowly adapted to living with a pandemic.
In this article, you'll learn how one type of podcast, the business podcast, has become a new avenue for marketing not only existing brands' products and services but also new ideas.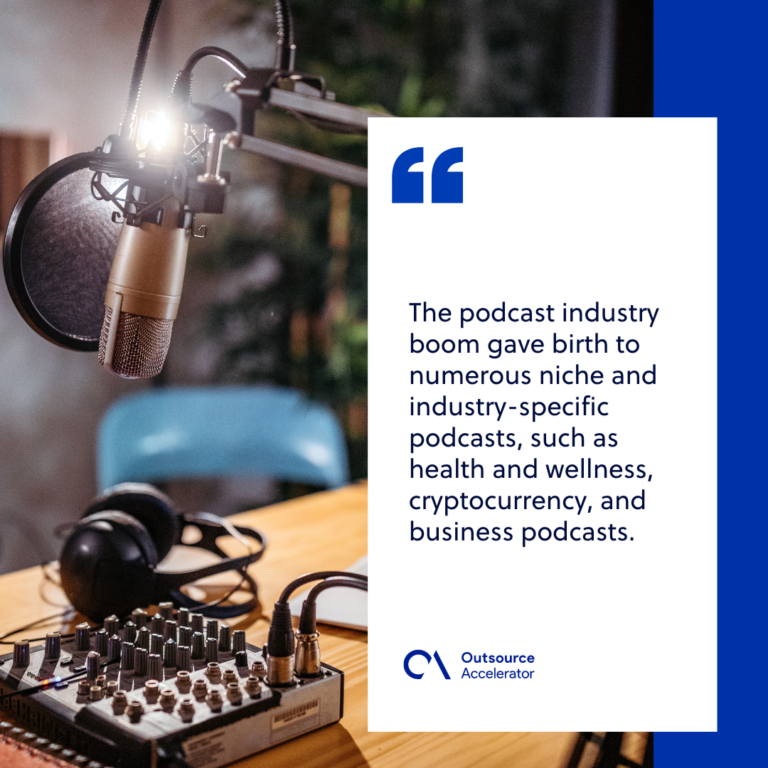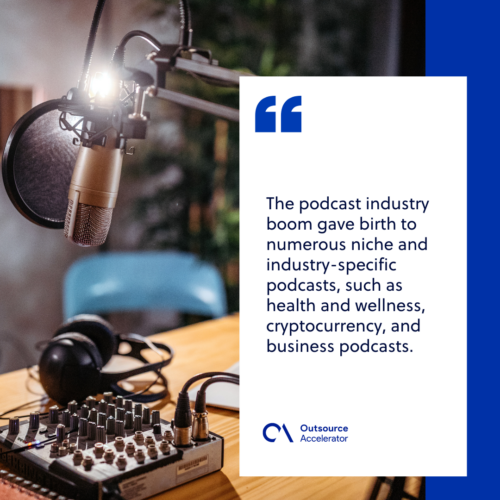 Business podcasts: The what, how, and why
Before delving into the minutiae of what drove the popularity of business podcasts, it's essential to understand what sets them apart from your typical podcast.
What exactly are business podcasts?
As the term implies, business podcasts are podcasts that cater to anything and everything that falls under the broad umbrella of the business sector.
While these podcasts may vary in their approaches and particular audience niches, their end goal is ultimately the same: to help entrepreneurs succeed and overcome the many challenges they will undoubtedly face in their entrepreneurial journey.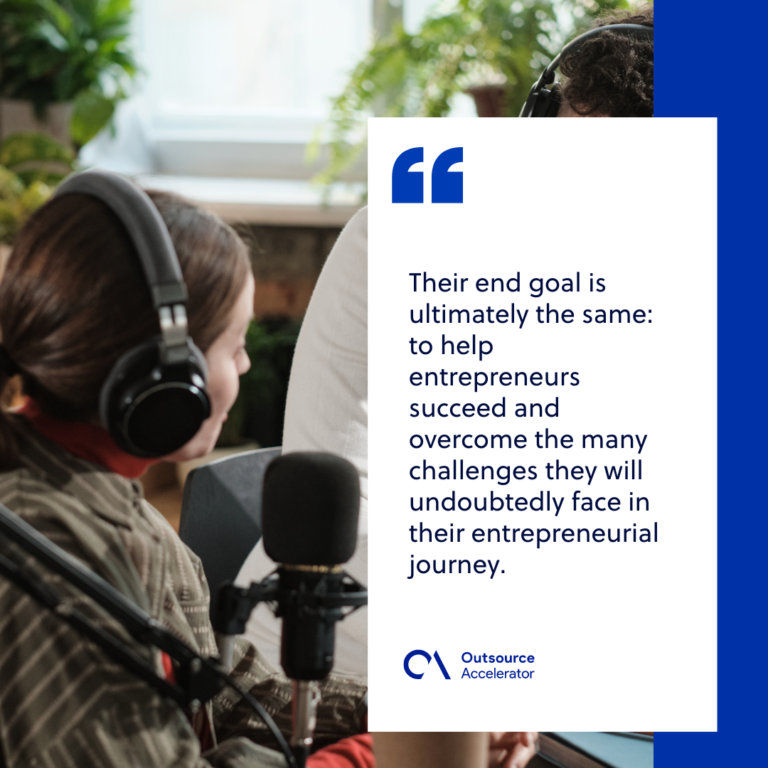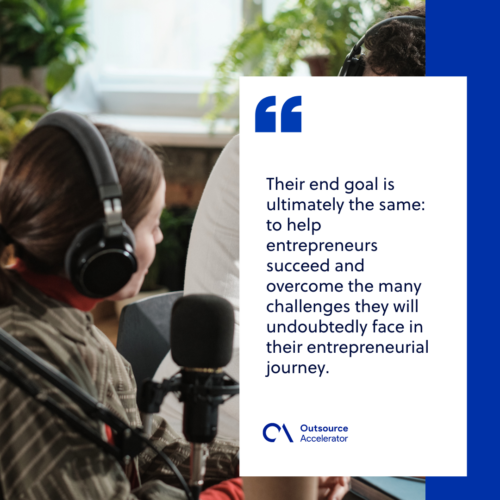 Why did business podcasts become mainstream?
The rise in the popularity of business podcasts may partly be due to the coronavirus pandemic and the ensuing lockdowns it caused.
Man being the social animal he is, people craved the connections they had before the pandemic forced everyone inside their houses.
Business podcasts, along with other niche and audience-specific podcasts, helped people cope with the lockdown-induced isolation. These podcasts gave them a sense of connection with other people sharing their interests.
Aside from the social factor, the ease of access to podcasts has also significantly contributed to its popularity.
On the flip side, business podcasts gained popularity among entrepreneur-creators due to their relative ease of production and effectiveness as a marketing tool.
Armed only with proper recording equipment, a quiet recording room, a stable internet connection, and knowledge about the topic they'll cover — entrepreneurs can produce podcasts that can potentially resonate with and captivate their intended audience.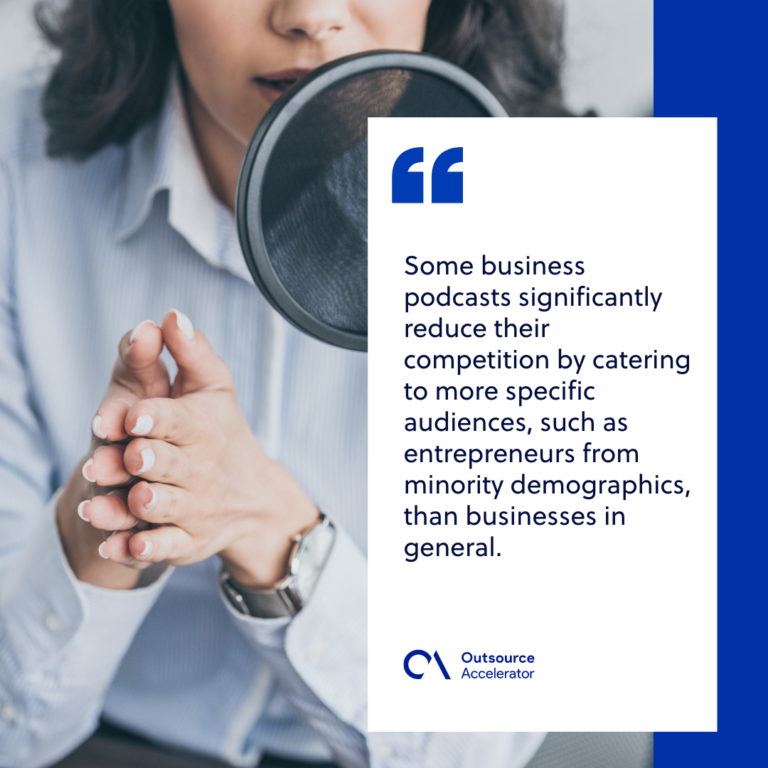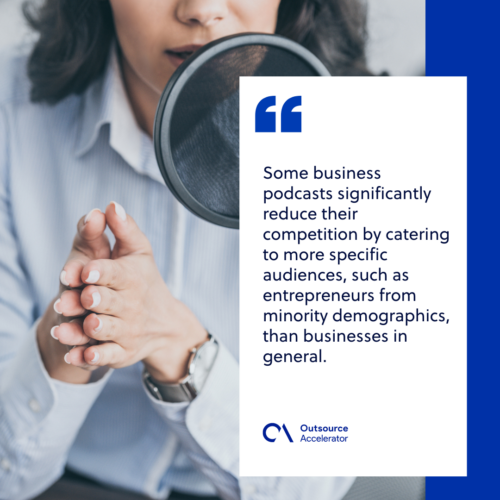 How do business podcasts remain relevant?
With great popularity comes great numbers of competition.
Thus, top business podcasts must continually develop engaging and relevant topics to ensure they can hold on to their spot as the top business podcast among hundreds, if not thousands, of others.
Some business podcasts significantly reduce their competition by catering to more specific audiences, such as entrepreneurs from minority demographics, than businesses in general.
Another option to keep your podcast relevant is to provide audio transcription, which can be utilized for SEO purposes and can be created using mp3 to text online converters.
Some podcasts also lure in audiences by guesting well-known personalities within and outside the business community.
Top business podcasts in 2023
Below are some of this year's most popular business podcasts:
Outsource Accelerator Podcast

The BizChix

Brown Ambition

The Mind Your Business Podcast

Entrepreneurs on Fire

The Goal Digger Podcast

The Agents of Change

We Study Billionaires

Founder Coffee

Business Made Simple with Donald Miller
Top business podcasts
Just how did these business podcasts snag the top spot among thousands of other similar podcasts, and what are they doing to retain their places?
Read on below to find out.
Hosted by CEO and author of the book Inside Outsourcing, Derek Gallimore, the Outsource Accelerator Podcast is the titular podcasting venture of the world's premier outsourcing marketplace and advisory.
In this podcast, you'll learn the ins and outs of outsourcing coupled with valuable advice from Derek, an entrepreneur for well over two decades who's been in the outsourcing industry for seven years.
What makes this outsourcing-focused podcast great is its operations are based in Manila, Philippines, the world's outsourcing capital. Thus, you can rest assured that when Derek talks about outsourcing, his knowledge and experience come from the best possible source.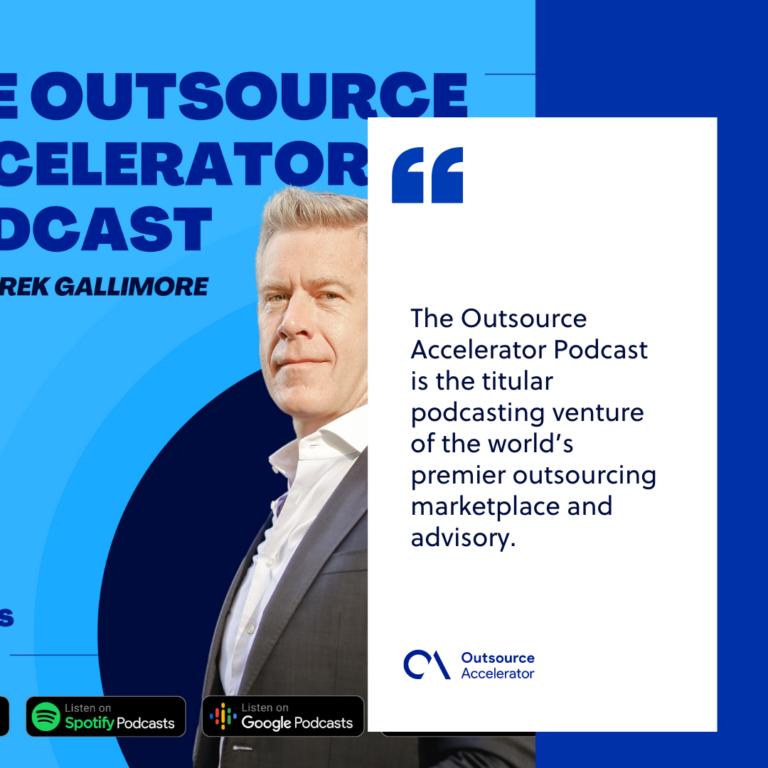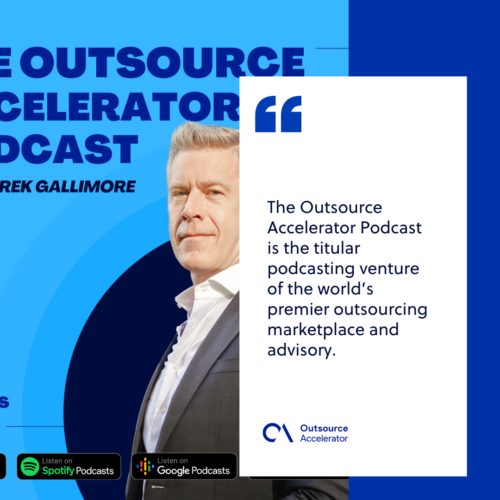 This podcast is a hit, especially among female entrepreneurs. As a business podcast that caters to women in the workforce, in particular, The BizChix is able to dole out industry insights specifically tailored for the female demographic.
The podcast's host, Natalie Eckdahl, is herself a successful entrepreneur and a mother of three, overseeing the operations of an extensive network of female entrepreneurs.
With her personal experiences, Natalie has become an authority in figuring out the best practices in outsourcing various home and career tasks for maximum efficiency.
Her podcast also helps her listeners develop a growth-oriented mindset that will aid them in future business ventures.
Brown Ambition is a weekly podcast co-hosted by Mandi Woodruff and Tiffany Aliche, two well-known figures in the finance industry.
As can be surmised from the podcast's title, Brown Ambition's target audiences are minorities and other people of color. The show's hosts often share their candid and compelling opinions on issues that impact communities of color.
Content-wise, Brown Ambition talks about topics its hosts are experts on and passionate about: building financial freedom, taking charge of one's work and time, and achieving a harmonious work-life balance.
Rags-to-riches author James Wedmore hosts The Mind Your Business Podcast where he helps his listeners achieve a next-level business mindset. 
James draws inspiration from his own journey and takes a motivational approach in the delivery of The Mind Your Business Podcast.
Hearing this podcast's captivating stories and interviews is guaranteed to help listeners achieve consistency during trying times and overcome any adversity in their journey as digital entrepreneurs.
Launched roughly 10 years ago, Entrepreneurs on Fire is a guest-centric podcast.
The show's host, John Lee Dumas, interviews guests from well-known industry personalities like Tony Robbins and Tim Ferris to more obscure individuals.
One Entrepreneur on Fire episode is never like another, as John grills each guest with questions that gets to the core of each of their journeys. The podcast's interview-like question-and-answer format lets listeners pick up valuable insight from its massive list – over 3,000 today – of interviewed personalities.
For entrepreneurs who believe that one's work doesn't need to feel like work, Jenna Kutcher's The Goal Digger Podcast is a perfect choice.
In her podcast, the business coach and marketing guru teaches new techniques and actionable suggestions in different areas, from marketing and search engine optimization (SEO) to finances and business data analysis.
The podcast has a light and casual tone, and its descriptive episode titles let users easily search what to listen to.
Despite the somewhat cheesy name, The Agents of Change podcast is an excellent source of helpful information for small business owners.
Hosted by Rich Brooks, the podcast covers topics ranging from SEO to utilizing mobile and social media marketing to boost a website's traffic and convert leads.
Industry experts frequently join Rich for a more in-depth discussion of the podcast's topics.
This podcast studies and interviews financial billionaires (including Warren Buffet, Ray Dalio) to teach their listeners how to apply their strategies in the stock market.
With over 100 million downloads, the podcast is considered as the largest stock investing podcast show in the world.
Founder Coffee, as the name suggests, is a podcast where its host, Jeroen Corthout, interviews founders of successful companies (presumably over coffee).
The podcast has 52 episodes to date. Each episode gives listeners a glimpse into the lives of successful founders, their journey and challenges faced as entrepreneurs, and valuable business advice for budding entrepreneurs.
Jeroen covers various topics in his talks with the podcast's weekly guests, ranging from a company's products to customer care.
Business Made Simple With Donald Miller teaches listeners "to build your business like an airplane."
With around 400 episodes, the podcast continues to help business owners "optimize their business like an airplane."