Welcome to Inside Outsourcing: The Outsourcing Week in Review
THE WEEK IN REVIEW
It's been another exciting week for the global outsourcing sector!
Fiji's recently announced a $200,000 grant for its BPO Council to help promote the country as a "premier outsourcing destination." According to the council's Executive Director Sagufta Janiff, the newly approved incentives will allow them to generate a diverse range of offshore employment opportunities for the island nation.
Despite the pandemic, hiring remains strong in most sectors of the Indian economy. In a report released by job site SCIKEY Market Network, the country's outsourcing industry's employment activity increased by 18% in June alone. Although other studies are telling a different story. A TeamLease survey on 'Jobs and Salaries' for the 2021 fiscal year revealed that India's BPO sector is "still declining compared to its pre-pandemic business activity. The report stated that the strained economy has caused more "job profiles to be under scrutiny for increment decisions."​
On the other hand, Singapore's BPO recruitment activity increased by 45% in June, which represented a 32% increase in hiring activity compared to the same period last year. In a report by the Monster Employment Index (MEI), the country's Employment Index (MEI) saw the "Business Process Outsourcing/IT enabled services" top the list with 45% growth, followed closely by BFSI (Banking, financial services and insurance) (+41%) and Production/ Manufacturing (+40%). According to data released by Information Services Group (ISG), companies in the EMEA region (Europe, Middle East, and Africa) spent £4.5 billion (approximately US$ 6 billion) on IT and business services in Q2 – 33% more than last year when the pandemic halted the global economy.
The COVID-19 pandemic isn't only affecting business – it's also playing a significant role in the mental health of employees. According to the newly-released LifeWorks' monthly Mental Health Index, 25% of the surveyed Canadian workers who said that they are unclear of their employer's new workplace plan post-pandemic are also reported to have the lowest mental health scores. Thirty-eight per cent of the surveyed employees expect their employers to implement the same pre-pandemic rules when going back to the office, while 17% believe that their organizations will allow remote work to continue.
Remote work seems to be working for some companies. However, for other firms – and countries – the prolonged remote work arrangement is not a good idea. A study by the non-partisan think tank Fraser Institute revealed that Canada's labor laws and regulations "no longer fit" the needs of these modern work models. The study recommends that policymakers prioritize removing the outdated regulations to make remote work and telecommuting possible for Canada's workforce.
How about in your country? Are your labor laws appropriate for the evolution of the remote workforce? Let us know!
In South Africa, the BPO sector in the provinces of KwaZulu-Natal (KZN) and Gauteng are feeling the impact of the recent riots and looting in the country – following the arrest of the former president, Zuma. Business Process Enabling South Africa (BPESA) CEO Andy Searle disclosed that some BPO employees were unable to get to their offices, while some staff were struggling to commute or exit certain areas and two global BPOd were reportedly ransacked. Due to the unrest which has so far claimed the lives of over 215 people, many BPO operations were running as low as five per cent capacity.
In other outsourcing happenings, e-commerce giant Amazon is looking to outsource over 2,000 customer service agents in Costa Rica. These nearshore agents are expected to provide 24/7 customer support services in English, Portuguese or Spanish. India's third-largest airport, the Bangalore International Airport (BIAL), signed a 10-year partnership with IBM to digitize its international airport operations. IBM's global business services arm is set to digitize BIAL's IT network for operating the Kempegowda airport." In addition, German banking firm Commerzbank AG announced its decision to end its outsourcing partnership with financial service company HSBC Transaction Services GmbH because of "technical implementation risks and changed market conditions." Due to this, the German company is expecting an estimated 200 million euros (approximately US$ 235 million) write-off in the second quarter of 2021.
American workers are voicing their objection to a recent round of outsourcing jobs. Recently, the employees of healthcare consortium Kaiser Permanente in Woodland Hills, Los Angeles staged a protest against the firm's move of outsourcing call center jobs to other states. An employee stated that outsourcing is "bad" for patients and "devastating" for employees and the communities that the healthcare center serves.
Well, those of us at Inside Outsourcing politely agree to disagree.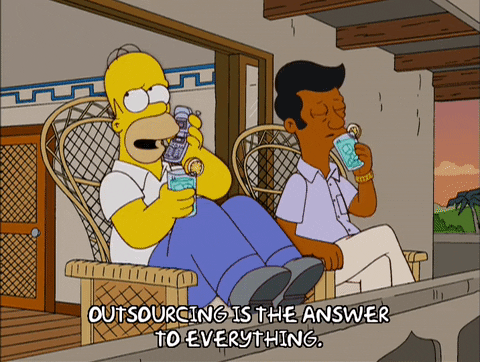 Tuesday, July 27, 2021
NEWS THIS WEEK
26 July 2021
Commerzbank to stop outsourcing project with HSBC – read article…
Labor laws in Canada is not fit for remote work, says Fraser Insitute – read article…
Infosys' staff may soon return to their offices – read article…
23 July 2021
22 July 2021
21 July 2021
Read more Inside Outsourcing Newsletters here: