Welcome to Inside Outsourcing: The Outsourcing Week in Review
THE WEEK IN REVIEW
The global HR outsourcing market is expected to grow by US$10.90 billion from 2021 to 2026 at a compound annual growth rate (CAGR) of 4.87%. According to market research firm Technavio, this growth will be driven by the digitization of HR outsourcing and the utilization of advanced technologies such as the Internet of Things (IoT), cloud computing, big data, analytics, and augmented reality. Proactive recruitment and social media are also gaining momentum in HR outsourcing, propelling the market growth. The North American region is set to dominate the industry, accounting for 56% of its growth during the forecast period.
The popularity of Cape Town's outsourcing market in the United Kingdom (UK) continues to grow thanks to wage constraints that resulted from Brexit. Clayton Williams, CEO of BPO association CapeBPO, said that businesses are forced to offshore their operations due to the cost and margin pressures. Cape Town hosts 60% of South Africa's BPO centers, employing more than 50,000 workers. It was also rated as the most sustainable city in Africa due to its air quality, emissions, solid waste generation, and sustainable policies, among others.
India's Information Technology and Business Process Management (IT-BPM) workforce could grow by seven per cent in FY2023, increasing from 5.1 million to 5.45 million. HR service company TeamLease Digital reported that over 300,000 new jobs could be created in the sector until the first half of next year. TeamLease Digital COO Sunil C said that the IT-BPM industry continues to be a "sunshine industry in India" as it becomes the largest private employer and contributes more than eight per cent to the country's economy. However, industry watchers are worried about the predicted slowdown of India's IT outsourcing industry. According to financial services company Nomura, India could have "tough days ahead for tech spending" due to the predicted global recession and the country's high levels of employee churn. Investment banking company JPMorgan, meanwhile, suggested the industry's "peak sector growth behind [it]". On the other hand, N Ganapathy Subramaniam, COO of the country's second-biggest company Tata Consultancy Services (TCS), waved away any concerns and insisted that the employee churn will taper down in the next two to three quarters.
The United States' tech industry, meanwhile, recorded a 14% year-on-year job posting increase last 2021. The latest State of the Tech Workforce report by non-profit IT trade association CompTIA stated that this confirms the hiring momentum and strong demand for tech professionals in the country amid the pandemic. Among tech job roles, software engineers are the most in-demand tech occupation in the US, with over 1.9 million tech job ads followed by IT support specialists with more than 750,000. Meanwhile, 46% of managers are expecting to add new permanent positions within their companies in the second half of the year. According to Paul McDonald, executive director of management consulting company Robert Half International, many companies remain in hiring mode despite talks of an economic slowdown. The practice area most cited for hires was technology at 60%, followed by finance and accounting at 54%.
In acquisition and expansion updates, professional services company Accenture recently bought cloud data firm Tenbu in a bid to expand its data and AI capabilities. Under the deal, Tenbu's team of 170 data specialists will join the Data and AI team within Accenture Cloud First. The firm's global leader Karthik Narain said that Tendu expands its capabilities to help clients drive new services, growth, and resilience using data from across the cloud continuum for intelligent decision-making. Tenbu is the 11th acquisition that Accenture has made in Latin America in the past five years. Private equity firm SPE Capital also acquired a majority stake in the Morocco-based customer experience and outsourcing provider Outsourcia. Outsourcia CEO Youssef Chraïbi said that SPE Capital's buyout will open a new chapter in its growth and development strategies, especially in Europe and Africa. SPE Capital Managing Director Stéphane Heuzé added that Outsourcia's "recognized expertise in the outsourcing professions" will provide the company with a remarkable growth trajectory amid the increasing need for outsourcing services. The acquisition is reportedly worth 330 million dirhams (approximately $33 million).
Talent acquisition and global Recruitment Process Outsourcing (RPO) provider Cielo launched its Asia Pacific (APAC) expansion plan through the opening of its first-ever office in India. Cielo India Director Shailesh Singh said that establishing a solid presence in India is vital to the firm's vision: "to lead the market with better talent experiences for all." Cielo's India team is set to deliver fresh and proven talent acquisition solutions to diverse organizations across the IT, engineering, life sciences, automotive and consulting sectors. Beyond RPO, Cielo aims to provide the Indian market with world-class consulting services, including employer brand, all backed by its proprietary technology platform, Cielo TalentCloud. Knowledge Process Outsourcing (KPO) company Acuity Knowledge Partners is also broadening its Indian operations by hiring at least 800 people by the end of the year. The UK-based firm already has two established centers in the cities of Bengaluru and Gurugram and is planning to open a third in Pune. Acuity CEO Robert King said that 70% of their total workforce can be found in the South Asian country. The research and analytics solutions provider will be hiring across various skills like financial analysis, mathematical skills, financial modeling, accounting software, and technical skills.
Outsourcing firm Bruntwork announced a dual celebration this week – the fledgling company not only reached the coveted 1,000 employee count, and it did it just prior to their second birthday. The firm is not content with its impressive growth with plans of growing three-fold more, amid the increasing demand for offshore services since the COVID-19 pandemic. Citing data from Google Search, the Australian-based firm said that the search term "virtual assistant agency philippines" surged 433% year-on-year as of August 2022. Bruntwork CEO Winston Ong said, having virtual assistants in your team can streamline the work process, reduce time, and help a company achieve profitable growth above its organic growth rate.
Congratulations to the team!
To keep up with its high attrition, India's IT industry is expanding its recruitment strategy to include the gig workforce. Kamal Karanth, co-founder of specialized staffing solutions firm Xpheno, said that the growth of gig workers' consumption by tech enterprises grew from two to 19% quarter-on-quarter, depending on the nature of talent consumed." A report by the trade association ASSOCHAM revealed that India currently has more than 15 million freelance workers deployed on tech projects. Another estimate by India Brand Equity Foundation (IBEF) projects that 350 million gig jobs will open across the country by 2025. Ireland, on the other hand, is posting job advertisements overseas to quell staff shortages in the country. According to a survey by online job agency Indeed, nearly a fifth of businesses were providing support to foreign workers settling in Ireland while close to a quarter of companies were also hiring foreign recruitment agencies. Indeed's research also found that Ireland had one of the most positive attitudes toward the contributions of foreign workers to the economy, with 86% of respondents saying they enjoyed working with colleagues from other countries.
July saw the slowest increase in the number of filled permanent jobs in the UK after 17 months as hiring activities in most companies are slowing down. According to the professional services network KPMG, recruiters are becoming more tentative over hiring new staff due to economic uncertainties. This comes as the Bank of England warned that the UK will fall into recession in the final quarter of this year. KPMG Partner and Head of Education, Skills, and Productivity Claire Warnes said that up-skilling existing workers and attracting talent remains essential for UK business amid uncertainties in the jobs market.
To attract and retain employees, business leaders are resorting to employee-first recruitment strategies. In its latest survey, insurance company WTW disclosed that 86% of employers are providing higher salaries, 84% offer a flexible workplace, and 81% hand out sign-on bonuses for new talent. Concurrently, 65% of recruiters are promising retention bonuses, and 55% offer training opportunities for their employees. WTW North America leader, work, rewards, and careers Lesli Jennings said that employers are "leaving no stones unturned in their battle to find and keep talent."
A four-day working week could be the new normal by 2030, said 78% of UK employers. In a report by retail and commercial bank NatWest, most employees said that they are expecting flexible working options from their companies while also working for only four days a week.  However, 71% of employees said that they would opt out of the four-day work week if it would come with a pay cut. Last June 6, more than 3,300 workers at 70 UK companies started working a four-day working week with no loss of pay. The trial is based around a 100:80:100 model — 100% of pay for 80% of the time, in exchange for a commitment to maintaining 100% of productivity.
Who would say no to a long weekend?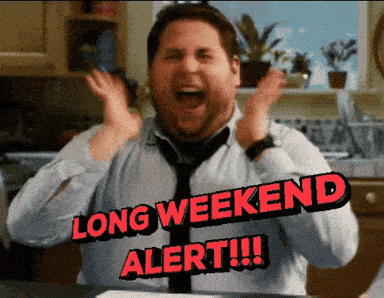 Tuesday, August 9, 2022
NEWS THIS WEEK
08 August 2022
05 August 2022
04 August 2022
03 August 2022
02 August 2022
Read more Inside Outsourcing Newsletters here: