We live in a global economy.
Not a national, or local economy.
You might buy your TV, car, clothes, or computer from a local shop (or Amazon), but 90% of those items are sourced from overseas.
Even your vegetables are commonly grown overseas. And much of the energy we use: oil, gas, and coal, is usually also from elsewhere.
As for the proudly All-American brands, Apple, Levis, Ray-Ban, Nike, and Harley Davidson, they all manufacture offshore.
It's the way the world works.
People vs products
People vehemently support local employment and oppose immigration, yet they wear Italian shoes, drive a German car, and wear Chinese-made clothing using Indian cotton.
As times get tough, businesses now realize that they can also source their staff from overseas. They can hire great staff at a fraction of the cost.
Typically you can save 70% on employment costs – while still paying a fantastic salary to the employee.
Technology has allowed the world to leapfrog immigration politics, border control, and workforce migration. Now, people can pick up a laptop and work from anywhere, for a company based anywhere.
It's… liberating!
In the last week alone, we have had 464 companies requesting over 700 full-time offshore staff. They come from 28 different countries, from almost every sector – transport, finance, marketing, accounting, e-commerce – needing practically every role imaginable – digital marketer, accountant, data analyst, researcher.
We match those businesses to high-quality outsourcing firms who can recruit outstanding talent – for a fraction of the price. Here are some examples of recent candidates (from our Tues edition):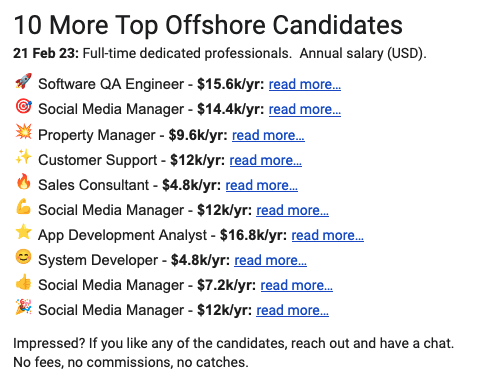 This is nothing to worry about. It should be celebrated.
We are truly a global economy, and everyone stands to benefit.
If you want to know how outsourcing can help your business, connect to an expert here. If you want VIP treatment, reply to this email [code word: "GLOBAL"].
Just 20 years ago, this kind of employment was not possible. In another 20 years, it will become the default.
As a business owner, your business will be stronger, more resilient, efficient, and profitable. Profits and taxes will return to the community – as always – enriching your community and keeping the virtuous circle going.
The question for your business
Is hiring locally slowing you down?
Read more thought leadership articles here: