What Booth and Partners' telesales representatives can do for your service support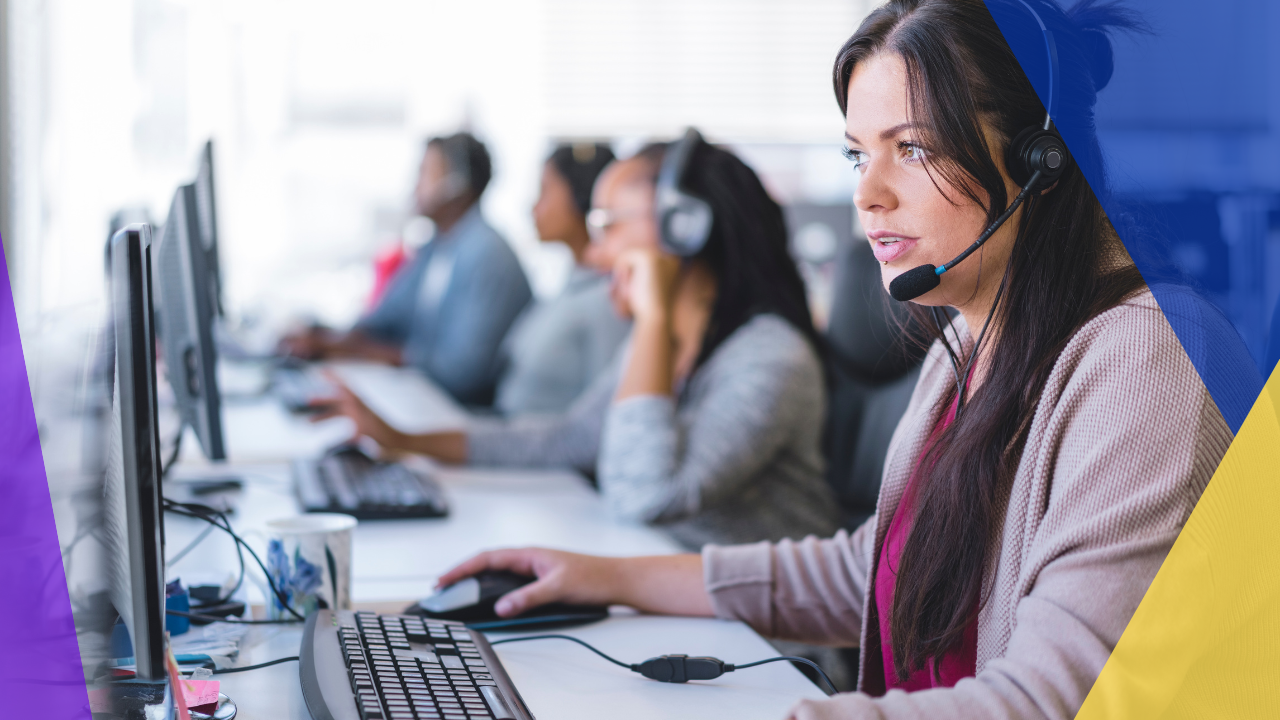 Telesales representatives work through the phones, making sales for your company. Because nearly all prospects own mobile phones nowadays, this makes the industry one with strong potential. 
A telesales team will be beneficial to augment your existing sales team. Telesales representatives can work from anywhere, and many companies flourish by outsourcing it. 
Booth and Partners is one outsourcing firm that can guarantee you talented telesales representatives for your business. 
Telemarketers vs. telesales representatives 
Telesales is frequently used interchangeably with telemarketing. In practice, they are different roles, but some companies may combine the two depending on their strategy. 
Telemarketers have a broader scope than telesales representatives. Rather than selling directly, they use phone calls to generate interest, offer information, and get customer feedback.
Thus, the main role of telemarketers is to create sales prospects and leads. 
When your product and company are already on the prospect's radar, that's when telesales representatives act to convert them into customers.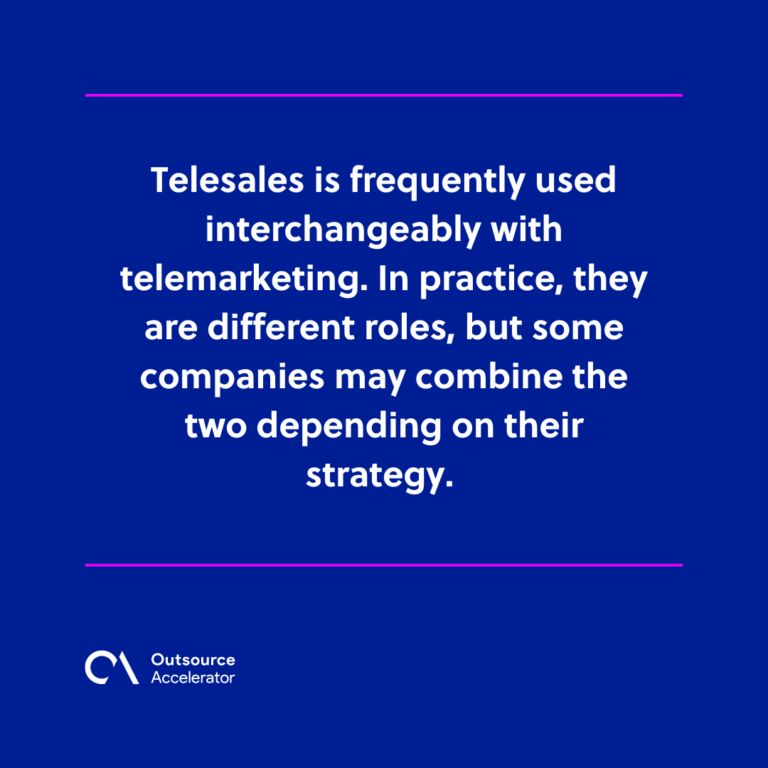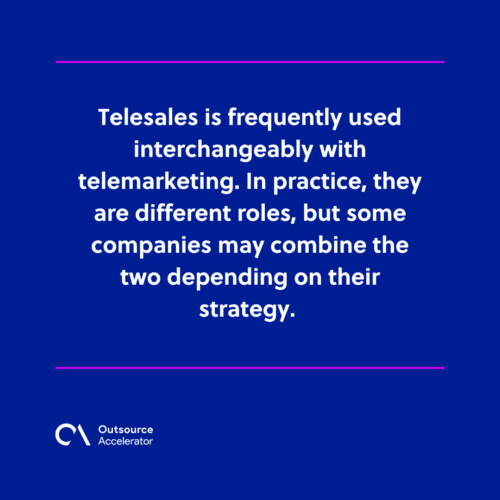 Telesales representatives are responsible for selling products or services directly through phone calls. By building customer relationships, they also build repeat business. 
Telesales representatives act as the prelude to field sales representatives by setting them up with customers. An effective telesales representative requires communication, sales skills, and customer service knowledge. 
The two specializations go hand-in-hand and are both beneficial to a business's sales strategy. 
What are the duties of telesales representatives? 
Telesales representatives work as part of a sales team, closing leads and ensuring customers are satisfied enough to return for repeat business.
Their duties rely on strong customer relationships rather than high-pressure sales techniques. 
The following are the common duties of a telesales representative:
Lead generation 
Telesales representatives contact potential and existing customers through the phone to inform them of products, services, and offers. 
A special script is followed to qualify prospects that are ready to buy and those who require some persuasion. This process helps when the prospects are passed to the field sales team for follow up. 
Direct sales 
Telesales representatives may perform direct sales functions, working with telemarketers and the sales team to devise sales strategies.
This collaboration creates a database to identify customers who have already bought products or prospects who are willing to buy. Data from previous sales is collected to achieve this. 
When telesales representatives sell directly, you can increase sales while also reducing the cost of a field sales team. 
Order processing
This involves taking orders to meet sales quotas. A large part of this duty also involves managing repeat purchases which gives cross-selling opportunities. 
Cross-selling increases sales and profits and improves the productivity of telesales representatives. A script that contains additional products and services may also be prepared. 
When telesales representatives take this duty, field sales representatives gain more time to concentrate on developing new business. 
Customer service 
As part of nurturing customer relations, telesales representatives contact customers after a sale to make sure they are satisfied with the product. Any concerns customers have are also handled. 
Telesales representatives compile and update customer records in a database that the sales team can use for future business. 
Thus, aside from strong relational and sales skills, telesales representatives must also have good organizational skills. They must be well-versed in the knowledge of the company and its offers.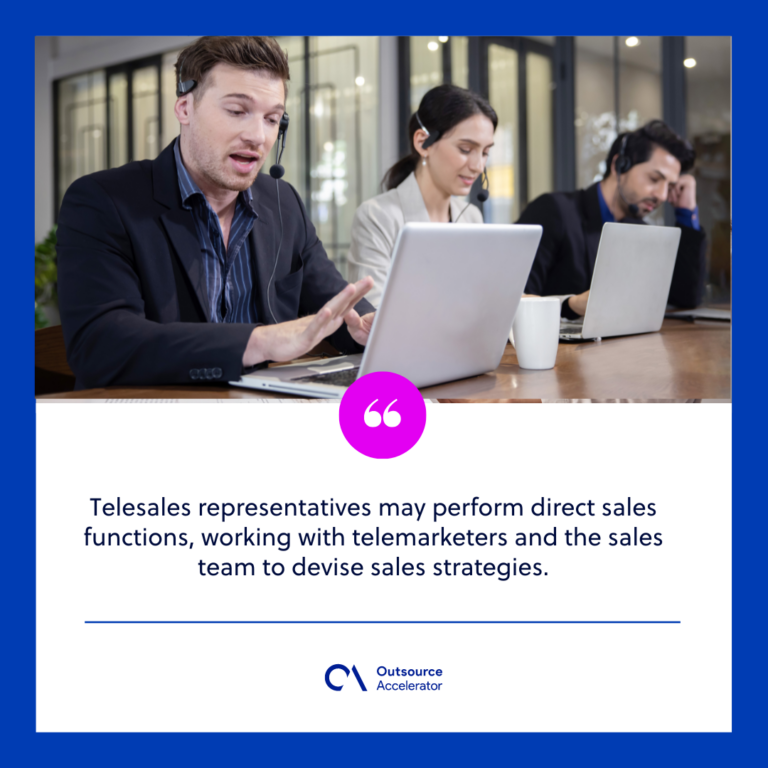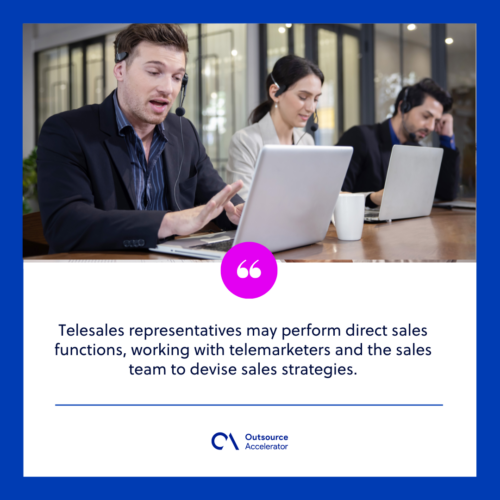 Recruit telesales representatives through Booth and Partners 
Booth and Partners helps you find the right telesales representatives to bolster your remote sales team. 
It makes use of the excellent talent pool in the Philippines, one of the world's top outsourcing destinations. Booth and Partners source highly skilled talent that fits your company's needs. 
Aside from Telesales Representatives, it offers talent specializations in other roles of sales and customer service support. These include Customer Service Representatives, Account Managers, and Technical Support Representatives. 
For excellent telesales work, contact Booth and Partners today.