5 main benefits of telehealth outsourcing for healthcare providers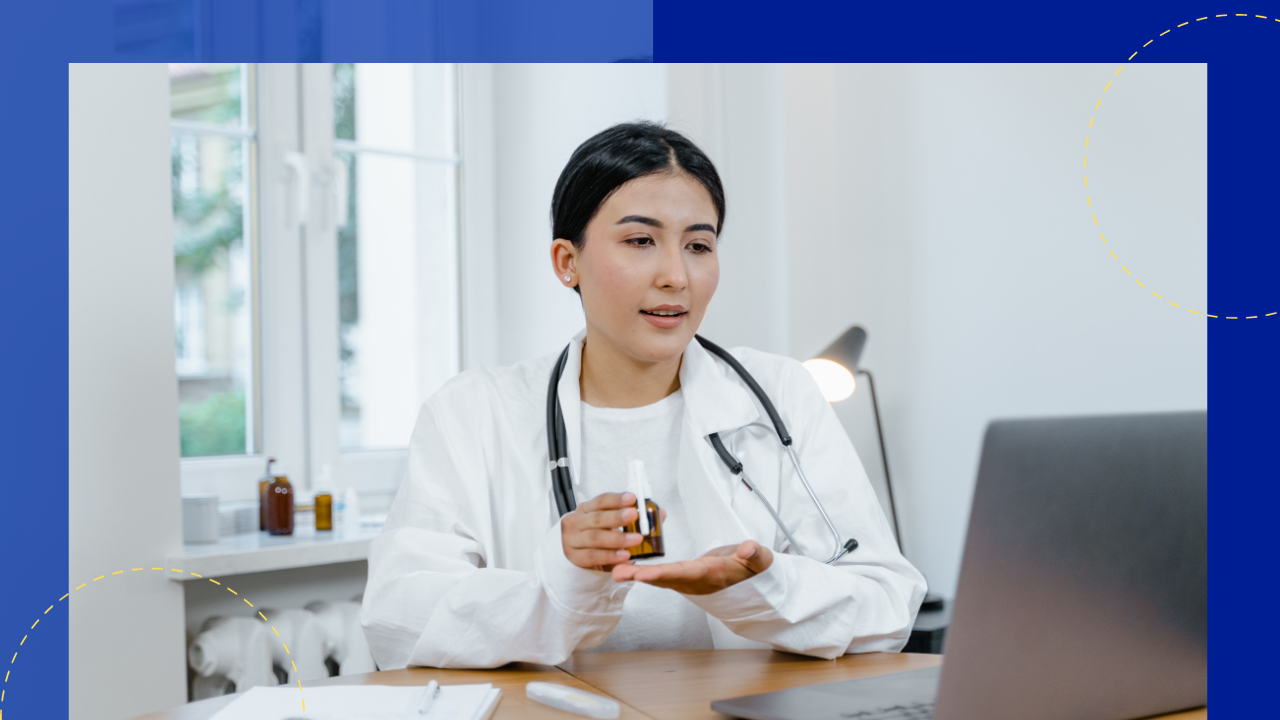 Healthcare providers are also adapting to new ways of delivering care. 
One of the innovative approaches gaining popularity in the healthcare industry is the outsourcing of telehealth services.
The introduction of telehealth services has transformed healthcare delivery. 
In this article, we will discuss the five key advantages of telehealth outsourcing and examine its impact on the future of healthcare.
What is telehealth outsourcing?
Telehealth outsourcing refers to a strategic partnership between healthcare providers and external providers specializing in telehealth services. 
In simpler terms, healthcare institutions team up with outside experts to handle various aspects of their telehealth operations like:
Remote patient monitoring

Telemedicine

consultations

Administrative responsibilities
Outsourcing these tasks to specialized experts allows healthcare providers to offer high-quality telehealth services to their patients without managing everything in-house.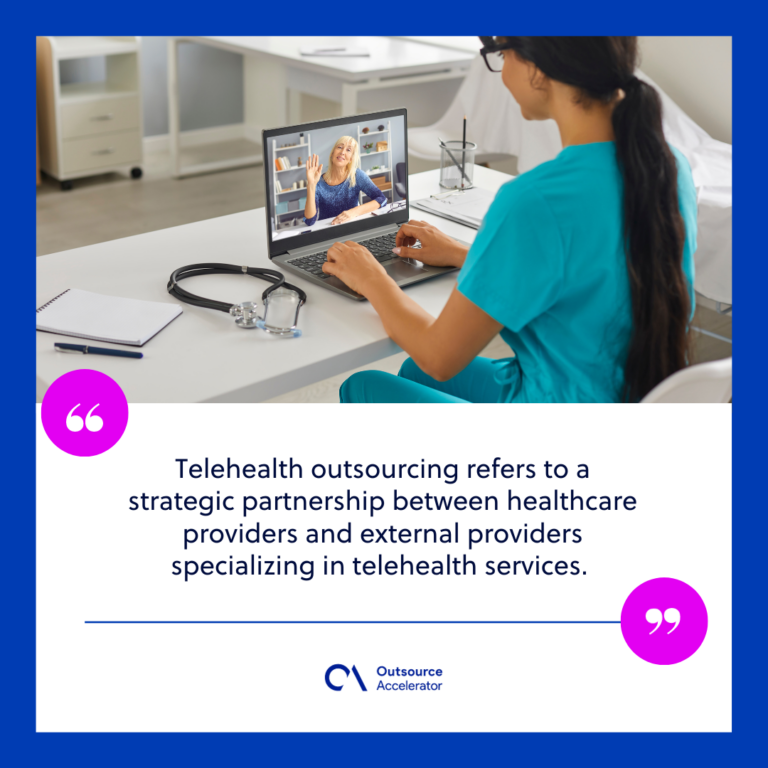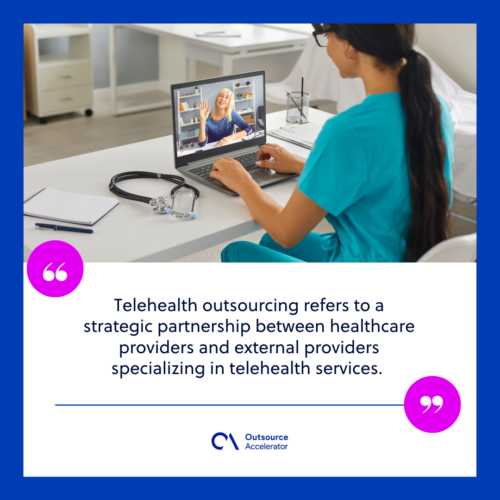 5 benefits of outsourcing telehealth services
Outsourcing telehealth services can offer several significant benefits to healthcare organizations and providers, including the following:
1. Cost savings
One of the primary advantages of outsourcing telehealth services is cost savings. 
Healthcare providers can significantly reduce operational expenses by partnering with external telehealth experts. This cost-effectiveness arises from eliminating the need for in-house telehealth infrastructure and personnel. 
Furthermore, outsourcing enables healthcare institutions to pay for services when required, significantly reducing expenses.
2. Access to specialized expertise
Outsourcing telehealth services gives healthcare providers access to specialized expertise.
Delivering quality telehealth care requires a deep understanding of various areas, including: 
Technology

Medical protocols
External telehealth service providers bring this specialized knowledge to the table. They ensure that healthcare institutions can offer top-notch telehealth services without the need to develop in-house expertise.
3. Scalability and flexibility
Telehealth outsourcing offers a crucial advantage in scalability and flexibility. 
Healthcare organizations can easily adjust the scale of their telehealth services according to demand. This flexibility proves invaluable during crises or when dealing with fluctuations in patient volume. 
Outsourcing partners can swiftly adapt to changing circumstances, guaranteeing a seamless and responsive telehealth service.
4. Focus on core healthcare services
Outsourcing telehealth services allows healthcare providers to concentrate on their core healthcare services. 
By delegating telehealth-related tasks to external experts, medical institutions can prioritize their primary mission – delivering high-quality healthcare to patients. 
This focus on core services leads to enhanced patient care and satisfaction.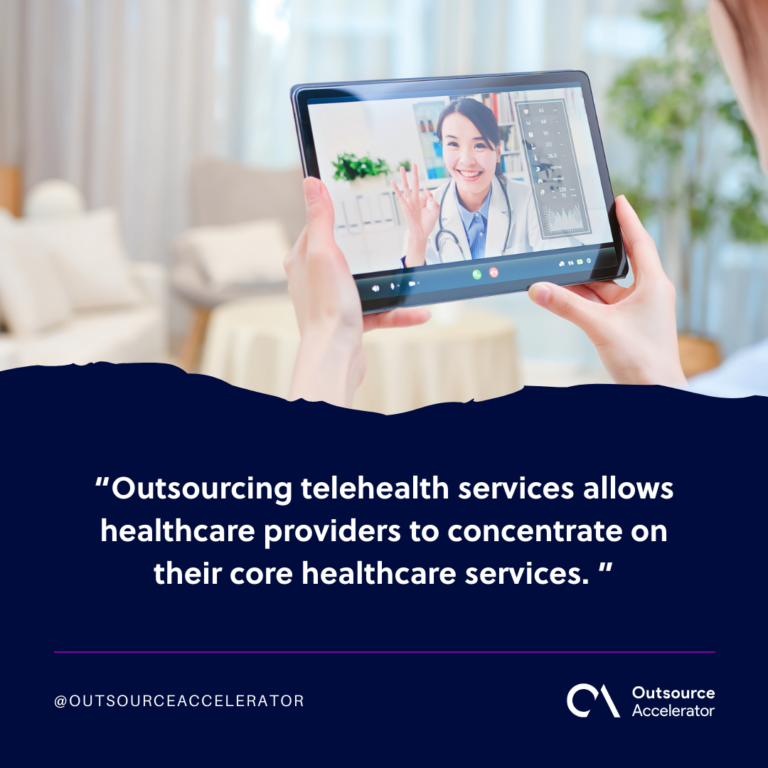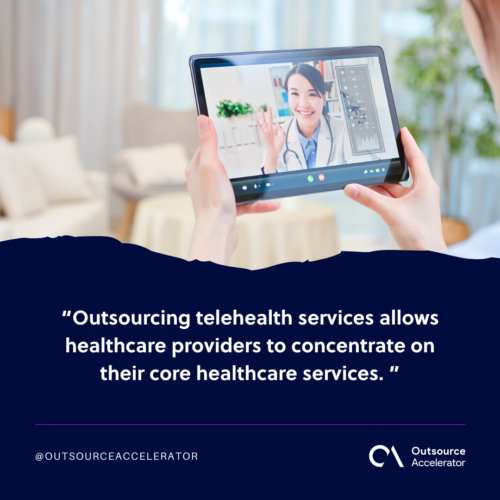 5. Reduced administrative burden
Another benefit of telehealth outsourcing is reducing the administrative burden on healthcare providers. 
Administrative tasks like scheduling, billing, and data management can be time-consuming and resource-intensive. 
By outsourcing these responsibilities, healthcare institutions can streamline operations and allocate resources more efficiently, benefiting staff and patients.
Implementation of telehealth outsourcing
When healthcare providers embrace telehealth outsourcing, a crucial phase is the implementation process. 
This involves several key components that ensure the successful integration of outsourced telehealth services into the existing healthcare infrastructure.
Integration with existing healthcare systems
One of the primary challenges in telehealth adoption is ensuring smooth integration with existing healthcare systems. 
Healthcare providers must bridge the gap between traditional in-person care and virtual healthcare. This involves technological aspects and requires adapting workflows and processes to accommodate telehealth services seamlessly.
Training and onboarding
The success of telehealth outsourcing depends on the competence of healthcare professionals. 
Training and onboarding programs equip medical staff with the necessary skills to deliver telehealth services effectively. It's not just about using technology; it's about delivering quality care through digital channels.
Workflow optimization
Telehealth promises to streamline healthcare operations, which can only be achieved through meticulous workflow optimization. 
From appointment scheduling to patient consultations and follow-ups, every aspect of the healthcare process needs to be fine-tuned to maximize efficiency and minimize disruptions.
Data security and privacy measures
When it comes to telehealth, safeguarding patient data is non-negotiable. Data breaches can have severe consequences, breaking patient trust and exposing healthcare providers to legal liabilities. 
Strong security and strict privacy rules are vital to safeguard sensitive healthcare data.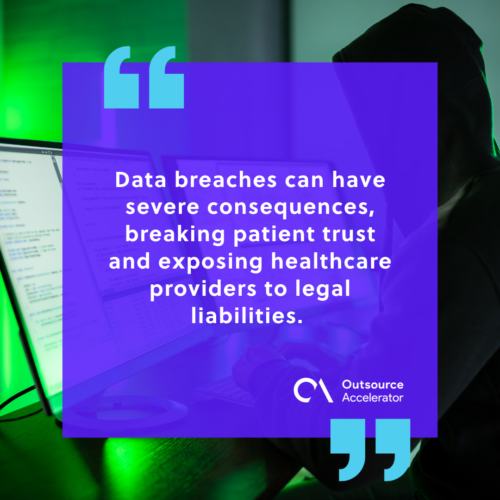 Explore telehealth outsourcing through Nezdex
Nezdex stands at the forefront of telehealth outsourcing, revolutionizing how healthcare is delivered and accessed. 
The firm's commitment to integration, training, workflow optimization, data security, and patient-centric care sets it apart in the industry.
With Nezdex, healthcare providers can move towards a future that is more accessible, efficient, and patient-centered.
Unlock quality healthcare anywhere – Discover Nezdex telehealth solutions today!