Why outsourcing technical SEO matters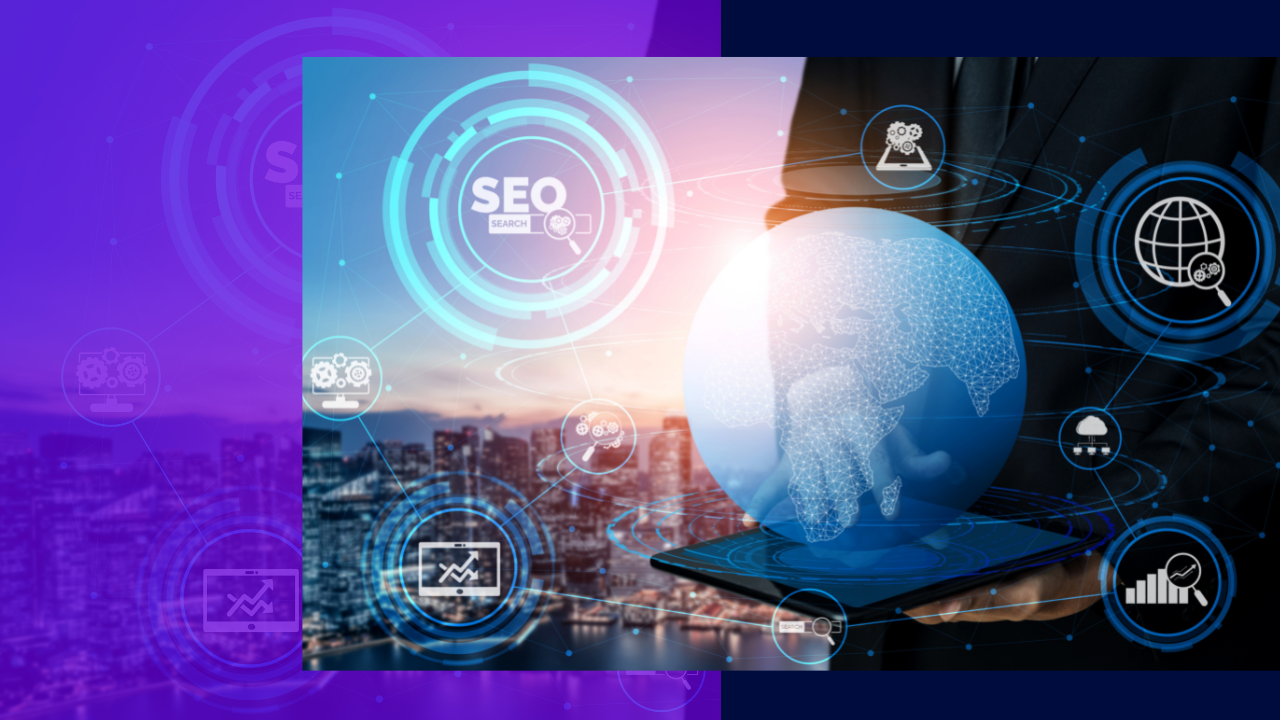 Having the ability to stay updated with what's new in the fast-paced market industry takes a lot of work. In content marketing, ensuring your site is up-to-date is imperative to continue engaging with a sophisticated and digitally savvy audience. 
As much as companies try to avoid it, technical SEO issues can creep up on them and cause quite a lot of pain. 
Technical issues can result in lost customers. Therefore, it's best to have your SEO managed by experts. Outsourcing technical SEO to renowned service providers lets businesses optimize their sites or build links effectively. 
Staffwiz offers offshoring solutions by providing dedicated and globally talented remote teams. It also has professionals fully equipped to handle your technical SEO needs so you can focus on improving your bottom line. 
What is technical SEO?
Technical SEO is a broad term that describes the technical aspects of search engine optimization, getting traffic and visibility from search engines. There are two major components to this process: on-page and off-page. 
On-page refers to anything you can do on your website, such as proper keyword usage and site structure. Off-page involves factors outside your control, such as link building and social media promotion.
Technical SEO is not new but has grown in importance over time. Search engines, especially Google, have increased their efforts to demote low-quality content from their search results. 
BrightEdge's latest survey shows that 53% of all trackable website traffic comes from organic search. With technical SEO in place, companies can create a website that is easy for Google or other search engines to crawl and understand.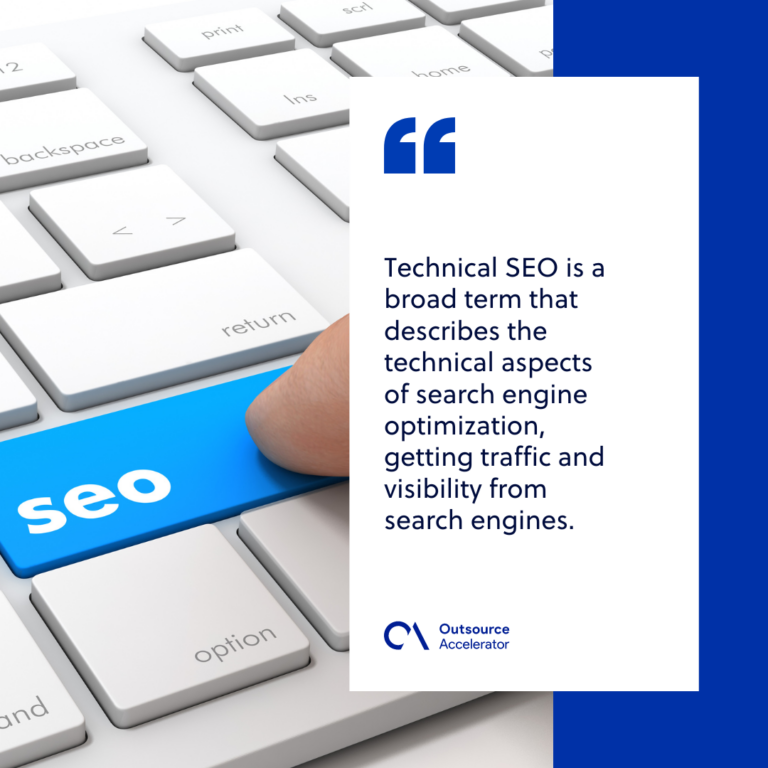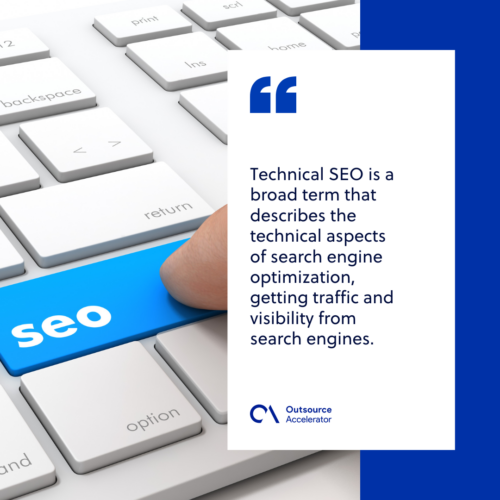 Major characteristics of technical SEO 
In general, technical SEO helps you fix errors and ensure your site performs well. It can be broken down into four major characteristics:
It is fast 
Technical SEO can be completed quickly because it involves simple fixes. If you have an issue with your site's crawlability, technical SEO may be able to repair it in a few days or weeks. 
Moreover, you can also save time by using pre-rendered content or AMP pages, which help speed up site performance. Technical SEO can help make specific changes to your site that people can notice immediately and start clicking through more often.
Does not have dead links 
According to Aira's link-building report in 2022, 68% of digital marketers use content marketing specifically to generate links.
In SEO, dead or broken links are bad for users and search engines. They can be dangerous because they may lead to malware or viruses. 
Technical SEO includes dealing with broken links or other issues that can slow down your site. If a bad bot finds a page on a site with a broken link, it is an easy target for hacking or spamming purposes. 
That's why ensuring all links are working properly before publishing them online is important.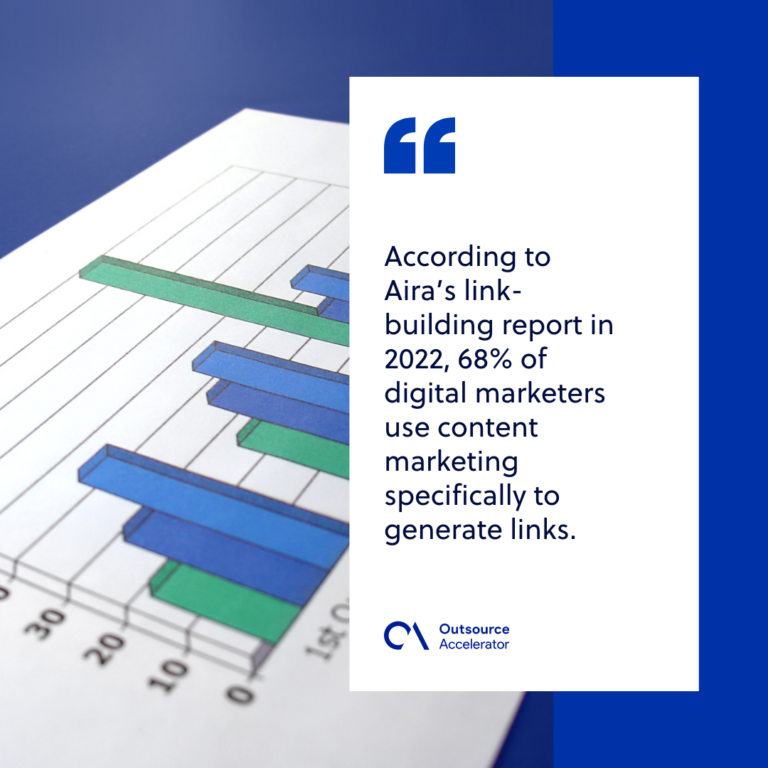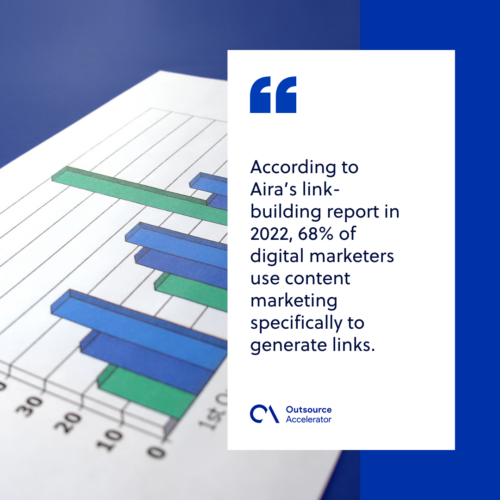 Crawlable for search engines
A website has to be crawlable to rank well in search engines. With technical SEO, a business can ensure that the website is built in such a way that search engines can easily read and follow the pages on their site. 
It's also about making sure that you have the right and engaging content so that when users search for something, they find what they're looking for.
XML sitemap 
XSLT sitemaps are a way to provide search engines with a list of all the pages. Sitemaps are a vital part of any SEO campaign, but they're especially important for technical SEO. 
The XML version of your site map should be submitted to search engines so they can crawl it and index all the pages on your site. This allows them to find and index new content that they wouldn't be able to see otherwise. 
Noteworthy advantages of outsourcing technical SEO
Technical SEO requires proficient knowledge and experience that only professionals in this field handle. Outsourcing technical SEO to the right experts provides the following benefits:
SEO expertise 
Outsourcing is a great way to scale your technical SEO efforts. With the right SEO team, you can work with experts who can help you build a solid website. 
The skillset required for a good technical SEO differs from those required for a generalist SEO or content marketing manager. 
Hiring an off-shore specialist can be the best option if you want someone to take over all of your technical SEO responsibilities at a reasonable price.
Cost-effective
Outsourcing technical SEO to a trusted provider is a cost-effective way of ensuring that your website ranks highly on search engines. You will only be required to pay for the services you need. 
This will help companies save money and give them time to focus on other aspects of their business.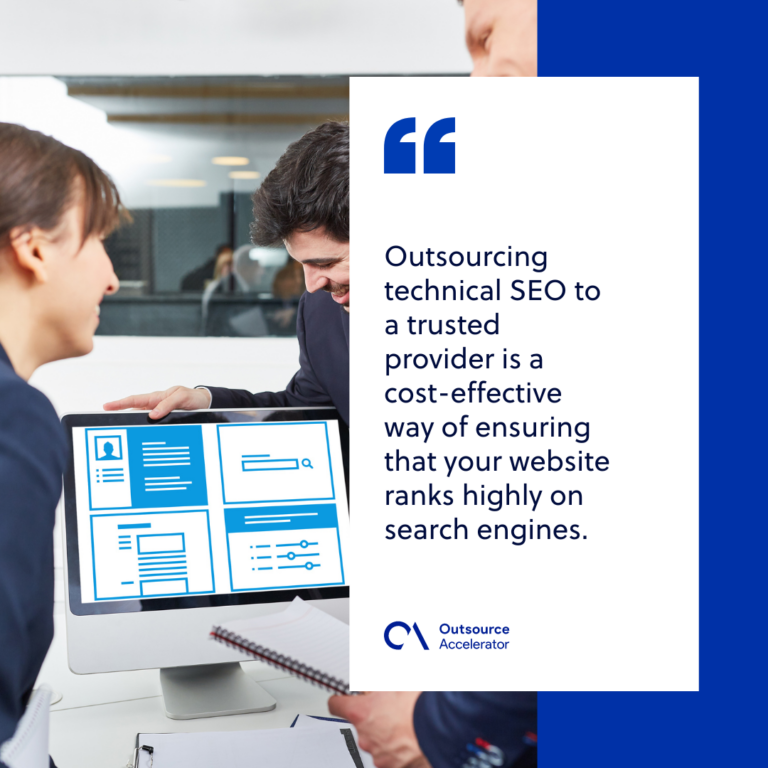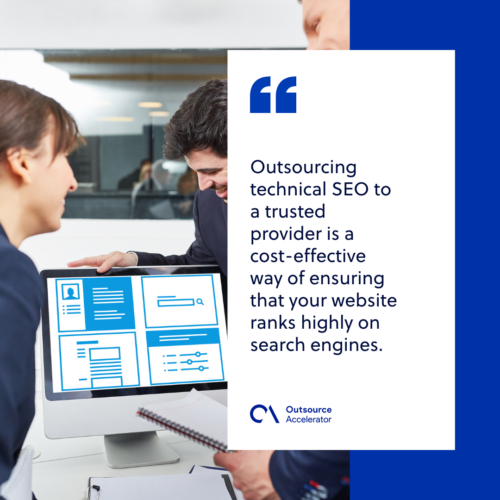 Comprehensive analyses and reports
Technical SEO involves much more than simply checking page titles or making sure that search engines can find the website. 
An expert in technical SEO provides detailed reports outlining potential issues and recommendations on how to fix them.
Moreover, staying on top of every new update, best practice, and emerging trend can be challenging. With a full-time technical SEO expert at your disposal, you can be sure that their content is always well-optimized for search engines.
Helps you identify issues with the structure of websites
Outsourcing technical SEO helps companies identify issues with their website's structure. Technical SEO services providers often have years of experience working with large websites.
This is where outsourcing comes in handy. These experts can spot issues quickly and easily before they become too big for the business.
Optimize your site through Staffwiz's technical SEO services 
SEO is a valuable asset to any company, and it's important to ensure that your SEO efforts are as effective as possible.
Outsourcing your technical SEO needs through Staffwiz can help you focus on other areas of your business. Hiring from a global talent pool with world-class expertise can help maximize your business edge. 
Staffwiz's qualified technical support specialist ensures your website has high traffic and performance, which is a great way for you to focus on ROI. 
Get in touch with Staffwiz today for first-rate technical SEO services!