The real value of outsourcing SEO to the Philippines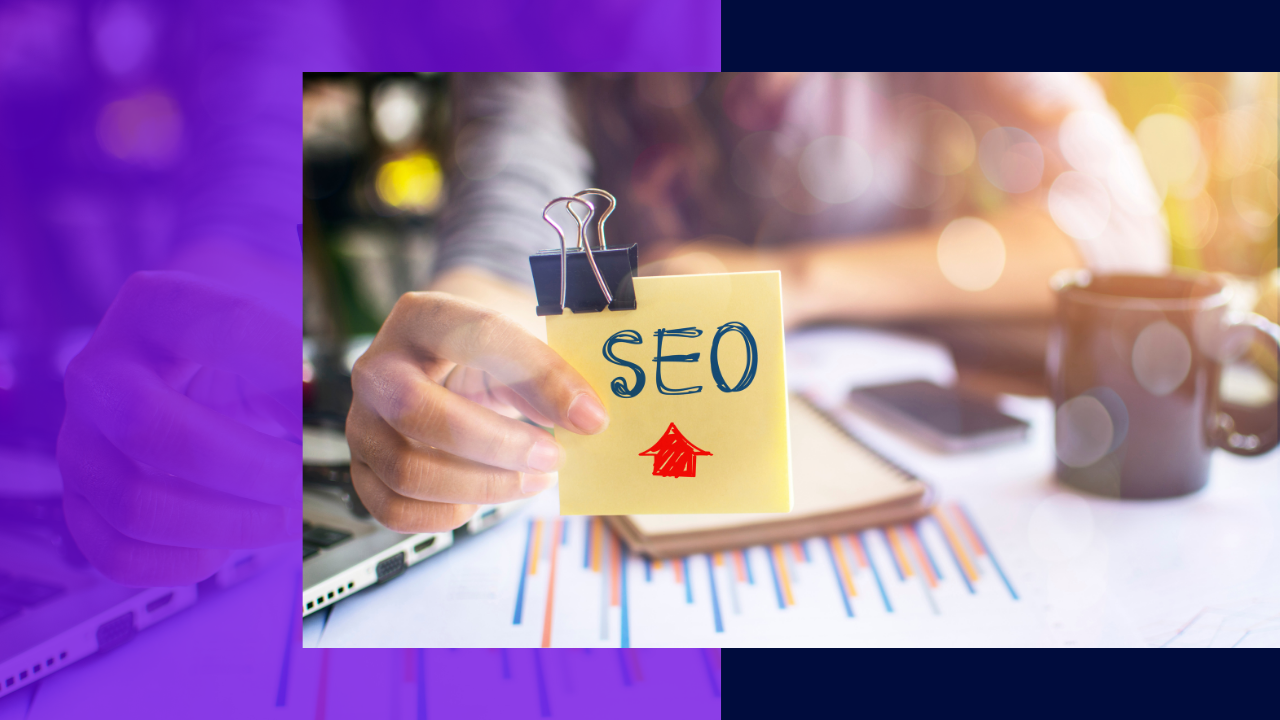 In today's digital world, every brand is required to be accessible on the web. You need to establish a good online presence to be relevant in the business industry.  SEO outsourcing Philippines is currently among the emerging services in the country.
As we all know, the Philippines is one of the leading outsourcing hubs across the globe.
As you work on your online visibility, keep in mind that it is not all about posting regular content. Knowing how to use Search Engine Optimization (SEO) is crucial to any organization that has a website.
Most importantly, it is very important for the success of your digital marketing. 
In this article, get to know why outsourcing your SEO to the Philippines should be your next business move. More so, where can you acquire SEO services in the country, as well as how it will benefit your organization.
The value of SEO outsourcing
Outsourcing your SEO means that you will be hiring a third party to manage and handle this part of your business process.
Search engine optimization outsourcing involves on-page optimization (keywords, metadata, and blogs) and off-page optimization (link-building, social media, and guest posting). 
Making use of a lucrative SEO strategy allows you to optimize your content in a manner that it will rank higher on search engine results. The more people visit your website, the more leads you will be generating. 
SEO follows a set of rules to help you strengthen your searchability and visibility online. Outsourcing this role allows you to work with SEO experts.
On top of that, it provides your business with the following benefits:
Cost-effectiveness
Outsourcing in general, helps organizations to save entirely on costs. Compared to outsourcing, hiring in-house SEO will also require you to spend on training and other resources needed for the job. 
Outsourcing companies properly train their employees before allowing them to work for clients. Further, they are also fully equipped with tools and software that are required for the job.
It is also the same with independent contractors. Besides having the skills and knowledge, they also provide themselves with the right tools and technologies.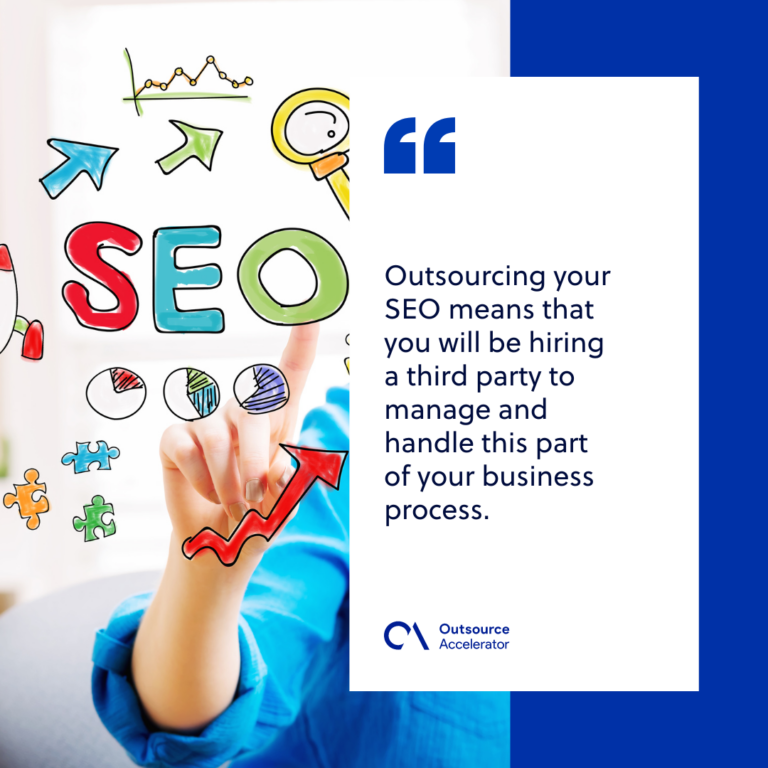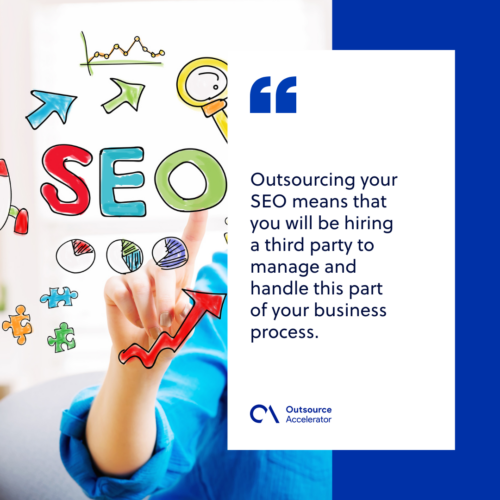 Right expertise
Just like any other profession, SEO may not be everyone's cup of tea. It is important that it is handled by the right people. Outsourcing gives you access to an expert professionals talent pool. 
As a long term business solution
SEO is constantly changing, you need specialists who know exactly what they are doing. Outsourcing your SEO to the right people can turn into a long term business strategic practice. 
Building your online presence is a continuous process and having competent people to handle this role ensures a positive outcome. 
Focus on your core operations
Since you have extra sets of expert hands for this role, you and your in-house staff will have more time to focus on your business core.
You will also have more room to plan out how to scale your business. Better yet, attend to and communicate with more clients. 
Note that your website represents your brand online. As the world becomes more dependent on the internet, it is vital for your business to reach as many people as you can. 
Why should you consider SEO outsourcing in the Philippines?
Over the years, the Philippines has been widely known in terms of the BPO services industry. A huge number of the working population in the country is employed in the outsourcing field. 
What attracts foreign companies to offshore in the Philippines is its cultural compatibility, especially in the Western culture. More so, Filipinos are proficient in terms of speaking the English language. 
In fact, the country ranks second highest English proficiency around Asia. 
The Philippines indeed is brimming with a young and highly-skilled talent pool. Aside from call center roles, the BPO sector in the country offers a broad range of specialized services. 
Acquiring SEO services in the Philippines enables you to take advantage of the following: 
Highly-skilled SEO specialists 
An effective SEO strategy and keyword research are key essentials for a successful SEO campaign. Whether it is verbal or written, Filipinos are fluent in the English language. 
Outsourcing lets you work with seasoned Filipino SEO specialists that can produce quality content to boost your SEO campaigns. 
Top-notch SEO outsourcing service 
SEO outsourcing firms in the Philippines commonly have teams of SEO specialists. Besides undergoing extensive training, these professionals often have experience working for various clients in different industries.
Aside from providing quality talents, these SEO outsourcing firms also invest in their technology and tools. 
You will need commitment, time, and a strategic plan to effectively market your brand online. Hiring the right people lets you build up your online presence at the same time, helps you yield great results. 
You need that online presence
Establishing your online presence also includes social media marketing. Outsourcing firms in the Philippines usually offer social media marketing apart from SEO services.
These two roles will help greatly increase your website traffic if done correctly. 
Take a step further your competition
Your SEO can be your one-way ticket in outpacing your market competition. As you strengthen your online reputation, the more you earn your customers' trust.
This means that there is a higher chance that customers would rather choose your brand over other products or services. 
Tracking SEO campaigns require commitment & dedication
Yes, it requires dedication to monitor your SEO campaigns. This is because SEO is not a "single-setup" method. It is understandable that as a business owner, you will not have enough time or resources to handle your SEO campaign management. 
In addition, SEO is constantly changing. You need insights into your bounce rates, page loading times, organic traffic, and more. These sets of data are vital in tweaking your content creation and keyword search accordingly. 
This can be time-consuming. It's a good thing that BPO firms like Helpware can take care of these campaigns for your business.
Google's algorithms are constantly changing
As we have mentioned prior, SEO is always changing. Some keywords that are currently popular can be replaced by other keywords in the coming weeks. 
SEO outsourcing providers in the country keep track of the sudden changes in SEO, most especially on Google algorithms.
Moreover, an ideal SEO outsourcing firm knows how to implement the right campaigns that are within the current trends. 
Establish your domain authority
SEO outsourcing specialists help you secure a higher google ranking considering your domain authority and content optimization. 
Remember that Google recognizes websites that are able to integrate popular keywords into their content.
Further, your domain authority shows how well referenced your site is through backlinks. 
Website technicalities
There are also other factors that affect how you can be seen on search engines. Google will look through your page loading speed, bounce rate, site visitors that immediately leave, and more. 
Outsourcing to SEO experts enables you to implement thorough SEO strategies that consider all these important factors.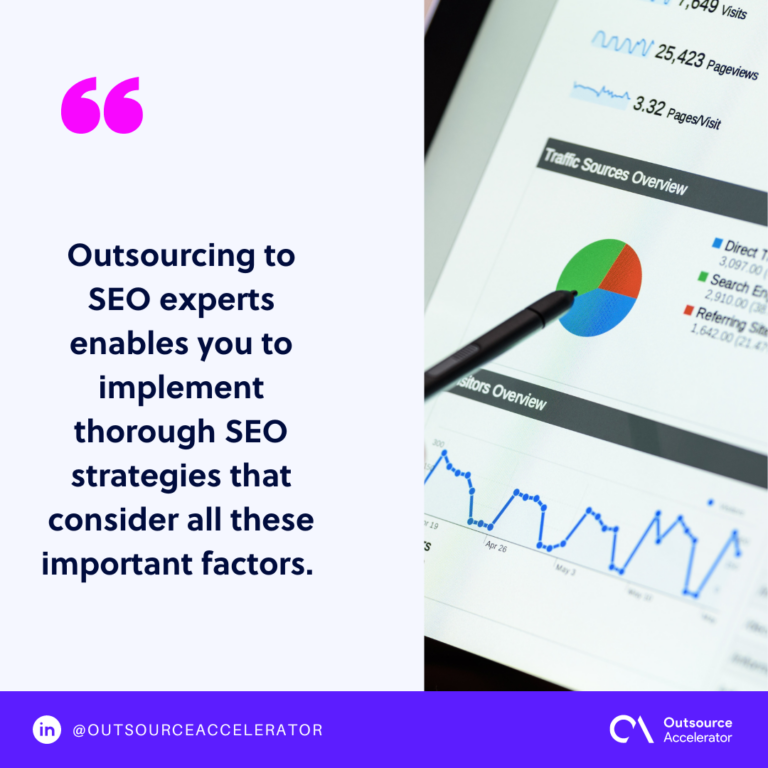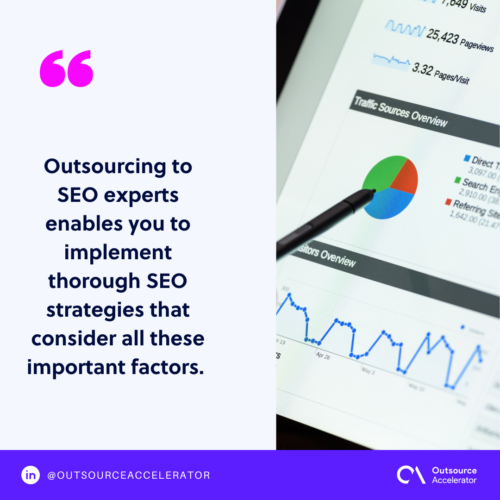 Options for SEO outsourcing in the Philippines
Of course, you need to choose the best outsourcing provider to partner with. To help you on your search, here we have to options where you can acquire SEO outsourcing services: 
Freelancers
Freelancers are also known as independent contractors. A freelancer is a good choice if you have minimal SEO requirements.
Another good thing about freelancers is that you can hire one anytime at your convenience and it is also usually cheaper than outsourcing companies. 
There are plenty of freelance websites available today. If you are opting to hire a freelancer, your options are – Upwork, Fiverr, Freelancer.com, and more.  
However, the drawbacks to hiring freelancers are that certified skills and experience are not guaranteed. There are also cases wherein freelancers are not up-to-date with the latest trends and SEO requirements. 
BPO firms 
Business Process Outsourcing (BPO) firms in the Philippines do not just specialize in one service alone. You won't have to look for other service providers if your organization also needs support on other aspects. 
With the assistance of trusted outsourcing firms like The Remote Group, you won't be required to train and provide your outsourced staff with tools and other resources.
BPO companies see to it that they provide high-quality services by investing in the latest technology and top-notch professionals. 
Is SEO outsourcing in the Philippines your next move? 
Outsourcing in developing countries like the Philippines helps growing businesses to save entirely on overhead costs.
On top of that, Filipinos are widely known to be hardworking individuals with excellent work ethics. 
BPO companies in the country have teams of SEO professionals that specialize both in online marketing and SEO services. 
Allow us to help you partner with the best outsourcing firm that understands your type of business needs! You may look through our list of Top 40 BPO companies in the Philippines. We also currently have over 3,000 BPO companies that are listed in our Directory.