Support Shepherd: Overview, reviews, and latest news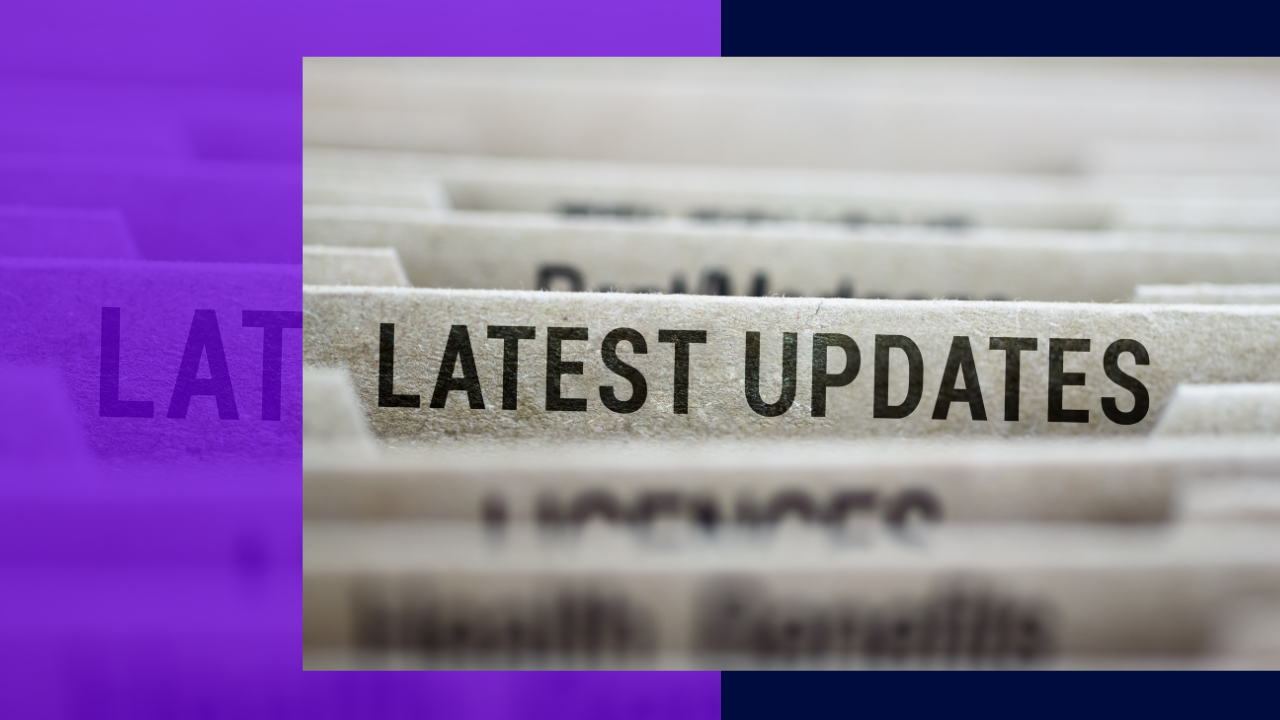 Support Shepherd is a rising star in the outsourcing industry, aiming to transform how Western businesses hire and manage outsourced talent.
With a specialized focus on headhunting and a commitment to up to 80% cost savings, Support Shepherd has quickly gained attention as a valuable agency for businesses seeking dedicated teams with specific skill sets.
About Support Shepherd: A quick introduction
Founded by Marshall Haas in 2009, the company has attracted a team of experienced professionals dedicated to connecting businesses with top-tier talent.
This article will focus on its story, reviews and comparisons, and the company's latest news and updates.
Support Shepherd reviews and comparisons
The rising firm has been generating buzz in the outsourcing industry. Overall, Support Shepherd has received positive feedback for its ability to connect businesses with highly-skilled outsourced talent while achieving significant cost savings.
Clients lauded Support Shepherd's streamlined process and headhunting expertise, emphasizing the agency's efficiency in identifying suitable candidates and managing the hiring process.
As seen on its website, some of the Support Shepherd reviews include the following:
"We've always wanted to hire globally but have struggled to find great candidates. That all changed when we started working with [Support] Shepherd." – Andrew Wilkinson, Managing Partner at Tiny.

"The [Support] Shepherd team helped me hire a new EA recently and it's already been such a great addition to my team. Can highly recommend!" – Adii Pienaar, Creator of WooCommerce.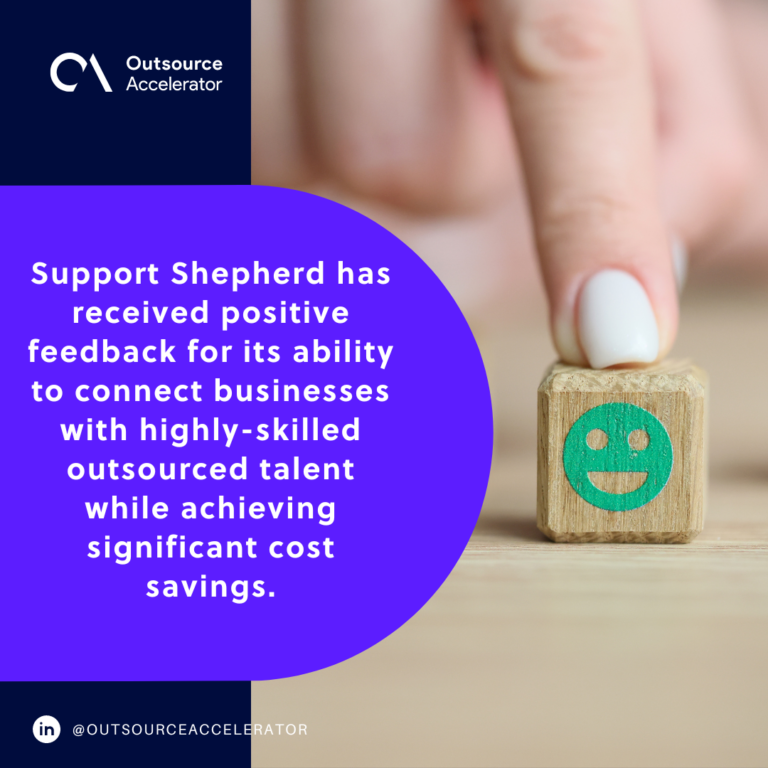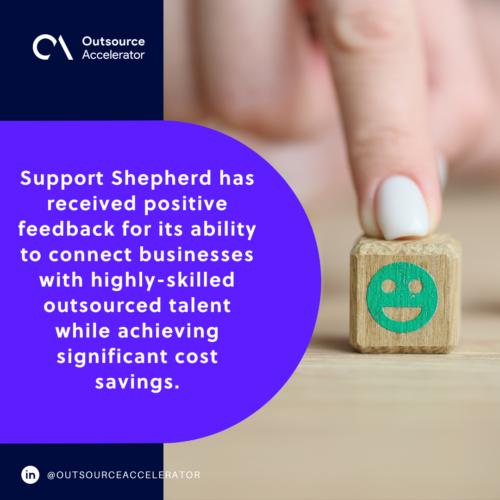 Support Shepherd comparisons
Support Shepherd comparisons with other headhunter agencies in the market can provide further insights into the firm's positioning and unique offerings. 
Compared to more generalized freelancing platforms like Upwork and Onlinejobs.ph, Support Shepherd, as a younger agency, focuses on key sectors such as customer support, virtual assistants, and software development.
Each platform has its own strengths and considerations. Support Shepherd specializes in headhunting, ensuring businesses are connected with dedicated teams tailored to their specific requirements.
On the other hand, Upwork provides a broader range of freelancers and flexibility in project-based hiring.
Onlinejobs.ph, in contrast, is a platform focused specifically on the Filipino workforce. It connects businesses with remote Filipino professionals across different fields, including virtual assistants, customer support representatives, web developers, and more.
Support Shepherd careers
Support Shepherd offers careers to Filipino talent while providing the services needed by Western businesses.
You can ask Support Shepherd to recruit and hire talents in the following roles:
Full stack developers

Virtual assistants

Executive assistants

Content writers

Back-end developers

Data scientists

Graphic designers

Social media managers

Financial analysts

Sales representatives

Live chat agents

Procurement specialists

Bookkeepers

Video editors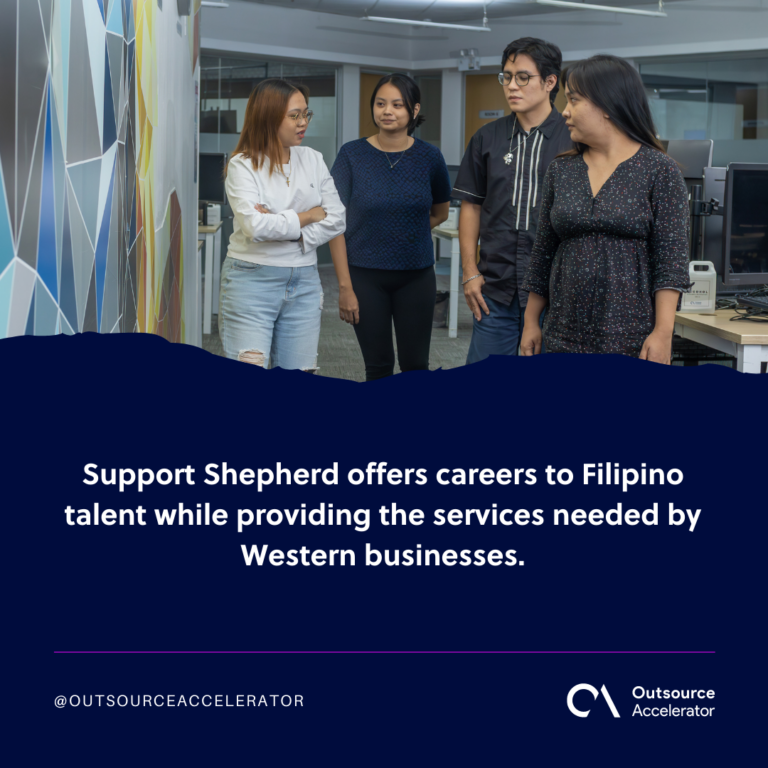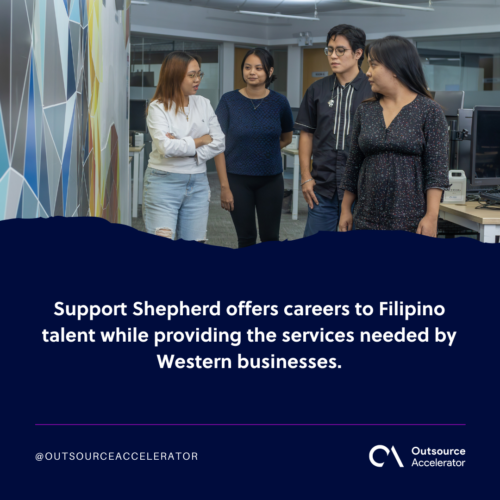 Support Shepherd: Latest news and updates
Support Shepherd started hiring in the Philippines in 2009. Over a decade later, the company still welcomes exciting updates and opportunities!
Recently, news broke that Sweaty Startup founder Nick Huber and Milk Road chairman Shaan Puri invested in Support Shepherd. The two business influencers shared their involvement and latest investment into Support Shepherd on the 464th episode of My First Million podcast.
Puri praised and highlighted the perks of hiring Filipino talent, making him interested in investing in Support Shepherd.
"I'm super psyched about it," said Puri.
More specific details about the deal weren't disclosed, but we will update this page once we find more information and updates in this space.