How to hire Filipino staff through Support Shepherd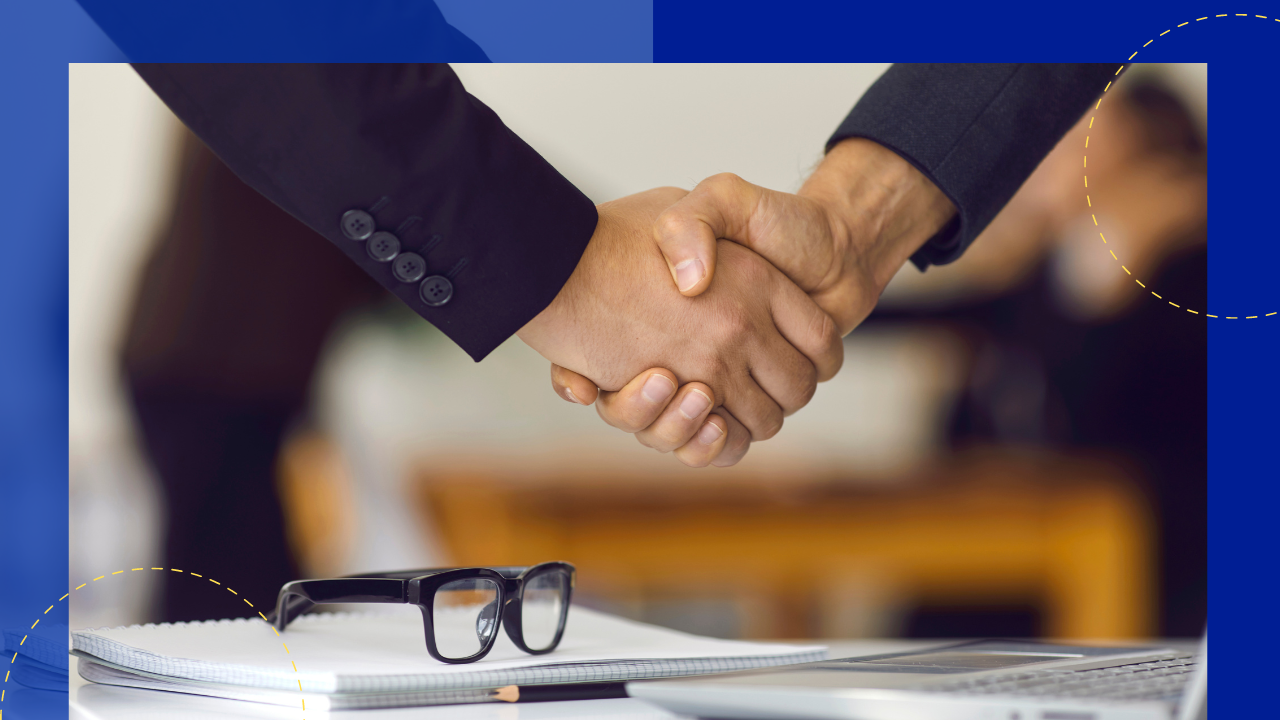 Outsourcing is a strategic business practice that has become integral to many organizational operations. It allows companies to tap into global talent and optimize their resources. 
Outsourcing delegates certain tasks and functions to external parties, often in different countries. One country that has built up a reputation as an outsourcing powerhouse is the Philippines. 
By hiring Filipino staff, businesses can tap into a talent pool of specialized skills, achieve scalability, and focus on their core competencies. Support Shepherd is here to help them. 
Support Shepherd: Company overview
Support Shepherd is a rising headhunter agency that caters to Western businesses. The firm aims to revolutionize how the West approaches outsourcing talent, with a focus on connecting businesses with dedicated teams and specific skill sets. 
Although relatively young, Support Shepherd's leadership draws from over ten years of experience in hiring and recruiting.
The team currently consists of 100+ headhunters based in the Philippines, armed with a robust database of vetted candidates. 
Recently, Support Shepherd has been in the news for receiving investment from Sweaty Startup founder Nick Huber and Milk Road founder Shaan Puri.  
Huber has shown a knack for identifying potential ventures, while Puri brings a wealth of experience in the e-commerce and entrepreneurship landscape. Their involvement heavily endorses Support Shepherd as a firm set to significantly impact the outsourcing industry.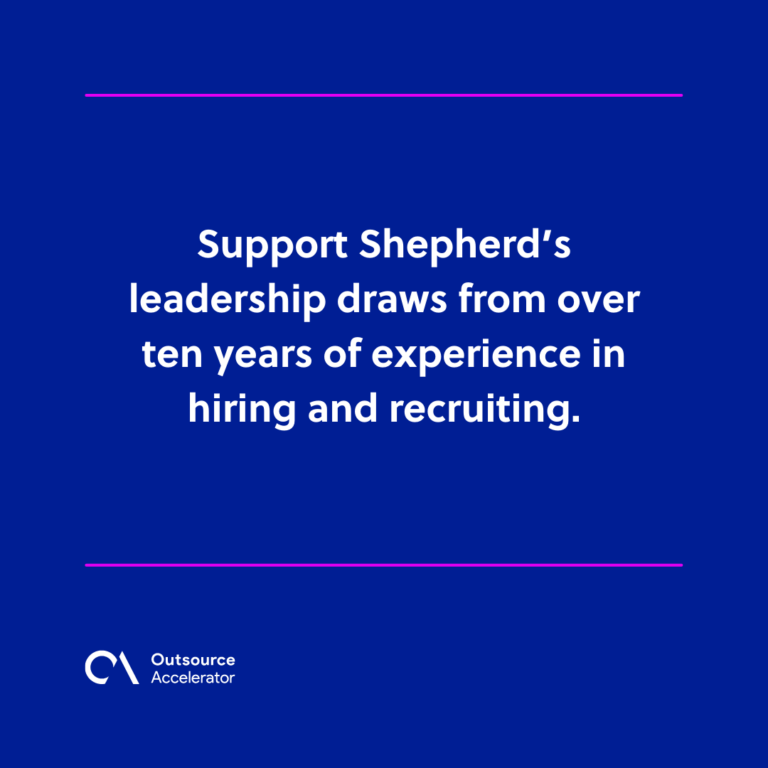 Hire staff through Support Shepherd
It can be difficult to navigate the hiring process from a global talent pool, let alone actually find candidates that meet your needs.
While exploring freelance platforms may provide solutions for some companies, those come with much greater risks compared to recruitment agencies. 
This is where Support Shepherd comes in. 
Support Shepherd specializes in recruiting talent from Latin America and especially the Philippines for a variety of business roles. 
Through Support Shepherd, you can hire full-time remote employees based in the Philippines for around 10,000 USD per year. This will save you as much as 80% compared to hiring onshore US equivalents. 
Support Shepherd guarantees these qualities when they hire Filipino staff for your organization: 
Exceptional English skills and experience with a remote work setup.

A diverse range of talent in skills across sales, customer support, operations, programming, finance, and creative roles. 

A

work culture and ethic

that can adjust well to your existing US workforce, enabling seamless transition and collaboration.
Benefits of hiring Filipino staff
You can get several benefits by hiring Filipino staff through Support Shepherd. Here are some of the key advantages: 
1. Cost-effectiveness
One of the principal reasons companies choose to outsource to the Philippines is the cost advantage. 
The Philippines' labor costs are relatively lower than many Western countries. This makes it an attractive option for companies looking to reduce their operational expenses.
2. Skilled and educated workforce
Filipinos are known for their strong educational background and proficiency in English. The country has a high literacy rate, and English is widely spoken and understood – making communication with Filipino staff smooth and efficient. 
Support Shepherd promotes this advantageous language proficiency to companies looking to cater to English-speaking markets.
3. Cultural compatibility
Filipinos have a strong affinity for Western culture due to their exposure to American influences and a long history of working with international clients. 
This cultural compatibility bridges the gap and fosters better collaboration between the outsourcing team and the client's organization. The result is smoother operations.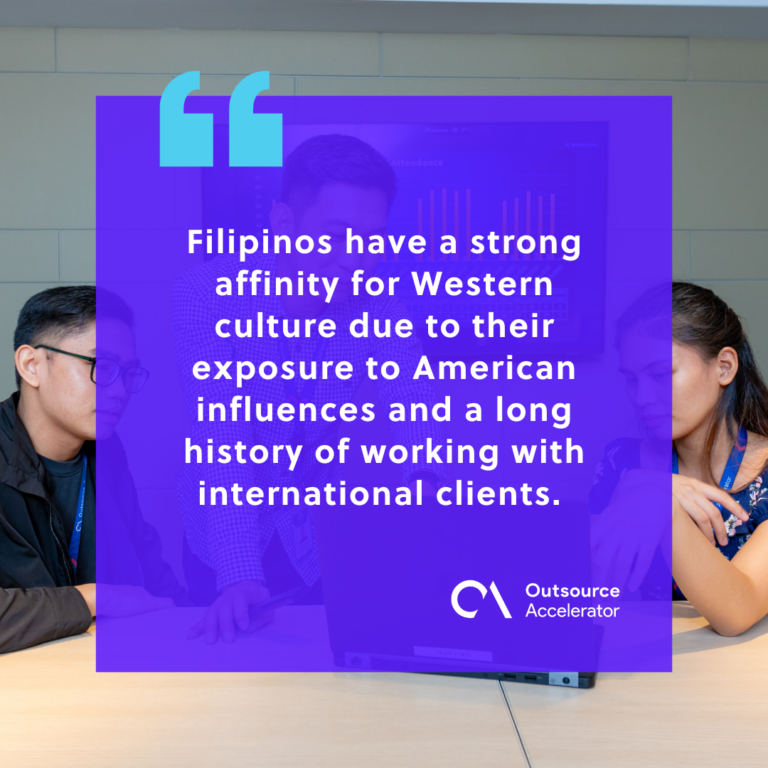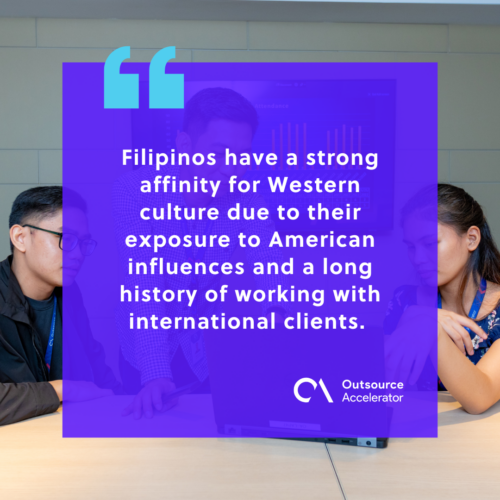 4. Work ethic and dedication
Filipino workers are often praised for their strong work ethic, loyalty, and dedication. They are known to be hardworking, reliable, and willing to go the extra mile to deliver high-quality work. 
Support Shepherd knows that this commitment to their tasks can significantly benefit businesses, ensuring the timely completion of projects and meeting client expectations.
5. Time zone advantage
The Philippines is strategically located in a time zone that allows for convenient collaboration with businesses in North America, Europe, and Australia. 
This time zone advantage enables companies to extend their business hours. Filipino staff can then provide round-the-clock services and faster response times to clients.
6. Availability of specialized skills
The Philippines has a thriving outsourcing industry, which has led to the development of a diverse talent pool with expertise in various domains. 
From customer service and IT support to graphic design and digital marketing, Filipino professionals can bring specialized skills to the table.
Companies can access a wide range of services without investing in extensive training or hiring additional in-house staff.
7. Scalability and flexibility
Hiring Filipino staff through Support Shepherd offers scalability and flexibility for businesses. 
Companies can easily scale their operations up or down based on their requirements without the hassle of hiring and training new employees or laying off existing staff. This adaptability allows businesses to remain agile in response to market changes.
8. Focus on core competencies
Companies can focus their internal resources on core competencies and strategic initiatives by assigning non-core functions to Filipino staff. 
This streamlining of operations can lead to increased efficiency and productivity. Your business now has greater opportunities to grow and innovate.
Partnering with Support Shepherd is a wise business choice when hiring Filipino staff. By entrusting your recruitment to Support Shepherd and its talented team, you can leverage the benefits of a dedicated workforce.