Freelancers or outsourcing agencies, which is the better option for your company?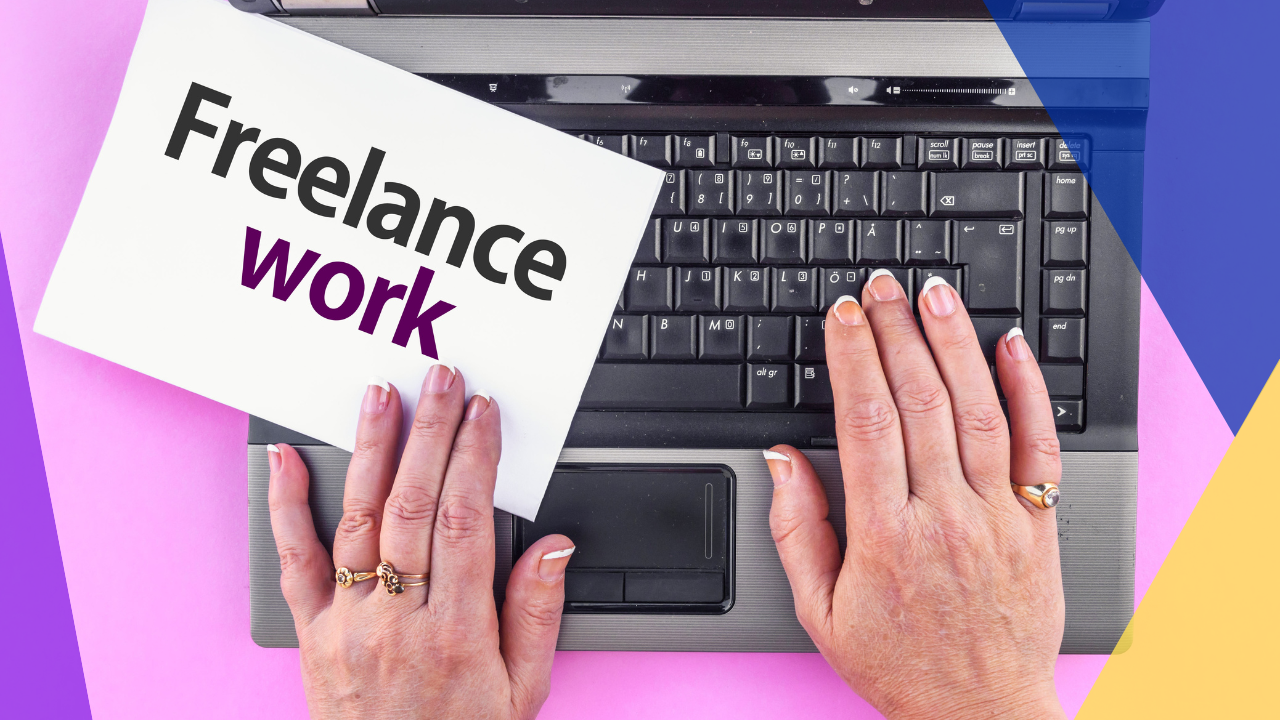 Freelancers or outsourcing agencies, which is the better option for your company
We're now witnessing a bright age in global workforce expansion. The internet, mobile workstations, and ease of transacting online have all made their mark on industries worldwide, especially in the IT sector, the financial sector, the creative sector, the service sector, and many others.
We have two types of remote workers to thank for these developments and for the competitive edge they've helped smaller businesses achieve. These are the freelancers or individual contractors and outsourced agents.
The two are often the subject of lively debate: are freelancers the best option to grow businesses on a budget, or is it a smarter decision to rely on full-fledged business process outsourcing (BPO) companies? Either mode has its own unique set of perks and drawbacks, as well as the potential to yield some world-class results.
If you're part of a business that is aiming to change up its expansion strategy and is looking for help in the different corners of the globe, you should weigh your decision on the following factors: recruitment, marketplace conditions, safety, the standard of work to be achieved, and costs.
Read up on these takeaways per issue and see which mode has a strategic advantage over the other.
Recruitment
Even if you're trying to cut down on labor costs, you won't want to scrimp on hiring international contractors for your office.
The great news is that there's no lack of skilled and well-educated global contractors out there.
In that talent pool, there are freelancers who practically have name-brand recognition for the specialized work that they do and outsourcing agents that are a commanding force in their industry.
In this respect, we think that the playing field for freelancers and outsourcing agencies is wide as well as even.
Marketplace conditions
On the other hand, the quality of labor you're seeking out might also depend on where it's sourced from.
Freelancing sites like Upwork, Freelancer, Fiverr, and the like accumulate high traffic and serve as hubs for thousands of freelancers. But not all of them contribute to the gig economy at an even pace.
In fact, the breadth of portfolios available on these sites can cause choice fatigue, and there's a risk that the quality of work won't be worth the time you spent browsing. The same can apply to combing the Google rankings for the best outsourcing agents.
However, boutique services such as match-ups between clients and compatible outsourced providers also exist to streamline this tedious search.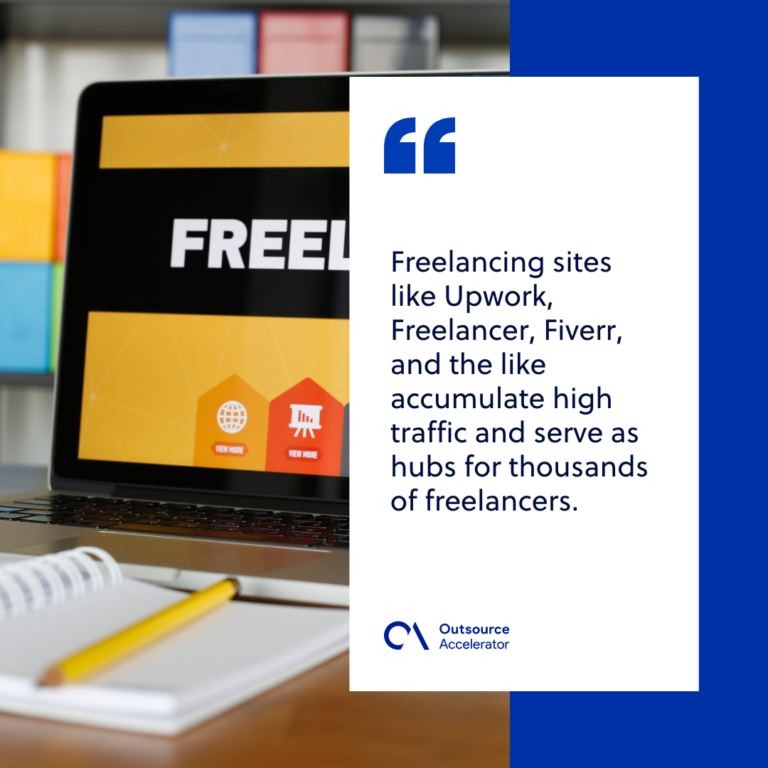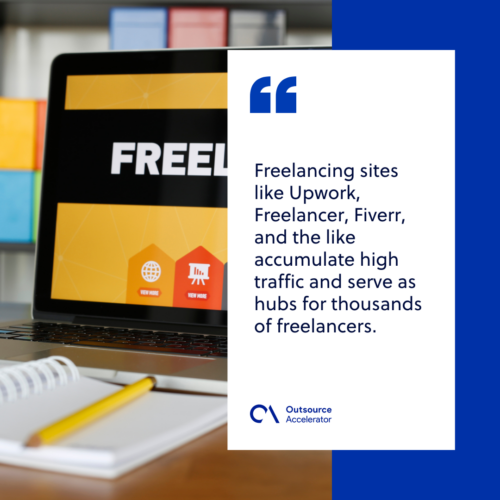 Safety
If we bring up marketplace conditions, it's impossible to mention the possible safety concerns of transacting within them.
Take note of some scams to watch out for on popular freelancing sites, as not all registered users have the best intentions for you as a client.
In this regard, outsourcing has the advantage. Most outsourced companies adhere to trade regulations and sound business practices. You'll be investing in their reputation and trustworthiness as well as their talent.
Standard of work
Some clients will find working one-on-one with freelancers very fulfilling. The best freelancers can bring a very personal, tailor-fit exclusivity into the quality of their work.
That's why work that's set on a per-project basis and that is demanding of very specialized and creative skills seems a good fit for freelancers. However, if there's a great volume of work to be done and you are looking for a uniform standard of service delivery, it may be better to put your trust in a full-fledged outsourcing company.
It's also easier to bank on outsourcing agencies for long-term engagements as they will likely have the manpower and the protocols to see these through.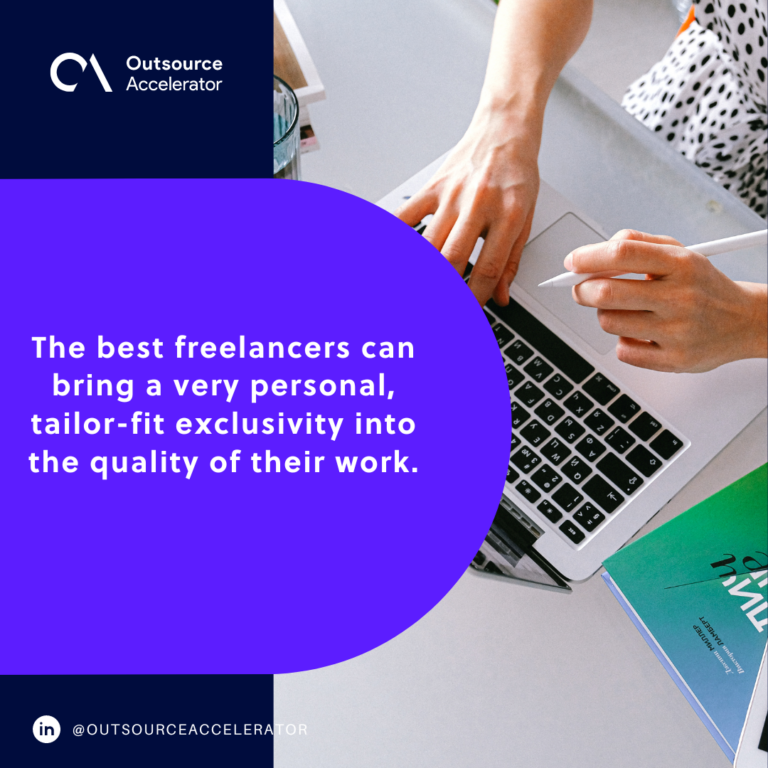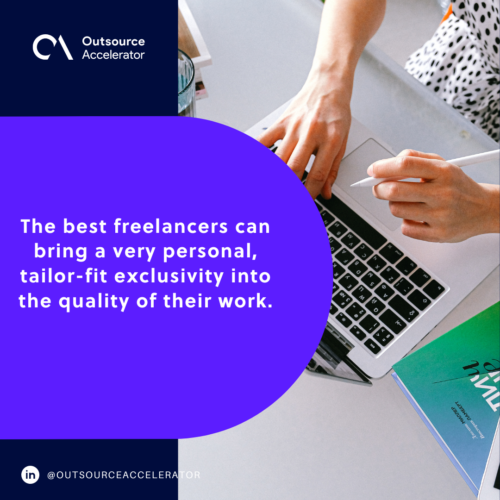 Costs
Down the line, this is probably the biggest reason why you want to contract with a freelancer or with an outsourcing agency.
It's a common misconception that it will be cheaper to hire a freelancer over an entire company and that it is the best way to cut costs at the moment. The fact of the matter is this: hiring an individual isn't the only way to get a bigger bang for your buck.
The important thing is to assess the costs per service, hours to be rendered, and experience level, which varies from job to job. It'll be possible to obtain very fair rates even with the machinery of a BPO company.
Between freelancers and outsourcing agents, who do you think will emerge as the winner? That's for you and your company to decide.