Is Support Shepherd legit?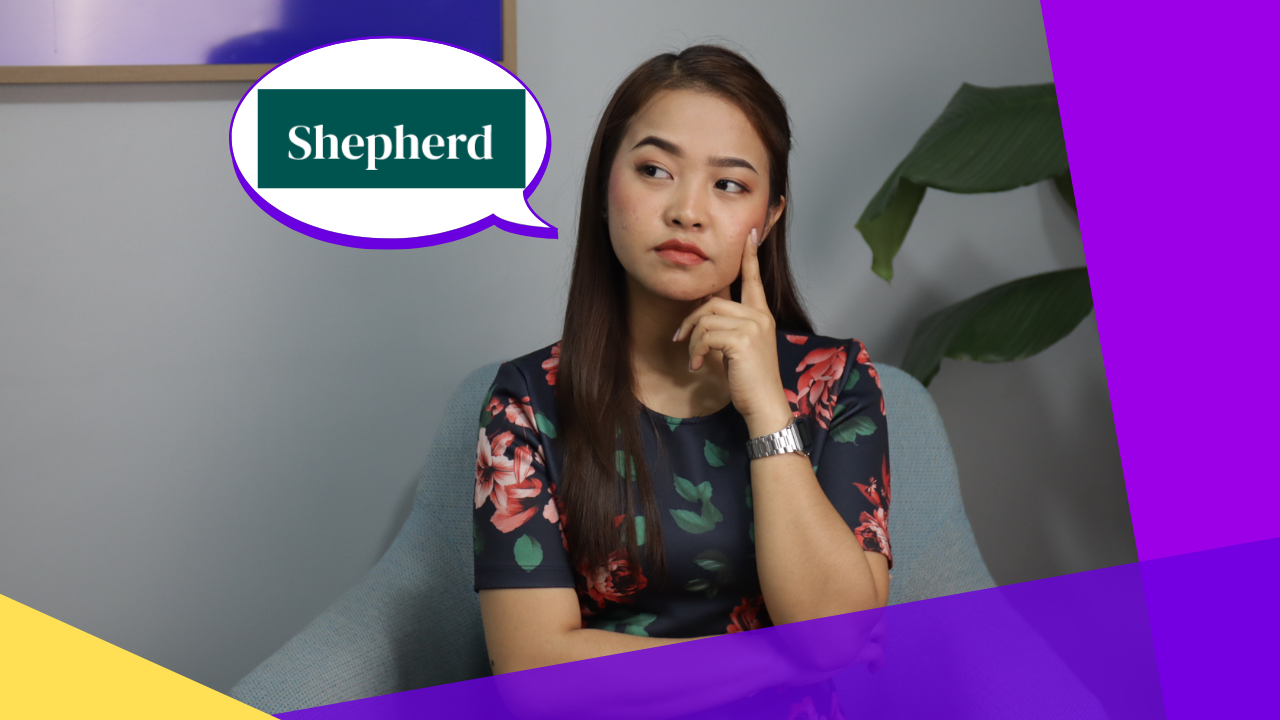 Support Shepherd is a rising headhunter agency that claims to revolutionize how Western businesses hire outsourced talent, offering potential cost savings of up to 80%.
As with any service, assessing its legitimacy and effectiveness is important before making any commitments.
In this article, we will delve into Support Shepherd, examining its reviews, competitors, pricing, and ultimately answer the question: Is Support Shepherd legit? Or is Support Shepherd a scam?
Support Shepherd reviews
Is Support Shepherd legit? To determine the firm's legitimacy, it is crucial to examine Support Shepherd reviews and feedback from employees and clients who have utilized their services.
While Support Shepherd is a relatively new player in the headhunter agency market, there are positive indicators of its effectiveness.
Their website alone boasts the testimonials of their happy clients. Some include Nick Huber of The Sweaty Startup (who later on became a partner), serial entrepreneur Codie Sanchez, and other CEOs.
Here are some of the reviews on the company's website:
"Shepherd helped us quickly select top talent for our Customer Service team. It was easy, painless, and fast. We're very happy and will definitely be back for more!" – Patrick Coddou, CEO at Supply.

"We were most impressed by the high quality of the candidates presented to us. We've been able to get wonderful talent to support our team." – Kaitlyn Witman, Co-Founder of Rainfactory.
As for their employees, Support Shepherd reviews were a mix of high and low. Here are some of the reviews from their Indeed account:
"I'm very thankful to Support Shepherd for connecting me to the best client I've ever had! It only took me around 4 days to get hired… I would definitely refer this company to a friend." – Data analyst

"To all applicants in this company, I would suggest finding another company because this Support Shepherd has management issues, and it will affect you in every way." – Customer service representative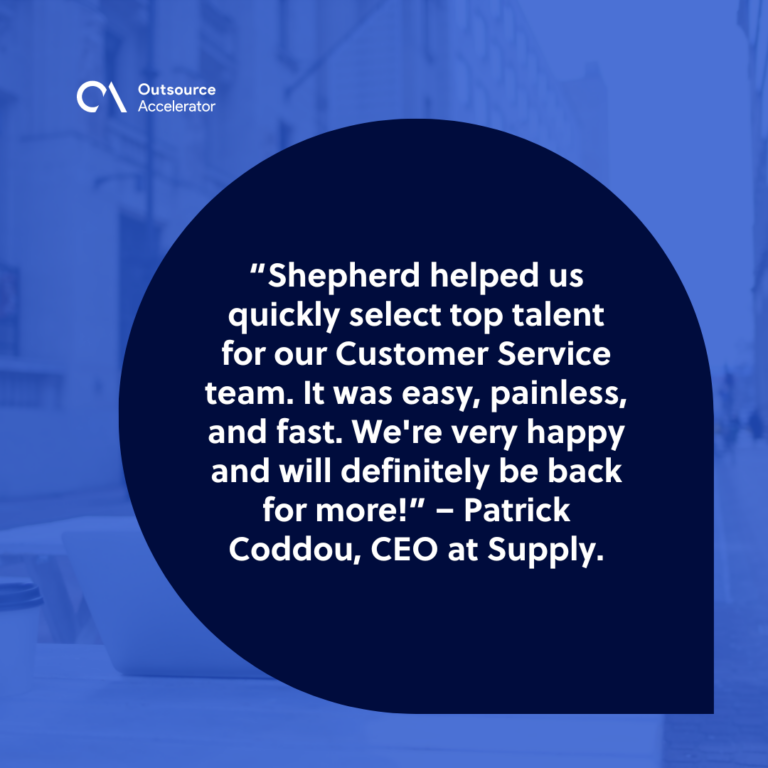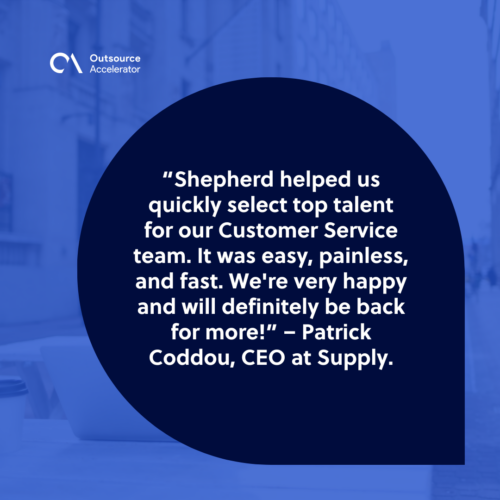 Support Shepherd competitors
While there are various players in the industry, some notable Support Shepherd competitors include Onlinejobs.ph and Upwork.
Support Shepherd vs. Onlinejobs.ph
Support Shepherd is much younger compared to Onlinejobs.ph. Founded in 2008, Onlinejobs.ph claims to be the "largest online database of Filipino online workers and professionals."
The main difference between the two is Support Shepherd has also ventured into hiring Latin talent.
Support Shepherd vs. Upwork
Upwork is a well-known freelancing platform that offers a wide range of talents, including remote professionals. Support Shepherd distinguishes itself by specializing in headhunting services for Western businesses.
They focus on connecting businesses with dedicated teams and specific skill sets and optimizing the outsourcing process for customer support, virtual assistants, and software development.
This targeted approach allows the firm to streamline the talent acquisition process for businesses seeking specific expertise.
On the other hand, the Support Shepherd competitor is a broader freelancing platform offering various talents across various industries. It caters to businesses of all sizes and provides access to a vast pool of freelancers who offer diverse skill sets.
Upwork also offers more flexibility in project duration and allows businesses to hire freelancers on a project-by-project basis.
Support Shepherd comparisons
To make an informed decision, it is essential to assess the strengths and weaknesses of Support Shepherd.
The agency offers several advantages, including expertise in headhunting outsourced talent, customized solutions for Western businesses, and significant cost savings.
By leveraging their network and experience, Support Shepherd aims to provide efficient and tailored solutions to meet clients' specific needs.
However, it is important to consider potential drawbacks. As a relatively new player in the market, Support Shepherd may have a smaller pool of available talent than established agencies.
Further, while cost savings are emphasized, it is crucial to assess the quality and reliability of the outsourced talent provided to ensure it aligns with the client's standards and requirements.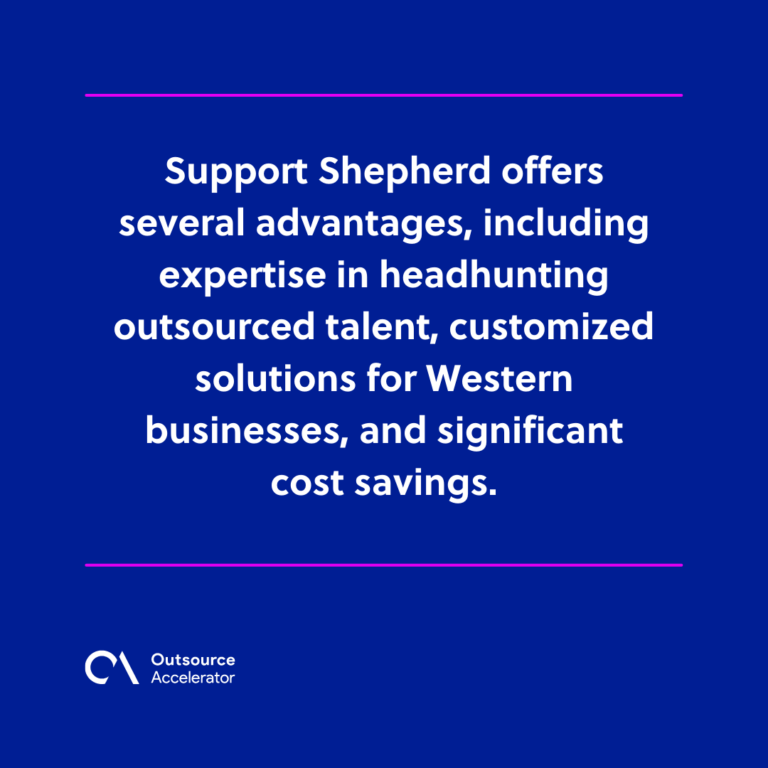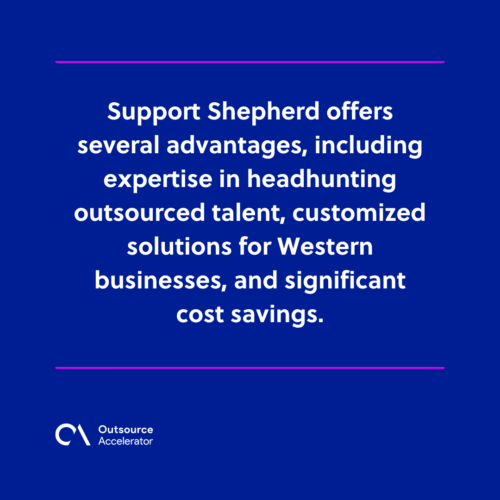 Support Shepherd pricing
Support Shepherd's pricing is pretty straightforward. Support Shepherd charges a 35 per cent headhunter fee on the new employee's first year's full-time salary.
If you hired a new employee through the company and their annual salary is $12,000, Support Shepherd will charge a one-time fee of $4,200.
Is Support Shepherd a scam?
Support Shepherd is not a scam company. Based on the available information, there is no evidence to label Support Shepherd as a scam. 
While the agency is relatively new, positive client reviews indicate its effectiveness in connecting businesses with cost-effective outsourced talent.
Their specialization in headhunting for Western businesses seeking specific skillsets sets them apart from broader freelance platforms.
In fact, Support Shepherd offers a 90-day guarantee to new hires.
If a client hires a new employee and the relationship doesn't work out in the first 90 days, Support Shepherd will do another hiring for the same role – for free!