Mastering the art of support operations: A comprehensive guide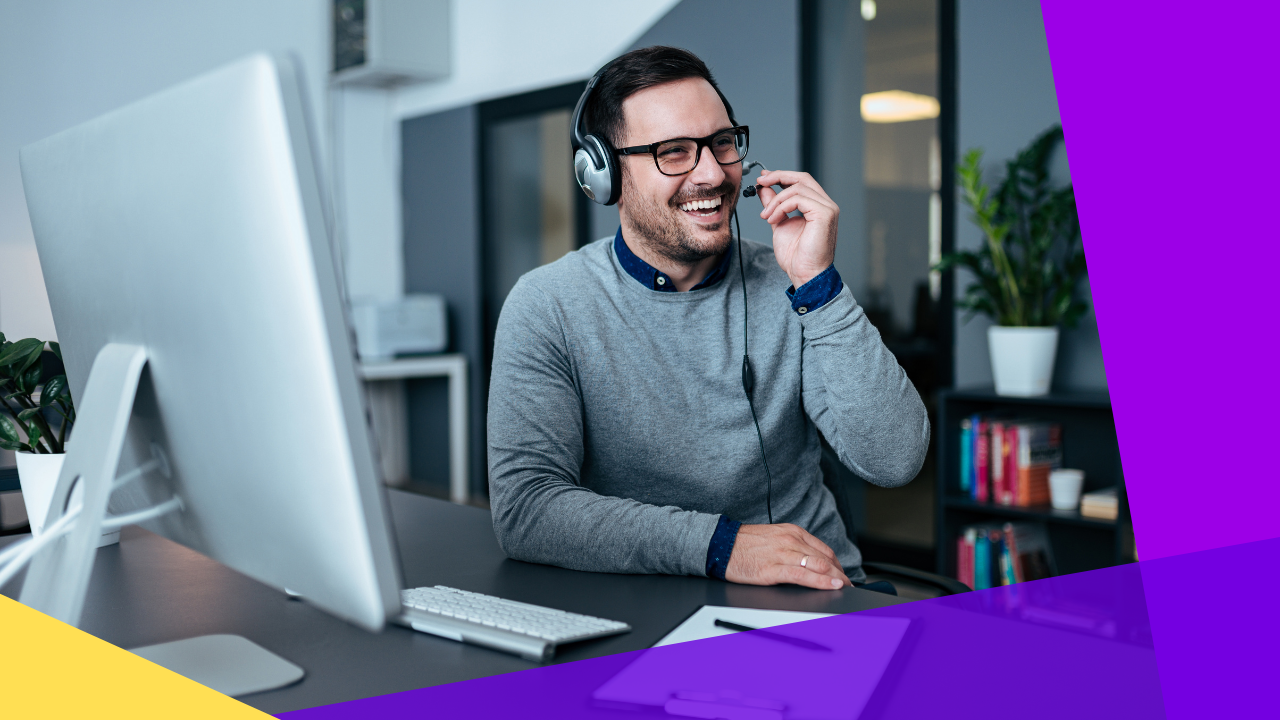 Managing customer interactions can be challenging for many businesses. The rise of digital channels and the demand for personalized customer service calls for brands to find ways to manage their interactions across all touchpoints effectively. 
This challenge is further compounded by the need for businesses to provide a consistent, seamless customer experience in all communication channels. 
Many firms are able to augment their customer interactions by outsourcing their support operations to reliable third-party providers like 123Employee. 
Partnering with 123Employee lets them leverage the latest technology and strategies to better understand, engage, and respond to customer needs.
What are support operations?
Support operations refer to the processes, systems, and teams responsible for providing assistance and resolving issues for customers or users of a product or service. 
It involves support channels like phone, email, chat, or self-help resources like FAQs or knowledge bases.
A support operations team must be structured effectively. Staff should be equipped with efficient processes, modern tools, and advanced technologies to meet clients' demands. 
Good support operations are critical to customer satisfaction, loyalty, and overall business success.
123Employee's support operations teams can easily navigate the intricacies of customer service. Combined with their extensive experience and top-tier resources, they can promptly and effectively address unique and diverse issues that may arise.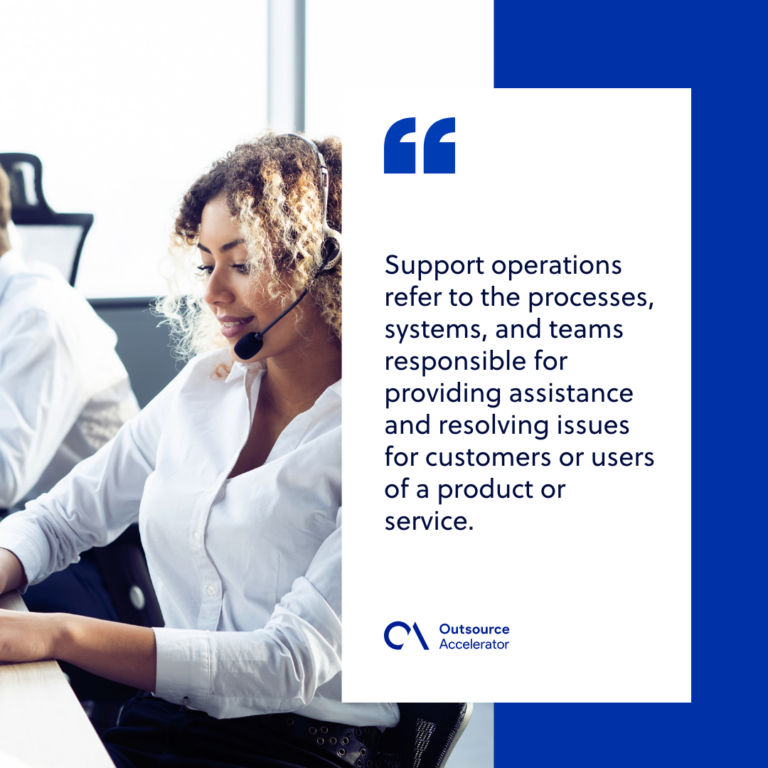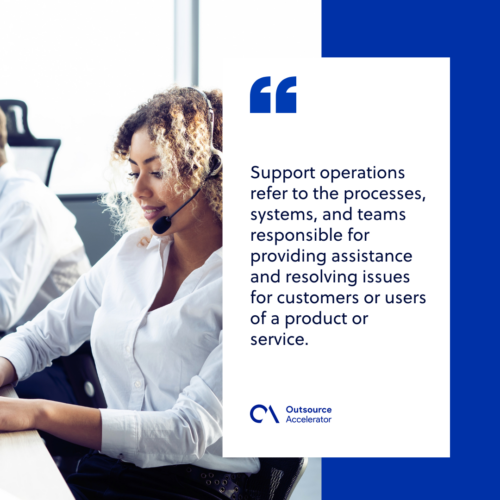 What does a customer support operations
team
do?
A customer support operations team undertakes a multifaceted range of duties, such as:
Managing customer inquiries and grievances

Developing customer support strategies

Training and overseeing customer support personnel
As the first line of customer communication, the team's primary function is to respond to inquiries and complaints quickly and professionally. This ensures that any issues are resolved and customers are left satisfied.
In addition to handling customer inquiries and complaints, the team interprets feedback and data to identify areas for improvement. It allows them to create innovative strategies to enhance the overall customer experience.
The team is also responsible for training and guiding customer support staff, ensuring they possess the necessary skills and knowledge. Doing so allows them to provide exceptional customer service consistently.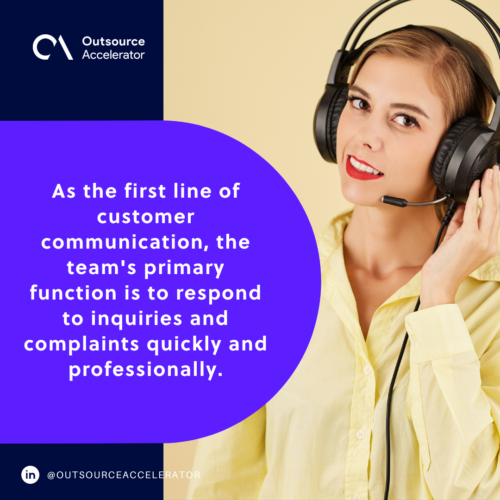 Skills to look for in a customer support operations team
The support operations team performs a vital function in any company. A solid workforce can increase customer satisfaction, foster customer loyalty, and benefit the business.
Below are six skills companies should look for when employing a support operations team:
Excellent communication skills
Being able to effectively communicate verbally or in written form in various channels is essential. Understanding detailed information clearly and concisely is also crucial to support operations staff. 
This skill set helps manage customer expectations, resolve issues, and provide necessary information to other teams in the organization.
Empathy and patience
Empathy and patience are also vital qualities that customer support team members should possess. By understanding the customer's problem and providing necessary support, the team can build trust and loyalty, creating a positive company image.
Problem-solving skills
Problem-solving skills are another important requirement for any customer support team. Members must possess the technical aptitude and be able to identify the root cause of the issue to support customers. 
They should provide helpful solutions and technical support whenever necessary.
Adaptability and Flexibility
Customer support teams must be adaptable and flexible to adjust quickly to new processes and technologies. 
Attention to detail is also crucial, as team members should meticulously approach resolving customer issues and providing support.
Positive Attitude
Having a positive and friendly attitude is needed for customer support operations. 
Team members should be confident when interacting with customers to diffuse tense situations, build trust and rapport, and create a positive company image.
Time Management Skills
Effective time management is critical in supporting operations. Team members should prioritize tasks and manage their time efficiently to resolve all customer issues promptly. 
Good time management ensures that customers do not have to wait long for solutions to their problems.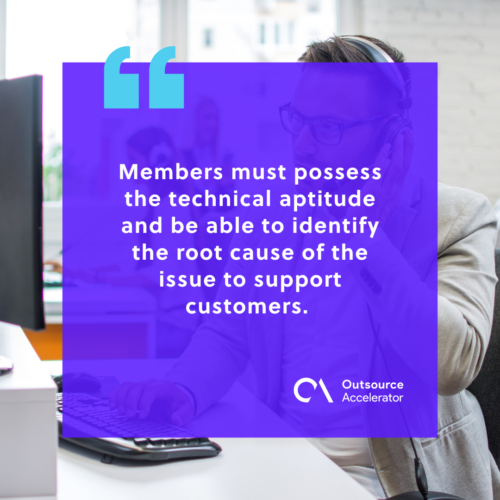 Outsource your support operations with 123Employee
123Employee is a well-known provider of outsourcing solutions for businesses of all sizes. Outsourcing your support operations to 123Employee can be a game-changer for your business!
With their cost-effective, high-quality outsourcing solutions, you can free up time and resources to focus on growing your business. 
Contact 123Employee today to get started!