Empowering success quotes for your growing business
Driving your startup business to success is probably one of the most difficult challenges you will face. It requires a certain kind of resilience, focus, and passion despite all the setbacks and failures you may encounter along the way.
Whenever you feel exhausted, frustrated, or worried about your plans, you can read the following inspirational business quotes to motivate you. Moreover, you can use each one and apply it as a principle in your company.
You might get an additional creative push for your products or services. Enjoy reading!
Success quotes for businesses
1. "Always deliver more than expected." — Larry Page
Lawrence Edward "Larry" Page is best-known as one of the co-founders of Google along with Sergey Brin in September 1998. He served as the CEO of the company until July 2015.
Page is the co-creator and Google's search ranking algorithm PageRank. He became a member of the National Academy of Engineering in 2004 because of his contribution to the creation of the Google search engine.
2. "Be undeniably good. No marketing effort or social media buzzword can be a substitute for that." — Anthony Volodkin 
Like some successful entrepreneurs, Anthony Volodkin got his start by trying to solve an everyday problem — looking for a better way to find cool new music.
While attending university, Volodkin started to build a website called Hype Machine. It would show the most recent posts of music blogs, sample the songs, and let people know the popular ones.
Volodkin's music website became popular even before he graduated from college. Gawker founder Nick Denton once told CNN that Hype Machine was "the future of all media."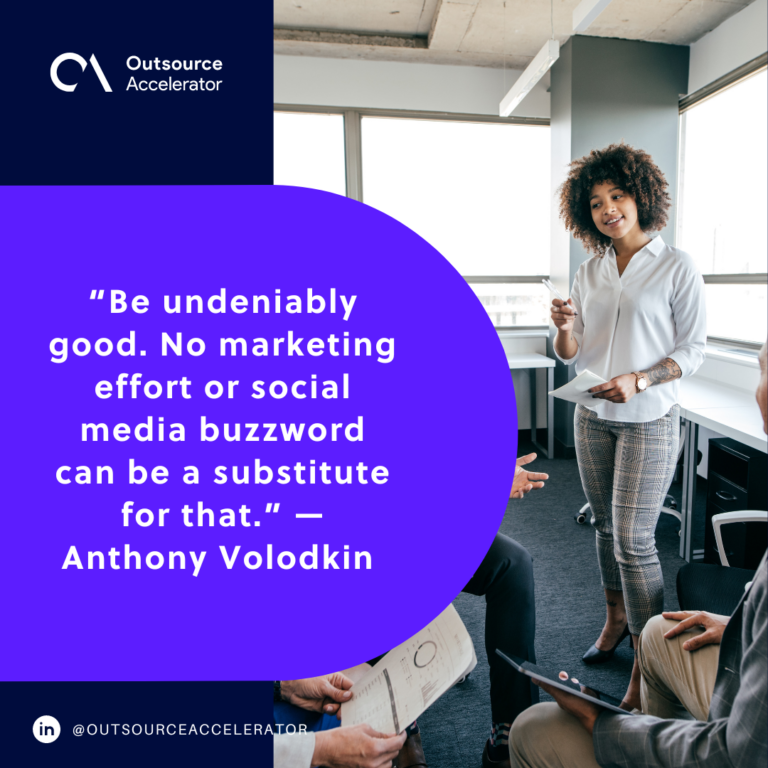 3. "What do you need to start a business? Three simple things: know your product better than anyone, know your customer, and have a burning desire to succeed." — Dave Thomas
Rex David Thomas was an American businessman and philanthropist who is best known as the founder and CEO of Wendy's. He also appeared in over 800 advertisements for the hamburger chain from 1989 to 2002.
Thomas opened the first Wendy's restaurant on November 15 and named it after his 8-year-old daughter. Popular for its square hamburgers and various toppings, the fast-food chain now has several franchises across the world. 
4. The value of an idea lies in the using of it." — Thomas Edison
Thomas Alva Edison was a well-known inventor and businessman often described as America's greatest inventor. His inventions provided a crucial impact on the industrialization of the world.
Further, he was one of the first inventors to recognize the value of teamwork in the process of invention. 
5. "Your most unhappy customers are your greatest source of learning." — Bill Gate
William Henry Gates III is the co-founder of Microsoft Corporation, along with his late childhood friend Paul Allen. 
During his tenure at Microsoft, Gates served as the chairman, CEO, president, and chief software architect. He is the largest individual shareholder in the company until May 2014. 
Gates is considered one of the most popular and influential entrepreneurs of the microcomputer revolution of the 1970s and 1980s.
6. "It's not about ideas. It's about making ideas happen." — Scott Belsky
Scott Belsky is best known for co-founding Behance in 2005. Millions of people have utilized the online portfolio platform to display their creative works and track top talents across the industry. 
He was included in Fast Company's "100 Most Creative People in Business" list in 2010. Scott served as the leader of Behance until 2016. 
7. "Chase the vision, not the money, the money will end up following you." — Tony Hsieh
Tony Hsieh had introduced the process of making the online shopping experience comfortable for customers through his tenure in Zappos. He was the CEO of the company from 2000 to 2020.
Under his leadership, Zappos was often listed in Fortune as one of the best companies to work for. Additionally, the online shopping brand is known for giving employees high salaries which helped in delivering exceptional customer service. 
8. "The most dangerous poison is the feeling of achievement. The antidote is to every evening think what can be done better tomorrow." — Ingvar 
Ingvar Kamprad is a Swedish entrepreneur who founded IKEA, the world's largest furniture retailer in the early 21st century, in 1943.
Upon its launch, IKEA initially sold items such as picture frames, jewelry, and nylon stockings over the telephone. As the business grew, he provided catalogs to clients. 
Currently, there are nearly 300 IKEA stores around the world. The company's phenomenal success made Kamprad one of the richest men in the world.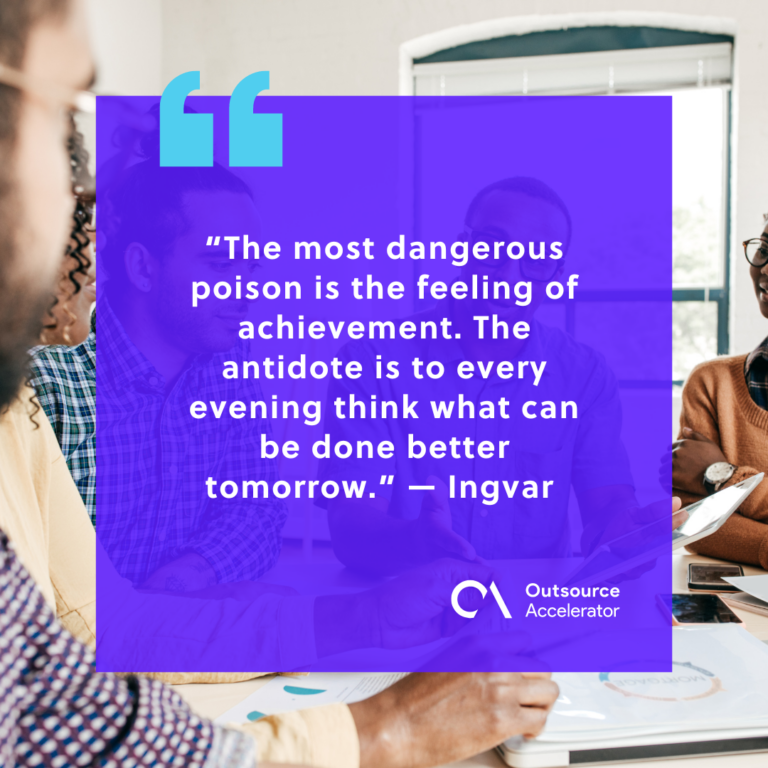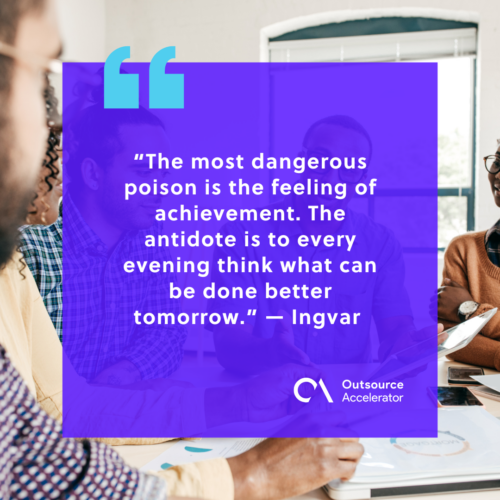 How can you apply these words to your business?
Inspirational quotes can be used to boost someone's or an organization's confidence. They encourage people to start their days with positivity and motivation. 
However, reading a quote alone is not going to inspire your business ventures. Find a way to apply these motivational words listed above
To all the entrepreneurs out there who needed the extra push today, we compiled these inspiring business quotes for you. Now, get inspired and change the world — one idea at a time.