Software development consultancy 101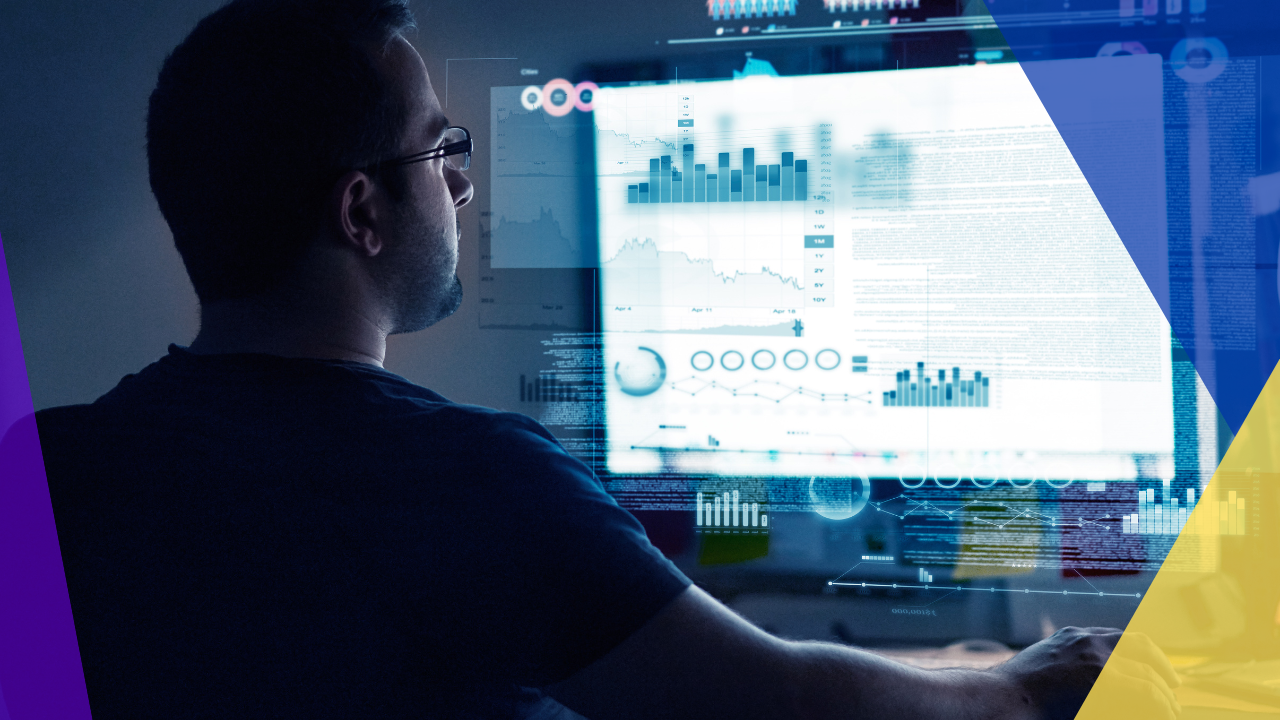 It is easy to get lost in the maze of technologies and services when trying to find the best fit for your business. Businesses can stay on the right track with the help of software development consultants. 
A good software development consultancy helps a company make informed decisions about the best technology solutions for its needs.
Consultants craft plans on how technology can serve different applications that benefit their clients. They do this by providing expert insight on what strategy, design, and technology you need to solve challenges with technology and technique. 
This can allow businesses to get a professional website, support their services with apps, and find platforms to help them deliver solutions faster. Some industries that tap into software consultancy include eCommerce, research, finance, and more. 
Knowledge of this practice can help businesses outsource software development the right way and find growth opportunities. 
Advantages of hiring a software development consultant
Software consultants can plan for web updates and keep abreast of industry trends. They can also help businesses thrive in their key aspects.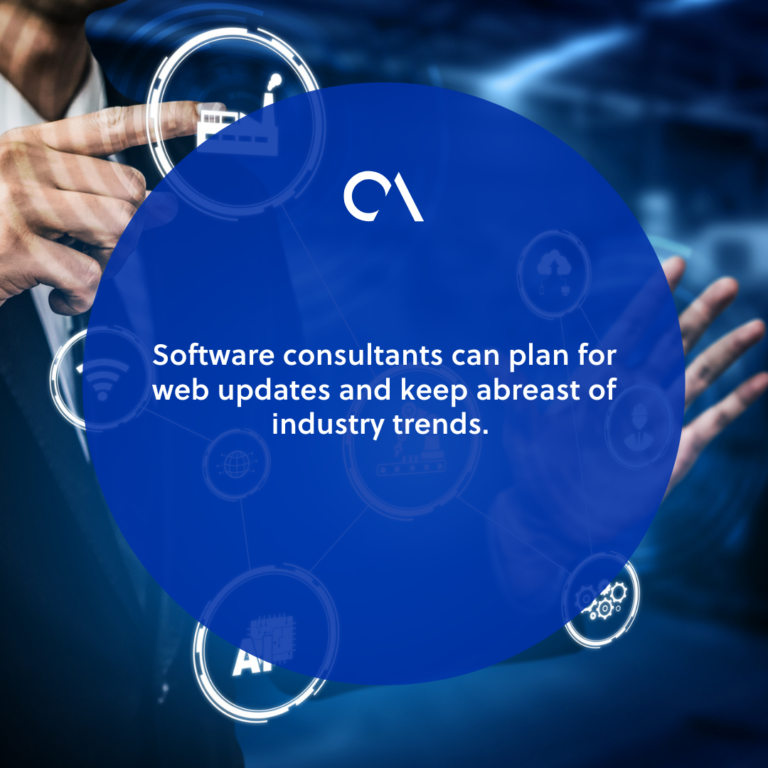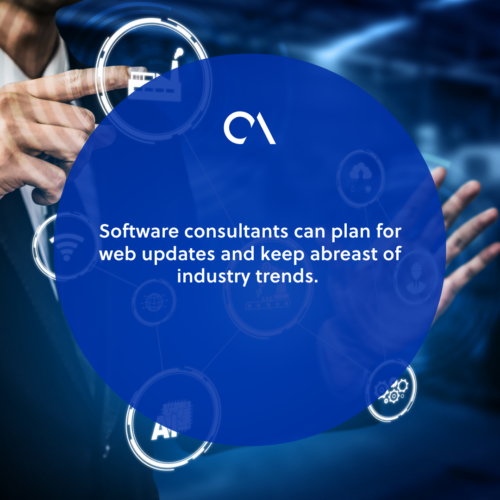 Cost savings
When starting a business, it is vital to have a clear understanding of what you need to do to succeed.  A consultant will help you assess your position and the resources available to obtain a realistic view of how your business can be improved.
This saves time and money that you would otherwise be spent trying to build the right team. It also provides this service without sacrificing flexibility. 
Quick Time to Market
Time to Market is the time it takes to bring a product from inception to market. Studies have found time to market is one of the key differentiators that can set brands apart.
Having a consultant to improve and simplify your process helps optimize processes and get your solutions closer to launch. 
This is especially important for start-ups that still need to establish a strong market presence.
Expert opinion
Software development consultants aid businesses by providing insight into customer needs, implementation, and other key business aspects to help ensure a successful launch. This allows its customers to operate with data-backed and tried and actual strategies instead of guesswork.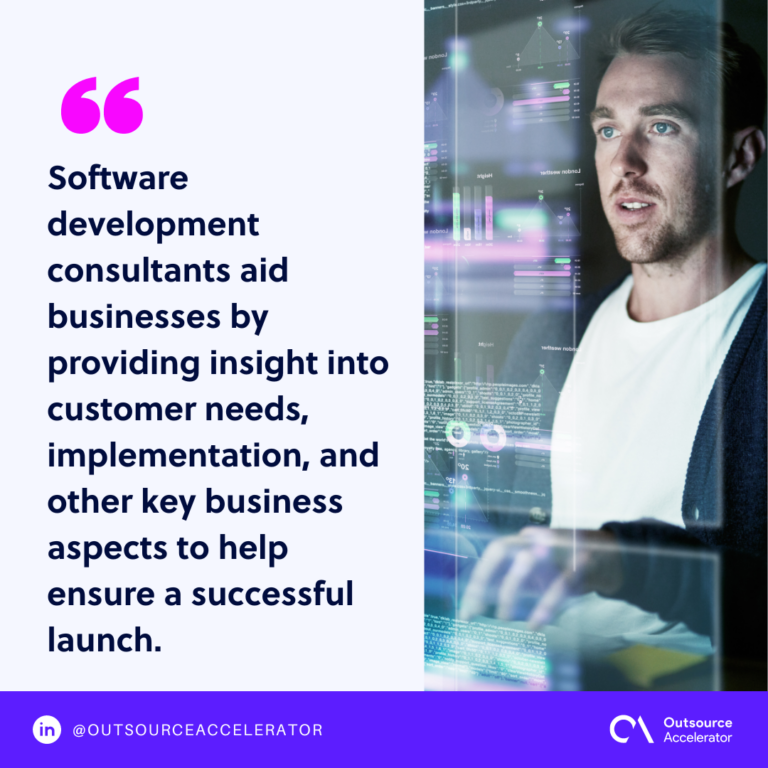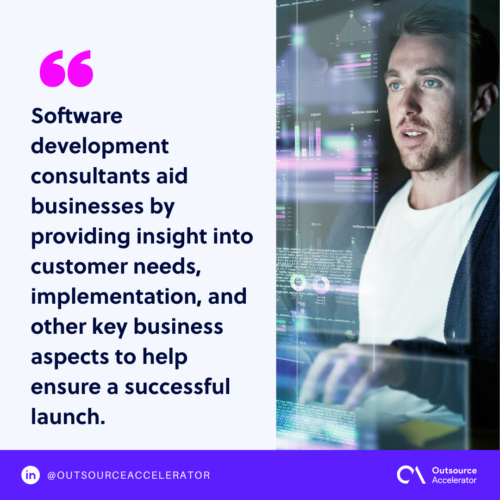 Working with experts is one of the leading benefits of software development and outsourcing your business strategy. 
Less trial and error
Time is money. All the time and resources it takes to build an in-house team may be better for startups and businesses overburdened by daily tasks. 
Working with consultants offers a service model that can offer flexibility and high-quality output. This will let your company find the right solution in less time. With the proper assistance, consultants may help aid your business' scalability.
Improved product quality
Businesses spend a lot of time in product development that they don't always have the time or luxury to analyze pain points and how to solve them. Fresh and objective perspectives offered by consultants can aid kick-off and benefit your operations in the long run.
Software consultants can also aid in reducing risks such as cybersecurity threats.
Qualities of top software development consultants
To make the right decision, leaders need to understand what type of consulting service they need. Business consulting focuses on improving the operation of an organization. On the other hand, technology consulting helps businesses with their infrastructure needs.
Apart from being skilled in analysis, adaptability, and problem solving–a good software development consultant must offer the following qualities to your business.
Experience in your industry
A consultant who has experience working with other companies that are similar to yours is more likely to understand the needs of your business and develop an effective solution.
It is crucial to work with experts in your industry who can provide a proven approach to help you hit your business goals.
Responsive
Look for a consultant who responds quickly and thoroughly to questions you have before signing on with them. This will make you feel comfortable moving forward with their services, as they've shown they're willing to go above and beyond for their clients by putting in the extra effort.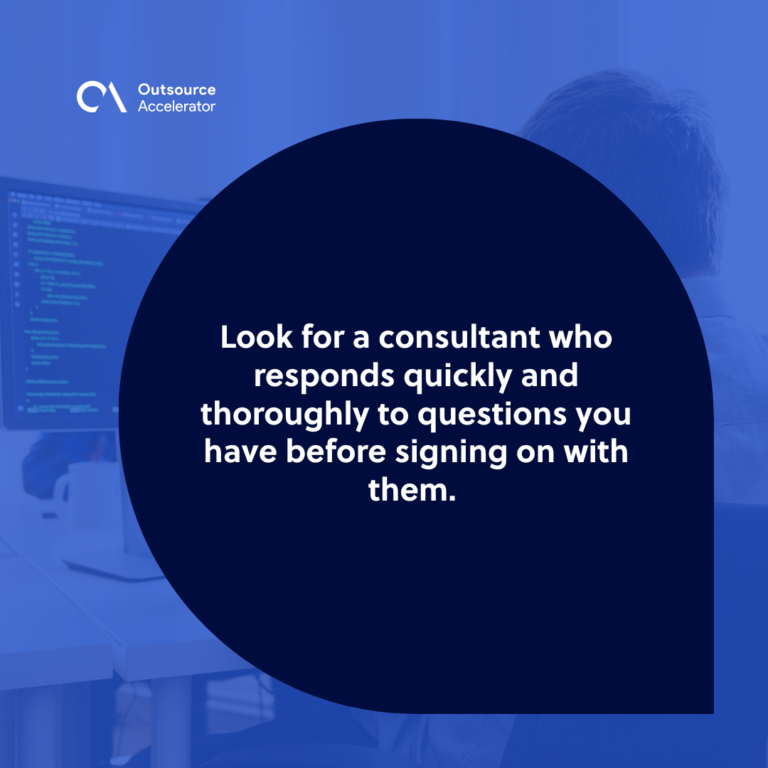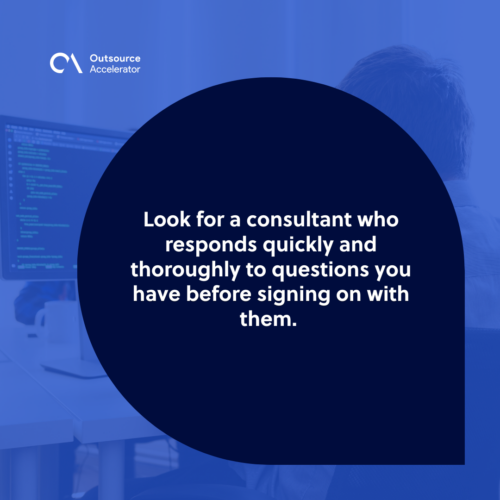 Apart from being communicative, they must also be good listeners and have a keen sense of what your business needs.
Proactive
You want someone who understands how technology works so well that they can offer solutions and set protocols before problems arise instead of waiting around until something breaks without knowing why it happened or how it might affect future projects. 
Open to feedback 
Constructive criticism helps workers improve performance and identify their strengths. This is especially important to consultants since they're not in-house employees that the company constantly trains. 
When looking for a consultant, they must be eager to hear how they can better support your business. Continually working towards a harmonious relationship through culture and work ethic is key to building a vendor and customer relationship.
Read the How to Choose Outsourcing Companies guide to find the right growth partners for your business.
Top software consultants 
The industry leaders of software development consultancy have an established spot in the market for good reason. They have a global reach and a strong track record. 
We've put together this list of some of the most trusted software development consultants who can push your business further.
IBM is an IT services and IT consulting company also known as "The Big Blue." It is a global company with offices worldwide and based in Armonk, New York, USA.
The company applies AI and automation to help transform businesses and help them operate through a data-driven strategy. It offers solutions for multi-vendor tech support, application services, and more. 
Deloitte is a global leader in professional services operating in over 700 locations. It supports clients in delivering measurable and lasting value to their businesses through auditing, financial advisory, tax services, and more. 
The consulting services from this provider cover core business operations, enterprise technology, and performance.
KPMG provides audit, tax, and advisory services. It offers its clients a global perspective to help clients mitigate risks and take advantage of opportunities.
The software development solutions of this firm offer a dedicated advisor who can help transition, strengthen, and grow businesses of different sizes. 
Identify the best technology solutions for your business needs
It's important to remember that, when it comes to outsourcing development, the quality of your relationship with your software development consultancy is just as important as the work they do.
You want a company that understands what you need and is committed to helping you succeed—not just one that checks all the boxes on a long list of requirements.
Working with top software development consultants can help you realize the full potential of your business and supplement its growth with the technology it needs. It provides great returns, including cost savings and operational optimization.