Top 10 social media planners to use in promoting your brand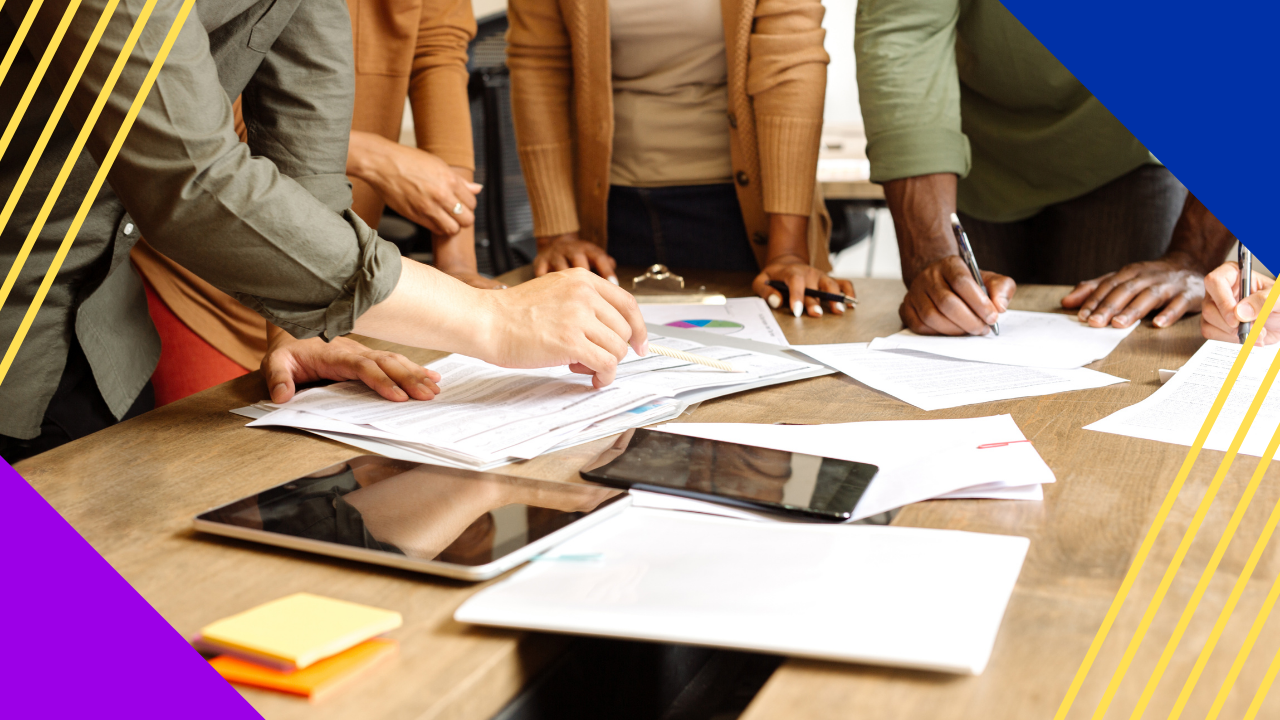 Due to their prevalence across almost all age groups, using social networking sites as a platform for advertising your brand is a sure way of guaranteeing positive results.
Be it an increase in your brand awareness, lead generation, or direct product or service promotion – there are various ways of using social media[1] to your brand's advantage.
However, using social media as a marketing tool is not as simple as posting content willy-nilly. There are factors to consider before jumping in, including knowing what content to create and when and where to upload them. 
While these tasks may seem a drag and a hassle, you'll be thrilled to know there are online tools for making these jobs more manageable. A social media planner is one of the things that will significantly help you manage your brand's online profiles.
But what exactly is a social media planner? Read on below to find out.
What is a social media planner?
A social media planner is an online content management tool that can help you plan out and execute your content calendar. These tools have various features and functionalities to make social media management more seamless.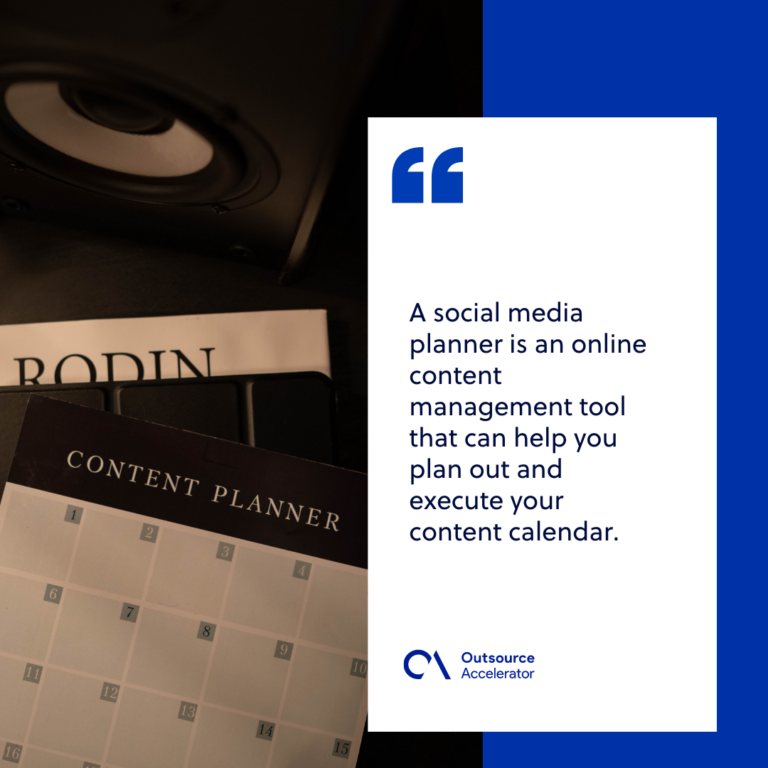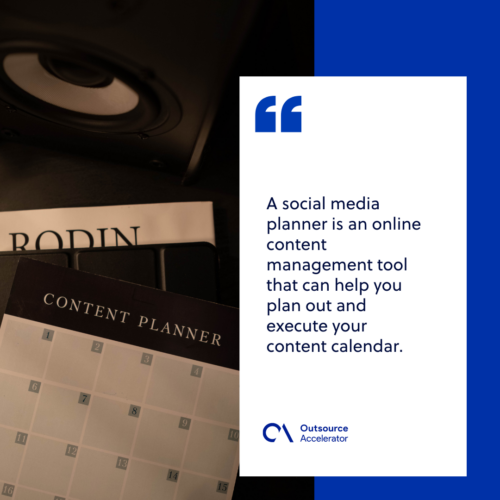 Social media planners enable you to create an outline or an overall strategy for your content. The content outline may span a few months or even cover years, depending on your laid-out plan.
Using social media planners, you can schedule when your content will be published and on which platforms. Doing this will help you avoid last-minute scrambles to find or create shareable content.
However, it should go without saying that you should first have content prepared beforehand for scheduled publishing.
There are numerous social media planners available for you to choose from. However, not all of them are created equal, and you would do well to know the "green flags" of an excellent social media planner.
What to look for in a social media planner
While personal preference will certainly play a role in choosing which social media planner may best work for you, the ones that stand out have several distinguishing characteristics.
Below are the features that the best social media planners have in common.
Planning on both high and low levels
High- and low-level planning are like your brand's strategy and tactics on social media. High-level planning is the overall strategy to guide your brand's social media marketing campaign.[2]
In contrast, low-level planning is the tactic you employ to execute this strategy.
Effective social media planners should allow you to create plans on both levels across different social media platforms simultaneously.
This means the planner should have features that would allow you not only to see the day-to-day content that you would publish for a month or year.
It should also let you deconstruct each content to see where it will be posted, at what time, to which audience, or who created it, among other things.
Team collaboration
With remote work becoming the norm, working on group projects has been somewhat compromised.
In this regard, social media planners that make working as a team easier have an advantage over other planners.
Among other things, your social media planner should allow you to communicate with your team about changes and updates and discuss ideas and campaigns, all in one place.
Using a planner that makes group collaboration almost as easy as doing it in person reduces potential miscommunication that can lead to complications in your campaign.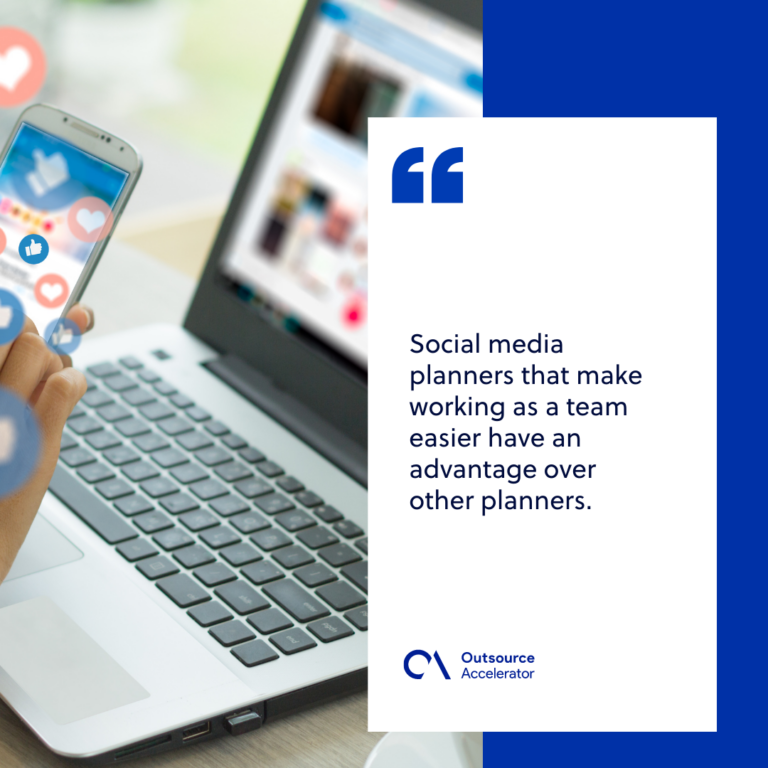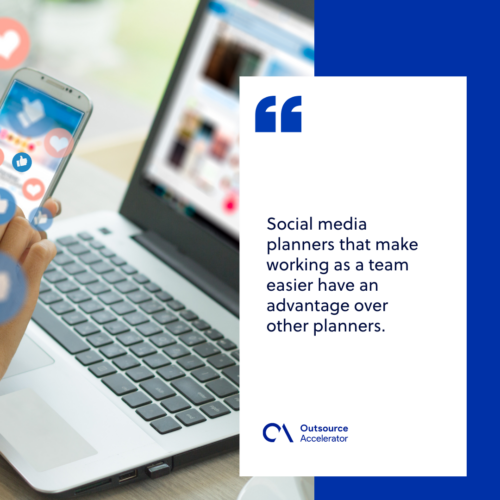 File management
File management is an integral part of social media marketing campaigns. Few things can be more inconvenient than needing a file for content due for publication and not being able to find it.
You can avoid these file mismanagement incidents by using social media planners with powerful organization features.
Using such planners, you can group files according to publication dates, content, or other categories for ease of finding.
Progress tracking
Planners showing how far along you are in your campaign can help identify possible obstacles and which part of the process these arise.
Having your whole marketing team be aware of the campaign's progress also helps facilitate a smoother flow of communication.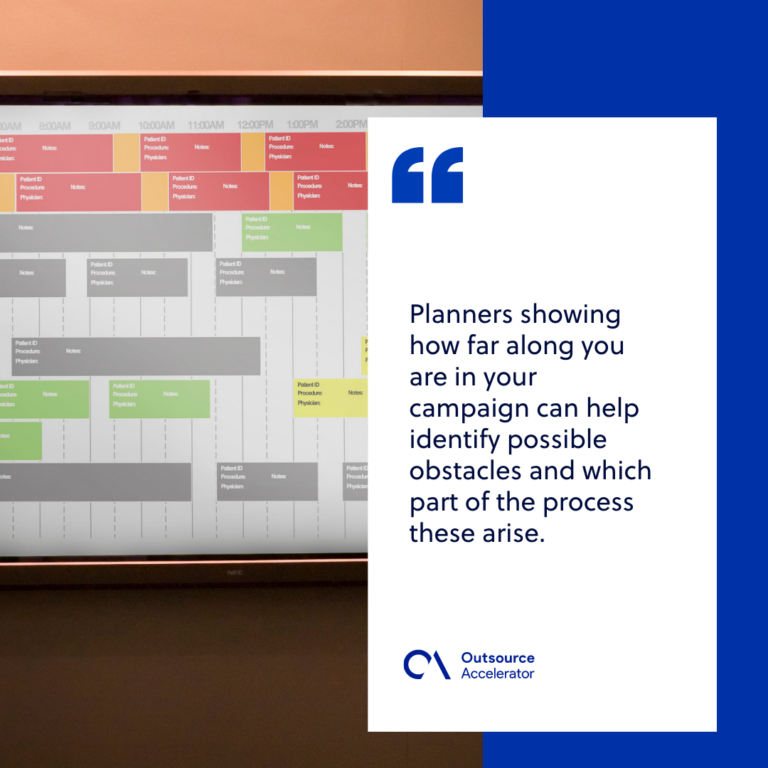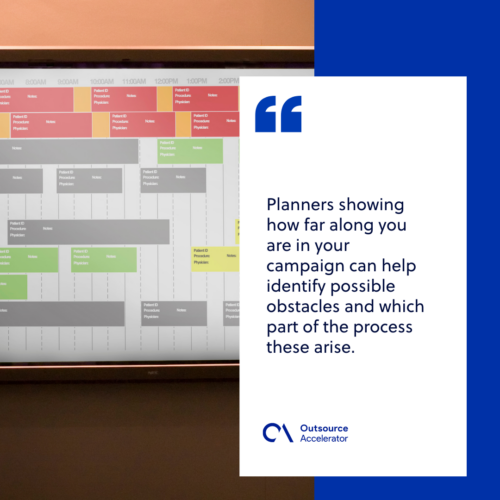 Plug-ins or software integration
You'll often better manage your brand's social media content using other software alongside your social media planner.
Top social media planners make this process even easier by letting you run other plug-ins or software, such as Google Analytics, in the planner itself.
10 powerful social media planners that can work for you
To save you time finding social media planners with the features discussed above, we've put together a list of the best planners you can use to promote your brand's social media profile.
Take a look below at some of our picks below.
Napolean Cat is a social media management tool that has been in the business for around seven years. As a testament to its effectiveness, well-known brands, including the World Wildlife Foundation and Avon, have used Napolean Cat's social media planner.
Depending on the number of your daily interaction with users, Napolean Cat's website saves you up to 155 hours every month – roughly 19 days per month if you have an 8-hour workday!
Napolean Cat's social media planner lets you simultaneously publish content across multiple platforms (Facebook, Instagram, LinkedIn, Twitter, Google My Business). You can also synchronize these posts to save time from manually editing each post for every platform they're on.
Aside from managing your content calendar, Napolean Cat also gives you access to performance analytics you can use to gauge your content's reach, level of engagement, etc.
ContentCal is another content planner that gives you an intuitive interface. Its layout is specifically designed for content marketers' ease of use.
What's great about this social media planner is that it puts all the tools you'll need for content management in one place. It also has features that allow collaboration with other users and a reporting functionality to keep track of your progress.
As with other planners, ContentCal lets you publish your content from its platform directly to your social media profiles. You can use this feature to post your content on Facebook, Instagram, LinkedIn, and Twitter.
You can also draft your long-form content, such as newsletters and blog posts, directly on ContentCal's Articles section. Putting up content in this section allows your team members to review it.
Like other top planners, ContentCal gives you access to analytics tools.
This social media planner allows you to upload all your content and set a publication date for them in advance. You can use PromoRepublic's scheduled posting feature to publish content on Facebook, Instagram, Pinterest, and LinkedIn.
But scheduling content publication is a given for social media planners. What makes PromoRepublic stand out is its graphic editing tools, reporting and analytics tools, AI-powered smart posting, and a library of content ideas you can use.
If you subscribe to PromoRepublic, you'll also gain access to a feature that automatically translates your content into the language your clients use. Meanwhile, the higher-tier plans also provide you with a dedicated account manager to help grow your client base.
This social media planner has climbed to the top of the market by providing users with game-changing features and powerful tools. 
Among them is the unified inbox accessible to all your team members, which lets you respond to messages from multiple social media platforms in one place. You can also set up user permissions to streamline collaboration processes.
Sprout Social also has a central hub that allows you to monitor posts about to go live. This bird's-eye of upcoming posts enables you to make changes as necessary before they get published.
Aside from advanced analytics tools, Sprout Social also boasts its Listening Tools that you can use to know what people are saying on social media about your brand.
Like Sprout Social, Buffer has a feature that gives you the best times to publish your content on each social media platform (Facebook, Instagram, LinkedIn, Google+, Pinterest, and Twitter).
It also has a browser extension and a mobile app you can use to easily add web links, images, and titles to your content scheduled for publication.
SocialPilot's clean and straightforward interface lets you organize your social media accounts into various categories for smoother multi-channel publication.
Similar to Sprout Social, SocialPilot enables assigning tasks to specific persons to avoid output redundancy.
This tool also integrates all messages and queries from your different social media accounts under one panel for easier management.
Touted as the first social media planner that allows posting to TikTok, Crowdfire can publish content on nearly every major social media and blogging and video-uploading platform.
While Crowdfire's default setting automatically schedules your content to be published at the most optimal time, you can bypass this feature and manually post your content as you wish.
Crowdfire's focus is heavily skewed towards content curation. By "telling" Crowdfire about topics of interest to you, it will bring you suggestions of related images, articles, and other content that you can share.
You can use this feature to engage your audience with topics relevant to your brand.
Loomly is a social media planner catering to all social media managers. Aside from the standard features offered by others, Loomly includes keyword filters, customer segmentation and engagement, and social media monitoring in its arsenal.
The tool also has a feature similar to Crowdfire's that gives you content ideas based on current social media trends and events related to your scheduled publication dates.
It also boasts a central library where you can store and organize your content according to different categories.
With Sendible, you can connect to almost all social networking platforms and easily share your content.
This social media planner's "compose box" allows you to plan, schedule, and publish content across multiple platforms simultaneously.
Aside from social media posting, you can also use Sendible to post directly to Tumblr, Medium, WordPress, or Blogger. The program also supports Canva integration, giving you access to the graphic design platform's wide range of tools.
The last entry on our list is MeetEdgar, or simply Edgar – its platform is where you "meet" Edgar.
MeetEdgar provides you with the same features as other social media planners to post to multiple social media platforms, including Facebook, Twitter, and LinkedIn. Instagram and Pinterest are currently not on MeetEdgar's list of social networks but might soon be added.
What sets MeetEdgar apart is it lets you categorize your content according to different types, such as questions, promotional content, blog posts, quotes, etc.
This social media planner also automatically re-shares your old content over time, boosting visibility without you exerting extra effort.
Article references:
[1] Social media: Lomborg, S. (2015) '"Meaning" in Social Media', Social Media + Society. doi: 10.1177/2056305115578673.
[2] Marketing campaign: Henley, N., Raffin, S. and Caemmerer, B. (2011), "The application of marketing principles to a social marketing campaign", Marketing Intelligence & Planning, Vol. 29 No. 7, pp. 697-706.